New Age Islam News Bureau
16 Dec 2015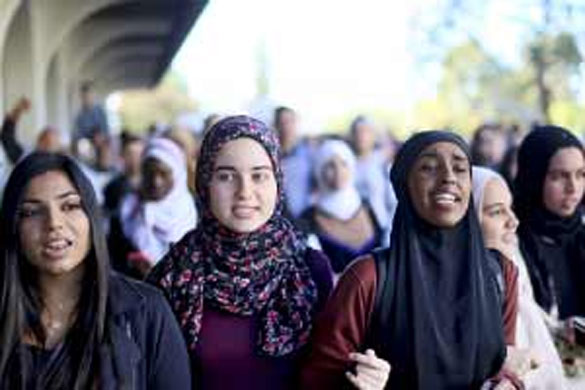 Photo: Students chant while marching at a rally against Islamophobia at San Diego State University in San Diego, California. Credit: Sandy Huffaker/Reuters
-----------
• Muslim women had to create a crisis safety manual to deal with hate
• Acid thrown on Dhamrai college girl
• Christian female fighters take on Daesh in Syria
• Wheaton College puts hijab-wearing professor on leave
• How a Jordanian woman was saved from Daesh clutches?
• Women's employment needs 'surgical intervention'
• Iran seizes thousands of cars for women's veil offences
• Muslim Women Buying Fake Hymens To Pretend To Their New Husbands They're Virgins
• UP rural polls: Muslim-majority districts elect more female pradhans
• Israel plans to interrogate a 12-year-old Palestinian girl
• Republican debate live: fight night in Las Vegas as candidates go one-on-one
• Private sector urged to employ more women
• Challenges remain for female inclusion in Saudi market
• 90 minutes of fame and glory!
• S. Africa's first black woman naval commander calls the shots
Compiled by New Age Islam Edit Bureau
URL: https://newageislam.com/islam,-women-and-feminism/new-age-islam-edit-bureau/malala-yousafzai---i-m-a-feminist-and-a-muslim-/d/105626
----------
Malala Yousafzai: 'I'm a feminist and a Muslim'
15 DECEMBER 2015
Malala Yousafzai, the youngest ever winner of the Nobel Peace Prize and campaigner for girls' education, says she considers herself to be a feminist - as well as a proud Brummie.
Talking to Jon Snow in Birmingham, where she lives, the 18-year-old also had words for politicians who make inflammatory remarks about Islam and Muslims, saying they are helping to encourage terrorism.
Ms Yousafzai said she was inspired to call herself a feminist by a speech the actress Emma Watson made at the UN.
"When I listened to Emma Watson's speech at the UN, that was a really inspiring speech. Because that confusion you have in your mind, whether you should call yourself a feminist or not," she said.
'I should not hesitate'
"Even though you are, you believe in equality, you believe in equal rights for both men and women, but you just can't say that single word, that you are a feminist. And then I said I should not hesitate and I should say that I am a feminist."
Ms Yousafzai, who settled in Britain after being shot on a school bus in her native Pakistan, was asked if it was easy for her as a Muslim to say she was a feminist.
'Islam is about equality'
She said: "I think in terms of religion, there is not a very clear-cut answer to these issues. For example, women's rights, in terms of politics, everything is interpreted in different ways by different people. But to me Islam is about equality and calling myself feminist would have no position from the religion."
Ms Yousafzai said she considered herself to be a Brummie.
"I think I am a Brummie and I'm proud to be a Brummie. Also I'm really thankful to people here in the UK for all their support, their love and for making me feel that this is home, and that you have the right to live and that you deserve love and kindness.
"What I went through in my life was a horrible incident, but here the love of people really strengthened me. And it continues to strengthen me. That's why I am able to continue my campaign for education."
'The more terrorists you create'
Following Donald Trump's comments about ending Muslim emigration to the US, and asked how she responded to the "wild things being said about Islam and Muslims", she said: "I can just highlight one thing. The more you speak about Islam and against all Muslims, the more terrorists we create.
"So it's important that whatever politicians say, whatever the media say, they should be really, really careful about it. If your intention is to stop terrorism, do not try to blame the whole population of Muslims for it because it cannot stop terrorism. It will radicalise more terrorists."
http://www.channel4.com/news/malala-yousafzai-im-a-feminist-and-a-muslim
----------
Muslim women had to create a crisis safety manual to deal with hate
December 15, 2015
Those are the feelings expressed at MuslimGirl.net. It's a website geared to help empower Muslim women in the US and abroad.
And they've recently released a "Crisis Safety Manual for Muslim Women."
"It's really unfortunate that we've had to resort to it," says Amani Al-Khatahtbeh, editor-in-chief of MuslimGirl. "Muslim American women are often the most vulnerable because may of them choose to wear headscarves and are therefore publicly identifiable for their religion."
Al-Khatahtbeh says that's why one of the suggestions is about changing the style of their headscarf. They want it more religiously ambiguous. "We style our headscarves in a turban-style. For many of us, that make us look trendy and not so obvious that we're wearing a scarf on our head for religious reasons."
But these tips are a last resort. Al-Khatahtbeh says the political rhetoric has reached the point where Muslim women have to conceal their religious identity in order to avoid violence. "It's survival now," she says. "We have Muslim-American women who were born and raised in the United States that feel uncomfortable walking down the street of their hometowns."
Muslim women have responded to the manual with exasperation. Anytime a Muslim commits a crime, they know they'll be impacted. It may be a tweet, a racist comment on a bus, or a direct threat. So far, Al-Khatahtbeh says Muslim women have dealt with it on their own or with their friends.
"These were pointers that we discussed between ourselves or with our girlfriends and things like that. But this is the first time where we've laid them out and outlined them into an online resource that's publicly accessible to anyone who needs it," she adds.
It tells Muslim women why phones are key, why crowds are good, why not to wear headphones while riding public transportation and how to ignore ignorance, but report suspicious activity.
While somewhat saddened by the need for it, Al-Khatahtbeh wishes she had such a manual growing up. "We want to make the future brighter."
http://www.pri.org/stories/2015-12-15/muslim-women-had-create-crisis-safety-manual-deal-hate
----------
Acid thrown on Dhamrai college girl
December 16, 2015
A college girl sustained burn injuries as miscreants threw acid in her face at Toperbari of Kushura in Dhamrai, outside the capital, on Monday night.
The victim Mollika Chakraborti, daughter of Swapon Chakraborti, is undergoing treatment at Dhaka Medical College Hospital.
She is a first-year honours student of Government Debendra College in Manikganj.
Quoting the victim, police said when the girl went outside to bring water from a tube well near her house around 8:30pm masked criminals threw acid in her face and fled. Police said the incident might be related to love affair.
http://www.thedailystar.net/city/acid-thrown-dhamrai-college-girl-187765
----------
Christian female fighters take on Daesh in Syria
Dec 16, 2015
Hasakeh, Syria — Babylonia has no regrets about leaving behind her two children and her job as a hairdresser to join a Christian female militia battling against the Daesh group in Syria.
The fierce-looking 36-year-old in fatigues from the Syriac Christian minority in the northeast believes she is making the future safe for her children.
"I miss Limar and Gabriella and worry that they must be hungry, thirsty and cold. But I try to tell them I'm fighting to protect their future," she told AFP.
Babylonia belongs to a small, recently created battalion of Syriac Christian women in Hasakeh province who are fighting Daesh.
They are following in the footsteps of Syria's other main female force battling the militants — the women of the YPJ, the female counterpart to the Kurdish People's Protection Units or YPG.
So far the new force is small, with around 50 graduates so far from its training camp in the town of Al-Qahtaniyeh, also known as Kabre Hyore in Syriac, and Tirbespi in Kurdish.
But the "Female Protection Forces of the Land Between the Two Rivers" — the area between the Tigris and Euphrates waterways historically inhabited by Syriacs — is teeming with women eager to prove their worth against Daesh.
It was actually Babylonia's husband who encouraged her to leave Limar, nine, and six-year-old Gabriella and join the unit whose first recruits graduated in August.
Himself a fighter, he urged her to take up arms to "fight against the idea that the Syriac woman is good for nothing except housekeeping and make-up," she said.
"I'm a practising Christian and thinking about my children makes me stronger and more determined in my fight against Daesh," added Babylonia. Syriac Christians belong to the eastern Christian tradition and pray in Aramaic. They include both Orthodox and Catholic branches, and constitute around 15 percent of Syria's 1.2 million Christians.
Before the conflict began in March 2011, Christians from some 11 different sects made up around five percent of the population.
The unit's first major action was alongside the newly created Syrian Democratic Forces, a coalition of Kurdish, Arab and Christian fighters, which recently recaptured the strategic town of Al-Hol.
"I took part in a battle for the first time in the Al-Hol area, but my team wasn't attacked by Daesh," said 18-year-old Lucia, who gave up her studies to join the militia.
Her sister also joined up, against the wishes of their reluctant mother.
"I fight with a Kalashnikov, but I'm not ready to become an elite sniper yet," the shy teenager said, a wooden crucifix around her neck and a camouflage bandana tied round her head.
Al-Hol, on a key route between territory Daesh controls in Syria and Iraq, was the first major victory for the SDF, which has captured around 200 villages in the region in recent weeks.
It has received air support from the US-led coalition fighting Daesh, as well as drops of American weapons. Ormia, 18, found battle terrifying at first.
"I was afraid of the noise of cannons firing, but the fear quickly went away," she said.
"I would love to be on the front line in the fight against the terrorists."
The battalion's fighters train in an old mill in a program that includes military, fitness and academic elements.
With its limited combat experience, the unit for now focuses mainly on protecting majority Christian parts of Hasakeh province.
Thabirta Samir, 24, who helps oversee the training, estimates that around 50 fighters have graduated so far.
"I used to work for a Syriac cultural association, but now I take pleasure in working in the military field," she said.
"I'm not afraid of Daesh, and we will be present in the coming battles against the terrorists."
Samir said both local and "foreign forces" helped train the women, without specifying the nationality of the foreigners.
In late November, Kurdish sources said US soldiers had entered the town of Kobane in northern Syria to train Kurdish fighters and plan offensives.
Some women cited what is known as the Sayfo ("Sword") massacres in 1915 of Syriac, Assyrian and Chaldean Christians as reasons for joining the unit.
"We are a community that is oppressed by others," said 18-year-old Ithraa.
http://saudigazette.com.sa/world/christian-female-fighters-take-on-daesh-in-syria/
----------
Wheaton College puts hijab-wearing professor on leave
12/15/2015
A Wheaton College political science professor, who had been wearing a hijab to show solidarity for Muslim women in America and inviting other women to join her, was put on administrative leave Tuesday by the evangelical Christian school.
Dr. Larycia Hawkins, who is Christian and a professor at the college since 2007, posted photos of herself on Facebook and Twitter wearing the headscarf.
"I love my Muslim neighbor because s/he deserves love by virtue of her/his human dignity," she wrote on Facebook Dec. 10. "I stand in religious solidarity with Muslims because they, like me, a Christian, are people of the book. And as Pope Francis stated last week, we worship the same God."
In a statement released Tuesday night, the college said it has "significant questions regarding the theological implications" of what Hawkins said about the relationship of Christianity to Islam.
"As they participate in various causes, it is essential that faculty and staff engage and speak about public issues in ways that faithfully represent the college's evangelical Statement of Faith," the statement said.
In a separate statement, President Philip Ryken said Wheaton College "has no stated position on the wearing of headscarves as a gesture of care and concern for those in Muslim or other religious communities that may face discrimination or persecution. We support the protection of all Americans including the right to the free exercise of religion, as guaranteed by the Constitution of the United States."
Hawkins did not respond to repeated requests for an interview Tuesday.
In the days leading up to Hawkins being placed on leave, many of her friends and former students posted messages on her Facebook page in support of her wearing the hijab, and a few posed for photos wearing hijabs of their own.
But not everyone was happy, leading Hawkins to write follow-up posts saying pushback about her decision to wear a hijab during the holidays was "almost exclusively from other Christians" who took issue with the remark about Christians and Muslims worshipping the same God.
Hawkins asked for forgiveness and understanding from anyone she's offended, but she remains steadfast in her belief, signing her note, "Your sister in the hijab."
"My wearing of the hijab as an act of advent devotion has certainly caused some to question the sincerity of my devotion. To those who question the authenticity of my faith, I love you," she wrote.
After her initial posts, Wheaton College released a statement last week saying it valued "a robust exchange of ideas" and that faculty and student concern about the treatment of Muslims is grounded in a desire to live peaceably and respectfully with all people.
"While Islam and Christianity are both monotheistic, we believe there are fundamental differences between the two faiths, including what they teach about God's revelation to humanity, the nature of God, the path to salvation, and the life of prayer," the college said in its statement last week. "We will be in dialogue with our faculty, staff and students in the days ahead to ensure that we articulate our love for our Muslim neighbors in ways that are consistent with our distinctive theological convictions."
Hawkins' administrative leave will be pending a full review, which she is entitled to as a tenured faculty member.
A separate DailyHerald.com video posted last Friday about non-Muslim students wearing hijabs at Vernon Hills High School also struck a chord -- and a nerve -- with people.
The video has nearly 60,000 Facebook shares and attracted a larger-than-usual international audience, with hundreds of viewers in predominantly Muslim countries like United Arab Emirates, Saudi Arabia, Pakistan, Turkey, Jordan and Qatar.
The one-minute video shows members of the school's Muslim Student Association, or MSA, helping non-Muslim girls put on hijabs for a "Walk a Mile in Her Hijab" event. The voluntary activity, hosted by the 10-member student group, six of whom are Muslim, was aimed at education and outreach about the Muslim faith.
"(It will) denounce negative stereotypes and show that we are just caring, respectful, peaceful students, and your peers," student organizer Yasmeen Abdallah said on the video.
Emails to Daily Herald staff members and comments posted online showed not everyone saw it that way. Many readers argued that if prayer is not allowed in schools, then this should not be allowed, either, as the hijab is a religious item.
Some noted that some Muslim extremists actively recruit young people to become terrorists.
The Council on American-Islamic Relations, CAIR, praised the video, saying education is key to curbing anti-Muslim sentiment around the country.
"Anything to do with Islam and Muslims is going to get twisted on social media. Anything's going to be attacked as an inevitable takeover of the country and replacement of the Constitution with Sharia (Islamic law)," CAIR spokesman Ibrahim Hooper said. "But education is one of the only ways to decrease stereotypes and stop prejudice."
Vernon Hills High School Principal Jon Guillaume said he's received both supportive and critical phone calls and emails, some from outside the United States.
"We have good conversations about it," he said. "Most are supportive."
Guillaume said the MSA has the right to free speech and the right to organize, just as the other student groups do, including the Jewish Student Union and the Fellowship of Christian Allies.
"We have religious groups that do 'Prayer at the Pole,' 'A Day of Silence,' and 'A Day of Truth.' As long as what they're asking to do doesn't interrupt the educational setting, it's OK. This wasn't about promoting a religion. It was about getting kids to follow a theme we have, which is to walk a mile in someone's shoes before you cast any judgment."
Muslims make up less than 2 percent of Vernon Hills High School's population, Guillaume said.
The student organizer was "disappointed" when she read the nasty online comments, Guillaume said, but she's also encouraged by the positive comments and is "feeling supported."
"It's been an educational thing, and that's what the group was after," he said.
http://www.dailyherald.com/article/20151215/news/151219265/
----------
How a Jordanian woman was saved from Daesh clutches?
Dec 16, 2015
AMMAN, Jordan — A Jordanian woman who came close to joining the Daesh (the so-called IS) terrorist group described a sophisticated 14-month recruitment process by the extremists that she said landed her in a secret Daesh compound in Turkey with dozens of other women.
The 25-year-old was eventually persuaded by Jordanian lawmaker Mazen Dalaeen — who earlier this year failed to extract his own son from the grip of Daesh recruiters — to return to her family.
The case highlights the systematic grooming of potential Daesh recruits through daily social media exchanges and follow-up on the ground for travel arrangements — in her case an enveloped stuffed with cash for a plane ticket to Turkey, handed to her by a veiled woman in her home district of Karak in central Jordan.
The woman, jobless since earning a B.A. in psychology in 2011, said Daesh recruiters exploited her vulnerability. "They used my frustration … promising me a new life with a job and a house," she said in a phone conversation with Dalaeen after her return to Jordan last month.
A recording of the call was given to The Associated Press by the lawmaker, a vocal campaigner against the Daesh group, which controls large areas of Jordan's neighbors Syria and Iraq.
The woman also described her experience in a Nov. 18 program on Jordan University's radio station, with her speaking by phone. Dalaeen provided further details in an interview with AP on Thursday.
The lawmaker said the case illustrates the extremists' deep reach into Jordan, an outspoken US ally in a Western-Arab military coalition against Daesh.
"Daesh has a strong organization," Dalaeen said. "They can penetrate young people's minds easily and change certain thoughts."
Jordanian government officials have played down the extent of support for Daesh, saying any lingering public sympathies for the group vanished after it released a video in February that showed captured Jordanian fighter pilot Lt. Muath Al-Kaseasbeh burning to death while trapped in a cage.
The Karak woman's father, a retired army officer, said his daughter and other young people fell prey to Daesh because of high unemployment and nepotism. He spoke on condition of anonymity to conceal his daughter's identity and turned down an AP request to interview her.
The story begins in Ai, the Karak district hometown of the woman, the pilot and the lawmaker.
Earlier this year, Dalaeen failed to foil the recruitment of his 23-year-old son Mohammed, who carried out a suicide attack on behalf of Daesh in Iraq in late September. The Karak woman's family sought Dalaeen's help after she sneaked off to Turkey in late October.
Dalaeen reached her on social media. He told her leaving home without her father's permission and traveling without a male chaperone violated Islamic principles and that this should make her question claims that Daesh represents the true Islam.
After a week, the woman's resolve to join Daesh weakened. But she was scared she would be imprisoned in Jordan or harmed for ostensibly staining the family honor. Dalaeen said he guaranteed a safe return.
At the time, she was living in a dormitory-style complex in Istanbul for about 50 women from the Arab world who were waiting to travel to Daesh-held areas, she said. "There was a very big screen in the dorm where we watched videos of killings and calls for killing anyone who doesn't pray," she told the radio show.
She told Dalaeen that Daesh was "moving women from place to place for security reasons," gradually shifting them toward the Syrian border. At one point, the Karak woman was able to evade the three female Daesh minders in her dorm and slip out, Dalaeen said.
A few hours later, while keeping in touch with Dalaeen, she met with Jordanian diplomats at a hotel in Istanbul. Dalaeen said she was questioned by Turkish intelligence before being put on a plane to Jordan. After her return, details of her recruitment emerged.
The woman said that 14 months ago she was befriended on Facebook by a woman from Raqa, the unofficial capital of the Daesh group in Syria. They talked about religion and Daesh. Other Daesh supporters also contacted her. Over the next few months, "they started sending me more than 200 videos full of killing and slaughtering," she said. "Finally, I started enjoying (seeing) the killing."
She said she received more than 500 messages urging her to travel to join Daesh. Recruiters also asked her "to kill my father or even my brother because they are infidels and soldiers in the Jordanian security forces," she said.
Eventually, her contacts arranged a meeting in Karak with a veiled woman who spoke with a Jordanian accent and handed her an envelope with 350 dinars ($500) for travel expenses, she said.
Daleen said Daesh recruiters have been active in his district. Forty-five young men from the area are fighting for Daesh and three more young women were approached about joining, he said.
Experts say about 3,000 Jordanians have joined Daesh in Iraq and Syria and between 400 and 450 have been killed fighting for the group. Jordan has imprisoned dozens of suspected Daesh sympathizers.
"We know we will win against those brutal murderers because we are defending the values of merciful Islam and world civilizations," government spokesman Mohammed Momani said.
Dalaeen believes Daesh must not be underestimated. "Jordan, honestly, has been completely penetrated by this organization," he said.
http://saudigazette.com.sa/world/how-a-jordanian-woman-was-saved-from-daesh-clutches/
----------
Women's employment needs 'surgical intervention'
16 December 2015
JEDDAH: Labor Minister Mufrej Al-Haqabani has blamed a number of sectors for unemployment among Saudi women which was 15 percent in 2014 and increased to 32 percent this year.
He said the most important is the private sector which should put greater trust in Saudi woman and integrate her into the labor market according to the required demands.
He said the case of women in the private sector needs "surgical intervention" by the ministries and other parties concerned because unemployment among them has shot up by 100 percent this year over last.
"The government will launch a set of programs for the employment of Saudi women in different professions in the private sector in coming weeks," he said. "I reject putting women in special sectors termed as 'sellers only'."
He said there are plans to establish colleges of excellence in cooperation with the private sectors to attract world cadres to train Saudi youth. "This will be done through drawing up studies and mechanisms of training, and by the time the training is complete, there will be an employment position," the minister said, pointing out there are Saudi experts in private sector facilities who are capable of training national cadres.
Al-Haqabani added the ministry's long-distance program will aid female employment through incentives and through supporting small projects. This will help them get jobs other than as saleswomen.
He added women are indeed being listed in new evaluation mechanisms in the 3rd edition of Nitaqat program which will be launched soon and where facilities will be evaluated and classified by a number of criteria in which women will take part for the first time.
The labor minister said an employment channel would be launched soon. He added that the number of those benefiting from Hafez is more than 2.5 million. Not all have not found jobs but most of them would like to get jobs in public education.
The Department of General Statistics and Information recorded high unemployment among Saudis at 11.7 percent in 2014 compared to 11.5 percent in 2013. It showed that the average unemployment among Saudi women was 32.8 percent in 2015 while it was 5.9 percent for men.
The average rate of unemployment in the Eastern Province, Al-Jouf and Asir is less than 10 percent, and in Makkah, Al-Qassim and Tabuk up to 12 percent. Hail, Madinah and Najran have 13 to 15 percent unemployment, while in Riyadh it is more than 15 percent.
http://www.arabnews.com/saudi-arabia/news/851151
----------
Iran seizes thousands of cars for women's veil offences
15 December 2015
Iran has impounded tens of thousands of cars since March because women inside the vehicles had not properly covered their hair with a headscarf, Tehran's traffic police said Tuesday.
"Over the past eight months, more than 40,000 cases of bad hijab (headscarf) have been dealt with," said Brigadier General Teymour Hosseini, quoted by ISNA news agency.
"In most cases, the cars were impounded and cases were referred to the judiciary," he said, while some of the women stopped could face cash fines or warnings.
Police warned in November that women who fail to observe hijab, the mandatory Islamic dress code in Iran, while driving would have their cars impounded for a week.
The measure is part of a wider traffic police crackdown that could also see male drivers targeted.
When in public, all women in the Islamic republic, including foreigners, are required to wear at least a loose scarf covering the hair and neck.
Since the mid-1990s, however, there has been an easing in the dress code.
Many women wear stylish and colorful coats and headscarves and often tight trousers instead of the traditional one-piece, head-to-toe black "chador".
Police patrols have kept up campaigns to enforce the law and authorities also use a network of "trustees" who inform on violations.
Other violations while driving - not limited to women - include carrying dogs, playing loud music, tinted glass on windows and "harassing girls on the streets", Hosseini said.
Iran's supreme leader Ayatollah Ali Khamenei accused fast-driving wealthy youngsters in April of creating "psychological insecurity" on the streets after two high-speed accidents killed five people.
"I hear that young people from the generation of wealth, a generation intoxicated by their money, are driving luxury cars and parading in the streets, making the streets insecure," he said, quoted on his website.
In September, a Tehran court fined two women $260 for violating the dress code by not wearing their hijabs properly on the street.
http://english.alarabiya.net/en/News/middle-east/2015/12/15/Iran-seizes-thousands-of-cars-for-women-s-veil-offences.html
----------
Muslim Women Buying Fake Hymens To Pretend To Their New Husbands They're Virgins
12/15/2015
MUSLIM women are rushing to buy fake hymens to try and hoodwink their husbands-to-be to believe they have been virgins until their wedding day.
Cruz and Rubio clash as Trump defends Muslim ban at GOP debate Sens. Ted Cruz and Marco Rubio clashed over U.S. military intervention, government spying on Americans' communications and immigration at the GOP debate Tuesday night, as front-runner Donald Trump def.. CTVNews >>
Women scientists who changed the world For decades, stories have gone largely untold about world-changing accomplishments by dozens of female pioneers in science, medicine and technology... CNN >>
GOP Debate: Rick Santorum Supports Donald Trump Muslim Ban, Declares World War 3 Tonight's GOP debate will probably be the last time that we will be seeing Rick Santorum in the GOP presidential race. He's polling at 0.3 percent, which means that he is second to last in.. inquisitr.com >>
Rivals pile on Trump over Muslim comments at debate Republican frontrunner suggests 'shutting down parts of internet' to stop jihadists; Bush: Trump would be 'a chaos president'.. timesofisrael.com >>
UN gen secy elections kick off, Security Council and General Assembly call to recommend women candidates The UN has kicked off the process to elect the next Secretary General, with the Security Council and General Assembly made calls for women candidates. The post UN gen secy elections kick off, Secur.. FirstPost >>
http://www.newsunited.com/muslim-women-buying-fake-hymens-to-news/20278694/
----------
UP rural polls: Muslim-majority districts elect more female pradhans
Dec 15, 2015
Five Muslim-majority districts of Uttar Pradesh elected the most number of female village heads in recently-concluded rural polls, official data show.
While four of these regions picked more women than men, the fewest female candidates won from three Hindu-dominated districts, statistics released by the state election commission on Monday revealed.
Women comprise 43.86% of the nearly 58,000 candidates who were elected pradhans, or village heads, in the polls for which votes were counted on Sunday.
Four of these Muslim-majority districts are in western UP, while another is in the eastern part of the state.
The elections were held amid worries of communal polarisation after a mob killed a Muslim villager in Gautam Budh Nagar district in September over rumours that he slaughtered a cow.
In four of the districts where Muslims are in a majority -- Sambhal, Rampur, Badayun and Moradabad – winning women candidates outstripped their male counterparts, while in Bahraich they were almost even.
Sambhal topped the list, electing 54.5% female pradhans. The district also has the largest Muslim population in the state, at around 55%-60%.
On the other hand, Agra, Mathura and Hatharas, emerged as the three Hindu-dominated districts that elected the lowest number of female village heads. Mathura elected only 36.7% female pradhans and occupies the bottom rung.
State election commissioner SK Agrawal said the overall numbers of women's representation are significant.
"Against the 33% reservation for them, as many as 43.86% women have been able to get elected pradhans in the state," he said. "It is a very positive sign that will significantly contribute to women's empowerment in the state."
http://www.hindustantimes.com/india/up-rural-polls-muslim-majority-districts-elect-more-female-pradhans/story-SQFMGgTSrVhLxJqcOc9upO.html
----------
Israel plans to interrogate a 12-year-old Palestinian girl
Dec 16, 2015
The Israeli regime has summoned a 12-year-old Palestinian girl for interrogation at a detention center.
A picture of Hadeel Rujbi was published on the Palestine Video twitter account on Tuesday.
The activist page, which posts videos and pictures of Israel's atrocities, says it published the girl's picture because "such Israeli acts of terror against Palestinian children are hardly even ever mentioned by the international media."
Last month, the Palestinian Prisoners' Society (PPS) announced that around 400 Palestinian children were being held in Israeli jails, many of whom without food or water.
The PPS added that the detained children were usually subjected to different types of torture and forced to make confession through physical and verbal coercion.
http://www.presstv.ir/Detail/2015/12/16/441895/Israel-interrogate-Palestine-girl
----------
Republican debate live: fight night in Las Vegas as candidates go one-on-one
16 December 2015
Tom McCarthy
The fifth Republican presidential debate of the 2016 cycle is in the can. Here's what we learned:
It was long on substance. Candidates were asked about national security issues, immigration policy, government surveillance and naughty things the candidates have said about each other on the campaign trail.
Florida senator Marco Rubio and Texas senator Ted Cruz locked horns over Rubio's support for immigration reform and Cruz's support for reining in NSA surveillance. Both fought expertly. No clear winner declared.
Donald Trump said he had no plan to run as a third-party candidate. "I am totally committed to the Republican party," Trump said.
Former Florida governor Jeb Bush repeatedly attacked Donald Trump, calling him the "chaos candidate" and saying "You're not going to insult your way to president of the United States."
Was it such a fight-y night? Not really – neither Cruz nor Rubio, nor New Jersey governor Chris Christie, opted to tangle with Trump, who himself passed on an invitation to hit Cruz.
Christie did, however, call president Obama a "feckless weakling."
Did Trump botch a question about the country's triad of nuclear defenses, sub-plan-silo? He didn't answer a Q about which needed updating most urgently.
Rubio left the door open on a path to citizenship for some undocumented migrants, a heresy in some corners of the party. "I personally am open to people having the possibility of applying for a green card," he said – after 10 years' probation and strict tests.
Rand Paul, the Kentucky senator, did go after Trump, who he said wanted to shred the constitution. Trump pretty much ignored him.
A substantive big-picture debate broke out over whether it's better for the US national security to have dictators in the Middle East. Also unresolved.
Former Hewlett-Packard CEO Carly Fiorina quoted Thatcher: "Margaret Thatcher once said, if you want something talked about, ask a man. If you want something done, ask a woman."
And here's our full report from Sabrina Siddiqui and Paul Lewis on the ground in Las Vegas:
http://www.theguardian.com/us-news/live/2015/dec/15/cnn-republican-presidential-debate-december-15
----------
Private sector urged to employ more women
Dec 16, 2015
JEDDAH — Private sector has been blamed for an increase in women unemployment in 2014.
A source from the ministry said Labor Minister Mufrij Al-Qahtani said the private sector must work on being more inclusive and proactive in hiring Saudi women.
"The rate of unemployed Saudi women in 2014 reached 32.8 percent when it was only 15 percent in 2013. The rate of unemployed Saudi men in 2014 reached 5.9 percent. The total rate of unemployment in 2014 reached 11.7 percent after it was 11.5 percent in 2013," said the source, Al-Madinah reported.
The source added the ministry has updated its Nitaqat program to look into women employment and not only Saudi employment.
"The private sector is working on opening training institutions to train Saudis in various skills. Training institutions will be established in cooperation with private companies so the trainee will be guaranteed a job after his graduation," said the source.
The source also said the minister was not pleased with women working mostly as sales women.
"The minister expressed that women must branch out into various fields and industries. The minister believes that Saudi women are essential for the development and advancement of the country. The minister has also encouraged private companies to offer opportunities of out of office employment," said the source. The source added Saudis may occupy full-time and part-time positions and out of office positions where the employee has the liberty to work from his/her home.
"The ability to work from home will increase the employability of many Saudi women, especially mothers, who prefer to be around their children at home. The minister has also supported small and medium enterprises encouraging Saudis, particularly women, to start their own business," said the source.
The source also said the new Nitaqat program will evaluate the company based on Saudization and the number of women employees as well.
http://saudigazette.com.sa/saudi-arabia/private-sector-urged-to-employ-more-women/
----------
Challenges remain for female inclusion in Saudi market
Dec 16, 2015
Layan Damanhouri
RIYADH – Despite the increase of women inclusion in the Saudi labor market, underrepresentation for women in top management and leadership positions remains a pressing issue. This was disclosed at the Talent and Diversity Leadership Forum recently held here.
Organized by Naseba, the annual forum in partnership with the first time this year with Glowork, concluded on Monday, bringing together business leaders, policy makers, academic experts, and human capital professionals to discuss the challenges and prospects of the Saudi labor market, namely the nationalization policy, unemployment among Saudi youth, and women participation.
Role models, mentors, and coaches have a strong impact on one's path towards building a career, according to CEO of Glowork Khalid Alkhudair who moderated a panel discussion of women in leadership positions in Saudi Arabia.
"Coaches are short-term and goal-oriented," said cofounder and CEO of Qotuf Tuba Terekli. "Mentors are more development-oriented. Role models are people whom we aspire to and are not necessarily in direct contact with us."
She further says role models can have different impact on each person. "It's a matter of how we utilize the information our role models display for us," says Terekli, who coaches entrepreneurs in reaching their goals and developing them with lifelong skills.
However, very little is formally done by corporations in mentoring and coaching in developing future female leaders.
"Mentorship and coaching is needed at all levels of an organization," says Kathy Ann Sienko, deputy executive director for nursing affairs at King Faisal Specialist Hospital and Research Center, where coaching and mentoring programs for employees are implemented. "It is difficult to get people who are qualified, experienced, willing to take a risk in order to be able to deliver a job."
"From a financial point of view, there is evidence that companies who invest in coaching see a 7-times return in investment in terms of employee engagement, loyalty, development skills, and opening up the environment for innovation."
On the role of mentorship for women, CEO of Emkan Education Dr. Mounira Jamjoom said, "Role models don't come to you, you need to ask them."
"Male mentors should also reach out to females in middle management positions who have potential," she says, adding that they need to support women in pushing their way up the corporate ladder that is generally occupied with a majority of males.
When asked about women unable to reach advance due to a glass ceiling in the corporate ladder, Sienko told Saudi Gazette, "The glass ceiling is a global problem. There are some things that help us break that ceiling. Some of it depends on us women taking risks in terms of our career development and things we want to aspire to".
Skills such as negotiating for one's salary, networking, and taking risks in one's career are crucial for women to get closer to where they need to be, adds Sienko.
Founder and CEO of Yatooq Latifa Alwalaan said confidence is key, "especially for entrepreneurs who are working on a new product that's never done before".
Being comfortable with uncertainty and taking risks are equally important, advises Alwalaan, who was named Entrepreneur of the Year 2015.
Co-founder and CEO of Naseba, a French deal facilitation group, Sophie Le Ray feels the confidence gap that women experience now will be bridged over time. "If you survey women in an organisation, 60 per cent will prefer working under a man than a woman," she says. "That's because they still don't trust each other – not enough networking, or sponsorship like men do. But things are beginning to change. In time, women will fit in naturally at the workplace – at the top as well."
Speaking to Saudi Gazette, Alkhudair said diversity is the main theme of this year's forum in which female employment is a significant part. He said, "Being an organization for female employment and creating jobs for women, this forum is very important for bringing together people from different industries in public and private sectors to discuss their experiences on women employment issues so that we can all learn from one another."
When asked about the challenges for female employment in the Kingdom, Alkhudair said the gap between education and employment is "immense", where potentially talented female graduates armed with degrees are not well prepared for the labor market.
"They don't know what are the opportunities available for them", he says, adding that most Saudi females either opt for government jobs or teaching posts due to lack of role models. "Their only direct contact during their 4 years of studying is the professor."
He adds, "They also don't see companies at an early age in terms of working on reports or research and such".
Secondly, he says, another problem is the inability to market themselves or apply for jobs. He says, "We've done a study that shows 63 percent of women pay someone to write their CVs for them!"
Men, on the other hand, tend to have a higher willingness to accept jobs because they need to provide for their family, he continues. They are also more mobile, he added.
http://saudigazette.com.sa/business/challenges-remain-for-female-inclusion-in-saudi-market/
----------
90 minutes of fame and glory!
Dec 16, 2015
DAMMAM — A female candidate's elation over her victory in this week's municipal elections turned out to be only a short-lived one. She remained on the list of winners for 90 minutes before her name was replaced by a man who got more votes than her.
Khatmah Bint Mohammed Dighriri was announced winner in Hafr Al-Batin and remained on the list of winners for an hour and a half before the committee supervising the elections realized its mistake and altered the result.
The committee announced the names of six winners in the region including the woman who only obtained 16 votes.
The committee did not explain how the mistake had happened but announced that Mohammed Bin Darhoum Al-Harbe was the real winner with 272 votes.
On the other hand, all six candidates, who were strongly supported by the Muhtasibeen (religious men) in Taif, have failed to make their presence felt.
The Muhtasineen asked the voters never to give their votes to women candidates alleging that this was against Islam and asked them instead to vote for their six male candidates.
On the eve of the elections, the Muhtasibeen issued a strong-worded statement claiming that voting for women candidates was against Islam. They asked the voters, instead, to give their votes to six specific male candidates.
The voters did not heed their advice and voted for women and disregarded the six candidates favored by the Muhtasibeen who were shocked not to find their names in the list of winners.
In Tabuk, a wave of sadness lurked over the city for the loss of all the women candidates. However, women in the city organized celebrations expressing happiness just over their participation in the elections for the first time as voters and candidates.
However, in the small town of Al-Bidaa, 250 km away from Tabuk, Muna Al-Omairi had something for the womenfolk to cheer by winning a seat in the municipal council. She was one of two victorious women in the entire region.
Al-Omairi said she was not sure that she would win but decided to go on with her candidacy anyway.
"My optimism thinned out in view of the large number of male candidates. However I was not down and opted to go ahead with the experience," she said.
She said she was greatly supported by her tribe and relatives who encouraged her and contributed effectively in her victory.
Meanwhile, Masooma Al-Abdl Riza and Sanaa Al-Hamam, registered their names as the first two women to be members of the municipal council in Al-Ahsa.
Riza, who obtained 420 votes, said she was expecting to win because of the confidence in her ability to serve the residents of the eastern city.
"I am happy and proud. I also thank those who did not vote for me. I will do my best to serve the community," she said.
Hamam, on her part, was also happy and proud. She said she was sure that she would represent all the women of the region in the council.
"I was sure that I would win because of my complete confidence in Allah and the people around me," she said.
Alya Al-Ruwaili, who won in Riyadh, accused the "enemies of women and success" to have cut the lines while she was talking to a TV space channel.
"The men against the women and their success, who are too many, disrupted the communications while I was talking on air to a TV interviewer," she said.
http://saudigazette.com.sa/saudi-arabia/90-minutes-of-fame-and-glory/
----------
S. Africa's first black woman naval commander calls the shots
Dec 16, 2015
Cape Town — Zimasa Mabela grew up under apartheid in a South African village just two hours drive from the ocean, but she was 18 by the time she first saw the sea.
Now, aged 38, she is the first black African woman to command a South African naval vessel.
Lieutenant Commander Mabela's first visit to the beach coincided with the end of white rule in 1994 – and she caught the historic wave of change that followed.
"I wasn't terrified of the water," she told AFP, gazing out from the bridge of her sleek minehunter, the SAS Umhloti.
"In my village there was a swimming pool at the church where us kids could swim."
But Mabela's desire for a life at sea came later, when she was at university studying for a Bachelor of Science degree in education.
She attended a presentation by the navy and was captivated by the slogan: "Join the navy and see the world."
"I thought, where else would I get the opportunity to see the world?" She signed up in 1999 at the age of 22 as a radio operator, and the navy has so far lived up to its promise – she has travelled to places as diverse as India, Uruguay, St Helena island and Canada.
Now, the ship she took command of in August is berthed in Cape Town's historic Simon's Town harbor, first established by the Dutch and taken over by Britain's Royal Navy more than two centuries ago.
The harbor, curled under the mountains of Cape Town's Southern Peninsular, is now South Africa's main naval base.
Men make up the bulk of the ship's crew of 54, but Mabela, in an officer's uniform of crisp white shirt and black slacks, says her gender has not been a problem.
"They have accepted me very well. If I give an order, it is an order," she says with a warm smile – and a glint of steel in her eyes.
"I'd like to encourage other women to be brave enough and not think that this is a man's world. You can achieve anything you want to achieve."
Mabela is a mother of two daughters, aged six and four, but she says juggling work and motherhood is not a problem.
"I manage to balance my family life and job because I have a strong support system from my mother and my husband – who is also in the navy, so he understands.
"When I'm at work or at sea, I'm comfortable knowing they are looking after the kids well."
At the same time, when she gets home, the naval commander takes on many of the tasks of a wife and mother.
"Over the weekend I have time to catch up on cleaning the house, doing the laundry and all those things.
"And during the week when I get home from work, I still cook supper for everyone so it is quite hectic."
On board ship, with South Africa at peace and no mines to hunt, the focus is on training, search and rescue operations and "whatever requirements we can carry out".
But the girl who grew up living "a normal village life", looked after by her grandparents while her mother worked away from home as a nurse, is not resting on her laurels.
On her ambitions for the future, she says: "I have quite a lot, because there is so much to do in this organization.
"I'd like to be involved in training, and if I get an opportunity to command a bigger ship that would be a plus for me."
http://saudigazette.com.sa/world/s-africas-first-black-woman-naval-commander-calls-the-shots/
URL:https://newageislam.com/islam,-women-and-feminism/new-age-islam-edit-bureau/malala-yousafzai---i-m-a-feminist-and-a-muslim-/d/105626
New Age Islam, Islam Online, Islamic Website, African Muslim News, Arab World News, South Asia News, Indian Muslim News, World Muslim News, Womens in Islam, Islamic Feminism, Arab Women, Womens In Arab, Islamphobia in America, Muslim Women in West, Islam Women and Feminism