New Age Islam News Bureau
22 Jan 2016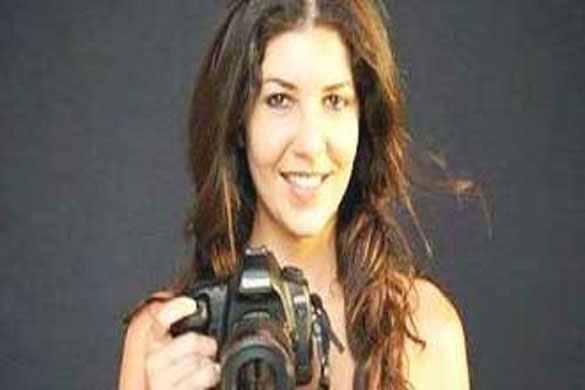 Photo: French Moroccan photographer Leila Alaoui posing in Marrakesh. (AFP Photo)
--------
• Muslim Women and the Militant Atheists
• Saudis reluctant to marry women in mixed jobs
• Denmark named the world's best country for women to live in
• 963 netted as den of illegal maids raided in Jeddah, Saudi Arabia
• 2 wives 'present' younger wife to hubby, 70 in Taif, Saudi Arabia
• Firing near govt girls school in Faisalabad causes panic
• Hifzur Rehman Academy felicitates women reverts
Compiled by New Age Islam Edit Bureau
URL: https://newageislam.com/islam-women-feminism/leila-alaoui-artist-killed-jihadists/d/106083
---------
Leila Alaoui: The artist who was killed by jihadists - and what she was trying to tell the world
Adam Withnall | The Independent | Jan 22, 2016
Scores of women were among the crowd saying goodbye to an artist and human rights campaigner whose death has sent shockwaves rippling across Africa.
French-Moroccan photographer Leila Alaoui was among the 28 people from 18 different nationalities who were killed in the al-Qaeda attack on the Cappuccino Cafe in Ouagadougou, Burkina Faso's capital.
That so many women were among the estimated 1,000 people who attended her funeral in Marrakech, in defiance of local norms, is testament to Ms Alaoui's rare ability to break down barriers between opposing worlds.
Born in France, brought up in Morocco and trained in photography in New York, Ms Alaoui's friends and family say she was fascinated by the idea of passing through the borders put up by people between countries, races, religions and genders.
The 33-year-old was working for Amnesty International on a major project exploring women's rights in Africa when she was killed by jihadists from the al-Qaeda in the Islamic Maghreb (AQIM) group.
Shot twice in the leg and chest, Ms Alaoui had recovered to a stable condition after surgery and was able to speak to her parents before, as a medical evacuation was being prepared, she suffered a fatal heart attack.
Her death, announced in a statement from Amnesty on Monday morning, saw the death toll from that attack rise to 30, as well as scores wounded.
Ms Alaoui had been parked outside the Cappuccino Cafe with Amnesty employee and driver Mahamadi Ouedraogo, a father of four who was also killed.
After attacking the cafe, a popular destination among foreigners in the city, the gunmen took hostages in a nearby luxury hotel. The siege was broken on Saturday morning with the assistance of French anti-terror experts, and all four gunmen were shot dead.
As she died in a hospital in Burkina Faso, 3,000 miles away in Paris an exhibition of her last completed work The Moroccans was coming to the end of its showing at the prestigious Maison Europeenne de la Photographie.
The exhibition featured life-size portraits of people from different communities across Morocco, and Ms Alaoui said the project was designed to counter the "tired exoticisation" of North Africa and the Arab world.
Speaking to The Independent after attending Ms Alaoui's funeral on Wednesday, her cousin Yalda Alaoui said the artist was fast "becoming an icon" in her home country.
"She was representing Arab women in the art world, a visionary when it came to topics like immigration and women's rights," Yalda says.
"Demonstrations happened in her name today in Morocco and over 2100 articles were written about her. The French parliament observed a minute of silence for her today too.
"However all this will not bring me back my closest cousin, who was like a sister to me. We were very similar, both physically and mentally."
Amnesty told The Independent Ms Alaoui was commissioned for a series of exemplary photos of women working towards the empowerment women and girls in Burkina Faso, which was to be exhibited for International Women's Day on 8 March.
The charity sent this newspaper two photographs taken by Ms Alaoui in her last days, which are included below.
The organisation was drawn to the artist because of the way she brought out the inner strength of marginalised communities in previous works.
The message of the My Body My Rights campaign she was working on was to be one that showed the individuals not as victims but as inspiring women and girls, within a broader campaign of empowerment and positive change.
Amnesty International's director in Burkina Faso, Yves Traore, said: "Leila was an extraordinary young woman. We wanted to work with her because of her talent, and her passion for helping women, girls and marginalised people tell their own stories and claim their rights.
"As a strong woman herself, she wanted to show women as authors of their own destiny, not as victims. We are all devastated by her loss."
That impression of Ms Alaoui as a "strong woman" is one repeated by her cousin Yalda.
"She was extremely strong and after the attack never doubted she would survive, despite her being badly wounded by a Kalashnikov," she says.
"In her hospital bed she kept asking about her driver - no one told her he had actually died - and wasn't so concerned about herself. She kept telling her parents she would be fine."
While based in Morocco, Ms Alaoui also worked on projects designed to help refugees trying to or thinking about making the dangerous Mediterranean crossing to Europe.
And prior to the major European refugee crisis of the past two years, Ms Alaoui worked with the UNHCR and the Danish Refugee Council to raise awareness of the plight of asylum-seekers in Lebanon.
In 2013, she said she had already been working on documenting issues of migration, refugees and cultural diversity for six years.
Of her subjects, she explained at the time: ""I don't want to show them vulnerable and miserable. When someone looks at you, you just see a person that is just human and real, strong, beautiful. I don't want to have a condescending approach."
In the statement declaring its responsibility for the Ouagadougou attacks, AQIM described it as "a drop in the sea of global jihad" and said it comes "within a series of operations to cleanse the land of Islam and Muslims from the dens of global espionage", according to a translation published by SITE Intelligence Group.
It was the group's first attack in Burkina Faso, and Amnesty said Ouagadougou was not deemed a high risk destination for its employees. In Ms Alaoui, the group has killed a woman who spent most of her adult life reaching out to and raising awareness of the plight of marginalised Muslims.
Yalda described Wednesday as "a hard but beautiful day". "There was so much love and so many people came to the cemetery," she says.
"She is the proof jihadists kill anyone, Muslim or not. They do not and cannot represent Islam."
http://timesofindia.indiatimes.com/world/middle-east/Leila-Alaoui-The-artist-who-was-killed-by-jihadists-and-what-she-was-trying-to-tell-the-world/articleshow/50678182.cms
--------
Muslim Women and the Militant Atheists
Soumaya Ghannoushi
Friday, 22 January 2016
It seems it is not only the far right that seizes the opportunity of every calamity that befalls us and every terrorist attack to unleash their exclusionary and hateful rhetoric towards Islam and Muslims. Self-proclaimed enlightened liberals do too.
When it comes to Islam and Muslims in general, and Muslim women in particular, ideological and political differences seem to vanish. Apart from the pompous jargon of reason and enlightenment, one would be hard put to find much that distinguishes the discourse of the new atheists like Sam Harris, Richard Dawkins, or the late Christopher Hitchens from that of Marine Le Pen of the Front National, and other far right figures.
Nothing seems to irritate these more than Muslim women's headscarves, baggy trousers and long skirts. We are the dense incarnation of the Muslim world, with all its complexities and contradictions, and of Islam with its different forms and expressions. In their eyes, we are the embodiment of the Muslim other shrouded in mystique and strangeness, disdain and pity, the emblem of subordination, backwardness, ignorance, of herd mentality and the absence of free will and autonomy. To them, the simple piece of cloth on my head symbolises all that is wrong with Islam and the Muslim world. We Muslim women are thus guilty of every lunacy committed in the name of our faith, of crimes we did not perpetrate and sins we did not commit.
It was hardly surprising to see Richard Dawkins, the zealous missionary of new atheism, seize on the tragedy of the Paris attacks to call on Muslim women to remove their veils in solidarity with the victims. Turning into a mufti, the evangelical missionary of new atheism declared the wearing of the veil "not compulsory in Islam" and challenged Muslim women to remove it, asking: "How about taking it off now as gesture of Islamic solidarity with Paris?"
Through wilful confusion and intentional generalization, contradicting every principle of the scientific method he purports to champion, Dawkins established imaginary links between wholly divergent subjects, between terrorist attacks in Paris and Muslim women's dress choices. So, according to this sick reasoning, I, along with millions of Muslim women around the world, simply because of our dress choices, find ourselves in the position of defendants accused of crimes we never committed and required to strive to prove our innocence.
This arrogant discourse rests on two pillars: 1. a stigmatizing exclusionist tendency, which recycles rightwing rhetoric with its racism and disdain for the other; and 2. a form of patronizing missionary paternalism. It isn't enough for the militant new atheists to diagnose Muslim women's conditions, they purport to have the solution to their ordeals and key out of the prison where they seem to languish. For they are no more than minors, devoid of free will, whose bodies and minds the new warriors of enlightenment bear the noble burden of liberating from the chains and shackles that bind them.
This narrative of dominance is reminiscent of colonial attitudes towards aboriginal societies, whose conditions they begin by analysing "scientifically" and "objectively," then dismiss them as backward, submissive and stagnant, in preparation for the intrusion into their affairs, with the sole objective of freeing, rationalising and saving them from the dark cage of veiling, superstition and delusion -- the favorite words of Dawkins and fellow militant atheists.
The new atheists are in reality heirs to the worst tendencies within modern western discourse, with the essentialism that shaped classical Orientalism's negative, derogatory and arrogant perception of others, dismissed as inferior; and its positivism permeated with self-certainty, dogmatism and missionary zeal.
And although postcolonial studies and critical theories have cast doubt over these grand notions and cut them down to size, Dawkins, the evolutionist, has ironically remained stuck in the nineteenth century, stubbornly resisting evolution. When we dig beneath his rhetoric of reason, rationality, science and objectivity and combat against religion and illusions, what we find is little more than an inflated arrogant euro-centric ego.
It may come as a surprise to Dawkins, Harris and other militant atheists, but the truth is that there is no valour in atheism per se, just as there is no special honor in theism in itself. They are both personal beliefs to do with individual choices and are no ground for sanctimonious self-congratulatory propaganda, as the new prophets of atheism seem to think. Just as there are fanatical forms of religion, there are arrogant, intolerant and interventionist forms of atheism. Theirs is a case in point.
Neither, indeed, is there any heroism in stigmatising women and lecturing them on which parts of their bodies to bare and which to cover. I am a Muslim woman who freely chooses to wear the hijab. Whether I elect to cover my hair, dye it blue or purple or shave it off altogether is none of the concerns of Dawkins, his fellow missionaries of enlightenment, or anybody else. The hair is mine and I'll bloody well do what I like with it!
I refuse to have Salafi zealots dictate to me how to live, just as I firmly object to bigoted islamophobes interfering in my personal choices, of what I should and should not wear. I deplore their patronising misogyny, whether it disguises its ugly face behind the mask or religion or science, of faith or atheism.
https://www.middleeastmonitor.com/articles/middle-east/23473-muslim-women-and-the-militant-atheists
--------
Saudis reluctant to marry women in mixed jobs
Friday 22 January 2016
ABHA: Many Saudi working women are aware that it is quite difficult to get married if they are in mixed jobs especially in the medical and media fields. Society still denies the most basic rights to those who have reached high positions in their jobs.
Matchmaker Um Talal said that she has detected a number of cases in which men refuse to marry women who work in mixed fields. Despite the fact that some of these men were highly educated, they still reject a woman working in such fields, claiming that they prefer a woman who has a job as a teacher or in any other "female sector."
Um Talal claimed that the largest percentage of single women is among doctors and nurses since most proposing men seek women who are neither doctors nor nurses.
Director of the Human Development Center Abdullah Al-Salman said: "This subject requires thorough research based on these cases. It is rather difficult to build a personal conclusion based on one or two cases."
Saudi men say they are reluctant to marry doctors, nurses and journalists due to the nature of their careers and their odd hours of working. The woman is the backbone of every household. Men fear that if they marry a doctor or a nurse, she would constantly be weary and wouldn't have time for family.
Riyadh newspaper journalist Miriam Al-Jabir said: "Journalists are not spinsters, they are singles. It is not a flaw if a man refuses to marry a successful woman. We should not blame him for his choice. Besides, there are many Saudi journalists who are married before and after their careers."
Family and community consultant at King Khalid University Khalid Jalban said that a man fears the absence of a woman. Such career paths require hard working hours and an understanding man. However, many women have proven that they are capable of keeping up with such pressure and that they are capable of holding high positions in their jobs through the support of their families.
Private sector employee Nora Al Ali said, "Many of those who proposed to me were reluctant when they found out the nature of my job. Arab men, especially Saudis, still refuse to accept these kinds of jobs for women."
Abu Khalid said: "I don't mind if a woman works unless her work requires her to deal with men. This can lead her to get harassed."
Faisal Al-Ghamdi said: "We prefer our life partners to be employed so that she can help us with tough living circumstances. However, I wouldn't allow my wife to work directly with men."
Private sector employee Ahlam Al-Juhni said: "Men reject their wives to be working as salespersons because it requires dealing with men."
Maha Al-Shamri said: "The main reason why men won't get attached to a nurse or a doctor is because she deals with patients. Many of them consider that this is close to being a maid. The phenomenon of spinsterhood among doctors and nurses is becoming more evident. We should find the right solutions through showing support and portraying the real image of this career."
http://www.arabnews.com/saudi-arabia/news/868766
--------
Denmark named the world's best country for women to live in
Emma Henderson | The Independent | Jan 21, 2016
Denmark is the best country in the world for women to live in, according to a new report.
The US News and World Report survey contains the views of 7,000 women, who were asked to score countries on five attributes - including gender equality, income equality, safety and its progressiveness.
The aim of the list revised by brand strategy firm BAV Consulting and the Wharton School of the University of Pennsylvania, was to "gauge global perceptions of the world's biggest economies in terms of specific attributes associated with countries".
The report stated Denmark may be "among the world's highest taxed, endure long winters and watch the sunset before 4pm, but Danish women still remain the envy of the world".
Researchers of the report suggest the consistently high ranking for Denmark, which came 10th in the overall list of the world's best countries, is down to its "generous welfare state".
Along with its "virtually free" healthcare and education systems, the country also promotes gender quality and offers an earnings-related childcare system and a "parental leave policy that is among the most flexible in the European Union".
Denmark was also ranked by US News and World Report as being the second best country to raise children, and fourth on Save the Children's 16th annual Mother's Index, which assesses the well-being of mothers and children in 179 countries.
The report also notes that retired Danish women are also ranked as the most content in the whole of Europe, according to a study carried out by Eurostat.
Second on US News' list of the best countries for women is Sweden, which is reported to have the most "progressive attitudes towards gender equality", according to a YouGov poll.
Canada, which came second on the World's Top Countries list, is the named as the third best country for women to live in. The report says Canada's government has made protecting women's rights part of the domestic and foreign policy.
The Netherlands came in fourth place, followed by New Zealand, Germany, United Kingdom, Luxembourg and Austria.
Near the bottom list were Algeria and Pakistan, two countries criticised heavily for their approaches to human rights and their treatment of women.
The world's best 60 countries were based on their key business, economy and quality of life, where Germany came top, followed by Canada and then the UK in third place and the US in fourth.
http://timesofindia.indiatimes.com/world/europe/Denmark-named-the-worlds-best-country-for-women-to-live-in/articleshow/50672442.cms
--------
963 netted as den of illegal maids raided
Friday 22 January 2016
RIYADH: A large number of runaway housemaids of different nationalities, who were to be sent to various households in Madinah, have been arrested.
The raids were carried out in various parts of the city under the supervision of the district police chief Maj. Gen. Abdul Hadi Al-Shahrani.
During the joint operation with other relevant bodies, the police arrested 963 men and women who violated the residency regulations.
The police also arrested several persons involved in brewing liquor.
According to the police, the number of illegals arrested in Madinah since the campaign was launched last year has reached 100,000.
Those arrested would be deported after a formal inquiry to ascertain the degree of their respective offenses.
He said the campaign to flush out the illegals would continue.
http://www.arabnews.com/saudi-arabia/news/868806
--------
2 wives 'present' younger wife to hubby, 70
Monday 11 January 2016
JEDDAH: A 70-year-old citizen of Taif got the surprise of his life when his two wives egged him on to get married a third time, and that too to a younger woman. They not only made the suggestion but also offered help in the form of arranging the marriage.
Awad bin Aouaimer Al-Thouaibi told local media that he could not believe his ears when his wives came up with the idea. "First I thought they were pulling a fast one on me. However, they looked serious about it and said they want to do that out of love and respect for me and want to make me happy."
The wedding ceremony was held in a Taif hall under the supervision of none others but the two wives. A joyful Al-Thouaibi was all praise for them as they kept their promise and made all the arrangements for the D-Day.
The newly married couple took off for a honeymoon trip soon after the marriage. "I will never forget what they both did to make me happy," added Al-Thouaibi. He better not forget it!
While some female readers might frown upon the idea and cast doubts on the mental fitness of the generous wives, there may be a section of "thankful" women who would like to surprise their hubbies similarly.
http://www.arabnews.com/saudi-arabia/news/863481
--------
Firing near govt girls school in Faisalabad causes panic
January 22nd, 2016
FAISALABAD: Firing was reported near a government-run girls school in Faisalabad on Friday.
The incident caused panic amongst the parents of the students who rushed to the school and tried to barge into the premises in order to evacuate their children.
DawnNews showed footage of a large crowd gathered outside the gate of the government-run school.
The principal of the school also called law-enforcement agencies, and a police contingent rushed to the school to take stock of the situation.
Parents and students have been edgy following the attack in Charsadda, which brought back memories of the tragic APS Peshawar attack.
On Thursday, civilian security forces conducted a mock counter-terrorism drill at the Punjab University, which spread panic as most of the students were unaware of the drill being conducted.
Earlier this week, at least 21 people were killed during the attack on the Bacha Khan University in Charsadda. Police arrested 15 suspects after the attack during search operations in the district.
At least 60 people have been killed in various terror attacks in Pakistan since the start of 2016.
http://www.dawn.com/news/1234437/mock-counter-terrorism-drill-leaves-pu-students-fleeing-in-fear
--------
Hifzur Rehman Academy felicitates women reverts
Jan 22, 2016
SPEAKERS at a function to felicitate about a dozen women who embraced Islam recently hoped that the reverted women would adhere to true Islamic teachings and traditions of the Prophet Muhammad (peace be upon him) and prepare themselves to get the promised reward of paradise from Almighty Allah.
The event, organized by Moulana Hifzur Rehman Seoharvi Academy at Jeddah's Lasani Restaurant at the weekend, was presided over by Mrs. Chaudhry Shahbaz Hussein, wife of a former Pakistani minister.
The women reverts who were felicitated were Janet Shaw from US; Tehseen Paliwaal (earlier known as Tulsi Paliwaal) from the Indian state of Rajasthan; Alfiya Golwala (Aarthi) from Mumbai; Fatima (Beenu) from Lucknow, Fatima (Lillith) and Armenia Ayesha Ateeq (Meenakshi) from New Delhi.
Jeannie Baker, professionally a teacher, accepted Islam in Saudi Arabia a few years ago. She shared her experience and brought to light the problems faced by new Muslims.
The program started with the recitation of some verses from the Qur'an by Sara Altaf followed by a welcome address by Anam Tazeen Rizvi.
"I sincerely hope and pray that your, as well as our, commitment made with Almighty Allah is total and binding for all times to come. May Allah bless us and enable us to meet the challenges to our Iman (faith) with courage, fortitude and the determination of a Momina," she said.
The program was meticulously anchored by Fakeha Zinjani and concluded by a supplication from Rukhsana Zain.
Indian national Alfiya Golwala described in detail her inexplicable experiences in Islam while others found it very difficult to find words to express their unique feelings and excitement upon embracing Islam.
They expressed their joy and thanked to Almighty Almighty for His blessings.
On behalf of the academy, Farhana Behjat proposed a vote of thanks. She congratulated the new Muslims and requested everyone to extend their support and cooperation to them. She appealed to the community to come forward and spread the correct knowledge of Islam to their non-Muslim friends.
The reverted Muslim women were given souvenirs provided by Darussalam Publications, Alesayi Electronics, Arabian Toys Inventor Group (ATIG), Wajahuddin Ansari, Mushir Alam, Margoob, Ehteram Elahi, Asim Zeeshan, Azizurrab, Khalid Thanvi, Aftab Memni, Amanullah Ismail, Mohammed Nasir, Umme Samad and Mohammed Shahid.
http://saudigazette.com.sa/life/faith/hifzur-rehman-academy-felicitates-women-reverts/
URL: https://newageislam.com/islam-women-feminism/leila-alaoui-artist-killed-jihadists/d/106083
New Age Islam, Islam Online, Islamic Website, African Muslim News, Arab World News, South Asia News, Indian Muslim News, World Muslim News, Womens in Islam, Islamic Feminism, Arab Women, Womens In Arab, Islamphobia in America, Muslim Women in West, Islam Women and Feminism, Moderate Islam, Moderate Muslims, Progressive Islam, Progressive Muslims, Liberal Islam, Liberal Muslims