New Age Islam News Bureau
30 Jan 2016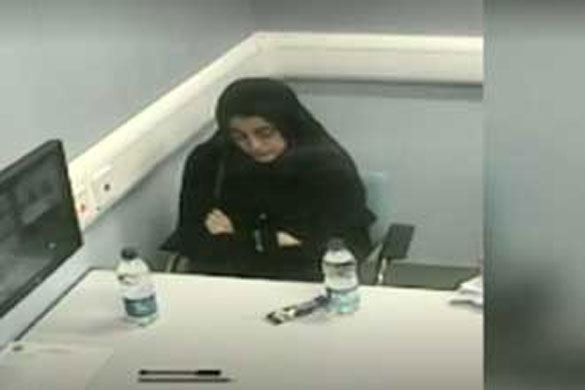 Photo: Police footage shows Tareena Shakil, who was charged with joining the Islamic State, describing how she ended up with the terrorist organization. By REUTERS on Publish Date January 29, 2016.
----------
• Saudi Women Volunteer To Teach Their Mother Tongue to Expatriates
• Tareena Shakil Guilty: Woman Who Took Toddler Son to Syria to Join ISIS Convicted
• Wife Who Fought to Free Preacher Husband from Iran Prison Seeks Separation
Compiled by New Age Islam Edit Bureau
URL: https://www.newageislam.com/islam,-women-and-feminism/new-age-islam-edit-bureau/british-woman-is-convicted-of-joining-isis/d/106174
-----------
British Woman Is Convicted of Joining ISIS
JAN. 29, 2016
Police footage shows Tareena Shakil, who was charged with joining the Islamic State, describing how she ended up with the terrorist organization. By REUTERS on Publish Date January 29, 2016. Watch in Times Video »
A British woman who the police said had traveled to Syria to become a "jihadi bride" was convicted Friday of joining the Islamic State, as the authorities continued to push back against a small but steady stream of women who seek to join in jihad by going to the militants' self-declared caliphate.
The woman, Tareena Shakil, 26, went to Syria in October 2014 and returned about three months later to the United Kingdom, where she was arrested at Heathrow Airport in London. She was charged with being a member of a terrorist group.
The authorities said Ms. Shakil was the first woman in the United Kingdom convicted of joining the Islamic State — also known as ISIS, ISIL or Daesh — although dozens of British women are suspected of having joined up in Syria and Iraq over the past 12 months.
Ms. Shakil told the police that she and her son had been kidnapped while on vacation in Turkey and taken to Syria. In a police video of her questioning, which was released to the news media on Friday, she tells investigators, "It was never my intention to enter into Syria."
Investigators said, however, that they had found evidence, including Twitter posts and pictures, that demonstrated her support for ISIS.
One picture shows Ms. Shakil posing beneath an Islamic State flag in Syria, the police said, and another shows her wearing a black balaclava with the group's logo on it.
The authorities also found a picture of her posing with her young son as he wore an ISIS hat. Another image of the boy had a nickname in the style of a jihadist nom de guerre written on it and shows him standing on a couch next to a gun.
An official who leads counterterrorism investigations in the West Midlands region of England, Assistant Chief Constable Marcus Beale, said in a statement that Ms. Shakil had been "self-radicalized by viewing extremist material on the Internet."
"Our assessment is that she was not naïve," Mr. Beale said in the statement. "She had absolutely clear intentions when she left the U.K., sending tweets encouraging the public to commit acts of terrorism here and then taking her young child to join Daesh in Syria."
Ms. Shakil was convicted in Birmingham Crown Court and will be sentenced on Monday, the West Midlands Police said. They said that she had traveled to Syria to become a "jihadi bride" but that it was unclear why she left Islamic State-controlled territory in January 2015 and returned to Britain.
During the two-week trial, she told the court that she had returned to the United Kingdom because she regretted going to Syria.
"I came back of my own free will," she said, according to the BBC. "I came back because I realized I had made a mistake."
At least 56 British women and girls are suspected of having traveled to Syria to join the Islamic State in 2015, the police said. The authorities have started an online campaign that aims to stem the tide of young people, both men and women, who have traveled to Syria to take part in the conflict there.
The police used the announcement of Ms. Shakil's conviction to draw attention to a video posted by the campaign online Jan. 11 and titled "A Message From Syrian Mothers," in which Syrian refugee women in the United Kingdom urge British women not to travel to their war-ravaged homeland and, especially, not to take their children.
"Our children are now living in security, are provided with schools, a nice life and a beautiful future," a woman who gave her name as Isaaf says in the video. "So why are you taking them to a war zone?"
nytimes.com/2016/01/30/world/europe/british-woman-is-convicted-of-joining-isis.html?_r=0
-------
Saudi Women Volunteer To Teach Their Mother Tongue to Expatriates
Jan 30, 2016
Faiza Rizvi
Saudi Gazette
Do you understand Arabic? This can be quite an embarrassing question for those expatriates who find it difficult to speak basic Arabic in spite of spending most of their life in the Kingdom. Many grow up in an environment that does not require them to learn the language, but gradually face difficulties in communicating with native Arabic speakers.
"I was born and raised in Jeddah but still can't have a conversation in Arabic!" said Madiha Aziz. "I never felt the need to learn Arabic until I started work and that is when I realized just how important it is to know the native language of this country I've been living in," she explained.
Understanding their need to learn this beautiful language, 39-year-old Hadeel Abbasi, a Saudi author, founded "I Can Talk Arabic" (ICTA), an institute that makes learning Arabic easy and entertaining.
"Our goal is not just having a centre that teaches Arabic but a place where people feel welcomed while learning with individuals from all over the world who share the same interests," said Abbasi. "We take care of our students holistically by making sure that they have a wonderful time living in our country."
ICTA offers both advanced and beginners' level classes where reading, writing and speaking Arabic is taught. For convenience, classes are offered both in morning and evening. There are also special courses for those who just want a taste of the Arab culture, such as Arabic calligraphy and Arab yoga.
In addition to the traditional classroom approach of teaching Arabic, Abbasi uses other fun methods such as organizing Arabic skits for students as well as the natural approach where Arabic is carefully infused in their conversations. What's really amazing about Abbasi's institute is that all the Arabic instructors' work as volunteers who want to serve their language.
She explained that they are all Saudi women who are eager to teach Arabic to those who wish to learn it.
As a part of ICTA activities, last year Abbasi launched a campaign called "Kallimni Arabi" (talk to me in Arabic), which encouraged students to communicate in Arabic with foreigners and also among themselves. The campaign was a huge success and witnessed enthusiastic participation.
Last month, Abbasi launched another campaign titled "A'arif aakhut" (I know how to write), which mainly focused on Arabic calligraphy.
As part of this campaign, ICTA also celebrated the World Arabic Language Day in Red Sea Mall to give a taste of Arabic to a wider audience.
saudigazette.com.sa/saudi-arabia/i-can-talk-arabic-saudi-women-volunteer-to-teach-their-mother-tongue/
Tareena Shakil guilty: Woman who took toddler son to Syria to join ISIS convicted
Caroline Mortimer | The Independent | Jan 30, 2016
A British woman who has been found guilty of taking her toddler son to join Isis in Syria posed a "real threat" on her return to the UK, according to police.
Tareena Shakil was found guilty of joining the terror group and encouraging acts of terror on social media at Birmingham Crown Court on Friday.
The 26-year-old mother of one left Birmingham to travel to Raqqa in Syria in October 2014 after "self-radicalising" by viewing extremist material online.
She is believed to be the first woman to be tried in the UK for joining Isis.
In court, Shakil said she "had made a mistake" and she was only trying to find a better life for her son - but police said she "was not naive".
She denied the terrorism charges and said she just wanted to live under Sharia law.
Assistant Chief Constable Marcus Beale, who leads counter-terrorism measures in the West Midlands, said: "Our assessment is that she was not naive; she had absolutely clear intentions when she left the UK, sending tweets encouraging the public to commit acts of terrorism here and then taking her young child to join Daesh (Isis) in Syria.
"Photographs seized from her phone showed Shakil posing with a firearm and wearing a Daesh balaclava. Another showed a rucksack with a Daesh logo and person holding a handgun. These were taken while she was in Syria.
"Shakil had already incited others to commit terrorist acts on social media and having spent months living under Daesh, she no doubt presented a real threat on her return to the UK from the country early last year".
Shakil claims her extremist messages on social media and to her family were being monitored by Isis minders and she was unable to criticise the regime.
Her defence team said the former health worker had been groomed by Isis recruiters while she was vulnerable victim of domestic violence whose husband had just left her to go to Yemen.
During her trial, Shakil recounted her daring escape from Isis' clutches.
She claimed she bribed a taxi driver with $50 (£35) to take her part of the way to the Turkish border which she stole across under the noses of an Isis patrol.
She said: "I said stop, threw the money at him, grabbed (my son), grabbed the nappies and just ran across the fields to the border.
"There were three Isis fighters but they had their backs to me. They didn't see me".
During her time in the so-called caliphate, she claims she was held in a mansion - called a Maqqar - with other single women with her phone and internet use being closely monitored.
She said she covered for other women attempting to escape in November before taking her own chance in January 2015 by claiming she needed to run an errand at a local internet cafe.
Shakil handed herself into the Turkish military patrol when she was over the border where she was detained for six weeks before being flown back to Britain.
When she arrived home she was questioned by British intelligence officers from MI5.
Giving evidence at Shakil's trial, a senior analyst for the European Union Institute for Security Studies - Dr Florence Gaub - said 60 British women are thought to have gone to Syria - around 10 per cent women from Europe, North America and Australia who have joined the group.
timesofindia.indiatimes.com/world/uk/Tareena-Shakil-guilty-Woman-who-took-toddler-son-to-Syria-to-join-ISIS-convicted/articleshow/50782333.cms
-------
Wife Who Fought to Free Preacher Husband From Iran Prison Seeks Separation
Jan 30, 2016
TEHRAN (FNA)- The wife of the Christian preacher recently freed after more than three years in an Iranian prison filed for separation — on the day he came home to Idaho, records revealed Thursday.
Naghmeh Abedini, the wife of Saeed Abedini, apologized a day earlier in a lengthy Facebook posting for hiding "from the public the abuse I have lived with for most of our marriage", NBC reported.
"I sincerely had hoped that this horrible situation Saeed has had to go through would bring about the spiritual change needed in both of us to bring healing to our marriage," she wrote. "Tragically, the opposite has occurred."
Abedini, whose tireless efforts to get her husband sprung bore fruit on Jan. 16 when the preacher and four other Americans were released by Tehran, did not go into detail about the "growing cancer" in their marriage.
But Christianity Today reported in November that she told supporters her husband was addicted to pornography.
The petition for legal separation confirmed by NBC News that Abedini filed Tuesday in Boise, Idaho, were sealed. She filed it under her maiden name, which is Panahi, the records show.
But Abedini claimed in her post her husband did not want the public to know their marriage was in trouble.
"Three months ago Saeed told me things he demanded I must do to promote him in the eyes of the public that I simply could not do any longer," she wrote. "He threatened that if I did not the results would be the end of our marriage and the resulting pain this would bring to our children."
Abedini wrote she is open to reconciliation but "strictly base on God's word."
"I want us to go through counseling, which must first deal with the abuse," she wrote. "Then we can deal with the changes my husband and I must both make moving forward in the process of healing our marriage."
A 35-year-old former Muslim convert to Christianity, Saeed Abedini was arrested when he returned to his Iranian homeland in 2012 and accused of undermining national security by organizing "underground churches" in the mostly Shiite Muslim country.
"It seems like a dream. It's something we've been hoping for and praying for," his wife said after the preacher was sprung.
But instead of going straight home, Saeed Abedini's first stop in the U.S. was the Billy Graham Training Center in Asheville, North Carolina. It's not clear if his wife and children visited with him there.
Saeed Abedini was released as part of a prisoner exchange along with Washington Post reporter Jason Rezaian, former Marine Amir Hekmati, and another American, Nosratollah Khosravi-Roodsari. A fifth U.S. citizen, Matthew Trevithick, was freed in a separate deal.
en.farsnews.com/newstext.aspx?nn=13941109000870
URL: https://www.newageislam.com/islam,-women-and-feminism/new-age-islam-edit-bureau/british-woman-is-convicted-of-joining-isis/d/106174
New Age Islam, Islam Online, Islamic Website, African Muslim News, Arab World News, South Asia News, Indian Muslim News, World Muslim News, Womens in Islam, Islamic Feminism, Arab Women, Womens In Arab, Islamphobia in America, Muslim Women in West, Islam Women and Feminism