New Age Islam News Bureau
22 Dec 2015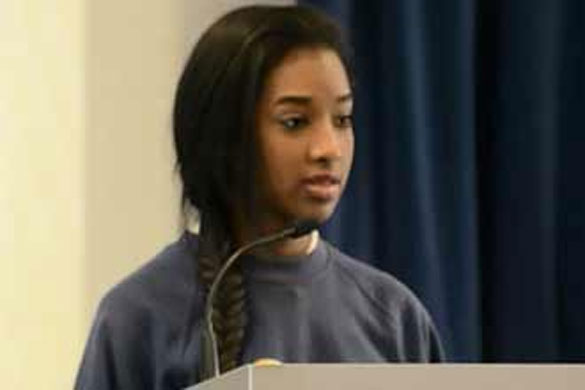 Photo: Isra Mohammed says she regularly faces prejudice because of her religion.
-----------
• ISIS fundraising in Pakistan's Karachi: Police looking for network of female fundraisers
• Two Muslim women speak out against non-Muslims' wearing of headscarves as a show of support
• For Muslim Intellectual, women are a pillar against extremism in the Islamic world
• Tunisia dismantles cell recruiting women for militants
• Story of anti-Muslim insult at local store prompts Facebook firestorm
• Female staff in hijabs, prayers before take-off and no alcohol: Muslims climb aboard Malaysia's first Shariah-compliant airline
• 67% of Saudi women suffer from osteoporosis
• Muslim Women Decry Americans Donning Hijab in Solidarity: 'Stand with Us…Against' Sexist Islamism Ideology
• Women-only buses introduced in Egypt for first time
• How to Sell a Hijab in Malaysia
• Four months after embracing Islam, Sabahan singer gets flak for sharing Xmas carol
• Shisha ban on Jeddah corniche wanted
• Local Muslim women fight fear with self-defense lesson
• Reham Khan replies to ex-husband's legal notice
• Police bust women robber gang
• Woman 'kills' daughter before 'committing suicide'
• Niagara Muslim woman taunted in public building
Compiled by New Age Islam Edit Bureau
URL: https://newageislam.com/islam-women-feminism/british-muslim-schoolgirl-gives-powerful/d/105696
------------
British Muslim schoolgirl gives powerful speech about the prejudice she faces every day
Dec. 21, 2015
LONDON — A Muslim schoolgirl has discussed the daily prejudice she and her family face in a powerful speech about Islamophobia given during a school assembly.
Isra Mohammed, a 15-year-old student at Kenton School in Newcastle gave a presentation in which she discussed how her religion is viewed in the wake of the Paris attacks, and the treatment she and her family have received because of their faith.
"I had people coming up to me in school, this week and last week, telling me because I'm Muslim, I am a terrorist," Mohammed says in the video. "And this is something I go through every day of my life, and it's become worse since what happened in France." "So how would you feel if that was you in my situation?" she continues. "I have a seven-year-old sister. She came home from school last Monday, crying. When I asked why, she said to me, 'People are blaming me in school for the Paris attacks'.
Mohammed says that Islamic State (ISIS) wants countries like the UK to reject Muslims. "People link us to terrorism, but we are not terrorists," she says. "They have hijacked our religion and used it against us." "They have hijacked our religion and used it against us."
"So what can we do about it?" she finishes. "We can learn about each others' religions and cultures. We can stop making assumptions. We can be fair to one another. And remember: when you tell someone, 'You're a terrorist because of your religion', it's a hate crime."
"My name's Isra Mohammed. I am Muslim, and I am not a terrorist."
Have something to add to this story? Share it in the comments.
http://mashable.com/2015/12/21/british-muslim-schoolgirl-islamaphobia-speech/#a6dUFBxddsql
------------
ISIS fundraising in Pakistan's Karachi: Police looking for network of female fundraisers
By ZABIHULLAH MOOSAKHAIL
Dec 22 2015
Security agencies in Pakistan's business hub Karachi are looking for a network of female fundraisers for the terrorist group of the Islamic State in Iraq and Syria (ISIS).
Police say the group collects money in the name of Islamic charity.
Head of the Counter Terrorism Department of Sindh province told AFP news on Monday that the hunt was launched after police arrested the suspected financier of a gun attack on a bus that left 44 people dead in May.
The attack on the bus was later claimed by ISIS which was carrying members of the Shia community.
Raja Umar Khattab said one of the suspects arrested last week, who goes by the name of Adil Masood Butt, confessed to police that his wife had established a religious organization in the city called 'Al Zikra Academy' which does not have an organizational structure or office.
"A group of 20 women, all from well-off families, distributed USBs (computer memory sticks) containing Islamic State videos, and also preached in support of terror organizations. They also arranged marriages among the group's followers," Khattab said.
"The wife and mother-in-law of the main suspect of the carnage, Saad Aziz, were also part of the network."
Saad Aziz who was arrested by police in May has been blamed for carrying out the carnage and killing Sabeen Mahmud who was a human rights activist.
http://www.khaama.com/isis-fundraising-in-karachi-police-looking-for-network-of-female-fundraisers-4410
------------
Two Muslim women speak out against non-Muslims' wearing of headscarves as a show of support
By Eugene Volokh
December 21, 2015
Last week, three female religious leaders — a Jewish rabbi, an Episcopal vicar and a Unitarian reverend — and a male imam, or Muslim prayer leader, walked into the sacred space in front of the ornately-tiled minbar, or pulpit, at the Khadeeja Islamic Center in West Valley City, Utah, the women smiling widely, their hair covered with swaths of bright scarves, to support "Wear a Hijab" day.
The Salt Lake Tribune published a photo of fresh-faced teenage girls from Corner Canyon High School at the mosque, their hair covered with long scarves. KSL TV later reported: "The hijab — or headscarf — is a symbol of modesty and dignity. When Muslim women wear headscarves, they are readily identified as followers of Islam."
For us, as mainstream Muslim women, born in Egypt and India, the spectacle at the mosque was a painful joke and reminder of the well-financed effort by conservatives to dominate modern Muslim societies. This modern-day movement spreads an ideology of political Islam, called "Islamism," enlisting unsuspecting well-intentioned do-gooders, while promoting the headscarf for women as a virtual "sixth pillar" of Islam, after the traditional "five pillars," the shahada (or proclamation of faith), prayer, fasting, charity and pilgrimage. We reject this interpretation. We are not too sexy for our hair. . . .
To us, the headscarf is a symbol of an interpretation of Islam we reject that believes that women are a sexual distraction to men, who are weak, and, thus, we must cover ourselves. We don't buy it. This ideology promotes a social attitude that absolves men of sexually harassing women and puts the onus on the victim to protect herself by covering up.
The new Muslim Reform Movement, a global network of leaders, advocating for human rights, peace and secular governance, supports the right of Muslim women to wear — or not wear — the headscarf.
Unfortunately, the idea of "hijab" as a mandatory headscarf for women, duping well-intentioned "interfaith" supporters, is promulgated by efforts such as "World Hijab Day," started in 2013 by Nazma Khan, the Bangladeshi American owner of a Brooklyn-based headscarf company, and Ahlul Bayt, a Shia proselytizing TV station, that the University of Calgary, in southwest Canada, promotes as a resource for its participation in "World Hijab Day," the TV station arguing "hijab" is necessary for women to avoid "unwanted attention." World Hijab Day, Ahlul Bayt and the University of Calgary didn't respond to requests for comment. . . .
In the name of "interfaith," well-intentioned Americans are getting duped by the agenda of Muslims who argue that a woman's honor lies in her "chastity," pushing a platform to put a headscarf on every woman.
Please do this instead: Do not wear a headscarf in "solidarity" with the ideology that most silences us, equating our bodies with "honor." Stand with us instead with moral courage against the ideology of Islamism that demands we cover our hair.
https://www.washingtonpost.com/news/volokh-conspiracy/wp/2015/12/21/two-muslim-women-speak-out-against-non-muslims-wearing-of-headscarves-as-a-show-of-support/
------------
For Muslim Intellectual, women are a pillar against extremism in the Islamic world
Dec. 21, 2015
The status of women is changing in the Gulf States. This is especially so in Saudi Arabia where women can now be elected. However, "real change" to women's conditions can only come through "school and education," said Nehal El Naggar, Associate Professor at American University in Cairo.
A prominent Egyptian Muslim scholar, she spoke to AsiaNews about last Saturday's municipal election in Saudi Arabia, the first such exercise for Saudi women, as well as the problem of fundamentalism and the role women can play in the study of religion in the home since they are the first who pass it on.
"Municipal elections represented a big step forward, a real change for Saudi Arabia because granting women a public role is not part of tribal society," Nehal el Naggar explained. For the scholar, there is a "profound difference" between Islamic and tribal cultures because "Islam gives women a role and a place [in society]. Now tribal culture is especially in for a change because until now women could not play an active role in public life."
At present, women are part of this process and "are gaining a decision-making role. Can you imagine how society might be if "women gain decision-making power? For Saudi society, this would be a momentous shift."
Some small modernising concessions have already been made in Saudi Arabia, at least in some domains and to the benefit of some women who can drive despite the fact that women are banned from getting a driver's license. However, "the election of women to government is more important than the right to drive."
Asked about the possible change of the role and vision of women in the Muslim world, she immediately stressed the great differences between the various countries. The situation in Egypt, Iran, Jordan, and Lebanon "is very different" from that in Saudi Arabia and other Gulf States. "They are not comparable. In the Egyptian case, women have been fighting for their rights for decades."
For Prof El Naggar, "education is what affects change the most because only through it positive developments in Muslim societies are possible." Increasingly, young men and women reject "certain lifestyles" too closely associated with tradition, and a fundamentalist vision. "They rebel, and seek change."
What is more, "Women are a powerful factor in the fight against extremism," she said, "because it is women who pass on [a group's] culture, promote change, and teach children the basics of their faith, the principles of religion."
For example, "My mother educated me in the Islamic faith, a modern Islam. This too is part of the fight against extremist culture . . . because fundamentalism is not religion, and extremists are not people of faith. "
Speaking about recent events like the Paris terror attack, Prof El Naggar noted that "What is happening is due to the fact that second-third generation immigrants live in ghettoes. Parents also send their children to study in their country of origin. It is essential instead that they attend schools in their country of adoption, learning to respect its rules and customs. For its part, the host society, its government, must work towards integration." (DS)
http://www.asianews.it/news-en/For-Muslim-Intellectual,-women-are-a-pillar-against-extremism-in-the-Islamic-world-36173.html
------------
Tunisia dismantles cell recruiting women for militants
21 December 2015
Tunisia said on Monday it has dismantled a cell in the northern region of Bizerte recruiting women to marry militants fighting abroad and has made four arrests.
The interior ministry said in a statement that anti-terrorist units led the operation to bust the "takfiri" radical Sunni Muslim network, without saying when the arrests took place.
The suspects had been "recruiting young people, especially girls, to send them to conflict zones for marriage to terrorist elements there," it said.
Tunisian authorities have stepped up arrests since a Nov. 24 bomb attack on a bus in Tunis claimed by ISIS killed 12 presidential guards.
An estimated 6,000 Tunisians have travelled to Syria, Iraq and Libya to join jihadist organizations. Tunisia's minister for women's affairs, Samira Merai, has said that number includes around 700 women.
https://english.alarabiya.net/en/News/2015/12/21/Tunisia-dismantles-cell-recruiting-women-for-militants-.html
------------
Story of anti-Muslim insult at local store prompts Facebook firestorm
Dec. 21, 2015
CRESTVIEW - A Muslim woman's story of harassment at a local grocery store has gone viral online.
According to a story she posted on her Facebook profile and three public Facebook pages, Yasmin Saunders and her family were shopping at Publix last week when a stranger approached them and tossed a package of bacon in her cart.
Observant Muslims do not eat pork of any kind.
"Merry Christmas, buddy," the man reportedly said.
Saunders, a native of New Orleans, said she was shocked and distressed by the incident.
"My heart instantaneously crumbled into a million pieces," she wrote in her Facebook post. "I turned around and asked the man why would you do something like that? He said because I can!"
Saunders and her family moved to the area after her husband, a Christian who has served in the military since 2007, was stationed at Eglin Air Force Base. Her father, stepmother and two brothers are visiting from Louisiana and were with her at the store at the time the incident occurred. While Saunders wasn't wearing a hijab, or traditional Muslim headscarf, her stepmother was.
According to Tim Bryant, the manager of the Crestview Publix, another manager on duty witnessed the incident and tried to defuse the situation.
"Everyone was pretty upset, so the manager tried to get them to calm down," Bryant said. "He told the guy who had made the comment that you're not going to do things like that here. The guy paid for his stuff and left the store."
Saunders' account of the incident prompted more than 600 comments, more than 3,000 likes, and was shared on Facebook nearly 2,000 times.
"I got messages from all over the country," she said.
While the majority of comments were sympathetic with Saunders and condemned the man's action, a handful of people responded with anti-Muslim remarks.
"I was expecting a lot more negative comments," Saunders said. "I wanted to show my family that all of the people in Crestview aren't like that one guy. They were so upset by what happened, they didn't want to go out in public any more. Seeing all of the positive and supportive comments really left them surprised and humbled."
Crestview Mayor David Cadle said he hopes the event was an isolated incident.
"The people of Crestview are polite and respectful," he said on Monday. "This is the first time I've heard of something like this during my time in office. We want all of our military families to be treated well."
http://www.nwfdailynews.com/article/20151221/NEWS/151229874
------------
Female staff in hijabs, prayers before take-off and no alcohol: Muslims climb aboard Malaysia's first Shariah-compliant airline
21 December 2015
Malaysia's first Islamic-compliant airline Rayani Air has launched, with its maiden flight taking off from the capital to the resort island of Langkawi yesterday.
In-flight meals served on board its flights are completely halal, with alcohol consumption strictly prohibited, in compliance with Shariah laws.
The dress code is also reflective of Shariah guidelines, as Muslim flight crew must wear the hijab while non-Muslim crew have to be decently dressed.
There will also be prayer recitals on the plane before take-off.
The company's Managing Director Jaafar Zamhari told the Star newspaper: 'We are the first Malaysian airline to be shariah-compliant based on guidelines by relevant authorities. We are proud of this.
'The shariah-compliant aspects will be refined as time goes by,' he added using the Arabic word for Islamic law.
There are already other shariah-friendly carriers operating around the world, and UK-based Firnas Airways is planning to offer similar flights next year, according to a Bloomberg news agency report.
Under the concept of halal - meaning 'permissible' in Arabic - pork and its by-products, alcohol and animals not slaughtered according to Islamic procedures are all 'haram' or forbidden.
Halal standards also apply to products such as cosmetics, which may contain animal-derived ingredients, and the conditions under which they are prepared and stored.
Muslim-majority Malaysia has long practised a moderate form of Islam but conservative attitudes are rising.
A company recently introduced halal bottled mineral water in Malaysia, and Islamic speed dating sessions - where single women are chaperoned - have been embraced.
A halal convention in Kuala Lumpur earlier this year, which drew thousands of delegates and hundreds of exhibitors, showcased products ranging from food and cosmetics to collagen produced from yaks in Tibet.
http://www.dailymail.co.uk/travel/travel_news/article-3368634/Female-staff-hijabs-prayers-no-alcohol-Muslims-climb-aboard-Malaysia-s-Shariah-compliant-airline.html
------------
67% of Saudi women suffer from osteoporosis
22 December 2015
JEDDAH: Sixty-seven percent of Saudi women suffer from osteoporosis, according to the latest statistics revealed at an event organized by the Ministry of Health in Jeddah.
Dr. Dhia Al-Haj Hussein, a consultant on rheumatism, said that the spread of osteoporosis in the Kingdom and the Gulf countries is more than that in Western countries, particularly among women.
A Saudi study published by an international journal surveyed 321 Saudi women between the ages of 24 and 46. It discovered that 52 percent of Saudi women were deficient in Vitamin D, possibly due to a lack of consumption of milk and milk products, insufficient exposure to the sun and a lack of exercise.
Dr. Fahad Al-Omari, director of the National Program to Combat Osteoporosis, said that a program was organized under the auspices of Abdulaziz bin Said, undersecretary in the Ministry of Health, to introduce diagnostic methods for the disease, as per international standards, as well as to expand the latest treatment types.
This program is expected to improve the capabilities of those who work in this area of health and medicine, including doctors, paramedics and technicians.
http://www.arabnews.com/food-health/news/854036
------------
Muslim Women Decry Americans Donning Hijab in Solidarity: 'Stand with Us…Against' Sexist Islamism Ideology
by DR. SUSAN BERRY
21 Dec 2015
In an op-ed at the Washington Post, Muslims Asra Q. Nomani and Hala Arafa are denouncing the left's attempts to show "solidarity" with Muslims by inviting schoolgirls and women to don the hijab. Instead, they say Americans are getting "duped" by the Muslim sexist agenda and would rather see Americans stand against the ideology of Islamism that represses women and demands Muslim women cover themselves.
"Journalists and media outlets must stop making the mistake of defining hijab as 'headscarf,' furthering a sexist propaganda campaign to equate the two," the authors write.
In the wake of the most recent Islamic terrorist attacks in Paris and San Bernardino, California, some in schools who have donned the hijab – the traditional garb for Muslim women – as a sign of solidarity have caught the attention of national media.
At Christian Wheaton College, political science professor Larycia Hawkins wore the hijab to show "solidarity" with Muslims as she also claimed Muslims and Christians share the same beliefs regarding the nature of God and salvation. Similarly, at Vernon Hills High School in Illinois, the Muslim Students Association – with strong links to the Muslim Brotherhood – offered a "Walk a Mile In Her Hijab Day" to non-Muslim students, giving the girls an opportunity to try on the hijab as a way to learn more about the Muslim religion.
"Muslim special-interest groups are feeding articles about 'Muslim women in hijab' under siege," Nomani and Arafa write. "Staff members at the Council on American-Islamic Relations [CAIR], which has pressed legal and PR complaints against U.S. companies including Disney World and Abercrombie & Fitch, have even called their organization 'the hijab legal defense fund.'"
"In the name of 'interfaith,' well-intentioned Americans are getting duped by the agenda of Muslims who argue that a woman's honor lies in her 'chastity,' pushing a platform to put a headscarf on every woman," they continue. "Please do this instead: Do not wear a headscarf in 'solidarity' with the ideology that most silences us, equating our bodies with 'honor.' Stand with us instead with moral courage against the ideology of Islamism that demands we cover our hair."
The authors explain those who are promoting "solidarity" with Muslims are diminishing the meaning behind the hijab – for their own purposes of pushing their agenda against Christian and Jewish conservatives —when they present it as merely a "headscarf."
"Not once is hijab used in the Koran to mean 'headscarf,'" Nomani, cofounder of the Muslim Reform Movement, which advocates for human rights and secular government, and Arafa, a former news editor at the Arabic Branch of the Voice of America, assert. "It most certainly never denotes any act of piety. Rather, it carries the negative connotation of being an actual or metaphorical obstacle separating the 'non-believers' in a dark place…"
The writers refer to such "wear a hijab" efforts as a "reminder of the well-financed effort by conservatives to dominate modern Muslim societies."
They continue:
This modern-day movement spreads an ideology of political Islam, called 'Islamism,' enlisting unsuspecting well-intentioned do-gooders, while promoting the headscarf for women as a virtual "sixth pillar" of Islam, after the traditional "five pillars," the shahada (or proclamation of faith), prayer, fasting, charity and pilgrimage. We reject this interpretation. We are not too sexy for our hair.
Nomani and Arafa explain that while both were born into conservative families that had no edict for women to cover their hair, following the Iranian revolution of the minority Shia sect in 1979 and the rise of the "well-funded" Saudis from the majority Sunni sect, "We have experienced bullying to cover our hair from men and boys."
The authors essentially place the Muslim "solidarity" movement — largely a movement of the so-called "feminist" left — on notice.
"To us, the headscarf is a symbol of an interpretation of Islam we reject that believes that women are a sexual distraction to men, who are weak, and, thus, we must cover ourselves," the authors assert. "We don't buy it. This ideology promotes a social attitude that absolves men of sexually harassing women and puts the onus on the victim to protect herself by covering up."
The Muslim Reform Movement, however, supports the right of Muslim women to have the option of wearing the hijab or not.
"As Americans, we believe in freedom of religion," Nomani and Arafa write. "But we need to clarify to those in universities, the media and discussion forums that in exploring the 'hijab,' they are not exploring Islam, but rather the ideology of political Islam as practiced by the mullahs, or clerics, of Iran and Saudi Arabia, the Taliban in Afghanistan and the Islamic State."
http://www.breitbart.com/big-government/2015/12/21/muslim-women-decry-americans-donning-hijab-solidarity-stand-usagainst-sexist-islamism-ideology/
------------
Women-only buses introduced in Egypt for first time
21 Dec 2015
Egypt has for the first time introduced women-only buses in the Nile Delta city of Damanhour, with officials saying the move is not to combat sexual harassment as assumed by many.
"Of course we want to decrease any kind of violence against women, yet it is not the main reason for introducing the buses," spokesperson for Beheira governorate Wahdan El-Sayed told Ahram Online.
"The governorate has received complaints from women in the past weeks that they were unable to use public transportation, especially during rush hours," says El-Sayed, explaining that women were often physically unable to reach the bus doors due to men pushing their way onto the buses.
El-Sayed explained that six out of 66 government-owned buses have been allocated for women only, adding that five of the buses are for all women while one is designated for women with disabilities.
The official said the new buses have been in operation for the past four days and that citizens in the city have been overjoyed and are welcoming the new move.
"The buses only work during rush hour, though they will soon be operating throughout the day," El-Sayed said.
Public buses in Egypt offer several types of vehicles at different prices. There is the standard full-sized bus service run by the Cairo Transport Authority (LE1), and minibuses run by companies subcontracted by the government (LE2).
Public buses and Cairo's metro system are the two most used and accessible means of transport in Egypt due to their low priced tickets.
In a country with chronic and severe traffic problems and an ever-growing population, the Central Agency for Public Mobilisation and Statistics (CAPMAS) highlighted in its latest annual report that passengers in all Egyptian governorates – with the exception of Cairo and Alexandria – increased from 86.1 thousand to 99.8 thousand between the years 2012 and 2014.
El-Sayed explained that no other cities have introduced the idea as they are not facing Damanhour's traffic problems.
"We do not mean any kind of discrimination by this move as some people have been claiming, we just felt the urge to help elderly women to easily access public transportation," says El-Sayed.
"Sexual harassment is of course part of the problem, though it represents only 10 percent of the factors behind the creation of women-only buses."
A newly introduced 'Pink Taxi' service in Cairo attempts to address sexual harassment and discrimination by offering cabs with female drivers.
Egypt has long been facing endemic sexual harassment against women, especially in overcrowded public transportation.
Cairo's metro system has carriages designated for women only, which were put in place by the government decades ago.
http://english.ahram.org.eg/NewsContent/1/64/174120/Egypt/Politics-/Womenonly-buses-introduced-in-Egypt-for-first-time.aspx
------------
How to Sell a Hijab in Malaysia
BY TARA THEAN
DECEMBER 21, 2015
In October of 2013, the Malaysian entrepreneur Vivy Sofinas Yusof posted a slightly blurry snapshot of herself on Instagram. She was looking at a menu, wearing a simple green top and black head scarf. It was her first public appearance in the hijab, and within a week she had ten thousand new Instagram followers. Comments on the picture poured in: "I have made u as my inspiration." "Love you lillahi ta'ala." "May God bless you sis."
For many Muslim women, the decision to don the hijab—a head covering typically worn after puberty, in order to observe the Islamic principles of modesty and privacy—is born of private self-reflection. Initially, this was the case for Yusof, who is now twenty-eight years old. But her choice soon became something else, as well: a lucrative source of attention for herself and her multimillion-dollar online-retail startup, FashionValet, which already sold hijabs and later came to include her own line of scarves and a stationery brand. Yusof is now among the growing number of Malaysian women who are trying to revolutionize the hijab's contentious image. While the scarf has tended to be viewed primarily as a marker of Islamic duty and identity, and sometimes, especially in the West, of female subjugation and oppression, in Malaysia women are free—even encouraged—to inject glamor and prestige into the hijab, and to make money from it. Although the country is predominantly Muslim, a form of Sunni Islam is the official state religion, and it has a dual legal system that incorporates Islamic law, it is generally more moderate than many other Muslim nations. Unlike Iran or Saudi Arabia, for example, Malaysia does not force women to cover their heads by law. About five million of the country's seventeen million Muslims—perhaps a little over half of Muslim women—wear the head scarf.
Yusof is the co-founder and chief creative officer of FashionValet, which primarily stocks clothes by Southeast Asian designers. The company has done particularly well selling clothing that is Muslimah, or observant of Muslim customs, even as it borrows the marketing techniques of global western retailers. Yusof rose to prominence with her blog, ProudDuck.com, where she has been writing for more than seven years about her college days in London, her family, and her work. Her posts, there and on social media, are distinctly aspirational. The posts are also distinctly Muslim. She has blogged, for example, about a Quran recitation app called iQuran, and about the mandatory course Malaysian Muslims take to learn how to insure a good marriage. When FashionValet opened its new headquarters in the greater Kuala Lumpur area, Yusof published a picture of the facility's prayer room for her Instagram followers, who now number in the hundreds of thousands. A few posts later, she announced that a new line of handbags, which a regional designer had based on her style and named after her and her sister, had sold out forty-five minutes after their release. "I really don't know what to say except THANK YOU ALHAMDULILLAH," she wrote.
It was the donning of the hijab, though, that caused Yusof's following to escalate most steeply. It also presented her with a clear business opportunity. Seven months after she posted the snapshot of herself in a head scarf, she launched a line of luxury hijabs, called dUCk, which the company describes as "the new cool for scarves . . . for stylish ladies who appreciate a dash of luxury in their lives."
The dUCk brand strives to replicate the experience of buying the iconic, prohibitively expensive scarves sold by Hermès. Indeed, the dUCk box and the Hermès scarf box are strikingly similar. Both are flat, square, and sturdy, set apart by their color and trim: bold orange with a thin black border for Hermès; bold purple with a thin white border for dUCk. Upon opening a dUCk box, the customer finds a head scarf with a delicately stitched scalloped hem, available in colors with names like Banana Pudding, Diamond Rose, and Mint Frosting. The scarves can be long or short, and they barely crease, even after being scrunched up. Each has a subtle gold duck charm affixed to one corner, and costs a hundred and twenty ringgit (nearly thirty dollars).
The country's hijab industry already hosts a slew of competing brands. In Kuala Lumpur, a single street like Jalan Masjid India provides consumers with a dizzying array of hijab designs and brands to choose from. But there, the trade takes place in small, often hot and humid prewar shops, with low prices the primary draw. Hijabs on Jalan Masjid India can cost as little as four ringgit, or about one dollar, but they more often range from twenty or twenty-five ringgit, for a scarf that stops around the chest area, to forty-five ringgit, for one that goes to the hips. Style and being on trend do matter—one vender told me that "dua muka" (two-faced) scarves, showcasing different colors on an inner and outer layer, had been particularly popular recently. But for most customers comfort and religious suitability are key. "They look at . . . whether the scarf makes it easy to go for prayers, Hajj," a vender named Ayuniza binti Safrozal told me. Other Malaysian designers have gone after the "convenience" end of the market. The actress and television host Noor Neelofa Mohd Noor, who is better known simply as Neelofa, produces the Naelofar Hijab line of "instant shawls"—express versions of conventional head scarves that consumers can slip over their heads without the fuss of pins or draping.
Yusof was determined that dUCk be different from the outset. She told me that, when the label was still in its infancy, her husband (and FashionValet's C.E.O.), Fadzarudin Anuar, suggested that she avoid competing with the existing markets and instead make hers an aspirational brand. The high price and the packaging were part of this strategy. Yusof's blog and social-media posts—in English, which is spoken by a higher percentage of affluent Malaysians than of the public at large—implicitly added to the appeal. But the packaging had personal significance as well, she said. "Everyone buys scarves and they just put them in plastic bags," she said. "Wearing the scarf is a celebration of my religion. When people buy scarves they should be well-presented." In her posts, she tells readers that choosing to wear the hijab should be an upgrade to their lives. "She is changing the whole reputation of the head scarf," Farah Alia Razali-Tyler, a law graduate, told me. "When people thought of the hijab, they thought, 'I don't want to look like a makcik' "—a frumpy older woman. "Now they're saying it's okay to be more modern."
dUCk's approach places it in competition less with the instant shawls and the shops along Jalan Masjid India than with the Muslimah-fashion stores in affluent suburbs like Bangsar, outside central Kuala Lumpur. One of these outposts, Modvier, sells some sixty-five local and international Muslimah brands. Customers arrive brandishing their smartphones, to show the sales assistants photos of models they've seen on the store's Instagram account or on television. For these shoppers, Modvier tries to emphasize material and workmanship—pointing out, for example, that material and stitching are crucial to the way the hijab falls around the face (some women may seek a slimming effect from the material, or want elegant stitching). Higher-end scarves might also be cooling, given Malaysia's climate. Modvier's operations manager, Anita binti Asril, told me that Modvier staff are also mindful of the hijab's significance, in Islam, as a symbol of modesty. Customers often begin with shorter hijabs, then progress to longer ones as they get older—when "they know what Islam wants." Some women, particularly foreign ones, begin their journey toward the hijab by first trying out other Muslimah wear, like jubahs (long-sleeved, loose, full-length dresses), while keeping their hair uncovered.
For Yusof and others whose celebrity is linked with the scarf, the goal of religious modesty offers more of a challenge. "Once they see you as a hijab icon, you're automatically a Muslim icon," she said of her fans. She said she'd been told things like, "I've started wearing the head scarf because you make it look so easy." Such comments make her uncomfortable, because she doesn't feel knowledgeable enough about Islam to serve as an advocate for the hijab. There are scholars for that, she said, adding that no one should wear the scarf because they idolize another person. She herself still wears tight trousers and bright colors, even though some religious authorities argue that Muslim women are prohibited from wearing formfitting clothes in public, or indeed from attracting attention at all. Yusof's fans also occasionally voice concerns about her appearance. She has blogged about receiving e-mails and social-media comments that tell her "Your pants are still too tight," and "I can still see your toes." Her Instagram followers speak up if they see a sliver of hair visible under her hijab ("Vivy, ur hair :((((((((").
These kinds of social pressures tend to be the extent of the interplay between FashionValet's business and the debates over the politics of the hijab that often take place outside Malaysia. Although regulations pertaining to the "decency" of attire are part of Malaysia's dual legal system—which includes Islamic law, for Muslims, alongside secular laws that apply to all citizens—certain areas of Malaysia are stricter about matters of dress than others. Local authorities in some states, like Kelantan and Terengganu, can fine Muslim women who wear tight clothing or who don't wear the hijab, but in urban areas, like greater Kuala Lumpur, the pressures are lighter, and officials tend to favor promoting Islamic dress over punishing the failure to adhere to it. Members of the Malaysian government, notably Zaidel Baharuddin, a special officer to the country's minister of domestic trade, coöperatives, and consumerism, have described the kind of self-expression and promotion that women like Yusof are doing as empowering. He told me that he views self-expression by Muslim women on social media to be equally relevant to feminism. And whether hijabs are simply in vogue or a sign of devotion to Allah, he said, the surge in popularity for Muslim fashion is a good thing. "You can follow the religious obligation and look good with it." Media outlets owned by the Malaysian government and the ruling Barisan Nasional coalition have featured Yusof and her business ventures, with accompanying photographs of her in close-fitting trousers and bright colors.
Though Malaysian films such as Norhayati Kaprawi's documentary "Siapa Aku?" ("Who Am I?") do question the reasons the country's Muslim women choose to don the head scarf, domestic media rarely presents public critiques of the hijab, or of the government's role in promoting it. But independent glossy fashion magazines are sometimes wary of the hijab's potential to alienate the country's secular, cosmopolitan women. After Yusof began wearing the head scarf, she told me, some magazines that had previously demonstrated great interest in her stopped calling. One, she said, cancelled plans for a feature about her after learning of her decision, even though an interview and photo shoot had already been scheduled. "They don't want . . . a kampung [village] girl," she said.
http://www.newyorker.com/business/currency/how-to-sell-a-hijab-in-malaysia?mbid=rss
------------
Four months after embracing Islam, Sabahan singer gets flak for sharing Xmas carol
December 22, 2015
KUALA LUMPUR, Dec 22 — Sabahan singer Stacy Anam, who recently converted to Islam, is now experiencing the ugly side of fame after some conservative Muslim fans attacked her for posting a short video clip of a Christmas carol on Instagram.
Just four months after embracing the religion, the 25-year-old was accused of "celebrating" Christmas after sharing a video excerpt of carollers singing the classic "O Holy Night" on the popular photo-sharing application.
The accompanying caption on her Instagram account @stacyanam read: "Christmas carol by TKCC" followed by happy emojis and the hashtags #carolling and #thankyou.
Her post drew over 2,700 "likes" and more than 130 comments at the time of writing.
However, some Instagrammers appeared to take issue with her joyful posting and accused the newly-Muslim singer of being insensitive.
"Isn't Stacy Muslim? How can celebrate Christmas?" said Instagram user @therealsnm in Bahasa Malaysia.
Another user adopted a more conciliatory tone but urged Stacy to be careful of her actions so as not to be seen as proselytising Christianity.
"Can celebrate with friends and family. Not wrong, just be careful. If careless and unaware of songs that praise any God other than Allah," said @just_zul87 in Bahasa Malaysia.
Other Instagrammers jumped to Sacy's defence, saying it was not unusual for Christmas in Sabah to be observed and celebrated by all and not just Christians.
"Eee Sabahans are like this. Mutual respect. All festivities are celebrated together by all races and religions. Non-racist harmony," said @atiezull.
@danielchewdan also sided with Stacy, saying "It's not wrong for her to visit her family who are still Christians. Why can't understand such an easy thing? She has embraced Islam but her family is still Christian."
Some Instagrammers put the attempt to stir controversy down to a peninsula-Borneo divide.
"Peninsula people don't understand this situation… In Sabah, Muslims and non-Muslims are mixed like family. If Hari Raya, we celebrate together, if Christmas, we also celebrate together," said @khiruddinawang.
A user with the handle @donna_gabriella chipped in and said it was "normal" for children from churches to go carolling from house to house in Sabah, where many in the villages were still largely Christian, and pointed out that it included Stacy's hometown, Kampung Tuavon, northeast of Penampang on Sabah's west coast.
According to a 2010 census, 26.6 per cent of Sabah's population is Christian and Bumiputera, and regularly worship in the national language.
Controversy over Muslims marking Christmas and even offering greetings to those celebrating the Christian holiday season has been an issue in Muslim-majority Malaysia in recent years.
Stacy, who rose to fame after winning the sixth season of local reality TV series Akademi Fantasia, took on the Muslim name Ummu Shaikhah Stacy Anam upon converting in August. She is to wed another singer, Akim Ahmad next February.
http://www.themalaymailonline.com/malaysia/article/four-months-after-embracing-islam-sabahan-singer-gets-flak-for-sharing-xmas
------------
Shisha ban on Jeddah corniche wanted
December 22, 2015
Manama: Saudi Arabia's Commission for the Promotion of Virtue and Prevention of Vice is seeking to impose a ban on smoking shisha at the Corniche of the Red Sea city of Jeddah.
The 30km coastal resort area is among the top attractions of the city with its recreation spaces, restaurants, playgrounds, pavilion, sculptures and King Fahad's Fountain, the highest fountain in the world.
However, the commission said in a report that its members have noticed a growing number of men and women, and more alarmingly of young people, smoke shisha in the area, resulting in "the pollution of the fresh air sought after by residents and visitors."
The commission argued that causing pollution in the area violated the law committing the state to protect the environment Saudi daily Al Eqtisadiya reported.
The commission also referred to the ban by the interior minister on smoking shishas inside restaurants, cafés and public places.
According to official figures, Saudi Arabia is home to six million smokers, including 600,000 women and around 800,000 teenagers, mainly intermediate and high school students.
However, expatriates also account for a significant proportion of cigarette consumption in the kingdom despite the increase in the number of awareness campaigns about health risks related to smoking and passive smoking and the adoption of several legislative restrictions.
Scores of women have decided to take action in their own way by adding divorce to the risks and dangers associated with smoking.
According to a data report published in the kingdom in 2013, more than 100 women in the Western city of Madinah have filed for divorce after their husbands refused or were unable to quit smoking.
"Courts in other cities in Saudi Arabia have also accepted cases filed by unhappy wives who wanted a divorce over the issue of smoking," Saudi daily Okaz said. "Attempts by reconciliation committees to keep the spouses have failed to convince the wives who insisted on smoke-free husbands. The issue is now being addressed before the wedding and several young women in Madinah have rejected marriage proposals from men who smoked," the daily said.
The report was prepared based on studies and research on the effects of smoking on marital relations.
The daily said that around 40 per cent of Saudi university graduates flatly rejected to marry husbands who smoked.
The young women attributed their uncompromising decision not to "marry themselves into a smoking home" to health concerns about themselves, their future husbands and their future children.
A Saudi judge has ruled that women who suffered as a result of their husbands' smoking were allowed to file for divorce.
In October 2012, Saudi judges set a new trend in the country by using cigarette smoking as a factor in child custody cases.
"A parent could now lose the custody case if he or she is proven to be a smoker," a legal official said.
"Under the emerging trend, the smoking factor is now being treated like the drinking factor and can decide the outcome of the custody case," he said.
The court would favour non-smoking parents and would factor smoking into custody cases to protect the child from the negative impact of passive smoking.
http://gulfnews.com/news/gulf/saudi-arabia/shisha-ban-on-jeddah-corniche-wanted-1.1641738
------------
Local Muslim women fight fear with self-defense lesson
By Omama Altaleb
December 22, 2015
WASHINGTON — Rana Abdelhamid was 16 years old when a man attacked her and attempted to remove her headscarf as she was walking on a New York City street six years ago. The incident left her feeling vulnerable and alone, she told a group of local Muslim women at a self-defense workshop Friday night.
A group of 20 local women gathered, some with babies in tow, in the basement of the St. Stephen and Incarnation Episcopal Church, in Northwest D.C., Friday night, to learn self-defense and discuss what it's like to be a Muslim woman in America today.
Amid the political climate following the Paris attacks, the San Bernardino shooting and GOP presidential candidate Donald Trump's proposal to ban Muslims from entering the United States, Muslims — and particularly Muslim women — have felt susceptible to hate crimes.
"It feels that there's a unique way that Muslim women are being targeted. I think it has to do with the intersection of patriarchy and anti-Muslim hatred and bigotry," says Darakshan Raja, a D.C. resident and founder of the Muslim American Women's Policy Forum, an organization aimed at working against state- and gender-based violence.
Raja, program manager at the Washington Peace Center, teamed up with Abdelhamid, a black belt in shotokan karate and founder of the Women's Initiative for Self-Empowerment — an organization which provides young Muslim and Jewish women with training in self-defense, social entrepreneurship and leadership — for WISE's fourth self-defense workshop in D.C. the past month.
"I thought it was a good opportunity to bring together Muslim women in an offline space, in person, engaging these issues and trying to figure out how to heal from these horrible experiences," says Abdelhamid, 22, a master's student of public policy at Harvard University's John F. Kennedy School of Government.
Abdelhamid kept reading on her social media newsfeed about how other Muslim women felt afraid. She says Muslim women are vulnerable, especially those who don the hijab — headscarf, burqa or niqab.
According to FBI records, 16.3 percent of hate crimes reported in the U.S. in 2014 were anti-Islamic in nature. But since the Paris attacks, the rate of suspected hate crimes against Muslims has tripled, The New York Times reports.
"People affiliate you with the religion of Islam, affiliate you with the stereotypes that they see of Muslims on TV, and you become a walking target, unfortunately," Abdelhamid says.
For Abdelhamid, self-defense is one way to empower women because, she says, it gives them agency over their bodies.
She starts every self-defense class with an overview of the different pressure points to attack — the eyes, nose, chin, solar plexus, neck, biceps, ears, kneecaps, behind the knees, the groin area and toes.
She says attacking a pressure point is the best thing to do in a dangerous situation because it will cause a lot of pain and therefore, allow for more time to get away, which is the ultimate goal.
Abdelhamid also teaches techniques including a punch, a triangle maneuver to get out of an arm grab, a front kick and a knee jab — the latter two useful for attacking the groin area.
Rofaida Elzubair, a 31-year-old American Red Cross fellow living in D.C., attended the workshop and discussion.
"With everything I hear on the news and the Islamophobic issues, it really made me concerned, and I wanted to be aware of how to defend myself in case of any emergency," says Elzubair, who moved to the U.S. from Dubai about a year ago.
She says she enjoyed the discussion portion of the event.
"It was so touching," she says. "It opened my eyes that I'm not alone in this."
Hind Essayegh, 33, a mother from Silver Spring, Maryland, says the discussion was equally important and empowering because, like Elzubair, it made her feel like she wasn't alone.
"I want to strengthen myself by any means possible to be able to defend myself and my family," Essayegh says.
Abdelhamid says she could sense a lot of the anxiety the women felt through the discussion they had.
"It's disheartening to hear how almost every single woman in that space felt insecure, felt she had to be way more careful walking out of her home, doing mundane day-to-day tasks like going shopping for groceries, or taking a bus," Abdelhamid says.
Safety of the hijab
The fear Abdelhamid points to has some Muslim women questioning whether it's safe to wear their headscarves. Some have suggested wearing a hoodie or beanie on top of the hijab to attract less attention.
Imam Suhaib Webb, a D.C.-based religious leader, says there are temporary occurrences, called nawazil, which can cause Muslims to not be able to do something for a moment, such as wearing the hijab.
"It's up to the woman to make her call in her own life. No one knows her life like she does," says Webb, the founder of City Sundays, a D.C. faith-based monthly gathering aimed at creating cross-cultural relationships between people from different backgrounds across the D.C. area.
However, Webb says, Muslims shouldn't succumb to fearmongering.
"When we start to give up our constitutional rights, we are inviting the Islamophobes to silence Islam and Muslims," he says.
Abdelhamid has worn her hijab for seven years, since she was 15.
"I don't feel the need to take it off. In fact, what's happening makes me want to embrace my faith and embrace my practice even more strongly," she says.
Even so, Abdelhamid encourages other Muslim women to do what they feel is best. "Everyone deals with this type of violence in different ways. Not everyone is going to deal with it in the way that I am," she says.
Like Abdelhamid, Webb says self-defense is important and should be a community obligation. He says his own daughter is trained in taekwondo.
"I think it's highly commendable for women to protect themselves as well as the Muslim community," he says.
WISE's next three self-defense workshops will be held in Massachusetts, Texas and New York throughout January, Abdelhamid says.
http://wtop.com/dc/2015/12/local-muslim-women-kick-off-fear-self-defense-lesson/slide/1/
------------
Reham Khan replies to ex-husband's legal notice
Dec. 21, 2015
ISLAMABAD: Anchor­person Reham Khan has dismissed as baseless her first former husband Dr Ejazur Rehman's claim which he made in a legal notice.
Through the notice served on Ms Khan, Mr Rehman had asked her to pay him 100 million rupees and submit a written apology for allegedly damaging his reputation.
Ms Khan allegedly made defamatory remarks against Mr Rehman during an interview to a TV channel.
Advocate Khurram Hashmi replied to the legal notice on behalf of Ms Khan on Monday, saying that Mr Rehman's claim was baseless. According to the reply, Ms Khan had spoken in her interview about domestic violence in general and it was not specifically about Mr Rehman.
It, however, said that allegations against Mr Rehman of having been involved in domestic violence might not be baseless and the same could be verified from the judicial record of British courts.
http://www.dawn.com/news/1227974/reham-khan-replies-to-ex-husbands-legal-notice
------------
Police bust women robber gang
December 22, 2015
HAFIZABAD
The police on Monday claimed to have busted an inter-district gang comprising five women.
According to sources, a woman Rukhsana was shopping in the local Shaheen market when one of the members of the gang allegedly stolen Rs45,000 from her purse. However, the shopkeepers caught the woman robber.
During interrogation, she confessed that she along with her four other members, standing near her, were indulged in this crime in different districts since long. The shopkeeper caught the other members of the gang and handed them over to the City Police.
The arrested accused are identified as Nazia Bibi, wife of Qasim Ali of Mandi Bahauddin, Fatima Bibi wife of Kalay Khan of Begum Kot Lahore, Kalsoom Bibi, daughter of Hadayat Ullah, Ruqia Bibi, wife of Shahid Hussain of Baddomalli stop, Lahore and Razia Bibi wife of Muhammad Nawaz of Chiniot. Further investigations are in progress.
http://nation.com.pk/national/22-Dec-2015/police-bust-women-robber-gang
------------
Woman 'kills' daughter before 'committing suicide'
December 22, 2015
An indigenous woman allegedly committed suicide after killing her nine-month-old daughter following a quarrel with her husband in Bhujpur of Fatikchhari upazila in Chittagong on Sunday night.
The deceased were Kansu Tripura, 28, and her daughter Nupur Rani Tripura.
Police said Kansu's husband Ropan Tripura, a day labourer, allegedly beat her up in the evening. When he went outside home in Hazarikhil village Kansu took insecticides after she had poured some into Nupur's mouth.
http://www.thedailystar.net/city/woman-kills-daughter-committing-suicide-190789
------------
Niagara Muslim woman taunted in public building
December 21, 2015
At first, it was uttered quietly.
So low that she hoped she had heard it wrong.
But then the word came again, this time hurled with more force from a short distance away.
"Terrorist!" a female said loudly in the middle of the ServiceOntario building on St. Paul Street.
The intended victim was a 26-year-old Muslim woman, who was waiting in the St. Catharines office to renew her health card.
"I didn't believe what I was hearing," said the post-graduate student who, fearing repercussion, asked to remain anonymous while sharing details of the Dec. 14 incident.
When she turned to face her antagonist, the word was repeated over and over again.
"I looked around and people were staring at me," she said.
"No one said a word."
After a brief exchange between the two women — during which freedom of speech rights were spouted and a phrase along the lines of 'Go back where you came from' used — the Palestine-born woman sought assistance from building security.
After a guard arrived, the confrontation continued over the hijab, a traditional head scarf the woman was wearing.
"She said 'Why are you wearing that? Take it off. You're in Canada.'"
As the confrontation continued, the woman called Niagara Regional Police to report the harassment.
By the time officers arrived, the vocal antagonist, described only as a female in her 40s, as well as a man who had also jumped into the argument, had left the building.
"I called the police because I could tell she was going to do this to another person," the woman said.
"You can't use freedom of speech against someone just because he or she is different from you. You can't use freedom of speech to harass people."
This isn't the first time the woman has faced confrontation because of her culture. She urged others faced with similar circumstances not to back down.
"A lot of people pretend they don't care, pretend they didn't hear anything," she said.
"But then they go home and cry at night. It hurts."
She believes talking about these issues is the only way to put a stop to them.
Despite the shocking incident, she knows there is a wealth of kindness in the community.
She credited management at Service Ontario, security and the police for their assistance and compassion.
Niagara Regional Police confirmed a harassment investigation is underway.
"We're hoping to identify who the persons involved are," NRP spokesman Const. Phil Gavin said last week, though little further detail was immediately available.
NRP spokeswoman Const. Leslie Bittman confirmed Monday the investigation into the incident is ongoing.
maryanne.firth@sunmedia.ca
http://www.stcatharinesstandard.ca/2015/12/21/niagara-muslim-woman-taunted-in-public-building
URL: https://newageislam.com/islam-women-feminism/british-muslim-schoolgirl-gives-powerful/d/105696
New Age Islam, Islam Online, Islamic Website, African Muslim News, Arab World News, South Asia News, Indian Muslim News, World Muslim News, Womens in Islam, Islamic Feminism, Arab Women, Womens In Arab, Islamphobia in America, Muslim Women in West, Islam Women and Feminism