New Age Islam News Bureau
23 Dec 2017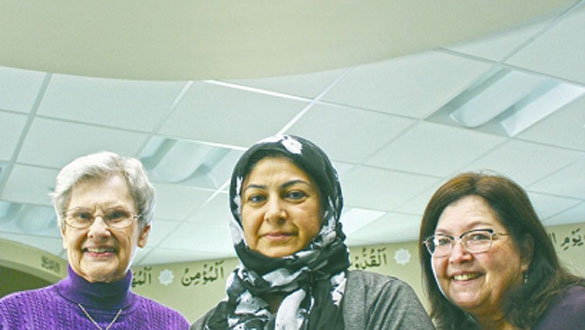 Photo: Women's Interfaith Discussion organizers (L to R) Sister Jeanette Buehler, Bushra Shahid, and Phyllis Pavlofsky Allen at the Dayton Fazl-I-Umar Mosque. Marshall Weiss/The Dayton Jewish Observer
------
• Somali Al-Shabaab Deploying 'Beautiful Women' as Spies against African Troops
• UAE Imposes Then Lifts Ban On Tunisian Female Travellers
• This dating app for Muslims is designed with women in mind
• Tunisians Demand More Women in Senior Public Roles
• Egypt Already May Need To Revisit Women's Inheritance Law
• Readmissions Higher In Women with Acute MI, Cardiogenic Shock
Compiled by New Age Islam Bureau
URL: https://www.newageislam.com/islam-women-feminism/three-women-diverse-faiths-strive/d/113676
------------
Three women of diverse faiths strive to bridge the gap
December 22, 2017
Women's Interfaith Discussion organizers (L to R) Sister Jeanette Buehler, BushraShahid, and Phyllis Pavlofsky Allen at the Dayton Fazl-I-Umar Mosque. Marshall Weiss/The Dayton Jewish Observer
BushraShahid of Centerville grew up in Pakistan, a predominantly Muslim country, and had little exposure to other religions. She wanted to reach out to other women to learn about their religions, and also teach them about her Islamic faith. She prayed about this idea so that she might meet someone who shared the same vision.
Her prayers were answered in the summer of 2015, when the Ahmadiyya Muslim Community was handing out free literature from a booth at a Third on Third Outdoor Marketplace. That's when she had the occasion to meet Phyllis Allen, a Dayton resident who attends services at Beth Jacob Synagogue.
"[BushraShahid] asked me if I might be interested in a women's interfaith group, and I gave her my email. I was happy to hear from her months later, and we hoped to each bring five friends together for discussion," said Allen. "We had 12 women at our first meeting at the mosque. Later, we met Sister Jeanette Buehler and knew she was the right person to join us as the Christian organizer of our fledgling endeavor."
Since their first meeting on Dec. 10 two years ago, the group has been planning discussions every four to six weeks from September through May. Topics have included The Messiah in Judaism, and faith as it relates to: The Role of Women, Social Justice, Music and Prayer. They meet at various houses of worship, a number that has expanded due to the women who have attended and volunteer to host. This "fledgling endeavor" has grown because the women enjoy the spirituality and learning at the meetings.
"We average about 40 to 60 attendees. Our largest gathering so far was 88; we were stunned!" said Allen. "Our flyers say 'Bring a Friend.' We're hopeful that women who have attended will spread the information. That seems to be happening."
Meetings have been held at the Fazle Umar Mosque, three synagogues, Salem Heights, several Catholic churches, along with Methodist, Presbyterian, and other Protestant denominations. Future meetings include these locations: The Kroc Center/Salvation Army, Islamic Society of Greater Dayton, and Beth Abraham Synagogue.
Allen attends services at Beth Jacob Synagogue, and added that the most interesting thing she's learned about Christianity is the concept of grace. And understanding another religious belief works both ways.
"So many times we Christians ask why the Jewish people do not believe in Jesus as the Messiah. While we differ on a personal Messiah, hearing the presentation by Phyllis and Rabbi Chessin on the Messianic Age was enlightening," said Jeanette Buehler, who lives at the Sisters of the Precious Blood independent living community in Trotwood. "Also coming to understand Islam as a religion of peace ranks high on my list."
Endeavoring to understand other religious views has been enlightening for many women who attend these meetings.
"My overall Aha!moment has been realizing that good people are in every faith and every community. I have met wonderful Christian, Muslim, Jewish, Bahai, Sikh, etc. people. I have met people with tender hearts for the downtrodden in the community, who regardless of what faith they follow, are just good people," said Shahid. "I think that is the common thread in what religion ultimately brings in our life, if followed correctly, compassion for humanity. And realizing this through practical experience of meeting other ladies of faith has been eye opening for me."
http://www.mydaytondailynews.com/news/local/three-women-diverse-faiths-strive-bridge-the-gap/72b5Qn0R3IKLPXMOFBzzkI/
-------
Somali Al-Shabaab Deploying 'Beautiful Women' as Spies Against African Troops
22 Dec 2017
Jihadists from one of the deadliest jihadist organizations in Africa, al-Shabaab, are deploying beautiful female spies against security forces combating the al-Qaeda affiliate in a Kenyan region that borders Somalia.
Although al-Shabaab is primarily based in Somalia, the terrorist group operates in various East African countries.
Local security officers speaking on condition of anonymity told the Star in Kenya, "The women seek sexual relationships with them with the aim of getting their secrets."
Jihadist groups are known for exploiting women, forcing them into becoming sex slaves, human shields, and suicide bombers, among other things.
Joseph Kanyiri, a top local security official, indicated that al-Shabaab had employed a similar tactic in the past, using women as spies.
"Last year, we arrested two women in Kiunga, who were spying for the terror group," revealed Kanyiri.
According to the U.S. Department of State, there are "several thousand" jihadists fighting on behalf of al-Shabaab.
Al-Shabaab is considered one of the deadliest and prolific terrorist groups in the world.
In 2016, the Somalia-based group kidnapped 375 people and carried out 332 attacks, killing 741 people and wounding 921 injured, reported DOS.
The al-Qaeda-linked group is known to threaten the United States.
In March, al-Shabaab released a propaganda video condemning the United States as the "satan of our time."
The jihadists urge Islam adherents to "fulfill the obligation of jihad" and expel the "global coalition of disbelievers" that includes America and other Western countries from Muslim lands.
U.S. President Donald Trump ordered the American military to boost airstrikes against the Somali group, prompting the jihadist organization to threaten attacks against U.S. interests.
The American military has been providing assistance to the African Union Mission in Somalia (AMISOM), equipping and training local troops.
American Gen. Thomas Waldhauser, the top U.S. commander in the region, told lawmakers in March:
Our advise, assist, and accompany efforts, paired with our deliberate targeting of top-level al-Shabaab leadership, have had a significant impact in degrading al-Shabaab's effectiveness in East Africa, but those two efforts are not enduring solutions to Somalia's problems.
The AMISOM coalition includes Somalia, Uganda, Burundi, Djibouti, Kenya, and Ethiopia. Some U.S. troops have paid the ultimate price fighting in Somalia.
Although al-Shabaab is the most prominent terrorist group in Somalia, ISIS is "growing significantly in strength," reaching up to 200 terrorists already this year, the United Nations reported.
http://www.breitbart.com/national-security/2017/12/22/somali-al-shabaab-deploying-beautiful-women-spies-african-troops/
-------
UAE imposes then lifts ban on Tunisian female travellers
23 December 2017
Restriction applied to women and girls of all ages and those transferring in Dubai to flights to other destinations
The United Arab Emirates imposed and then lifted a ban on Tunisian female travellers on Friday without clarifying the reason behind the decisions.
UAE authorities had denied all female Tunisian nationals entry into the country under a "temporary" travel restriction. The decision applied to women and girls of all ages.
The restriction also included transit travellers transferring in Dubai for onward flights to other destinations, according to an email circulated to airlines and shared on social media.
The ban was lifted late Friday after the Tunisian ministry of foreign affairs "hosted" UAE ambassador Salem Issa Al Zaabi, asking for explanations.
"Based on the higher travel advisory restriction issued by the United Arab Emirates government, airlines are instructed that all Tunisian female nationals will be denied entry to the UAE by API-UAE," read an internal Emirates Airline email.
API stands for "advance passenger information", a system that requires airlines to provide travellers' passport details to the country of destination before departure.
According to the email, the only exceptions to this directive were females who hold Tunisian diplomatic passports or those with valid UAE residential visas.
The Tunisian ministry of foreign affairs cited the UAE ambassador as saying that the restrictions were "circumstantial" and related to security issues, but they had been lifted.
The email was sent to all airlines on Friday, and later confirmed by the UAE authorities to MEE
A spokesperson for API-UAE confirmed to Middle East Eye in a telephone call earlier on Friday that the decision had been taken and was to be imposed until further notice.
He did not provide any details about the reason behind the restriction.
The Tunisian ministry of transportation welcomed the decision to scrap the restrictions and stressed cooperation with Emirati counterparts, but the ministry said in a statement that the UAE decision was "in violation of international laws and regulations that govern civilian aviation".
The website of the Emirates airline confirms the directive by the UAE authorities
The General Directorate of Residency and Foreigners Affairs in several emirates installed advance passenger information systems across UAE airports in 2015 "to maintain the security of the country's borders by accessing and assessing information of arriving, departing and transiting passengers by air, sea and land ports", according to a statement by the UAE's General Civil Aviation Authority.
Reactions
Tunisians arriving at the Tunis–Carthage International Airport described scenes of chaos and confusion, according to local media on Friday.
Passengers were turned away at the Emirates check-in desk, while others refused to board their flights without female members of their families.
Is this logical? It's degrading to Tunisian women and our nationality
- Tunisian passenger flying to the UAE
Tunisian MP IyedDahmani told local media that the decision was unacceptable and said that Tunis would take counter-measures after assessing the situation.
The news sparked sharp criticism among social media users who condemned the directive as discriminatory and inexplicable.
http://www.middleeasteye.net/news/uae-bans-tunisian-female-nationals-entering-country-1563598784
-------
This dating app for Muslims is designed with women in mind
Removing the obstacles and stigma of dating in the Muslim world
Dating apps can be terrible.
Despite the onslaught of niche dating apps, some still feel left out of the dating scene. Especially when dating has been a taboo topic for most of their lives.
For young, single Muslims in the West — whose "white friends" started going on dates as teenagers while they were barely allowed to utter the word "boyfriend" — it's hard to know where to start.
Enter Eshq ("love" in Persian): a new dating app aimed at young Muslim women looking to dabble in the world of dating without the stigma. By allowing the woman to "make the first move," the app, which is currently in beta, hopes to remove the obstacles and stigma of dating in the Muslim world.
Its founder, 29-year-old Mariam Bahawdory, launched the app while she was in graduate school. Bahawdory had virtually no dating experience growing up in Raleigh, N.C. When it came time for her to "settle down," per her Afghan family's tradition, the options were limited.
After a failed engagement at 25, she found online dating to be her only real prospect.
Progressive platforms for Muslims like Minder promise the ability to "Swipe. Match. Marry." But that wasn't enough for Bahawdory and her friends, who were looking for a deeper connection and potentially, marriage.
"I created Eshq as a solution to my own problem," she says.
She says Minder's reputation is too reminiscent of its inspiration, Tinder. For someone looking to get serious and introduce a dating prospect to her family, Minder wasn't the place to go.
14 Tinder-era dating terms to know
"I looked at Muslim dating websites that are archaic, geared more toward a matrimony," she said by phone. "I wanted to implement a faster format that's more mobile-friendly and for a younger crowd."
While Muslim-themed matchmaking platforms like Minder, Arab Lounge and Ishqr have been around for some time, none of these platforms offer services beyond placing Muslim women on a pseudo-meat market to be plucked from, Bahawdory explains. Eshq is looking to fill a void in the market craved by Muslim women.
For example, Ishqr doesn't show you potential matches' face, mimicking the ritual of old-school blind dating.
"I kept thinking, 'how can I make it different? How can I give women who aren't allowed to date the power to choose a partner?'" Bahawdory says. "Eshq is the first Muslim dating app created by a Muslim woman who is also its target market."
After years of researching dating patterns in the Muslim community — including speaking directly to Muslim women of both liberal and conservative backgrounds about what they want to see — the idea of Eshq was born.
"Being a Muslim woman with friends and family members at different ends of the progressive spectrum, I wanted to create an environment that invited individuals from across the Muslim community who are interested in a long-term connection."
To join Eshq, you must login through Facebook. From there, the app uses a matching algorithm that picks out similarities between profiles, Bahawdory explained. As the user fills out their bio information, the Eshq team picks out keywords to match with others' profile.
Its drawing feature is that it only allows the woman to start the conversation after a match. It was admittedly implemented by the mainstream Bumble around the same time Bahawdory says she came up with the concept. Still, she thinks that in the context of Muslim dating, the app's small-yet-curated pool makes the feature even stronger.
For 28-year-old Sahar M., who lives in Manhattan and works in marketing, Eshq's encouragement of comprehensive profiles, including Spotify, Instagram and embeddable videos is what drew her to it. You can even add an emoji to represent your heritage country's flag. Given that Muslim culture is far from monolithic, this comes in handy to help give context to your match.
"It lets you provide a fuller picture of who you actually are," she told me. "And the fact that it empowers women to make the first move helps avoid all the creepy guys."
Dating in the Muslim community is more nuanced than mainstream millennial dating culture. There is a wide spectrum of piety, culture and religion that factors into decisions around dating, Sahar explains. Depending on the community, there are a range of views of what dating looks like, or whether you even use the word "dating" or "boyfriend."
Having tried Tinder in the past, Sahar matched with and dated a Latino, Catholic man for some time.
"It was a great relationship, but there was a sense of 'this is doomed from the beginning,'" she says. "I realized I'd like to have someone who understood my culture and religion."
Saif Raja, 30, and Judy Jbara, 26, met on Eshq six months ago — shortly after the app's initial launch. They talked on the phone for four hours before meeting for coffee. Jbara, who is of Syrian origin, had never considered dating a Pakistani man, but was able to change her family's perspective on it once she met Raja on the app.
Living in the United States, Jbara wanted to find someone who understands both cultures she grew up with. Raja said finding a Muslim girl he actually sees a future with has not only made him, but his older parents happy.
Straddling two contrasting cultures is no easy feat, Raja explains.
"Growing up in America with older generation parents makes it hard to do things like date in the normal sense," he said. He hopes that tech platforms like Eshq will help make it a bit easier to find common ground.
Eshq's official launch is set for February.
https://thelily.com/this-dating-app-for-muslims-is-designed-with-women-in-mind-e39ce354e997
-------
Tunisians demand more women in senior public roles
Saturday, 23 December 2017
Tunisian cabinet attend their first cabinet meeting on August 31, 2016 at the Carthage Palace near Tunis. (AFP)
Tunisia's minister for women urged authorities Friday to promote women to top civil service jobs after a study showed that few women reach the most senior positions.
Just 37 percent of Tunisia's 630,000 civil servants are women, said KhaoulaLabidi, who coordinated the study, a joint French-funded project by the country's presidency and UN Women.
She said the number of women in senior posts is "very high compared to other countries in North Africa and the Middle East", but added that men hold three quarters of prestigious, better-paid "director general" positions.
Labidi said women who reached medium-level positions faced a "glass ceiling" preventing them from advancing further.
"We want to pierce this glass ceiling to allow competent women -- and there are many -- to access these high-level positions," she said.
Women's minister NazihaLabidi urged the authorities "to do everything so these women can reach decision-making positions", adding that a strategy had been developed to put women on a par with men in such roles by 2020.
Tunisia is seen as a pioneer in the Arab world in terms of women's rights, adopting a law in 1956 which granted rights to women and abolished polygamy.
This summer, parliament also passed a law to combat violence against women.
But Tunisian society remains deeply divided between conservatives and social liberals.
http://english.alarabiya.net/en/News/middle-east/2017/12/23/Tunisians-demand-more-women-in-senior-public-roles.html
-------
Egypt already may need to revisit women's inheritance law
Nadia Mabrouk December 22, 2017
The recently passed amendment to Egypt's Constitution regarding women's inheritance rights was hailed as a long-awaited breakthrough, but the topic might need additional legislation to ensure full equality for women, including Copts.
REUTERS/Mohamed Abd El GhanyCoptic Christian women attend the Coptic mass at Saint Mark's Coptic Orthodox Cathedral in Cairo, Egypt, Feb. 17, 2015.
CAIRO — When Egypt amended its constitution recently to establish penalties for depriving women of their inheritances, the amendment failed to specifically mention Christian women. Some observers think a direct reference is unnecessary, while others say such a legal measure is needed to counter deep-set traditions.
Many Coptic women, especially in rural areas and Upper Egypt, fall victim to the interpretation of customs and cultural norms as "law," and some people apply Sharia provisions to Coptic women.
For many years, Egyptian women's associations have been calling for a law making it a crime to deprive women of their inheritances. On Dec. 5, Egypt's parliament approved the amendment.
Christian inheritance provisions don't differentiate between men and women. Egyptian inheritance law, however, is based on Islamic law.
"I am doing much better than my family in Upper Egypt," said Aida Abdel-Masih, a Coptic woman who said she was denied her due inheritance. "My late father left us three houses and a number of shops, which were supposed to be equally divided between me and my younger brother, as we were the only living heirs after my mother's death. But to my surprise, my brother divided the inheritance between us according to Islamic law. I only got one-third.
"When I objected, he told me that I got more than anyone in our family would get in Upper Egypt, where women are denied inheritance altogether. The church intervened between us. To keep our dispute away from courts, I decided to take what I was offered."
Paul Halim, a spokesman for the Coptic Orthodox Church, said inheritance isn't clearly defined in the New Testament the same way it is in Islamic tradition, but gender equality may be deduced from the Letter of St. Paul to the Galatians stressing that men and women are equal.
There are no Christian provisions for inheritance, "so some people who are influenced by customs and traditions prefer to distribute inheritance according to Islamic law," Halim told Al-Monitor. He also explained that when Coptic women resort to the church to complain about being deprived of their inheritance, the church's role is limited to pastoral counseling.
Parliament member Abla al-Hawari said the amendment also "failed to tackle equality of shares in inheritance and rather focused only on deprivation of inheritance."
Hawari told Al-Monitor that Muslim and Christian women alike in Egypt are sometimes denied their due inheritance for fear it will eventually wind up in the hands of in-laws if the woman marries.
"Criminalizing deprivation of inheritance is an urgent matter," she added. "The inheritance of Coptic women could be regulated under a chapter in the law that governs inheritance shares in each religion instead of being regulated under the chapter criminalizing the deprivation of inheritance," she said.
Meanwhile, a number of parliament members submitted similar amendment proposals, including Nadia Henry, who told Al-Monitor that the inheritances of Coptic women can be resolved on a case-by-case basis. She pointed out that a judicial decision can be issued to divide the inheritance according to Christian beliefs. However, litigation in inheritance cases are often lengthy, she added.
Like Hawari, Henry noted that the penalties amendment doesn't address inheritance distribution, but Henry believes that issue should be covered by a draft amendment to the personal status law currently being discussed by civil society movements and human rights organizations. However, that amendment still needs work, she said.
"I hope the proposal to amend the personal status law won't be discussed in parliament soon, as it includes several controversial issues that need careful and serious discussion," she told Al-Monitor. "All Christian denominations in Egypt are supposed to submit their full version of the draft personal status law, which governs divorce, marriage and inheritance. This is how Coptic women's inheritance issues could be settled."
Mina Thabet, a researcher on minorities and vulnerable groups at the Egyptian Commission for Rights and Freedoms, also noted that, just like Muslim women, Coptic women suffer from gender-based injustice. "In some regions of Upper Egypt where women are still completely deprived of their inheritance, if daughters of Christian families get some inheritance based on Islamic provisions, this is preferable to getting nothing at all."
Thabet further explained that the absence of legislation to determine inheritance shares specifically in Christian families has allowed some Coptic families — presenting tradition and cultural norms as law — to force their daughters into waiving their rights to full inheritance. But now the women have recourse because the amendment applies to Christians and Muslims alike, he said.
"Parliament's claims that the amendment … has neglected the inheritance of Coptic women are logical, [but] the distribution of shares can be covered [separately] by special legislation for inheritance."
Calling for full equality in inheritance between men and women, whether in Islam or Christianity, as a step toward secularism, Thabet pointed to some Muslim-majority countries that have applied secular measures, such as Tunisia when it banned polygamy in 1956, even though it was allowed under Islamic Sharia.
The issue of Coptic women's inheritances remains to be settled, either with an amended Personal Status Law or on a case-by-case basis, which would take a lot of time. One thing is sure: With or without a specific law, a woman's right to her inheritance is just that — a right, not a privilege.
http://www.al-monitor.com/pulse/originals/2017/12/egypt-women-rights-inheritance-law-sanctions-equal-shares.html#ixzz52588Ez00
-------
Readmissions higher in women with acute MI, cardiogenic shock
December 22, 2017
Women who had an acute MI that was complicated by cardiogenic shock were more likely to be readmitted to the hospital at 30 days compared with men, according to a study published in The American Journal of Cardiology.
Women were slightly less likely than men to undergo PCI (58.1% vs. 59.4%), the researchers reported. Women were also less likely to undergo CABG (33.1% vs. 33.4%), or intra-aortic balloon placement (37.9% vs. 39%) during the initial hospitalization compared with men.
"The findings from this study [emphasize] that further efforts and studies should be directed towards narrowing this gap between men and women," Ahmed Mahmoud, MD, cardiovascular medicine fellow at University of Florida in Gainesville, told Cardiology Today's Intervention. "For example, we found that women were less likely to undergo percutaneous coronary intervention/coronary artery bypass surgery, or have mechanical support devices such as intra-aortic balloons and ventricular assist devices during the index hospitalizations. These are areas that could be targeted to reduce the risk of readmissions among women."
Mahmoud and Islam Y. Elgendy, MD, also a cardiovascular medicine fellow at University of Florida in Gainesville, analyzed data from 1,116,933 patients from the National Readmissions Database who were hospitalized for STEMI (n = 335,548) or non-STEMI (n = 781,385) from 2013 to 2014. Patients who had cardiogenic shock and were discharged alive accounted for 3.6% of the cohort, which was the major focus of the study.
The primary outcome of interest was all-cause readmission 30 days after discharge.
Among patients with cardiogenic shock discharged alive, more women were readmitted at 30 days (20.7%) vs. men (17.6%), which remained significant after adjusting for various comorbidities (adjusted HR = 1.09; 95% CI, 1-1.19) and propensity score matching based on 63 covariates (HR = 1.1; 95% CI, 1.01-1.21).
"Despite the fact that we used several statistical models to ensure that this association exists, this study is observational in nature, thus there is always a risk of unmeasured confounding," Elgendy told Cardiology Today's Intervention. "Also, the data source for this study lacks information about the medications which the patients received during the index hospitalization. This is an important factor since some studies had suggested that there are variations between both genders in guideline-directed therapies for acute myocardial infarction." – by Darlene Dobkowski
https://www.healio.com/cardiac-vascular-intervention/percutaneous-coronary-intervention/news/online/%7Bf9a19c05-434e-419a-be03-e9f9f71e702f%7D/readmissions-higher-in-women-with-acute-mi-cardiogenic-shock
URL: https://www.newageislam.com/islam-women-feminism/three-women-diverse-faiths-strive/d/113676