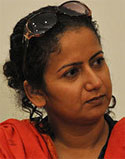 By Nazish Brohi
07 February 2016
CHAND BIBI has confirmed the rumours of 2009 that the events in the video of her flogging in Swat did not happen so the courts have declared the video to be fake. There were also rumours around then that she didn't exist. I am sure she would have confirmed those too.
Did the courts expect an ostracised, victimised, terrified young woman with no political, social or economic capital to testify against Fazlullah's rule — the man who heads the TTP, has ordered the killings of hundreds, is a point of contention between Pakistan's and Afghanistan's governments and is on every most-wanted black criminals list?
So nothing happened to Chand Bibi, and preferably, she doesn't exist either. Unlike the case of Seema from Gambat, Khairpur, who fought to prove her existence. She wanted to claim her father's land but had no way of proving who she was. She was born at home so there were no hospital records; her parents died, the midwife died, she had no birth registration certificate and no school records. It took her six years to prove to the courts that she existed.
Courts should know how structures are designed to silence women. Whether rape, incest or domestic violence, women are told to pretend it didn't happen. Insisting it did happen is to go against the family's honour, against the community's equilibrium, against the legal system's patriarchy, against the police's misogyny.
For two consecutive years, there have been incidents of women immolating themselves after authorities ignored or trivialised their cases. There was a national uproar when Raymond Davis was let off under Qisas and Diyat whereas every year, murders of scores of women are forgiven under the same law.
When I first started working with women survivors of violence, I used to urge each of them to register FIRs, to go to the police and courts, to fight their cases. That was before I understood the difference between a judicial system and a justice system. That was before I became 'habituated' to patriarchy. Anyone familiar with the medico-legal procedure for determining rape will get this pun. The 'two-finger test' decides if the woman is accustomed to penetration, hence 'habitual' or a virgin — if the former, rape is considered improbable.
The conviction rate for violence against women is less than 10pc. But the police and courts are women's last resort; they often look for do-it-yourself versions of protection. By veiling themselves for instance. That doesn't get them far either.
Rani wore the Burqa because she didn't want anyone from her past life to recognise her. She had eloped with a man and bore his child out of wedlock, believing his story of a deathbed oath to his wife to never remarry. When he abandoned her, she gave the child up for adoption and relocated to another part of the city. When she got married she told her husband she was a widow of a prayer leader.
There was another reason she veiled herself. She had a skin disease. As a cleaner at a Karachi hospital, she could not risk others seeing her contagious condition. Rani has now died of the disease.
Contrast this with Farah, who joined Dawat-i-Islami to find her place in the world and consequently started veiling herself. This was her bid for empowerment because faith offered her an independent identity, liberation and also redemption. Farah died in the stampede in Faizan-i-Madina where the classes were held. There was a bomb hoax and women rushed out of the packed building with only one exit.
Edhi's emergency response team got there in less than five minutes, but were not allowed to treat the women. The staff declared Edhi workers na-mehram and being touched by them would break the women's purdah. Twenty-nine women died. Not a single family lodged an official complaint or FIR against Dawat-i-Islami for preventing medical aid and the resultant mass casualties. That she died in Purdah while at a religious congregation — hence a martyr — was solace enough for the family.
So both died under the protective veil — Rani in her search for anonymity, Farah in her search for identity.
We position women's actions as agency, assertion, subjugation, reconciliation, concession, resistance, false consciousness and so on without interrogating the context in which these choices become decisions, Chand Bibi's refutation included.
Denial and solace are interwoven with Urdu. 'Kuch Naheen Huwa' And 'Kuch Nahin Hota'. So nothing happened, as suggested a gossip column on the back pages of an English weekly, and nothing continues to happen, as suggested by the bottom-line of a plethora of court verdicts.
Meanwhile, these are violent throes of a collapsing order. Seismic changes have already happened. Institutional and social structures must catch up, or appropriate denial and solace for themselves.
Nazish Brohi is a researcher and consultant in the social sector.
Source: dawn.com/news/1237894/nothing-happens
URL: http://www.newageislam.com/islam,-women-and-feminism/nazish-brohi/did-the-pakistan-courts-expect-an-ostracised,-victimised,-terrified-young-woman-to-testify-against-tehrik-e-taliban-pakistan's-rule?/d/106264