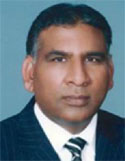 By Nasir Saeed
14 April 2014
Forced conversion to Islam of Christian and Hindu girls continues to rise in Pakistan. A recent report launched by the MSP (Movement for Solidarity and Peace) revealed that 1,000 Christian and Hindu girls, aged between 12 and 25, are forced to convert to Islam every year. It is estimated that Christian girls make up 70 per cent of this number, while Hindus make up the remainder.
The revelations are extremely alarming as minorities make up only five per cent of the country's population where Muslims are the overwhelming majority. This is taking place against a backdrop where minorities are already feeling very insecure and vulnerable, placing them at unimaginable risk.
Christians are poor and 80 to 85 per cent of them live in the Punjab province, with 40 per cent of them living below the poverty line. I can see this number growing in the future, not just because the government has no interest but also because the Christian political and church leadership have no interest whatsoever either.
In villages the majority of poor Christians work with the landowners, while in urban areas poor Christian girls and women work as domestic servants where they are sexually abused, harassed, sometimes forced to convert to Islam, and are even killed on occasion.
I remember the case of 12-year-old Christian girl Shazia Bashir who was killed by her employer. I am not aware of anybody being punished for the crime.
Christian girls are the weakest and most vulnerable because their communities are poor, defenceless and marginalised, therefore they easily exposed to harassment and threats. Often they do not even have the courage to denounce the violence or lodge complaints about the treatment they suffer.
The findings in the new report do not come as a surprise, as a few years ago the HRCP (Human Rights Commission of Pakistan) made similar revelations. But unfortunately the government institutions keep denying these facts and have failed to implement any change.
These facts and figures have been taken from a major newspaper and NGOs working on this issue, and it is thought the actual number could be much higher as many cases of forced conversion go unreported because influential locals and religious leaders are often involved.
Even if they dare to report the matter to the police, such cases are hardly registered and if the case is registered the complainants are threatened to withdraw the case. If the case does somehow reach court, justice is hardly done and therefore many cases go unreported. In many cases even if the abducted person is produced, she gives a statement in favour of her abductor stating that she converted to Islam and married by her own free will.
This is because they are terrified, as throughout the proceedings they are in their abductor's custody, instead of being with their parents, or in independent accommodation and a fear-free environment. Under duress and the threat of their parents and families being killed, young girls are forced to give statements saying that they converted of their own accord.
I have studied many cases and reached the conclusion that whenever the girls get the chance, they escape from their abductors, like the case of Nadia Naira who has returned to her parents after 10 years. There are several such examples.
The police are normally inactive and reluctant to register such cases, where Christian or non-Muslims girls are kidnapped and forcibly converted to Islam and then married to their Muslim abductor.
Magistrates and lower courts have failed to implement the law, sometimes they are pressurised by the local religious and political leaders, but are mostly complicit. Even the Supreme Court has failed to uphold international norms of justice in non-Muslim cases and use the available selective procedures.
The adult age for Christian girls in Pakistan is 18, while under Islamic laws; there is no age limit for a Muslim. But courts sometimes override the non-Muslim personal law and decide the case under Muslim law, like in 2009 when two Christian sisters Saba Younis, aged 13, and her sister, Anila Younis, 10, were abducted.
CLAAS, a Christian NGO, was directly involved in this case, but at the end of the day, the judge decided their case under the Islamic law and sent Saba with her husband, while Anila returned to her family. CLAAS objected and called it a miscarriage of justice protesting that the decision did not meet the international criteria, but since it was a matter of Christian girls, no one cared.
I have understood from several cases that the practice of forced conversion is well organised and well established, and to seek immunity from the crime, the culprits obtain conversion certificates from local mosques and change their names too.
Sometimes counter FIRs (first information police reports) are registered to harass the girl's family. The abducted girls are threatened and are forced to sign sometimes blank papers, and sometimes a statement that she has embraced Islam by her own free will, just to save their and their families' lives.
Sometimes they are told that since they have become Muslim they cannot reconvert to Christianity as it would be considered apostasy. In such circumstances they have no choice but to accept the hand fate has dealt them, and suffer in silence in the custody of their abductors.
They are not allowed to see their parents and other relatives, and are kept under tight security – nothing short of modern day slavery and a serious violation of fundamental and human rights.
In such cases the victim may be subjected to sexual violence, rape, forced prostitution, human trafficking, sale or domestic abuse.
Pakistan is considered one of the toughest and most hostile countries for minorities. Religious extremism, hatred, and religious intolerance continues to grow and exacerbate the misery of young Christian girls.
Religious freedom should be recognised as a fundamental right as Pakistan is a signatory of the Universal Declaration of Human Rights, but it is hardly applied in practice.
Apart from the that, Pakistan has ratified the International Covenant on Civil and Political Rights, the Convention on the Elimination of All Forms of Discrimination against Women, and several other international treaties and instruments which explicitly talk about religious freedom and women rights, but Pakistan is a country where the value of human rights has no significance and when it comes to the matter of minorities nobody cares.
The human rights situation continue to deteriorate and the international community has raised its concern on several occasions, and the recent GSP-plus status granted to Pakistan was linked to the human rights situation improving, but Pakistan is well practised in the art of fooling the West.
Apart from international treaties, Pakistan's own constitution includes several articles referring to religious freedom, protection of minorities, and equality before the law. Despite this, minorities are unfortunately rarely allowed to enjoy their rights and live under constant fear of their lives.
Minorities are demanding new legislation to stop this enduring situation, but the court has said that there is no need for new laws.
The government has also failed to address this problem so it means their misery will worsen in the coming years. Hindus and Christians have already started migrating to India and other countries because Pakistan's laws have failed to protect their honour, and for these women honour and life are all they have.
Forcible conversion to Islam in Pakistan in the 21st century is an open challenge for everybody who believes in equality, justice, religious freedom and human rights. Minorities are losing faith in the government and courts. There is a loathsome continuation of dual discrimination towards women, as females and as members of minority communities. It is a serious issue of survival for minorities in Pakistan and the international community must pay attention to stop the continuous violation of the fundamental and human rights of minorities.
Source: http://www.christiantoday.com/article/girls.are.being.forced.to.convert.to.islam.in.pakistan.but.because.they.are.christian.nobody.cares/36776.htm
URL: https://newageislam.com/islam-women-feminism/girls-being-forced-convert-islam/d/66573