By Nadin Bahrom
30 January, 2014
Devout women in Tajikistan soon will have more public religious freedoms than they have had in years as the country looks to reverse a fatwa that restricted women's ability to attend mosques.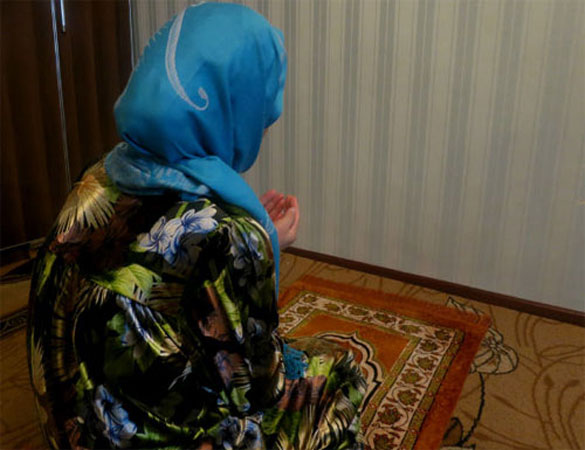 A Tajik woman prays at her home in Dushanbe January 21. For years, women's attendance at mosques has been restricted because some didn't offer separate accommodations for the genders, but Tajikistan intends to change that. [Nadin Bahrom]
--------
"Traditionally, many women in Tajikistan pray at home, because they feel more comfortable there," Isrofil Hajibulloh, an imam from Khujand, said. "But if women want to pray at the mosques, they should be allowed to do so."
Mosques And Women In Tajikistan
Tajikistan has 3,980 mosques, but few are designed to allow men and women to worship separately, a practice Islam generally requires.
Because of that lack of gender separation, the Tajik Council of Ulema in 2005 issued a fatwa that limited women's access to mosques.
The fatwa was not strictly enforced, and women who had reached a certain age were still allowed to attend morning and evening prayers, Nurullo Khidoyatov, the imam-hatib of a Friday-only mosque in Isfara, said.
But now, the Ulema Council wants to let all females attend mosques more liberally in an acknowledgement that women should have broader access, Khidoyatov said.
Gender Separation Options
Although women have continued practicing their religion at home even after the fatwa was issued, many are looking forward to the broader religious freedoms.
Dushanbe resident Gulchekhra Najmiddinova recalled attending a local mosque before the fatwa took effect.
In that mosque, a curtain separated the men and women, she said.
"The Imam-Hatib began his sermon, and we listened to him from behind the curtain," she said. "If anything wasn't clear, we asked our [female] attendant."
With such a simple solution to meeting Islamic gender guidelines, some women never really understood the need for the fatwa. If all the country's mosques could have enacted similar conditions, the barriers to women worshipping never would have needed to exist, Najmiddinova said.
That's the logic with the Council of Ulema's reversal of the fatwa, Saidmukaram Abdukodirzoda, the council chairman, said. With the broader push for accommodations to allow gender separation, the fatwa becomes moot.
The arrangements can be as simple as a curtain, as was the case at Najmiddinova's mosque, but some mosques will offer separate rooms or more-permanent partitions. Though construction efforts would cost money, the Ulema Council said it would offer financial support for such measures.
The changes are expected to open mosque attendance to more women by the end of the year.
Women's Opinions on Mosque Attendance Vary
Even with the changes, some women said they will continue to practice their religion in private.
"I pray five times a day," female parliamentarian Saodat Amirshoyeva said. "But I do this on my own, because I want to be alone with God."
For her, the main objective is closeness to Allah, and that, she said, can be achieved anywhere.
But others said Tajik women need the support that a religious community provides.
Widespread labour migration by brothers and husbands often causes great stress for women left behind, and being able to meet for prayers in public provides more moral support, Zarafo Rakhmoni, a female member of the Supreme Political Council of the Islamic Renaissance Party of Tajikistan (PIVT), said.
Other Changes for Women
The Ulema Council also is planning to encourage female students at religious schools to become Imam-Hatibs and later help them to find work at mosques.
Female Imam-Hatibs will be able to work with female worshippers once the mosques have women-only sections, according to the council.
Source: http://centralasiaonline.com/en_GB/articles/caii/features/main/2014/01/30/feature-01
URL: https://newageislam.com/islam-women-feminism/tajik-mosques-open-their-doors/d/35526