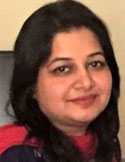 By Nadia Agha
July 22, 2020
Globally, women and girls experience various socio-economic and health challenges. When these challenges intersect, they create an adverse social environment for them. One such challenge is knowledge and awareness about menstrual health, which is likely to result in negligence towards certain medical conditions and delayed diagnosis. There are many who suffer in silence only because normalisation of various medical conditions pertaining to menstrual health is common.
Women during their menstrual cycle experience cramps or pain. Those with severe pain are vulnerable to anxiety and stress. There are various challenges associated with menstrual health: awareness about menstrual hygiene, access to menstrual hygiene products, and lack of knowledge about the body and its changes. Women and girls cannot meet the needs of menstrual health and hygiene because of gender inequality, socio-cultural norms, social marginalisation and lack of services. These challenges worsen depending upon women's status and location in a given society.
The beliefs and perceptions around menstrual pain — that it is inevitable — is the main barrier to the diagnosis of the medical conditions it signifies. If menstrual pain is severe enough and affects daily routine, it can indicate underlying health conditions such as endometriosis, uterine fibroids, Polycystic Ovary Syndrome (PCOS) or adenomyosis. These medical conditions, associated with menstrual cramps, can cause fertility problems if left untreated.
It is estimated that one in every 10 women, aged between 15-49 years, is affected by endometriosis which makes around 176 million women worldwide with this medical condition. It can have a toll on women's physical and emotional health as it causes severe pain in the lower abdomen and may result in infertility. While there is no cure for endometriosis, there are treatments that can ease the symptoms. When women are told their pain is normal, it bars them from receiving any relief or treatment for a potential risk.
In South Asia, young girls are likely to face stigma and exclusion during menstruation. Talking about women's menstrual health is considered a taboo. A common phenomenon is that one should bear menstrual pain without talking about it and that it will go away soon. Information about women's reproductive or menstrual health is not embedded in curriculum. Schools do not impart complete knowledge on bodily changes upon the onset of puberty. In Pakistan, most young girls are deprived of menstrual health-related education in schools, and lack awareness about premenstrual syndrome (PMS) which affects their emotions, physical health or behaviour. A girl's first point of contact on menstruation is usually a mother who herself lacks scientific knowledge. In rural areas, this is even more complicated where women do not have education and have traditional knowledge about menstruation and period pain. In such a situation, considering pain normal becomes a norm.
Education on menstrual health is necessary for the wellbeing of young girls. De-stigmatisation of conversation about menstrual health and well-timed medical interventions are key to educate and inform women about any potential medical problems. It is essential to provide women and girls with communication channels to build knowledge around menstrual health and illnesses related to it. The Department of Health can play an important role in imparting education and awareness on this. A programme of lady health workers (LHWs) is already functional who regularly make household visits. Education and awareness on menstrual health can be linked with this programme. These health workers can be given an additional task to raise awareness about menstrual health through audio/video messages, written literature, etc. In this way, a considerable number of young girls can be educated about menstrual health, hygiene and products, and be encouraged to discuss issues around it.
Women have the right to live a healthy and pain-free life. Telling such women that their suffering is normal is equal to snatching their right to the treatment.
Original Headline: Women's health and taboos
Source: The Express Tribune
URL: https://newageislam.com/islam-women-feminism/women-girls-stigma-health-challenges/d/122442
New Age Islam, Islam Online, Islamic Website, African Muslim News, Arab World News, South Asia News, Indian Muslim News, World Muslim News, Women in Islam, Islamic Feminism, Arab Women, Women In Arab, Islamophobia in America, Muslim Women in West, Islam Women and Feminism