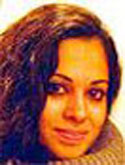 By Mehreen Zahra Malik
Jun 13, 2014
In Pakistan, where violence against women is not only deeply embedded in the imagination through cultural practices, but also institutionalised by laws, those who choose to shepherd women's rights are vulnerable to stigma and violence because they speak out against the nexus between mullahs and governments
Many around the world know Asma Jahangir to be Pakistan's gutsiest woman and one of the foremost human rights lawyers in the world. She has been beaten in public for championing the rights of battered wives and imprisoned for leading protests against laws that deny justice to rape victims. The New Yorker once called her Pakistan's answer to Myanmar's Aung San Suu Kyi.
But ask a large section of Pakistan's conservative public what they think of Ms. Jahangir and you'll get answers like "Woh Auraton Ko Kharaab Karti Hai" which when roughly translated means she spoils women, or she encourages women to rebel.
Such an answer is not unusual in Pakistan. In a country where violence against women is not only deeply embedded in the public imagination through cultural and religious practices, but also institutionalised by laws made by dictatorial governments, those who choose to shepherd women's rights are vulnerable to public stigma and violence not just because they speak for women but, more fundamentally, because they speak out against the nexus between the mullahs and the governments that mollycoddle them.
The moderate forces that want more rights for women are the same ones that pose a challenge to governments that take over power through coups, refuse to hold elections, and support retrogressive forces which believe that only they know what women can and cannot do.
From Rural To Urban 'Epidemic'
Last month, what Pakistani women can and cannot do was revealed in a case that has stunned the world.
A 25-year-old woman, Farzana Iqbal, was bludgeoned to death by a group of assailants, which included her father and brother, for falling in love and marrying a man against her family's will. The United Nations condemned the "honour killing." Major international newspapers published photographs of the grisly aftermath of the attack on their front pages.
A little over a week later, an 18-year-old woman's father, uncle, brother and aunt shot her twice and threw her into a canal after putting her in a sack because she married for love. This was followed by many similar reports, not just in the country's so-called rural and tribal badlands but also in major cities like Lahore and Karachi.
With the world's attention firmly on Pakistan because of Farzana Iqbal, news of more such instances of violence prompted people to declare this to be an "epidemic," express alarm that it had spilled over from rural Pakistan into cities and wonder how it all began in the first place.
The truth is that neither Farzana's death nor the circumstances around it are "breaking news." In fact, honour killings are so common in Pakistan that they usually rate only a paragraph or two on the metropolitan pages of local papers. In almost all cases, just as in Farzana's, the perpetrators are close family members who get away scot-free because under Islamic law, which is accepted by Pakistani courts, victims' families can decide the fate of convicted criminals.
The only difference between Farzana's murder and those of hundreds of others killed each year is that she was killed outside the High Court in Lahore, Pakistan's cultural capital.
"If she had been killed on a street corner in this village, would you even be here?" her husband asked me at his small town home last month.
It was a good question. How many incidents of women being mutilated and killed for wearing jeans, looking out of windows, singing or giving birth to girls have received worldwide condemnation? Of the 869 cases of honour killings reported in the media last year, how many have become more than a statistic?
Burden of Misplaced Ideas, Laws
In this part of the world and in others, women have been killed by their relatives for centuries under misplaced ideas of "honour" as defined by cultural and religious tradition.
But since 1979, man-made laws known as the Hudood ordinances have placed an especially heavy burden on Pakistani women.
When he failed to keep his first promise of holding elections in Pakistan after a military coup in 1977, General Zia ul Haq made another promise to justify his rule: he would make the country the truly Islamic state Allah had especially ordered him to. The many steps to achieve this dream of Islamisation included introducing the Hudood Ordinance, which criminalised sex out of wedlock and required a woman to produce four credible male witnesses to prove that she had been raped or else face punishment for adultery.
According to the National Commission on the Status of Women (NCSW) and Amnesty International in Asia and the Pacific, 88 per cent of female prisoners — both those awaiting trial and those convicted — are women who have not been able to prove, under the stipulations of the Hudood Ordinance, that they were raped. The law has seen visually handicapped women and girls jailed and babies being born in jail to women unable to win their freedom. Poring over decades-old files of official data provided by the Bureau of Police Research and Development, one finds cases of fornication, adultery and rape coming under the same heading — Zina, or unlawful intercourse between unmarried individuals. Thousands of cases of rape go unreported because victims fear that they will be treated as adulterous criminals if they go to the police.
Though the laws have never been appealed, they were amended in 2006 — or rather, made more palatable by adding "rape" to the country's penal code, doing away with the "four witnesses" requirement and making extramarital sex a bailable offence so that the accused wouldn't have to endlessly suffer behind bars.
But the history of wrong, unforgivable decisions that have made the lives of women infinitely more precarious does not end here.
In 1990, the Qiyas and Diyat ordinance was introduced by an unelected caretaker government to please a court headed by Justice Afzal Zullah, a religious man, so that it would deliver a positive verdict on the sacking of the Benazir Bhutto democratic government by President Ghulam Ishaq Khan.
The law made murder a matter of private compromise and authorised relatives of the victim to just forgive the murderer or to accept blood money in exchange for forgiveness — thereby taking away the authority to punish from the state and investing it in the hands of individuals. (Ironically, while Gen. Zia introduced a deluge of laws to invest Pakistan with the right amount of Islam between 1978 and 1979, he held the 1977 draft of the Qiyas and Diyat law in abeyance because he did not want Zulfikar Ali Bhutto — charged with the murder of a political opponent and later hanged for it — to get a reprieve by using Diyat or Qiyas. "I will enforce it only after I hang Bhutto," Gen. Zia has been quoted as saying.)
A Compromise over Power
In essence, repressive laws against women and the refusal to repeal them come from governments, often military but also civilian, who seek to indulge society's most regressive elements in order to preserve their hold over power or justify why they are in power in the first place. And while amendments to the Hudood law were put in place under Gen. Musharraf's rule, it is telling that instead of opting to repeal the law in its entirety using its simple majority in Parliament, Gen. Musharraf's ruling party settled for a compromise with the religious political parties of the day.
In the end, everyone went home happy except women: Gen. Musharraf could boast of pushing through amendments to a law no other government would touch and win applause from the West for his crusade against Pakistan's Islamists. And the religious coalition could pat itself on the back for having preserved the law and feel no need henceforth to bring up difficult questions about Gen. Musharraf's right to rule.
It is no coincidence then that Ms. Jahangir and so many others like her have had to fight just as fiercely against the forces of the right as they have Pakistan's repressive governments whose powers are inextricably hinged to a military-mullah node. Indeed, for the lot of women to improve in Pakistan, it is this nexus that must be undone first.
Mehreen Zahra-Malik is a Pakistani journalist based in Islamabad. The views expressed are personal.
Source: http://www.thehindu.com/opinion/lead/a-history-of-wrongs-against-women/article6108348.ece
URL: http://www.newageislam.com/islam,-women-and-feminism/mehreen-zahra-malik/a-history-of-wrongs-against-women-in-pakistan/d/87505