By Marty Silk
September 20, 2014
The memory of Afghanistan's first female police officer has been desecrated by the Palmer United Party's senator Jacqui Lambie and others, a photographer says.
Canadian Lana Slezic is outraged to learn her photograph of Afghanistan's Lieutenant Colonel Malalai Kakar, is being promoted by Senator Lambie and the UK's Britain First party as an image of a terrorist.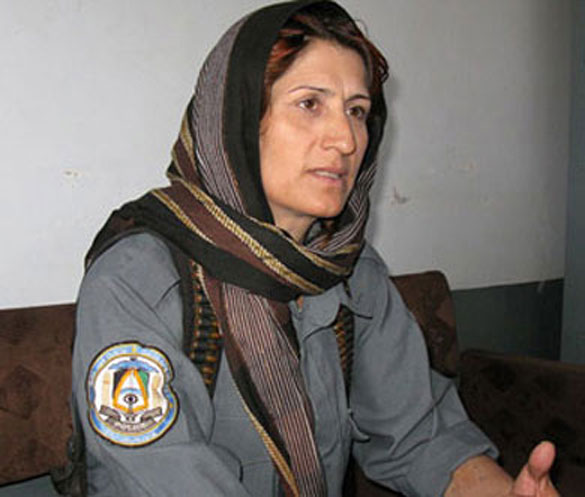 Lieutenant Colonel Malalai Kakar, head of Kandahar's department of crimes against women, was shot dead by Taliban gunmen in 2008. PhotographStr/AFP/Getty
--------
The photographer says Lt Col Kakar fought against extremism and terrorism and for women's rights before she was assassinated by the Taliban in 2008.
Lt Col Kakar was shot dead outside her home, in front of her son, on the way to work at a Kandahar police station.
Senator Lambie recently shared Ms Slezic's photograph of Lt Col Kakar holding her police pistol while wearing a Burqa, which was posted to Facebook, without permission, by UK group Britain First.
Britain First edited the image with a caption saying: "Terror attack level: Severe - an attack is highly likely. For security reasons it's now time to ban the Burqa".
Those words imply that Lt Col Kakar is a terrorist, and Ms Slezic says the use of it by Senator Lambie and Britain First is desecrating her memory.
Ms Slezic says it's an image of a strong woman fighting against terrorism and extremism.
"Here's a woman whose life was taken by terrorists, extremists in the most horrific way," she told AAP. "She died in front of her son, shot to death outside her home on her way to work.
"Everything she stood for, everything she fought for, for herself, her family, her daughters and future of her country, everything has been desecrated by how Jacqui Lambie and Britain First have used this photograph.
"I'm outraged actually (that) they would steal a photograph without any sort of consent, completely misrepresent it, use it for their own political agendas."
The photographer has tried to contact both Senator Lambie and Britain First to ask them to take down the picture and to explain who Lt Col Kakar was, but she's received no response.
Ms Slezic plans to post a gallery of pictures of Lt Col Kakar on her website http://lanaslezic.com/ to help show who she was and put her photo back into context.
A spokesman for Senator Lambie said she would talk about her use of the photo on the ABC's Insiders program on Sunday morning.
Source: https://au.news.yahoo.com/thewest/a/25065423/lambie-desecrating-afghan-woman-officer/
URL: https://www.newageislam.com/islam,-women-and-feminism/marty-silk/lambie--desecrating-afghan-woman-officer-/d/99168