Letter to the Editor, The Hindu
August 1, 2013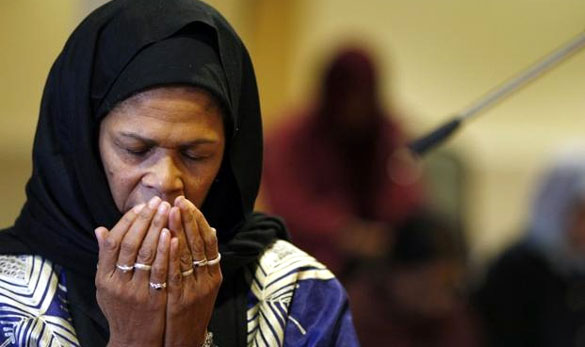 Amina Wadud is an American scholar of Islam with a progressive focus on Qur'an exegesis. As an Islamic feminist, she has addressed mixed-sex congregations
-----
As residents of Chennai, we are shocked and outraged at the last-minute cancellation of Islamic scholar Dr. Amina Wadud's lecture at the University of Madras on July 29, 2013, organised by the JBAS Centre for Islamic Studies on the topic "Islam, Gender and Reform".
The decision to cancel her lecture was taken by the University Vice-Chancellor Mr. Thandavan in response to a text message sent by a police-officer stating: "Police cannot allow this (the lecture) considering law and order. Please take action to suspend/cancel the programme ." This morning's newspaper ( The Hindu , July 31, 2013, 'Islamic scholar claims voice through social media') reported that police had "cautioned" the VC about "possible violence by protest groups". Ostensibly "Muslim groups" had threatened to protest Dr. Wadud's programs in the city, claiming that she was a puppet in the hands of the U.S. government and "anti-Islam".
It is indeed baffling that instead of taking action against the people/groups threatening violence, police "directed" the VC to cancel the event. If the current police administration cannot uphold the Constitutional guarantee of freedom of speech anymore it should consider a change of profession.
What is more shocking is the spineless capitulation by Mr. Thandavan.
All the efforts by the Centre for Islamic Studies, the organisers of the program, to persuade the University establishment including the Vice-Chancellor to defend the University's rights to encourage debate and dialogue proved to be of no avail.
A Vice-Chancellor ought to have outstanding qualities — of vision, intellectual honesty, courage, openness to different points of view and an unwavering commitment to academic freedom and the freedom of expression.
Anyone even superficially familiar with Dr. Amina Wadud's work will recognise the baseless nature of these allegations, and register the utter cynicism and ignorance with which they have been made. An African-American convert to Islam, Dr. Wadud, along with Asma Barlas and Riffat Hassan and many others, has been associated with the world-wide group, Women Living under Muslim Laws.
At a time when Muslim women across India — as elsewhere in the world — are mobilising and organising as Muslims and staking claims to equality and justice, which they insist are guaranteed to them as believers and by the traditions of Islamic piety and jurisprudence, it is tragic that fringe groups that purport to represent Muslim opinion in Tamil Nadu seek to overlook their existence. Worse, they seem to not want such views to be broadcast or heard.
This sorry turn of events is worrisome for other reasons: whether it is the Muslim Women's Jamaat in Tamil Nadu, the Bharatiya Muslim Mahila Andolan, headquartered in Mumbai, Awaz-e-Niswan, also in Mumbai, the All India Muslim Women Personal Law Board in Lucknow or scores of groups in smaller towns across India, there exist today forums which confront patriarchal reasoning in matters to do with faith and law.
In that sense, Dr. Amina Wadud's presence and talk would have added to the lively debates that exist in this country.
It seems to us that while those who think differently from Dr. Wadud are welcome to challenge her, this cannot be done by denying her the right to speak, and by tarring her with the all-too familiar "American agent" brush.
We demand that the University of Madras restore the freedom, honour and dignity of the academic and re-invite Dr. Wadud to give a series of lectures on its premises.
July 30, 2013,
Chennai, Tamil Nadu.
Statement endorsed by:
V Geetha, Writer; Nityanand Jayaraman, Journalist; Karen Coelho, Academic; Satya Sivaraman, Journalist; Madhumita Dutta, Researcher; T. Venkat, Researcher; Archanaa Seker; Vijay Baskar, Academic; Ajith Menon, Associate Professor, MIDS; Chandrika R.; Kavin Malar, Writer; Revathi Radhakrishnan, filmmaker; Anandhi S, Associate Professor, MIDS; K Kalpana, Academic; Ponni Arasu, Researcher; RR.Srinivasan, filmmaker; Sadanand Menon, Columnist; Prof A. Marx, academic/writer; Neerja Dasani, Writer; Karuna D W, Researcher; Nirupama Sarathy, Development Professional
Source: http://www.thehindu.com/todays-paper/tp-opinion/reinvite-amina-wadud-to-speak-at-the-university-of-madras/article4975910.ece
URL: https://newageislam.com/islam-women-feminism/'re-invite-amina-wadud-speak/d/12838