By Krishna Priya Pallavi
July 3, 2019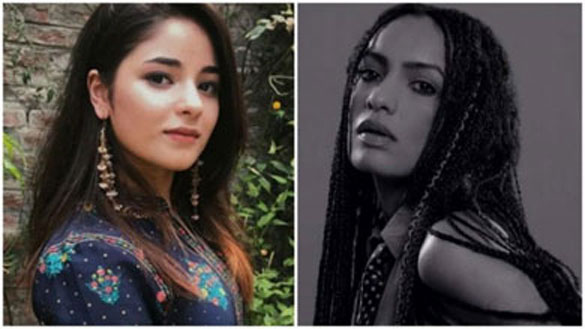 Zaira Wasim and Ruhani Syed
----
When Zaira Wasim announced that she was going to quit the Hindi film industry, first there was confusion, then came her statement "my relationship with my religion was threatened," which was then followed by a debate - Is Zaira's decision really her own?
In a detailed post on Saturday, the Kashmir-born Dangal fame actress announced that she did not belong in the industry and that she was "not truly happy."
What influenced her decision is still not clear. But when a star with such a background, hailing from The Valley and becoming a superstar, who was able to influence so many girls to fight for their own rights, announced such a decision, it was disheartening to say the least.
And this is a feeling that is shared by many Kashmiri girls. One of them is Mumbai-based artist Ruhani Syed. Ruhani, whose story in some ways mirrors Zaira's, recently posted about Wasim on Facebook, "Another one bites the dust."
When asked about that, Ruhani told IndiaToday.in in an interview, "I empathised with her. I have walked that path (leaving her art because of religion). Everybody is not gifted, but she is. Once that gift is there in you, it is always there. Zaira left (the industry) because she started to feel guilty perhaps. The society influences and affects you in such a way that you believe you are going away from God. I have walked that path, I did (something similar), by burning my four years of work."
She added, "If she made her decision and she is walking that path, maybe her path has changed, but for me it was not my path. For me, it felt extreme to leave what I was gifted with. I lost my own self because of that."
When Zaira announced her decision, many argued it was her choice, but Ruhani thinks otherwise, "I think her decision is very much influenced by society. I have felt it. Even my decision was affected over a period of years, by hearing things from people."
Living a significant part of her life in Kashmir, Ruhani is aware of the influence and has felt it up close. An artist, poet and model, Ruhani said, "I have been threatened because of my work. Some people have told me you will be dead because of the work that you do. That's why I have always played it underground."
Coming from a conflict zone, Ruhani's community too didn't let her career and her love for her profession prosper. The influence of society and radical ideas once almost robbed her of her passion.
She said, "When I started modelling, I saw how people were treating me, I felt good. And at the other place(madrasa) I was getting beaten up, I was getting abused, I was getting mistreated and I was being held like a hostage, just to learn about God."
"Kashmir is run by the ideology that what society says matters a lot. It is so important to each household. Things were going bad at home, which is when I stopped doing that kind of work (modelling and painting). I was not happy about it because what I was doing brought me joy. Islam says vulgarity is Haram, it's not beauty that is Haram. Whatever I have done has fallen in the category of beauty."
"Those people gave me hell, they used to say, 'your painting is Haram, you are painting faces, this is not Islam and this is not Muslim.' You know that build-up; it was not one person saying that to me. If I was going to the shop, my neighbours would just move away to show that they were not talking to me."
But it wasn't just the society; she had to face problems during her school years too. Ruhani was sent to a madrasa. Syed narrates, "I had a near-death experience there, because they traumatised me physically. They fed me worms and I had to be in ICU, I was that unwell. And on the deathbed, I promised myself I will never go back to this kind of a system again."
That's when she decided to get rid of the burqa. "I didn't believe in the dogmatic system. These dogmatic preachers - they don't even know what is the essence of wearing a burqa."
Ruhani's story may be one of struggle, but her learning from the tough times has been inspiring. "(For a long time) I was in a very vulnerable state because of which the society got to me, they convinced me that my love was never enough for God, my parents. I had worked on 10 canvases for 4 years, but because of this, I burnt them all. My hard work, I burnt it. And this is what is happening to Zaira, I can tell, because you know she will hear so much of that rejection, the Haram and Islam and Khuda."
But unlike Zaira, Ruhani had a different lesson from it all, "I think something broke. It taught me that you should recognise your gift and protect your gift. Now, I just want liberation so that my soul can be at peace."
Just like Ruhani managed to find her way back to her art, she believes that even Zaira will, if her decision of quitting the industry was influenced. Because "once an artist, always an artist."
Source: India Today
URL: https://newageislam.com/islam-women-feminism/kashmiri-artist-ruhani-syed-islamists/d/119100
https://www.indiatoday.in/lifestyle/celebrity/story/zaira-wasim-left-cinema-i-had-to-burn-my-work-kashmiri-artist-ruhani-syed-on-islamists-crushing-art-1561374-2019-07-03