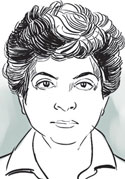 By Jyoti Punwani
June 27, 2013
The judiciary has long brought relief to divorced Muslim women let down by parochialism
In the furore over last week's Madras High Court judgment on live-in relationships, one aspect has been ignored — the couple involved were both Muslim, making it one more instance in which courts have restored the rights of Muslim women; though hopefully, all women in live-in relationships in Tamil Nadu will benefit from this judgment.
Now, the Madras High Court is set to go further than any other court has on Muslim women's rights. It has issued notice to the Centre on a petition filed by advocate Badar Sayeed — a woman of course — asking for courts alone to grant divorces to Muslim couples, instead of qazis as is the norm. The petition also challenges the ubiquitous practice of triple talaq, which has always been a sword hanging over the heads of Muslim women, and asks for codification of Muslim Personal Law.
Decades ago, a spunky young woman from Mumbai named Shahnaz Shaikh, the founder of the Muslim women's organisation Awaaz-e-Niswaan, had challenged the constitutional validity of Muslim Personal Law in the Supreme Court. This was just before the 1985 Supreme Court Shah Bano judgment. But the aftermath of that judgment generated the Ayodhya campaign, and seeing the charged atmosphere, Shahnaz withdrew her petition.
At that time, Shahnaz was among a handful of Muslims fighting for equal rights for Muslim women. The most respected voice among this lot was Islamic scholar Asghar Ali Engineer, who dared to come out strongly in support of the Shah Bano judgment, then being projected by the established Muslim leadership as anti-Islam. Incidentally, the judgment had done nothing new. It has simply upheld the long tradition of giving Muslim divorcees maintenance under Sec. 125 CrPc. But the judgment included questionable comments on Islam.
Political Pandering
The few, courageous Muslim voices in favour of the operative part of the judgment were ignored. Then Prime Minister Rajiv Gandhi ignored even the resignation of his Cabinet colleague Arif Mohammed Khan on this issue. He chose instead to pander to the vocal, conservative Muslim male leadership. In 1986, Parliament passed the Muslim Women (Protection of Rights on Divorce) Act aimed at nullifying the Shah Bano judgment. The new law put Muslim women out of the purview of Sec. 125 of the CrPC, which provides for maintenance to deserted and divorced women. That the Supreme Court gave this regressive Act a pro-woman slant while upholding it in 2001, is another matter. By then, many courts across the country had interpreted this anti-woman Act in a way that benefitted Muslim women.
It is such liberal and generous judgments by courts that have irritated the Muslim male leadership all these years. Secular courts do not understand Islamic legal concepts and culture, the All India Muslim Personal Law Board has argued. But Muslim women have always felt otherwise. When the Shah Bano controversy was at its peak, Muslim women had told this reporter, "The court is our Jamaat". This was their forthright reply to their leaders who were urging them to approach community heads to resolve marital issues, instead of going to court. These were poor women, thrown out by their husbands. Ashamed of being a burden on their families, they had chosen to approach courts, notwithstanding long-winded legal procedures and indifferent male lawyers, for the measly maintenance guaranteed to them under Sec. 125 CrPC. They could not believe that the new, dynamic young Prime Minister was going to pass a law that would deprive them even of this relief.
Since then, there have been a number of judgments granting Muslim women their marital rights. Attempts by the Personal Law Board to intervene by condemning these as anti-Islam have not influenced Muslim women. "We know how these Maulanas treat their women; tell them to follow the Shariah themselves first," a group of housewives told this reporter after one such judgment by the Aurangabad High Court had set off the usual cry of "Shariah-in-danger". Muslim women complain that Quazis and Shariah courts (like Panchayats and khaps) are more inclined to believe husbands. The latter also generally have more purchasing power than wives, they point out wryly.
There are solid reasons for Muslim women's faith in courts. The petition that has been filed by Badar Sayeed in Madras High Court points out how Quazis grant divorce even without the wife's knowledge. Courts have often struck down such divorces, pointing out that Islam sees divorce as the final culmination of a long process involving arbitration and witnesses. Indeed, judgments by secular courts have often been more in conformity with Islamic principles than the acts of Quazis. The British-enacted Shariah Application Act of 1937, which the Personal Law Board swears by, itself goes against Quranic injunctions and Islam's core values of justice, equality and compassion, specially towards women, Asghar Ali Engineer often used to point out.
In 1985, Shah Bano, old and isolated, under siege and physical attack by the men of her community spurred on by powerful fanatic leaders, was forced to reject the Supreme Court judgment in her favour. She had then told this reporter that the Maulanas promising to set up mechanisms to help divorced Muslim women would do nothing. She was right.
But today, Muslim women don't need the hollow promises of a male-dominated Board, nor can they be cowed down by shows of male strength. There are multiple Shahnaz Shaikhs with their organisations across the country, to get justice for Muslim women from secular courts. Demonstrations against Badar Sayeed have begun; but she has shown her determination to carry on her legal fight.
Jyoti Punwani is a Mumbai-based journalist and writer
Source: http://www.thehindu.com/opinion/op-ed/putting-faith-in-the-secular-courts/article4853779.ece
URL: https://newageislam.com/islam-women-feminism/badly-let-down-muslim-personal/d/12306