By Jim Davis
September 12, 2014
Not so with ChinaFile, a project of the Centre on U.S.-China Relations at the Asia Society. Its detail-rich, faith-related, enterprising feature story focuses on a little-reporting topic: women's mosques in China that are led by other women.
The work of veteran China writer Kathleen McLaughlin, the story centres on the Hui, an ethnic group in the inland. McLaughlin delivers both a broad overview and personal anecdotes alike. She offers a taste of its three centuries of custom, and even tries to assess its precarious prospects.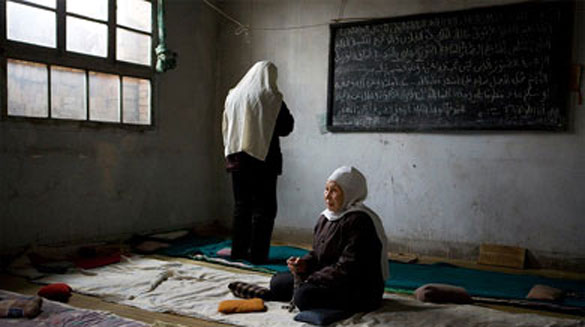 Non-mainstream media often live with a compromise: fewer facts and less-professional writing in exchange for promoting their own viewpoint.
------
And she adds plenty of colour, making us almost feels part of the land and the communities. Check this out:
Sangpo, a dusty hamlet about two hours from the capital of China's landlocked Henan province, is home to about 5,000 people, some 95 percent of whom are Hui Muslims. The Hui, China's third-largest ethnic minority, number nearly 10 million followers of Islam in China. Many are direct descendants of Arab traders on the Silk Road who married local Chinese women, but the Hui today are mainly identified through their religion rather than by ethnic characteristics.
Packed into this town are six mosques run by women, whose congregants are all female, and only five headed by men—an imbalance the women point out with pride, and a rarity among Muslim communities in China, let alone the rest of the world.
I'm not surprised to learn that McLaughlin has worked in China for more than a decade, and that she has reported for PBS News Hour, Christian Science Monitor, San Francisco Chronicle, and Foreign Policy. It takes a seasoned specialist to produce quality.
The story includes quotes by outside scholars, both in China and at Oxford. They inform us that female Chinese imams first appeared back in the 17th century out of the need to serve far-flung communities. We also learn that the Ming dynasty helped raise the profile of Islamic women in the Henan region.
The historians add vital context to our viewpoint of the women mosques; but the heart of the story, of course, is what the women say about their own ministries. Some of their remarks blend wisdom, prudence and humour:
In Kaifeng, another centre of Hui Islam in Henan, the older women who taught Guo speak about the need for separate spaces for women in the practice of religion. They joke about how women better understand than men the need be flexible about prayer times during the day, because women have more to do. Their mosque is tiny, a hidden shadow compared with the stunning piece of architecture up the road reserved for men. They don't seem bothered by that, but pleased to have their own space.
"Women have taken care of the children, they have to cook the meals, and we understand this," said Yao Baoxia, the imam who heads the Wangjia Hutong female mosque in Kaifeng. "We consider and understand these things."
An accompanying video shows the streets of Sangpo, with carts and buildings and people looking pretty much like elsewhere in China. It even includes a sample of the call to prayer in a woman's voice.
In the video, Guo Dongping smiles as she tells of her devotion to teaching the next generation. She tells of disbelief from other Muslims on the Hajj as she told them she was an imam. And she shares her concerns for the next generation.
Especially impressive to me is an examination of a few religious issues governing women imams. As you might expect, men don't see them as equals, although the women do almost everything their male counterparts do.
McLaughlin reports a clever dodge in how the women deal with religious tradition: "Technically, they're not allowed to stand at the front of the mosque to lead prayers, a symbolic gesture. Instead, the women lead prayers facing in the same direction as their flock, rather than facing out toward them as would the leader of a mosque for men."
The reporter carefully adds some hedges. For one, she stresses that these are mosques for women, avoiding a stricture against women leading men in prayer. She says no one knows how many female imams are in China, though she estimates they're in the "dozens." And she acknowledges that there are a few female imams elsewhere, like Spain, Turkey and the United States.
"But for the Hui of Henan, the practice is not an oddity," she adds. "Rather, it is a widely accepted part of religious life among women that is tolerated by men."
McLaughlin notes that the women imams survived China's Cultural Revolution of the 1960s and 1970s, but now "they face a different kind of threat. Many Hui girls now see office jobs and translation work as a better career path." She might have added that the pull of secular prosperity is draining religious vocations in the West, too – male as well as female, and in other religions. Even decades ago, a Jewish leader complained to me that many families would rather boast of "my son, the doctor" than "my son, the rabbi."
Another issue in this story is occasional overwriting. The departure of young women for secular professions is spread over four paragraphs. Two or three paragraphs probably would have done it.
A third matter is geographic direction. Readers may well get puzzled in the travelogue of places like Sangpo or Kaifeng. McLaughlin tries to help with phrases like "about two hours from the capital of China's landlocked Henan province." But if you don't know Henan province – as most non-Chinese won't – you're still lost. As I recommended in my review of an AP story on Middle East Christians, a locator map would have helped immensely.
Despite all that, the story remains an admirable piece of work. With many newspapers shedding beat reporters and remote bureaus, people like Kathleen McLaughlin – and websites like ChinaFile – may become increasingly important to readers who want in-depth religion reporting.
Source: http://www.getreligion.org/getreligion/2014/9/12/female-imams-in-china-detail-rich-report-reveals-a-little-known-muslim-community
URL: https://newageislam.com/islam-women-feminism/female-imams-china-detail-rich/d/99110