Indian Express Editorial
Jul 27 2013
Mild-mannered schoolteacher by day, crime-fighting ninja by night! Sounds like yet another superhero story, except this particular schoolteacher with secret martial arts skills conceals her identity with a Burqa and battles thugs trying to shut down the girls' school where she works. Pakistan's first female superhero, the Burqua Avenger, is a sort of apotheosis of real-life hero Malala Yousafzai, and the villains she fights are all too familiar. Less familiar are her tools of trade. Jiya, the woman behind the Burqa, has traded in the standard superhero utility belt for books and pens, and instead of jujitsu or krav maga, her martial art du jour is "Takht Kabaddi".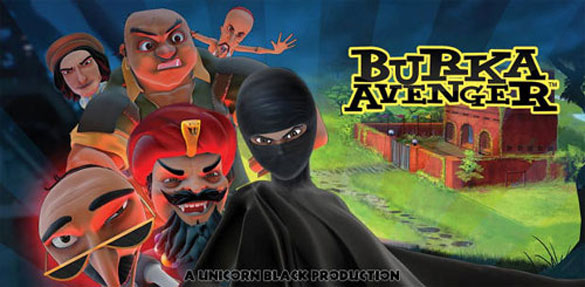 Pakistan's 'Burqua Avenger' speaks to a society in the throes of large transitions
---------
It is unsurprising, perhaps, that a society in the throes of upheaval would embrace a super heroic solution for its problems. From their comic book origins in 1930s America, these sometimes-super powered men and women in tights have battled Nazis, aliens, environmental catastrophe and even overly ambitious real estate magnates. Their talents for averting the apocalypse in this 'verse and all the others were comforting in their constancy; no problem, even the threat of nuclear annihilation during the long years of the Cold War, appeared unsolvable.
So, much of the 20th century was about Superman, when the American public needed an icon who could take on the evil Other and embody every national originary myth. Later, when disillusionment with the state set in, the more broody Batman and his arsenal of nifty gadgets offered the perfect fantasy solution to an impossible choice between security and civil liberties. The Burqua Avenger may be an expression of modern Pakistani anxieties and the yearning for a magical solution, one that skips over the years of institution-building that lie ahead. She's the hero they want, maybe even the one they need.
Source: http://www.indianexpress.com/news/the-hero-we-need/1147399/
--------
Times View
Jul 27, 2013
The Show Could Empower Women
Beginning early August a new Pakistani animation series, Burqua Avenger, will portray its female superhero fighting thugs bent on shutting down a girls' school. Just because the Burka Avenger will be shown clad in a black Burqa, unlike western super heroines such as Wonder Woman and Super girl, it doesn't follow that the show endorses the oppression of women. Context is all-important here. The Taliban has, after all, shut down hundreds of girls' schools in Pakistan's northwest. The Burqa would simply be representative of local attire in this backward and conservative region. Moreover, in a pervasively male-dominated society where discrimination and brutality against women is rampant, the very notion of a female superhero fighting on behalf of other women should be a positive and liberating one.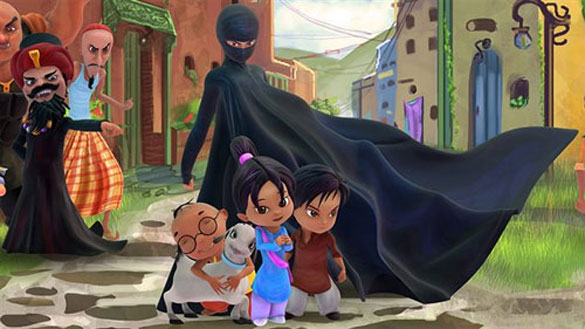 Pakistani Cartoon Series To Depict A Burqa-Covered Woman Protecting Girls' Rights
-----------
The cartoon series, though light-hearted, should serve the larger objective of the need for girls' education in a country where there is scant respect for working women and those striving to ameliorate their lot. While the episodes will be couched in humour and action, the social message should not be lost on viewers, especially when the story of the ordeal of 15-year-old activist, Malala Yousafzai, who was shot by Taliban gunmen last year with the aim to kill her, is still fresh in the minds of all Pakistanis.
Moreover, masking the identity of the Burqua Avenger feeds into traditions established by a long line of comic superheroes, who typically wear masks to hide their identities. It can, therefore, be an act of creative appropriation which tweaks that tradition and places it in a different context. Sure, portraying a woman teacher fighting bad guys on a TV screen will not guarantee immediate equality of status or pave the way for universal girls' education in Pakistan. But it could be a small step towards their empowerment and understanding of rights.
--------
Counterview: It's a Regressive Cartoon
By Rudroneel Ghosh
It's indeed sad that a Pakistani cartoon series about a Burqa-clad superhero is being touted as a symbol of female empowerment in that country. The irony is not lost on anyone — the Burka Avenger wears a long flowing veil and fights thugs seeking to shut down a girls' school where she works as a teacher during the day. The cartoon character is projected as a role model for Pakistani girls and their rights, even as the Burqa she wears represents the exact opposite of women's emancipation. If anything, the Burqua Avenger represents the extent to which extremism and subjugation of women have reached in Pakistan. By showing the Burqa in a positive light, the cartoon defeats the noble values that it otherwise aims to portray.
There's no denying that Pakistani society today is wracked by religious extremism that is progressively degrading the position of women in that country. The rise of the Pakistani Taliban has seen increasing attacks on women, girls' schools being bombed and women's rights activists being hounded. The story of teenager Malala Yousafzai exemplifies this point. In large tracts of Pakistan women are forced to stay indoors, are banned from leaving their houses without male relatives and compelled to strictly wear the Burqa. Yet the Burka Avenger, wittingly or unwittingly, ends up glorifying the veil. In fact, it would impress upon young Pakistani girls to become more comfortable with the Burqa, reinforcing patriarchal norms and traditions.
The argument that the burqa is consistent with Pakistani culture doesn't cut ice either. On the contrary, it highlights the growth of Wahhabi influence on Pakistani society. Having the cartoon superhero wear an ethnic Shalwar-Kameez — and perhaps a mask for disguise — wouldn't have made her any less Pakistani. To opt for the Burqa instead is to cave in to the diktats of extremists who indulge in moral policing of entertainment options in Pakistan. Now they appear to have even forced a cartoon character to don the Burqa.
Source; http://timesofindia.indiatimes.com/home/opinion/edit-page/Pakistani-cartoon-series-to-depict-a-burqa-covered-woman-protecting-girls-rights/articleshow/21375524.cms
URL: https://www.newageislam.com/islam,-women-and-feminism/burqa-avenger--the-hero-we-need/d/12776