By I.A. Rehman
February 15, 2018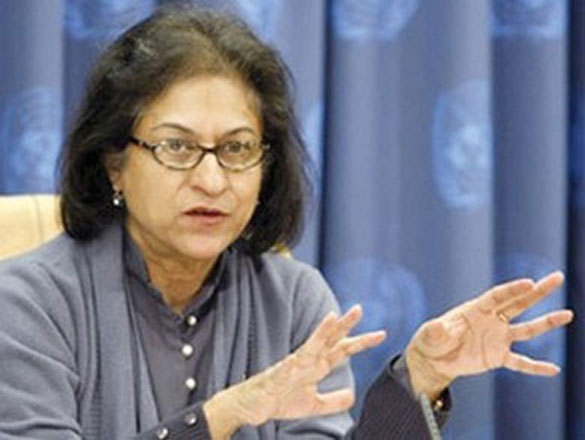 HER death was the top news in all media outlets. Tributes to her from national and international leaders have been pouring in large numbers. Millions of people across the country, in Jhuggis as well as in posh bungalows, are numb with grief because the voice that was unfailingly raised in their support has gone quiet forever. Many at her funeral agreed that she had touched more hearts than any other living Pakistani. How did Asma Jahangir attain this stature?
Quite a few have tried to sum up Asma's character in a single word such as 'courage', 'commitment', 'leadership', 'love' and so on. None of these words fully defines Asma, and even a combination of all of them might be inadequate.
Courage — she was threatened by mail and verbally from many a platform. Some young men scaled the walls of her house with the intention of causing her harm. Shots were fired at her vehicle in Balochistan. She was warned of having been put on the hit list of privileged gunmen. But nothing could deter her from standing up for the people's rights.
Courage for her did not mean merely absence of the fear of death; it meant essentially an ability to say whatever needed to be said in any situation, on any issue. It meant resistance to oppression, dictatorship and injustice, regardless of the consequences. It also meant determination to stay firmly on course in the struggle for fellow Pakistanis' entitlements.
Many agree that she touched more hearts than any other living Pakistani.
Commitment — Asma's reservoir of courage was a measure of her commitment to the causes of the fellow beings she chose to uphold. She fought for Samia's freedom from an unwanted marriage and for other girls' right to marry boys of their choice. Journalist Jugnu Mohsin says women in her village tell their husbands to behave otherwise they will seek Asma's help. She was among the women who defied Zia's police on the Mall in Lahore in February 1983, and many were the occasions when she stood at the barricades and faced police baton charges while condemning violence against women and lawyers.
While establishing gender justice was her first ideal, she never failed to defend men in distress. She fought for Gilgit-Baltistan's popular hero, Baba Jan, and also for Okara's peasant leader, Mehar Sattar, both victims of the abuse of law. She fought for the freedom of bonded workers at Punjab's brick kilns and in Sindh's agriculture, and she fought since 2007 till her death for the recovery of 'missing persons' and for an end to enforced disappearances.
For the last many years, she had been concentrating on defending the people's right to democratic governance, rule of law, due process, and protection against illegal detention and torture.
She began rejecting authoritarianism in her teens when her father was thrown in jail for resisting it and had her name entered in Pakistan's law records as the petitioner in the Asma Jilani case, the only case in the country's history in which a dictator was declared a usurper. No one in Pakistan has rejected authoritarian rule so firmly and so consistently as Asma Jahangir did. Even when some of the civil society stalwarts were deceived by Pervez Musharraf's rhetoric, Asma declined to accept authoritarianism under any garb.
Such a strong commitment to defend democracy, even at the risk of being misunderstood by the morality brigade, could come only from an absolute clarity of vision and rejection of halfway houses on the path to democratic freedoms.
As a firm believer in the independence of the judiciary and the legal profession, she was in the vanguard of the lawyers' movement for the restoration of the judges thrown out by Pervez Musharraf. She was disappointed like the original leaders of the French Revolution at the post-victory behaviour of the young cavaliers and the beneficiaries of the victory. But she did not allow frustration on this account to affect her resolve to do her bit for the Supreme Court Bar Association.
Leadership — many years ago, according to Shahid Kardar, seasoned politician and one of the principal leaders of the Human Rights Commission of Pakistan, Dr Mubashir Hasan, declared that Asma had the qualities of a leader who could put the state back on the rails. This opinion was perhaps based on the way Asma had laid the foundations of HRCP and guided its destiny directly for its first six years and indirectly till the last working day of her life.
Her success lay firstly in persuading, with the help of Munir Malik and the late Sabihuddin Ahmad, the incomparable Justice Dorab Patel to be the HRCP's first chairperson. And, secondly, in running the commission by consensus without compromising on its principles and its strategy. She also succeeded in bringing into the HRCP a galaxy of jurists, senior lawyers and trade union leaders, from all the four provinces, reflecting the country's cultural diversity. She did all this while maintaining the commission's federal and democratic character.
The Supreme Court Bar Association was another institution where Asma demonstrated her leadership qualities. The standards of personal integrity and commitment to fellow lawyers' welfare she set will be remembered for long. Besides, says a senior colleague and one of the leaders of the Pakistan Bar Council, so long as Asma was there they were sure she would sort out whatever mistakes were made by them.
One of Asma's greatest services to Pakistan, which is often not recognised, is that as a UN special rapporteur she raised Pakistan's prestige not only in international councils but also among the people of the countries she visited.
Everybody is saying that the void caused by Asma Jahangir's passing can never be filled. The gap indeed appears to be hard to bridge. But Asma has left a legacy of hope. Who knows how many from amongst the young men and women she inspired, trained and worked with — women paralegal workers, human rights activists, interns at the legal aid organisation AGHS and HRCP, and young lawyers guided by her — may learn to speak for all the disadvantaged who Asma loved.
Source: dawn.com/news/1389434/how-she-became-asma
URL:https://www.newageislam.com/islam-women-feminism/how-became-asma/d/114287