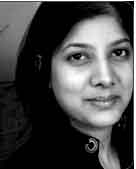 By Huma Yusuf
October 9, 2013
This is a big week for Malala Yousafzai. It has been exactly a year since the Pakistani Taliban tried to assassinate her for championing education for girls. On Tuesday her memoir was released worldwide. And she is a favorite for this year's Nobel Peace Prize, which is to be announced Friday.
Yousafzai has plenty of detractors.
Yousafzai's schoolmates back home in Swat are praying that she brings home the award, as are the Pakistanis who think such recognition would confirm that education is the best antidote to extremism. But many of her compatriots don't want her to win.
Yousafzai has plenty of detractors. Some resent the attention that has been lavished on her while the victims of U.S. drone strikes in Pakistan's tribal areas are ignored. Conspiracy theories abound: Yousafzai is accused of being a C.I.A. agent and a stooge of Western powers seeking to undermine Pakistan and Islam.
Even some Pakistani liberals are hoping the prize will go to someone else. What good would it do Yousafzai anyway? Pakistan's only Nobel Laureate so far, the late physicist Abdus Salam, is not feted by politicians or celebrated in textbooks. His grave lies desecrated because he hailed from the minority Ahmadi community, whose beliefs many Pakistanis take to be heretical.
Worse, some fear that were Yousafzai awarded the prize she would be suspected of feeling more loyalty to Western causes than her homeland. Given prevailing suspicions in Pakistan about "foreign agendas," the prize could keep her from becoming a politician, which is her ambition.
All this hype is also exposing Pakistanis' ambivalent positions on extremism. When Yousafzai was shot last year, the country united, in shock and horror, to condemn the Taliban; the attack seemed to be a turning point, marking a decisive hardening toward militant groups. But the "Malala moment" soon passed.
Most Pakistanis — the cricketer-turned-politician Imran Khan foremost among them — are now arguing that the Taliban are freedom fighters protesting incursions on their territory. (Never mind that the Taliban have killed more than 50,000 Pakistanis in recent years.)
Which is to say that the fuss over Yousafzai comes at a tricky time for Pakistan? The country is unusually fatigued by violence these days. With widespread popular support, the government is pursuing unconditional peace talks with the Taliban — despite brutal militant attacks in recent weeks against senior army officers and the Christian community in Peshawar.
You would think that talk of the Nobel for Yousafzai would galvanize Pakistanis in their fight against extremism. But it has only sown confusion.
Yousafzai herself recently came out in favor of dialogue with the Taliban, even as they reiterated their desire to kill her. Although that move arguably makes her still more deserving of the award, it is another reason some Pakistanis don't want her to get it.
Huma Yusuf is a columnist for the Pakistani newspaper Dawn and was the 2010-11 Pakistan Scholar at the Woodrow Wilson International Center for Scholars in Washington.
Source: http://latitude.blogs.nytimes.com/2013/10/09/more-malala-malaise/?ref=opinion&_r=0
URL: http://www.newageislam.com/islam,-women-and-feminism/huma-yusuf/more-malala-malaise/d/13944