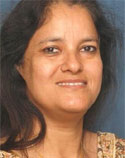 By Harvinder Khetal
Aug 28, 2016
To wear it or not to wear it. That is the question. We women are always at a loss when it comes to deciding the dress for an event. Our wardrobes maybe overflowing, but we feel we have "nothing appropriate" when the occasion arises. We fret and fume while picking on prêt wear (casual ready-to-wear clothing) or haute couture (French phrase meaning high fashion). That's a normal, universal feeling and the most common topic talked about in our circles. It is equally commonplace that ultimately what we choose to wear becomes grist for bitchy gossip — behind our backs, of course. Men making jokes out of the situation say: "My wife has two complaints: nothing to wear and not enough closet space." But, that's okay.
But, what's not okay is people telling us whether to wear it or not to wear it. Freedom to choose holds good both ways: I must be free to pick or discard an item of clothing. If I pick a garment due to my religious belief or my sense of modesty, so be it. At the same time, if I find the imposition of a certain piece of clothing appalling, so be it.
I remember when I was studying in Punjab University in the early nineties — the days of terrorism in Punjab — a dress code was sought to be dictated to us students. No jeans and skirts for girls, was the diktat of some self-styled defenders of I-don't-know-what. Incidentally, nobody banned the boys from being clad in jeans! To be told to not wear western wear was reprehensible as it did not respect my rightful right. Of course, I exercised my will to choose my clothes. Bans generally don't work.
As this widespread anger over the latest ban on wearing of the Burkini in the beach by the French and some other Europeans shows. A Burkini is a combination of the words Burqa and bikini. It's a hooded swimsuit for a woman that covers the body, leaving only the face, hands and feet exposed. While seeking to liberate women (mostly Muslims) from perceived oppression and patriarchy, the prohibition of the Burkini, ironically, infringes on their freedom to select their apparel. This fight featuring the fusion of faith, fun and fashion is furiously figuring in feminist and freedom fora, ruffling many a feather, forging foes and friends…and forcing the Frenchmen to revisit their facts.
As I saw pictures of the French policemen asking that lady on the beach to remove her Burkini in view of the ban and don a bikini, I was struck by the contrast of the situation of a few decades ago when the Europeans were banning the itsy bitsy bikini! In fact, earlier men even wanted the women to cover their ankles, lest a lusty lecher get excited!
It's also a case of the clash and the contrast in the cultures. While one school of thought gives credence to covering up as a sign of civilisation, the other considers casting away clothing to be chic.
A spate of terror attacks in Belgium, France and Germany has sharpened the debate, with a large influx of mainly Muslim migrants to the continent also giving rise to resentment among some Europeans.
Perhaps, they could learn a thing or two from the women's beach volleyball game of the recent Olympics in Rio de Janeiro. The picture of an Egyptian athlete in a Burkini and a German player in a bikini mirroring each other while jumping high after the ball is a perfect visual that portrays the Olympic spirit of "blending sport with culture and education."
It reminds me of a conversation I had with my Spanish teacher in Delhi around five years ago. I asked her what she missed about Spain in India. She said: "I miss the freedom to wear revealing clothes here."
With the 2010 ban on the Burqa and Niqab and now the Burkini, France is charged with being anti-Muslim. However, even Sikhs in France are fighting that their children be allowed to attend public schools wearing a turban. They hope to get an exemption to the ban on religious symbols in French state schools.
By the way do you know the difference between a Burqa, Niqab, Hijab and Burkini?
A Hijab is a headscarf that covers the head and neck but leaves the face clear; the Niqab is a veil for the face that leaves the area around the eyes clear. However, it may be worn with a separate eye veil. It is worn with an accompanying headscarf. The Burqa is the most concealing of all Islamic veils. It is a one-piece veil that covers the face and body,.
And, of course, now you know the burkini, right?
Source: tribuneindia.com/news/sunday-special/kaleidoscope/of-burqas-burkinis-and-bans/286360.html
URL: http://www.newageislam.com/islam,-women-and-feminism/harvinder-khetal/of-burqas,-burkinis-and-bans/d/108393