Men Don't Want To Divorce Because Of the Fear Of Being Jailed
Main Points:
1. The Supreme Court had declared Triple Talaq a criminal offence.
2. Triple Talaq cases have been reduced after its criminalisation.
3. Men now abandon their wives.
4. Abandoned women can not re-marry.
5. Abandoned women are getting depressed.
-----
New Age Islam Staff Writer
2 August 2022
On 30 July 2019, the Supreme Court had passed a landmark judgment on instant Talaq or Triple Talaq declaring it unconstitutional and a criminal offence with a provision of 3 year jail term. Some feminists and NGOs had been pushing for a ban on Triple Talaq for years and finally the central government took the initiative.
The Muslim organisations particularly the AIMPLB defended the Triple Talaq and termed any change in divorce laws an interference with the Muslim personal laws but a large section of moderate Muslims, particularly Muslim women had welcomed the verdict hoping that the criminalisation of Triple Talaq would end their plight. The ban indeed ended the trend of instant Talaq among Muslim men but it created another problem of abandonment. Now the men who are not happy with their wives do not divorce them but desert them keeping their future hanging in balance. In this situation, the women who want to get out of the messy marriage cannot use the option of remarriage without getting divorced. This has been causing them a lot of mental torture and misery.
Some women have even gone into depression. Now the women want to be divorced but the men do not for fear of being jailed. The Kerala High Court in 2021 passed a judgment empowering abandoned women to initiate Khula but that too has not been of much help because of non-cooperation from men. And the judgment of the Kerala High Court is not binding outside the state.
The Indian government has declared 1 August as the Muslim Women's Empowerment Day but it has only a symbolic significance since the law has not provided wholesome remedy for their problem.
It is a fact that if honest steps are not taken to solve a problem and only political interests are kept in mind, the problem gives birth to another problem. This is what happened in this case. The Muslim clergy refused to acknowledge the severity of the problem of Triple Talaq and to take any step towards Ijtihad (contingent decision) as was done by the second caliph Hadhrat Umar in view of the unhealthy trend of lengthy process of divorce. Hadhrat Umar's contingent order of validating Instant Triple Talaq in view of the contemporary needs in favour of women was prolonged and was made a permanent rule. It should have been stopped as soon as the problem had disappeared.
The Quranic procedure of Talaq stipulates divorce in a phased manner. But the Hanafi jurisprudence insists on what can be called Talaq-e-Umari as it was introduced by Hadhrat Umar as an administrative step to solve a local problem.
The widespread practice of Triple Talaq caused social problems in Muslim societies. Divorce became rampant and many of the divorces were given in a fit of anger and for flimsy reasons. Still the Indian clergy insisted that Triple Talaq was in accordance with Shariah. Some Ulema though acknowledged that instant Triple Talaq was not right but maintained that once a man pronounced Triple Talaq, divorce happens and it cannot be annulled. They argued that when a man shoots another, he dies. Even if the killer says that he shot him in a fit of anger and had no intention of killing him, the man is killed and cannot come alive. But they ignore the fact that this analogy is not correct.
Pronouncing three words and shooting someone with a gun is not the same. Islamic jurisprudence says that when a fasting man eats something by mistake, his fasting does not break though the purpose of fasting is to remain hungry. After eating, the man does not remain hungry, still he is considered fasting because his intention was not to eat.
In spite of the severity of the problem, the Ulema did not try to find a solution to the problem while Muslim women desperately looked for a way out. Finally, the central government had to take the initiative and the matter went to the court. The court declared the practice unconstitutional and the defenders of Triple Talaq could not give clinching arguments in favour of Triple Talaq from the Quran. If the Ulema had taken steps to ban Triple Talaq and Muslims were sensitised about the illegitimacy of the act, they would have paved the way for reform in the Muslim society and would have kept the government and the judiciary at bay.
Instead they encouraged Men to use Triple Talaq to the disadvantage of Muslim women though Triple Talaq is banned in many Islamic countries including Bangladesh. There the husband and wife have to apply to the designated court for divorce and are given three months' time to withdraw the application. After 3 months the procedure is started.
It is time the clergy in India woke up to the problem of abandonment before the government takes another insensitive step to prevent abandonment.
-----
3 Years of Triple Talaq Law: How It Has Left Many Muslim Women Abandoned
By Fatima Khan
30 Jul 2022
Since getting married on 3 December 2020, Syeda Ayesha hasn't had a moment of respite or peace. Her husband and in-laws have made her life "intolerable", she says. From abusing her for not getting pregnant, to selling off her jewelry without her consent, to petty acts like removing all the bulbs from her room so that she is forced to stay in dark—24-year-old Ayesha says she had a miserable time in marriage.
In May 2022, her husband dropped her back at her father's place and said he doesn't want to live with her anymore. "So I said, why don't you divorce me then? It will make my life easier," the Hyderabad-resident told The Quint.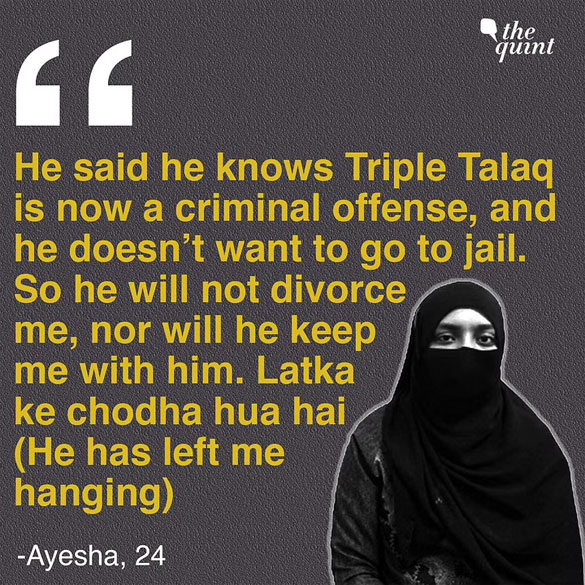 Ayesha has been abandoned by her husband.
Chetan Bhakuni/ The Quint
----
But her husband retorted saying that that's exactly what he doesn't want. "He said he knows Triple Talaq is now a criminal offense, and he doesn't want to go to jail. So he will not divorce me, nor will he keep me with him. Latka Ke Chodha Hua Hai," she says.
'Latka Ke Choda Hua Hai' or 'he has left me hanging', is a common lament among several women at the Shaheen Women's Resource and Welfare Association—a centre in Telengana's Hyderabad which has been working for the victims of Triple Talaq for decades.
Except in the three years since the parliament passed the law to criminalise Triple Talaq on 30 July 2019, the women's help centre hardly ever gets complaints of women being subject to Triple Talaq. Instead, all they get are grievances and appeals from hapless Muslim women who have been deserted by their husbands. The criminalisation of the Triple Talaq has given rise to a new problem: abandonment.
'He Has Left Me Hanging'
Like Ayesha, there are several women who have been left in a limbo by their husbands—who now know how to circumvent the Triple Talaq law by simply cutting off all ties with the wife and not officially giving her a divorce.
Jameela Nishat has been running the Shaheen Women help centre since 2002, and says that the criminalisation of Triple Talaq has done more harm than good for many Muslim women. "The criminalisation and the enactment of the Triple Talaq law was publicised so much that today every single Muslim man knows he shouldn't utter the word 'talaq'. Of course, there are other routes to get a divorce, but there is such fear among them now, that they are simply thinking why should they get involved in this mess. Abandoning the wife seems like a far easier option," Nishat told The Quint.
In 2017, two years before the The Muslim Women (Protection of Rights on Marriage) Act, 2019, also known as the 'Triple Talaq law' was passed by the parliament, the Supreme Court had struck down the practice terming it 'unconstitutional' in a landmark verdict.
Many critics had pointed out that since the practice was already nullified and invalidated by the Supreme Court, it needn't be criminalised. "After the verdict, the three words—Talaq, talaq, talaq—stopped holding any meaning. So if a man would pronounce Triple Talaq, we could go to a Qazi and argue for it to not be deemed as a divorce. There was more scope for negotiation and reconciliation then," Nishat said.
Nishat added that the centre may not be getting cases of Triple Talaq anymore but has been working overtime to get abandoned Muslim women some sort of rehabilitation. "Of all the cases the centre has handled since July 2019, 32 per cent are those of Muslim women being abandoned. The rest are cases of domestic violence, dowry, or some familial issues. Hardly 1 or 2 might have been cases of Triple Talaq," she said.
"This is far higher than the number of abandonment cases the centre would receive before the Triple Talaq criminalisation," she added.
Many Complications Even With 'Khula'
In cases where the man isn't giving Talaq, but the woman wants divorce, the option of 'khula' is available under Islamic law or Sharia—wherein the wife can initiate the divorce. But that isn't an easy option either.
Shaheen Begum, 24, got married in 2018, but within months of the marriage, her husband dropped her back to her mother's place. He would bring her back temporarily, only to send her back again. This went on for a while after which Shaheen decided to confront him in 2021. "But he said he won't divorce me either. Usne kaha tu aise hi sadh (He said you keep suffering like this)," she told The Quint.
So, Shaheen tried to avail khula, but even that requires husband's consent. But Shaheen's husband never showed up for any of the proceedings. "The Qazi kept sending him notices, but he never came. Nor did he ever sign on the document of khula. I am stuck for life now," she says.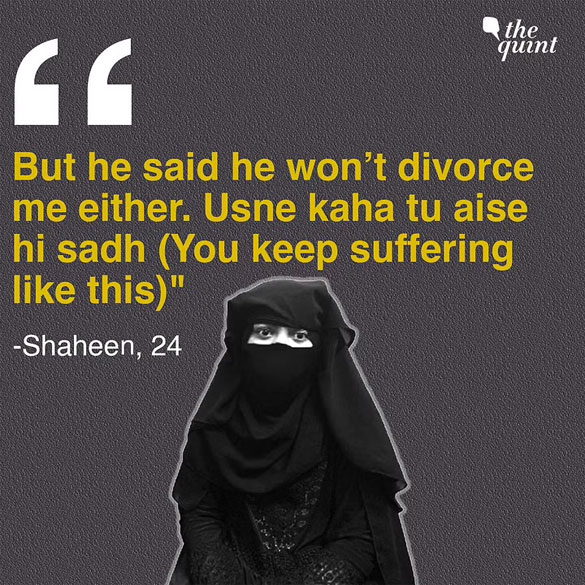 Shaheen has been abandoned by her husband.
Chetan Bhakuni/ The Quint
-----
However, in April 2021, the Kerala High Court passed an important verdict saying that a woman can unilaterally proceed with a khula, and doesn't need the husband's consent for it.
"That verdict injects judicial sanction in an extra judicial divorce. However, it can be seen as a positive solution to the problems women face in getting Khula since Qazis are not empowered to do that under the Indian law. But the issue is that the Kerala judgment is a binding law only in Kerala, and merely a persuasive law everywhere else," Delhi-based lawyer Nabeela Jamil told The Quint.
Shaheen has now become a patient of depression, and is taken care of by her mother. "I regret getting her married to that man. It would be better if he just gave her the talaq so she could move on, but she can't," Shaheen's mother says.
Matters of Money
At the heart of many of these conflicts is also the question of money and sustenance. Mehr is a pre-decided amount of money supposed to be given by the husband to the wife on getting married.
"In the case of a Talaq, the husband must give Mehr as well as maintenance for the Iddat period (three months after divorce)," Nabeela explains.
Soon after 26-year-old Reshma Begum delivered a child, her husband began saying he doesn't want to live with her anymore.
However, he refused to give her a Talaq, and instead forced her to get a khula. But he got certain clauses added to the khula document freeing him of the need to give mehr or maintenance money. Reshma, who hasn't had formal education, said she didn't realise until much later what had happened. "I am illiterate so I couldn't understand the document. I eventually understood that even in my freedom I was left more helpless than before," she says.
Reshma has been abandoned by her husband.
Chetan Bhakuni/ The Quint
-----
In such situations, women who have been abandoned without a divorce, cannot marry anyone else either.
Ayesha Siddiqa, a mother of a 17-year-old has been wanting to end her marriage of 18 years for some time now. "I want to settle down with a partner who is supportive and kind, so that I can also live my life peacefully and fulfil my desires. But without a divorce, I can't move on," she said.
The Politics of Muslim Women's 'Empowerment'
Zakia Soman, founder of the Bhartiya Muslim Mahila Andolan (BMMA) which was one of the petitioners in the SC case which eventually led to the ban on the Triple Talaq, said that criminalisation may have led to deterrence in the number of Triple Talaq cases, but the picture isn't entirely rosy.
"Even after criminalisation, most police stations across the country don't want to file a case under the law. The woman has to run from pillar to post to get a case registered. This is because the whole system is patriarchal," Soman told The Quint.
The BJP-government has marked 1 August as 'Muslim Women Empowerment Day' to mark the date the Triple Talaq law was enacted. Soman however termed it as an eyewash.
"It's mere politics. One, the law which was supposed to help them hasn't been implemented properly. And secondly, Muslim women are also citizens of the country. When there are bulldozers being used on Muslim houses, when there is so much communal violence and hate...how do you expect them to be empowered," Soman added.
'Muslim Family Laws Need To Be Made Gender-Just'
Experts say that for Muslim women to ultimately feel more empowered, their marital and divorce rights need to be strengthened.
"Qazis need to be empowered to dissolve a nikah in cases where the woman applies for a khula and the husband refuses to show up or co-operate despite repeated attempts. That will enable more Muslim women to come out of toxic marriages or one where their husbands don't want to be with them either, but are reluctant to give Talaq," said Afrah Saleem, a PhD researcher at the University of Hyderabad who is working on Women's Rights and Legal Pluralism.
But beyond the immediate question of divorce, a more comprehensive reworking of the Muslim family laws need to be done too, said experts.
Zakia Soman said that the Muslim Marriage Act and the Muslim family laws need to be made more gender-just. "The Muslim family laws need to be revamped and made properly gender-just, in accordance with the Quranic injunctions of equality, which are also in line with our constitutional principles of justice," she said.
Source: 3 Years of Triple Talaq Law: How It Has Left Many Muslim Women Abandoned
URL: https://newageislam.com/islam-women-feminism/ban-triple-talaq-face-abandonment/d/127629
New Age Islam, Islam Online, Islamic Website, African Muslim News, Arab World News, South Asia News, Indian Muslim News, World Muslim News, Women in Islam, Islamic Feminism, Arab Women, Women In Arab, Islamophobia in America, Muslim Women in West, Islam Women and Feminism