By Faridah Hameed
October 29, 2012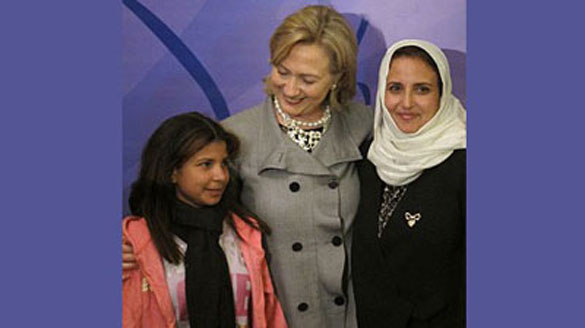 Hillary Rodham Clinton with Nujood Ali,t he first child bride in Yemen to get a divorce, and Shada Nasser, Nujood's attorney
--------------
YEARS ago, I read a book entitled I am Nujood, Age 10 and Divorced.
"I'm a simple village girl who has always obeyed the orders of my father and brothers," said Yemeni girl-child Nujood Ali in her first-person narrative." Since forever, I have learned to say yes to everything. Today I have decided to say no."
Nujood's innocence was shattered when her father married her off to an older repulsive man three times her age. She went from a child who loved going to school, and excelled in math, drawing and the al-Quran to suffering rape and beatings at the hands of her husband even before she had achieved puberty. Her new mother-in-law offered no sympathy. "Hit her even harder" she would tell her son.
When her pleas for help to her father and family fell on deaf ears, Nujood found her way to a local courthouse and begged to see a judge for a divorce.
Her persistence to see a judge eventually won her an activist woman lawyer, sympathetic judges and her freedom. She is the world's youngest divorcee. She told her story in the book she co authored with Delphine Minoui, a French journalist. The book was published in 2010 and has been translated into 20 languages.
Her story won international attention and Nujood was feted around the world as a symbol of courage for defying the ingrained tradition of child brides.
Book royalties and donations have made Nujood the family's main breadwinner today, though there are conflicting reports about how much has really changed in her life.
Some reports say that her family treats her like a queen now because she is the main breadwinner. Other reports say that the money she has earned has enabled her and her younger sister Haifa to continue their education in a private school where Nujood also receives counselling for the abuse she endured.
Other reports seem to point to her 'stigma' within her family and society for having challenged Yemeni tribal customs and traditions.
But Nujood's story is unfortunately not rare.
In 2006, New York Times ran a story about Child Brides. One of those was 11-year-old Ghulam Haider who was married to a 40-year old man in 2005 in rural Afghanistan. When the photographer discreetly took the girl aside to ask her how she was feeling she replied: "Nothing. I do not know this man. What am I supposed to feel?" She eventually tells the photographer that she is sad, because she loved to go to school, and had hoped to become a teacher.
On Oct 11, United Nations for the first time launched the International Day of the Girl Child which is now officially a global movement to end child marriages.
The UN says that globally, around one in three young women aged 20 to 24 — approximately 70 million — were married before the age of 18. Despite a decline in the overall proportion of child brides in the last 30 years, the challenge persists, particularly in rural areas and among the poorest. If present trends continue, the number of girls who will marry by their 18th birthday will climb towards 150 million in the next decade.
But let us not be misled into thinking that Nujood and Ghulam's stories show that the despicable act of child marriages happens only in rural and poorest parts of the world, in tribal and tradition bound societies.
In Malaysia, a country that doesn't fit the textbook image of such societies, child marriages are on the rise. Between 2008 and 2010, Kedah's Islamic Religious Department showed a 35 per cent increase in marriage applications for under aged persons.
In October 2010, 14-yearold Siti Maryam Mahmod wedded 23-year-old teacher Abdul Manan Othman with the blessings of her parents; the couple later participated in a mass wedding reception organised by Federal Territory Islamic Affairs Department (Jawi).
"Marriage is the right of the individual and I am well-prepared to take up the duties of a wife," she said when interviewed at the ceremony.
Her mother saw no wrong in her under aged daughter's marriage, saying her daughter's religious education would enable her to handle the challenges of married life. Earlier that year, Malaysians were shocked when the marriage of two girls aged 10 and 11 to men in their 40s in Kelantan made the headlines. Days later, the 11-year-old was found abandoned and in a state of shock.
In many of these stories around the globe, the mothers and female relatives are equally complicit in enabling the child marriage. What is clear is that any girl who defies or attempts to defy traditions and customs is much likelier to pay with her blood and often with her life.
The recent shooting of teenage Pakistani activist Malala Yousufzai underscores this is chilling detail. Much has been written about her attempted murder by the Taliban, but there is a beacon of light about her story which many may not realise.
The passion we see in Malala has been nurtured by her father, a man so different in a tradition-bound society in one of the poorest and rural parts of Pakistan.
A 2009, New York Times documentary about the banning of schools by the Taliban in the Swat Valley (where Malala lives) captures a father's love for his daughter, and the future he wants for her.
"When I saw her for the first time, a very newborn child and I looked into her eyes, I fell in love with her … I love her, I love her" says Ziauddin Yousufzai, with a huge smile, patting his daughter's head.
It is clear where Malala gets her passion and her courage. Ziauddin ran a private girls' school for 15 years in the Swat Valley before he had to shut it down because of Taliban threats. He has had many threats to his life, the latest after the Taliban failed to kill his daughter.
In the documentary, Malala says he wants to become a doctor, adding that her father however wants her to enter politics.
"I see a great potential in my daughter, that she can do more than a doctor. She can create a society where a medical student would be easily able to get her doctorate degree," he says earnestly.
The video ends with then 11-year-old Malala saying without any trace of fear.
"They cannot stop me," she says "I will get my education, if it is in home, school or any place.
This is our request to the world that save our schools, save our world, save our Pakistan. Save our Swat."
Nujood and Malala have had to grow up way before they should have had to, exposed to the horrors that many of us will never face in our lifetimes. They spoke out and acted with all the odds stacked against them, defying tradition and custom that are archaic and designed to repress and suppress a girl's worth and her future.
For many of us these are horrors we are unlikely to ever face in our lifetime. But it does not excuse us from telling their stories, and ensuring that in our corner of the world, we do all we can to end this horror.
Theirs will only be innocence lost if we lose the fight.
Source: http://www.mmail.com.my/story/stolen-innocence-girl-child-%E2%80%94-lesson-us-all-35367
URL: https://www.newageislam.com/islam,-women-and-feminism/faridah-hameed/stolen-innocence-of-girl-child---today-i-have-decided-to-say-'no'/d/9130