By Dr. Majid Rafizadeh
April 22, 2016
As many Iranians have told me, and as I myself experienced in Iran from 2000-2009, there is always a way to protest Sharia and Islamic law, even if one lives under a theocratic, despotic, Islamist and authoritarian regime such as the Islamic Republic of Iran. Standing against the draconian laws of the Iranian regime and the ruling mullahs, a young Iranian woman has just demonstrated this in a usual way: by a nude protest. The repercussions of such an action are very grave under the Islamic law of the Iran.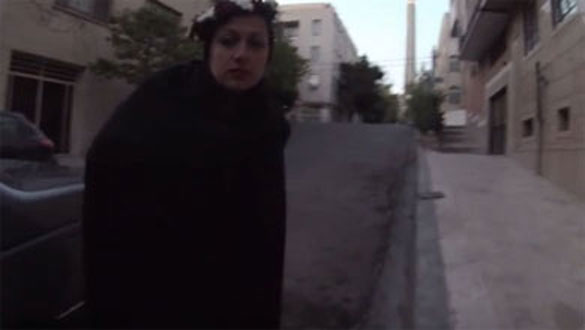 The Iranian woman in this video is marking the first nude protest in the Islamic Republic
-----------
This woman is standing against the barbarian Sharia laws present in the Islamic Republic by writing on her body "I'd Rather Be a Rebel, Not a Slave."
Several women, whom I have interviewed, have created similar videos, but they are waiting to leave Iran to post the videos. If a women gets arrested by the Iranian police for such an act, she will be tortured, repeatedly raped, and then executed for charges such as "Fessad on Ardth," "corruption on earth," violating Allah's, the Quran's, and the Islamic laws of the Islamic Republic. The crime is also referred to as "Muharabeh" "enmity against Allah."
In my recently published book, the memoir "Allah, a God Who Hates Women," I illustrate in detail how the religion of Islam has provided a powerful platform for men, the ruling authorities in Iran, other Muslim countries, and Western Muslim men to dehumanize women, suppress and oppress them, and treat them like slaves. This is all happening while many Muslim women believe that they should follow the rules. Having lived most of my life in the Islamic Republic of Iran and Syria, I came to have first-hand experience regarding the intersection of Islam, the Quran, Muhammad, Allah, Mullahs, Sheikhs, authorities, repression, and women.
The suppression, oppression, and domination of women can reach intolerable levels under Sharia and Islamic laws. Some women decide to protest, rebel and revolt, while others decide to remain silent either due to the imposed fear of Allah (the God created by Muslim men) or due to materialistic gains that they achieve by following Islamic laws.
The religion of Islam provides the language for men to dominate women by the Sharia law, which takes possession of women's bodies. The domination begins once a girl is born.
We should also remember that Islam infiltrates a political establishment and social beliefs very meticulously and often covertly. For example, before Sharia law was imposed on the Iranian population, almost no one would have thought — and in fact people ridiculed the idea — that Islamic law might be instituted in Iran. No one would have thought that a modern secular and civilized country might, all of a sudden, go thousands of years back to an uncivilized legal system.
No one would have thought that compulsory Hijab would be imposed, that the legal marriage age for girls would be dropped from 18 to 9 years old, that speaking your mind or criticizing Islam, Muhammad or Allah would lead to execution, that the weight of the testimony of women would be half of that of men.
No one would have thought that the religion of Islam would take over so fast. But that is exactly what happened repeatedly, not only in the Islamic Republic, but also in many other places. The Islamists look for the momentum, and before anyone notices, they spread their local Sharia laws to larger social, political, and economic establishments and then they establish their Islamist judicial system, an Islamist army, and Islamist executive and legislative branches to advance their ideological principles by force.
When many liberal politicians, leaders, or scholars laugh at the idea that Islam might penetrate Western society and that Sharia law might infiltrate the social and political establishments of Western democratic countries, they have to take another look at history and concrete examples.
Finally, we should remember that President Obama is releasing billions of dollars to the same Iranian regime that does not grant its citizens basic human rights, does not allow them to wear what they like, to dance, or to listen to the music they desire. We are giving money to the same regime that is ranked number one in rate of executions. We are giving money to the same regime that will execute women for asking for their rights. But regardless of the appeasement policy of President Obama towards the ruling clerics, many people in Iran will continue to stand against and resist the despotic and barbarian Islamist laws of Iran until either the regime is overthrown or completely reformed.
Dr. Majid Rafizadeh, an Iranian-American political scientist, author, business advisor and public speaker, is president of the International American Council and serves on the board of the Harvard International Review (Harvard University). Harvard-educated, Rafizadeh grew up most of his life in Muslim countries (both Sunni and Shiites nations). He is the author of the memoir "A God Who Hates Women" and the upcoming memoir "The Renegade."
Source: counterjihadreport.com/2016/04/22/first-nude-protest-against-hijab-in-the-islamic-republic/
URL: https://www.newageislam.com/islam,-women-and-feminism/dr-majid-rafizadeh/first-nude-protest-against-hijab-in-the-islamic-republic-of-iran/d/107075