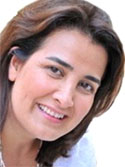 By Diana Moukalled
23 September 2014
She was probably smiling for the camera behind her Niqab (full face veil), this young medical student from Britain who calls herself "Bint Osama" on her Twitter profile, as she carried in her hand a severed head.
We do not know to whom this head belonged, nor do we know what led the victim to meet his end in such a gruesome manner, nor how it ended up in the hands of this young, veiled woman. We do know, however, that beside Bint Osama in the picture were two young children, both watching this surreal set-piece taking place in front of them, with its accompanying cocktail of violence and mockery.
What could lead a young medical student to leave her home in Britain to join the Islamic State of Iraq and Syria (ISIS)? And who were the evil figures who convinced her to proudly brandish a severed head in the presence of two young children? Who knows how many heads these children have seen, before or even since then?
But it appears that Bint Osama is not alone. In recent weeks we have been inundated with a slew of pictures and reports of young women, some of them only adolescents, leaving the safety of their homes in Britain, Europe and the West to join ISIS in Syria, filling our social media timelines with tweets and posts and pictures about their "adventures" in the surreal lands of the "Islamic State."
This movement of ISIS's young female jihadists from one place to another very different place, from one environment to another completely at odds with it—not to mention their separation from their families and societies—is no mere blip; it is a real phenomenon. Just as ISIS succeeded in drawing in young men around the world to leave their societies, women are also in the mix. The ISIS jeunesse have come from many places to join the organization, now forming an important part of this group of savages who strike fear into the hearts of people worldwide, also fascinating them in equal measure.
Because they all come from different backgrounds, though, it is difficult to view these women as all being cut from the same cloth. Here, the media falls into the easy trap of depicting these women as victims of societal problems in their home countries, stopping there in terms of analysis. It has been said that many of the young women who joined ISIS are looking to help the group by marrying their soldiers and doing a spot of public relations on the side. Maybe. But this could be just one element of the whole, wider truth.
ISIS Jeunesse
Women have joined violent groups and have been involved in killings countless times before in various conflicts and regions of the world. Mostly, they join these groups and carry out these acts for the same reasons the men do. Recent research on suicide bombing operations carried out between 1981 and 2007 shows that 26 percent of these were carried out by women.
Most of the Western ISIS jeunesse were born to first-generation Muslim immigrant parents, often from South Asia (as are the men). This is the post-9/11 generation, painfully aware of the place to which their ethnic and religious origins have taken them in some of the world's eyes. It would be easy with a few fatwas and sermons to further feed this perception.
Bint Osama, for instance, says she was influenced by the sermons of U.S.–Yemeni cleric Anwar al-Awlaki. A few years ago, another young British woman influenced by Awlaki made an unsuccessful attempt to kill her local MP, for which she is now serving a life sentence behind bars.
ISIS is not an organization that values women and their role in society, but it is a dangerous organization—one without limits when it comes to its crimes and its use of violence. These women, then, despite not being included within the organization's decision-making circles, have nonetheless become an important part of the group. Even if they do not participate on the ground in acts of violence, ISIS's female members have added to the group's roster of bizarre contradictions, and have, like Bint Osama, with their loud, raucous appearances on our screens, added to the group's barbarity and its almost hallucinatory freakishness.
----
This article was first published in Asharq al-Awsat on September 23, 2014.
Diana Moukalled is the Web Editor at the Lebanon-based Future Television and was the Production & Programming Manager with at the channel. Previously, she worked there as Editor in Chief, Producer and Presenter of "Bilayan al Mujaradah," a documentary that covers hot zones in the Arab world and elsewhere, News and war correspondent and Local news correspondent. She currently writes a regular column in AlSharq AlAwsat. She also wrote for Al-Hayat Newspaper and Al-Wasat Magazine, besides producing news bulletins and documentaries for Reuters TV.
Source: http://english.alarabiya.net/en/views/news/middle-east/2014/09/23/Why-do-Western-women-flock-to-ISIS-.html
URL: http://www.newageislam.com/islam,-women-and-feminism/diana-moukalled/why-do-western-women-flock-to-isis?/d/99230