New Age Islam News Bureau
18 Jul 2012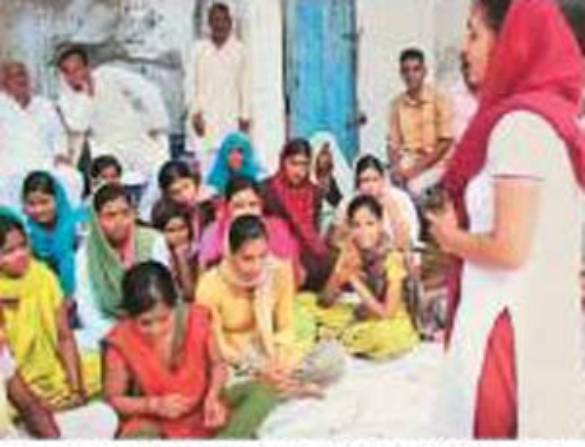 • UP Village Girls Toe Line on Jeans & Mobile Ban
• Afghanistan must stop the murder of its female leaders
• French Muslims Upset over Minister's First Move to Go after Prostitutes
• Women's Portrayal: Media, Both Helpful and Troublemaker
• Pakistan: Infant died five minutes after burial, autopsy shows
• What Happened To Fauzia From Admission In A Hospital Till Her Death?
• "The Light in Her Eyes" Sheds Some Light on the Women of Syria
Compiled by New Age Islam News Bureau
Photo: UP Village Girls Toe Line on Jeans & Mobile Ban
URL: https://newageislam.com/islam-women-feminism/the-modern-muslim-woman-dressing/d/7957
----------
The Modern Muslim Woman Is Dressing Down In a Hijab
17 JULY 2012
SHIFA MWESIGYE
Zainab Nashar steps into Café Pap on Parliamentary Avenue and everyone – man or woman - turns and stares at her.
It isn't so much for something that she has done wrong, but for how she was dressed. In a free-fitting hijab complete with a beautiful veil, Nashar sure does look a knockout in her Muslim garb – clean, prim and trendy. There she was, this very beautiful woman covering it up and wearing just the perfect make-up to emphasize her facial features. Many would ask why a woman with such beauty would choose to keep it under wraps.
Even her friend Stanley confesses that he is no fun of the Muslims' hijab, but says that Nashar redefines his opinion on this Muslim wear that many find quite boring – there is not much design for the hijab to make it attractive to the eye. In our Western-driven society where the fashion statements from Paris and New York have taken over, many Ugandans find the idea of wearing a long free-fitting dress and veil to cover up the head quite unfashionable. But not Nashar.
"It is how I like to dress," Nashar says on phone before wondering why I am asking so many questions about her choice of dressing.
Contrary to a desire to stick with the teachings of Islam, many a young Muslim woman is redefining her hijab. They are giving it a touch of modernity. Today they are seen on the streets of Kampala dressed in jeans and body-hugging blouses with their heads in a veil.
What Islam teaches
"Those ones are just wasting their time because that is not what Islam teaches," says Muhammad Mayanja.
In an article authored by Naseer Ahmad on islamicioutique.com, a Muslim woman's clothing must cover the entire body, only the hands and face may remain visible. The material must not be so thin that one can see through it. The clothing must hang loose so that the shape of the body is not apparent and it must not resemble a man's clothing. The design of the dress must not resemble the clothing of non-Muslims and must not consist of bold designs which attract attention.
The website states that clothing should not be worn for the sole purpose of gaining reputation or increasing one's status in society. The reason for this strictness is so that the woman is protected from the lustful gaze of men. She should not attract attention to herself in any way. It is permissible for a man to catch the eye of a woman; however, it is unlawful for a man to look twice as this encourages lustful thoughts.
The site states that this is done in Islam to protect the woman. The Qur'an: 24.31 states: "Say to the believing women that they should lower their gaze and guard their modesty; that they should not display their beauty and ornaments except what must ordinarily appear thereof."
In fact if Muslim leaders across the globe had their way, all Muslim women would wear the Burqa, an envelope-like outer garment that hangs towards the fingers and covers the woman, leaving only the eyes and hands out. It is usually made out of one dull colour – preferably black – with no ornaments, jewellery or anything that attracts attention.
Today's trends
But today's Muslim woman dresses differently from the teachings of Islam and the dress changes every fashion season. While the Hijab and not the Niqab or Burqa is recommended as the lawful dress for women in Sharia law, women have modernised it gradually. At first the Hijab was black, brown or grey, but then it started to take on other attractive colours of white, green, yellow, orange. Now there are Hijabs in all colours of the rainbow.
As the colour changed, the women started adorning it with different jewellery, first by holding the veil in place with a brooch rather than a safety pin. The brooch became one beautiful long jewellery that ran from the top of the head to the side and down to the neck. Today these have become accessories that come in flowers, bows, and jewellery from some of the most expensive stones.
The ornaments moved from the head scarf onto the hijab with the neck designed using different stones. Today a beautiful attractive hijab must come embroiled with stones designed in a very eye-catching style, something that the original teachings of Islam do not agree with.
As the staunch Muslim leaders were getting around stomaching the few changes, the hijab also started changing shape. It is not one big long black garment anymore; it is now cut to fit a woman's body and show off her curves when it hugs the body in the right places. It shows off the shape of the boobs, waist and bum, hence attracting attention. As they put their heads together to discuss this trend of affairs that the 'smiling face of Islam' was taking, in came the daring woman from liberal countries like Indonesia.
This woman redefined the Punjabi attire that was adopted from Indian traditional wear and was turned into a daily wear for Muslim women. This alone abused the law that states that woman's dress must not resemble that of the man. The Punjabi is one loose fitting top that runs down to the knees over a pair of loose-fitting trousers. The trousers continued to become tighter and tighter under the dress. The dress also became shapelier around the body.
Now the modern girl wears jeans, body-hugging trousers, a body-hugging top or a leotard under any blouses she finds fashionable and throws a colourful beautiful headscarf around her head and she is good to go.
A man's view
Ahmed Mukasa Kalule, a seasoned Muslim and lawyer with Crane Associated Advocates says that fussing over how a Muslim woman must dress is breaking sweat over non-issues. He says the point of how a Muslim woman should be dressed should first concentrate on the fact that she has taken the initiative to dress and associate herself with her religion.
Any woman in long garb is most definitely a Muslim woman unless she is wearing a nun's habit. He says that if any woman is wearing a blouse of the right length that goes down to the knees then there should be no problem if she is wearing pants underneath.
"There is no modernity in Islam because Islam knows no modernity. Hijab required by Hadith is covering ladies' bosoms. It doesn't matter what you cover it with provided you have covered yourself as per the dictates of Islam. In Karamoja for instance, a woman will wrap three clothes around her body and satisfy Islamic teachings. In Arabia it's a long black dress. In America it's those long blouses with jeans underneath. It's more to do with culture than modernity," Kalule argues.
smwesigye@observer.ug
http://www.observer.ug/index.php?option=com_content&view=article&id=19889:the-modern-muslim-woman-is-dressing-down&catid=73:highlights&Itemid=70
----------
UP Village Girls Toe Line on Jeans & Mobile Ban
By Piyush Srivastava
July 18, 2012
IN WHAT may be the first panchayat of its kind, over 20 girls of a village in western UP's Muzaffarnagar district held two meetings on Monday and Tuesday.
They, however, declared that wearing jeans was what invited sexual assault and resolved to use mobile phones only to contact family members.
"Jeans are so tight that they provoke boys to assault girls. We can say this from experience.
We also resolve to use mobile phones judiciously because it is instrumental in immoral relationships between boys and girls," Sonam Baliyan, 24, who addressed the panchayat for about 30 minutes, said.
Sources said some local Jat leaders had convinced the girls to hold a panchayat and take these decisions so as to prove that they were not against the resolutions passed by their elders in the past.
For the record, similar decisions had also been taken in many villages of Saharanpur as well as Muzaffarnagar. But the panchayats were mostly attended by men and criticised by the intelligentsia for "Talibani diktats from male chauvinists". To prove them wrong, the girls of Dudhahedi village block pledged in a three- hour meeting on Monday that they would never wear anything other than salwaar- kurta or saree.
Since many girls were not present at the first day's panchayat held on the verandah of Bharatiya Kisan Union's (BKU) divisional president Sohanbiri, 70, they again held a meeting at the same place on Tuesday.
When asked what prompted them to take such decisions and how they could ignore the many uses of mobile phones, Sonam said: "It is true that a mobile phone is useful. But since it has been abused by the youth, we prefer to stop carrying it. We will certainly carry it when going out of the village so that our parents can contact us. But that should be its only use." Another girl, Vaishali Kumari, 22, echoed Sonam's views. " Our verdict is primarily against jeans. It is not a fatwa but only a decision of those in the panchayat. Jeans shouldn't be worn by girls at any cost. And there should be limited use of mobile phones," she said.
Meenakshi Kumar, 20, said those who did not follow the rules would be ostracised.
More than 20 girls attended the first day's meeting and over 30 were present on the second day. The majority were college students.
While the girls sat on the floor, the elders sat on chairs around them. Sohanbiri said: "Since the girls are willing that the decision should be final, the elders will ensure that they follow the rules. It is in their interest if they obey their parents. We can protect them only when they respect our views." She claimed a similar meeting was held two days ago in the adjoining village and it was unanimously decided to reject jeans and mobile phones.
Mail Today
----------
Afghanistan must stop the murder of its female leaders
Orzala Ashraf Nemat
17 July 2012
The Afghan government's rhetoric on women's rights and condolences when yet another woman is killed are not enough
Afghanistan has lost another woman leader. Last week, Hanifa Safi – head of women's affairs in Laghman province – had gone only a few metres from home when her car was blown up. Apparently a magnetic bomb was placed under the car, targeting Safi and her family. Her children, injured in the attack along with several other people, are now left orphaned as both Safi and her husband died in the attack.
The targeting of Afghan women leaders in government positions is not a new phenomenon. Safia Amajan held the same position as Safi in Kandahar. Sitara Achakzai was a provincial council member. Malalai Kakar was provincial chief of female police in Kandahar. A number of women aid workers, whose names and identities are not recorded, have also been murdered.
In the neighbouring Khyber Pakhtonkhwa province of Pakistan a young woman aid worker, Farida Afridi, was similarly targeted earlier this month for her work on women's rights.
Sadly, the Afghan government does almost nothing about such incidents apart from condemning them; there is rarely any serious effort to catch the perpetrators. In some cases, attempts are made to blame the killings on "personal disputes" or "family hostility", or to imply some moral justification – in Safi's case, that she "had been known locally for going out without her head covered".
However, it is very important to understand what role women like Safi play on the ground. Politically, she was the most senior female representative of the Afghan government in women's affairs at a provincial and sub-national level.
In that position, she was involved in a continuous struggle to defend the rights of women who were targets of violent acts. This puts a woman like Safi in a critical and socially sensitive position because she is struggling against social norms or harmful traditional practices that clash with the Afghan constitution and laws.
The official reaction to Safi's killing contrasts sharply with that in northern Samangan province last week when a male MP and a number of civilians were targeted. President Karzai announced "an all-out investigation" into the attack. This raises the question of whether the government is serious about women's rights, or whether it is only interested in showing them off for the international donor community?
It is crucial that the government of Afghanistan should move beyond slogans about women's rights and ensure their protection in real life. Merely offering condolences to the families of the slain is not going to change much.
I had an opportunity to meet Safi and her colleagues from Kunar, Nangarhar and Nuristan during one of their workshops in Jalalabad a few weeks ago. These are exceptionally brave women who take great risks to not only secure other women's lives, but do so in circumstances where their own safety and security is minimal. Safi shared concerns about her own safety when she said:
"There is no guarantee about our safety and security when we implement rules in accordance with our laws. I deal with cases of violence against women on a daily basis, yet I don't even have any protection, or my office vehicle to move around with. The central authorities always speak too much but do nothing to protect us.
"We defend other women's rights but no one is there to defend our rights."
Razia, another woman working in a government post in the country's volatile east, said:
"Our own male colleagues at the provincial government do not believe in our work. They say women should sit at home, yet I tell them, 'If we all go sit at home, how are you going to manage cases where your own daughter runs away from violence in her family? Would you want her to go to other men or police to complain?' Then they give no answer, so we continue in our work."
Regardless of the fact that women working in government positions are targeted for political reasons or for protecting women and girls who become victims of harmful traditional practices, the government of Afghanistan should launch an immediate investigation into Safi's assassination.
The government and its supporters should also listen to female defenders of women's rights across the country who take the risk of their lives to work in the public offices. Listening to their needs and finding practical mechanisms to protect women working for public offices will be certainly one way of gaining trust in Afghanistan's future.
http://www.guardian.co.uk/commentisfree/2012/jul/17/afghanistan-murder-female-leaders
-------------
French Muslims Upset over Minister's First Move to Go after Prostitutes
Alex PearlmanJuly
17, 2012
The new French minister for women's rights wants to go after prostitutes instead of overturning the controversial burqa ban, and Muslim women aren't happy about it.
When a Muslim, North African woman was named the minister for women's rights under new Prime Minister Francois Hollande, many Muslim women hoped the Nicolas Sarkozy-era "Burqa Ban" would be the first thing to go.
However, Najat Vallaud-Belkacem, who is also the government's official spokesperson, wants to focus on cracking down on prostitution instead as her first priority in office.
The ban on burqas can more accurately be described as a ban on religious headwear, not just what many think of as the "bee keeper" garb, the traditional burqas that women wear in very deeply Islamic areas. The ban also affects the niqab and hijab, which are traditional head coverings for Muslim women, but allow the eyes and face to show, respectively, as opposed to the burqa, which is a full-body drape.
Hijabs, which are simple headscarves often worn by Muslim (and some Jewish) women, were banned by then-President Jacques Chirac in public schools in 2004, and are still a widely controversial issue.
France's fervour to ban Muslim dress and lifestyle (an issue over banning halal meat came up during the last election) seems overwhelming, considering the reasons behind it have to do with concerns about national security and terrorism. The rationale behind the "burqa ban" was essentially that only terrorists planting bombs and/or wearing suicide vests cover their faces. But the reality is some women feel it's their religious or cultural duty to wear the veil, and very few women in France even do. Many believe a ban on clothing is not only insulting, but an unnecessary restriction on religious freedom.
Those who wear a veil (now in outright rebellion) have received threats of violence and have been assaulted by police and laypeople alike on the streets.
"[People] think the ban is official authorization to insult, spit at and even physically assault," said Salima Kader, a Parisian women who continues to wear a veil. "The ban has become a symbol of hate against all Muslim communities.''
When the ban on facial coverings came into effect in April 2011, Amnesty International strongly condemned it, saying it violated international rights law and a person's right to dress however they wanted.
"Under international human rights law everyone has the rights to freedom of expression and freedom to manifest their religion or beliefs; these freedoms extend to the way in which people choose to dress," said a very strongly worded statement from the rights organization [PDF].
Sarkozy's right wing government, which was noted for a move toward nationalism that concerned many on the left, passed the ban with few votes against it, and even slipped in provisions later to ban veils from soccer fields, and in privately-run businesses, which Amnesty says is contributing to job loss.
Now that Hollande's Socialist government is in power, Muslim women figured their cause would get its due.
"Many of the Muslim women I have spoken to are disappointed with the behaviour of Morocco-born Vallaud-Belkacem, one of seven children of an immigrant builder and housewife," wrote journalist Nabila Ramdani yesterday in an article in the Guardian that noted Muslims came out in droves to vote for Hollande, at nearly 93 percent of the demographic.
But the Socialists now seem to be tied to the French idea laïcité, or stringent secularism, although they've long said the ban on face coverings was badly disguised racism, and they hold not only the presidency but the parliament as well. Despite this stronghold on power, it seems many women may be waiting a while for the administration to take up this issue.
"If Vallaud-Belkacem is to become an effective women's rights minister, then she should be working to try to improve the lot of all women in society, including those in the same underprivileged Muslim communities from which she came," wrote Ramdani.
For more of GlobalPost's coverage of women's rights around the world, check out our Special Report, "Beyond Aung San Suu Kyi: Women in the new Myanmar".
http://www.globalpost.com/dispatches/globalpost-blogs/rights/french-muslims-upset-over-ministers-first-moves
----------
Women's Portrayal: Media, Both Helpful and Troublemaker
By Usama Zafar / Sehrish Wasif
July 18, 2012
ISLAMABAD: Media has played a positive role in highlighting the plight of women. However, in many cases, it has been irresponsible and fostered negativity, suggesting that there is a need to sensitise reporters, editors, programme directors and media owners.
This was the consensus among a group of nearly 25 journalists belonging to print and electronic media at the conclusion of a two-day workshop on gender issues in media here on Tuesday. The workshop was held by Uks Research Centre.
The workshop began with a discussion on various social issues pertaining to media and how reporters could avoid sensationalism while highlighting them. An enthusiastic audience actively participated in the discussion that diverted away from the topic on multiple occasions, forcing the moderator, Uks Executive Producer Tasneem Ahmar, to bring everyone back on the same page.
Full report at:
http://tribune.com.pk/story/409637/womens-portrayal-media-both-helpful-and-troublemaker/
----------
Infant died five minutes after burial, autopsy shows
By Owais Jafri
July 18, 2012
MULTAN: The post-mortem report of a two-day-old girl has confirmed that she was buried alive and died five or more minutes later due to suffocation. The autopsy was conducted by Dr Muhammad Tariq and Dr Rubeena from the Kacha Khu rural health centre.
The grave of the child had been dug on the orders of the Khanewal magistrate and civil judge Justice Rehman Elahi, with the permission of the victim's mother and in the presence of the residents of the area and the police.
The grave itself was identified by the infant's father, who buried her alive last week claiming he did not like her looks.
Full report at:
http://tribune.com.pk/story/409801/infant-died-five-minutes-after-burial-autopsy-shows/
----------
What Happened To Fauzia From Admission In A Hospital Till Her Death?
July 18, 2012
LAHORE, July 16: The management of a Karachi-based private hospital, Orthopaedic and Medical Institution (OMI), has described "cardio respiratory arrest due to septicaemia and multi-organ failure" as the prime cause of death of senior PPP leader Fauzia Wahab during her treatment at the health facility.
The OMI has submitted its detailed version titled 'medical summary' to the PMDC, defending its position amid allegations of medical negligence in Ms Wahab's case.
This is the first complete clinical assessment and treatment process to surface after the death of 55-year-old Ms Wahab that incited a countrywide debate on the alleged medical negligence of top OMI surgeons, physicians and consultants.
The Disciplinary Committee of the Pakistan Medical and Dental Council (PMDC) is looking into this case of alleged medical negligence, which led to death of a prominent political leader on June 17. The summary was presented at the meeting of the Disciplinary Committee of the PMDC in Islamabad on July 9.
Full report at:
http://dawn.com/2012/07/17/the-curious-case-of-fauzias-death/
----------
"The Light in Her Eyes" Sheds Some Light on the Women of Syria
July 18, 2012
By Diana Leave
We are bombarded with images from Syria every day — flashing across our television screens and updating in our Facebook newsfeeds. They are horrific pictures of the carnage left in the aftermath of massacres. It has been over a year now since the beginning of the Syrian uprising and there seems to be no relief from the continuing assaults on the Syrian people. At a time when we risk becoming desensitized to this ongoing horror, it is important to truly see the people in the images playing out in our living rooms, and to be reminded that they are not so worlds-apart from us.
This reminder comes in the heartfelt form of a documentary film titled, "The Light in Her Eyes." I previously posted about this film, which follows the story of Houda al-Habash, the founder and teacher of an all girls' Qur'an school in Damascus, Syria. Now, as news of Syria grows more desperate by the day, filmmakers Julia Meltzer and Laura Nix give us hope by reminding North American audiences of the aspirations and desires of several inspiring Syrian women.
Full report at:
http://www.patheos.com/blogs/mmw/2012/07/the-light-in-her-eyes-sheds-some-light-on-the-women-of-syria/
----------
URL: https://newageislam.com/islam-women-feminism/the-modern-muslim-woman-dressing/d/7957