New Age Islam News Bureau
18 Aug 2012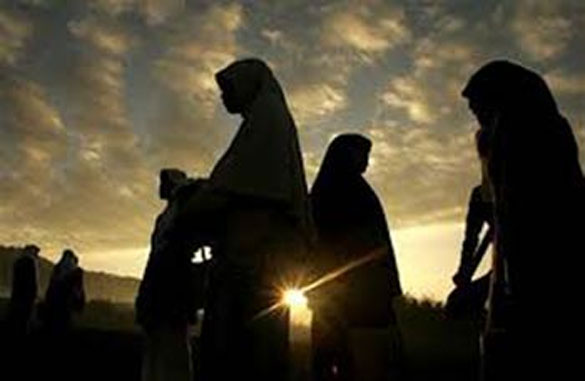 • More job openings for women planned
• Saudi women doctors, scientists are role models for future generations
• Gaza teen murdered in 'honour killing'
• Disabled Muslim woman's marriage should be annulled: UK court
• The status of the average female Pakistani
• Keeping record: NADRA registers over 86% women
• Another small advance for the women of the developing world
Compiled by New Age Islam News Bureau
Photo: Study says Ramadan fasting not linked to pre-term births
URL: https://newageislam.com/islam-women-feminism/study-says-ramadan-fasting-linked/d/8322
-----------
Study says Ramadan fasting not linked to pre-term births
August 18, 2012
Pregnant women who fasted during the Islamic holy month of Ramadan were no more likely to give birth prematurely than women who didn't observe the fast, but the babies of women who fasted tended to be smaller , a Lebanese study has found.
The researchers, whose findings appeared in BJOG: An International Journal of Obstetrics and Gynaecology , found no significant differences in the rate of births before the 37th week of pregnancy among 201 pregnant Beirut women who fasted during the daytime, compared with 201 women who didn't.
"Although results are reassuring as far as there is no increased risk of pre-term delivery, the fact that the mean birth weight was significantly lower in Ramadan-fasted women is alarming," said study leader Anwar Nassar, a professor of obstetrics and gynecology at the American University of Beirut Medical Center.
During Ramadan, the ninth lunar month of the Islamic calendar, Muslims abstain from eating and drinking during the day. While fasting is compulsory, pregnancy may be accepted as an exemption if it is suspected to pose a risk to the fetus' health.
Nevertheless, many pregnant women ask whether it's all right to fast during Ramadan, Nassar told Reuters .
Other studies have looked at fasting during pregnancy, such as in cases of famine or in experiments with calorie restriction, but this is the first in English medical literature to look at the effects of Ramadan fasting on pre-term delivery.
For the study, Nassar and his colleagues recruited pregnant women from four medical centres around Beirut in August 2008, matching the characteristics of those who planned to fast with a comparison group who did not .
All the women were in their third trimester during the study period. In 2008, Ramadan took place during September.
Overall, 21 women in each group gave birth before their 37th week of pregnancy, which is considered "preterm."
Three fasting women gave birth before their 37th week of pregnancy, compared with one in the non-fasting group, but the researchers say that difference could have been due to chance.
On average, fasting women's babies weighed 3,084 grams compared with the babies of non-fasting women, who averaged 3,175 grams.
http://www.thestarphoenix.com/health/Study+says+Ramadan+fasting+linked+term+births/
-----------
More job openings for women planned
18 August 2012
The Ministry of Labor will take more organizational and legislative initiatives aimed at providing additional work opportunities to Saudi women, local Arabic daily Al-Jazeera reported recently, quoting the ministry's assistant undersecretary for development Fahd Al-Tikhaifi.
"There will also be other initiatives related to women's employment including centers to take care of children, transport and awareness programs," Al-Tikhaifi said.
He explained that each initiative would be announced separately when all arrangements for their launching were completed.
"The recent initiatives and programs by the ministry have opened the doors wider for the employment of Saudi women according to the parameters of a safe work environment," he added.
Al-Tikhaifi said the program consisted of completing the first phase, which was feminizing the lingerie shops. These same arrangements were followed for shops selling women's garments, abayas, wedding dresses, accessories and make up.
The undersecretary said the ministry issued a second phase which organized the work of women as accountants in retail shops, and the third covered regularizing their work in public parks. "The fourth dealt with the work of women in kitchens preparing popular food, fast-food restaurants and pastries," he added.
Al-Tikhaifi pointed out that the Ministry of Municipal & Rural Affairs and the Ministry of Commerce are partners with the Labor Ministry in its project to feminize women's shops.
"Some mistakes were made during the implementation of the program. This is only natural. We will correct the mistakes and avoid them in the future," Al-Tikhaifi said.
According to Al-Tikhaifi, the mistakes included employment of salesmen in lingerie shops and the presence of men as cashiers in accessories and make-up shops. "We are not only making efforts to provide Saudi women with working opportunities, but we also endeavor to ensure them with the most suitable and appropriate work environment," he said.
http://www.arabnews.com/more-job-openings-women-planned
-----------
Saudi women doctors, scientists are role models for future generations
August 18, 2012
According to the latest report by UNESCO, the percentage of women graduating from university in Saudi Arabia is higher than in countries in the West. In the field of science, 40 percent of Saudi doctors are women and there is an increasing number of successful women who have acquired global recognition as scientists and researchers and have inspired many Saudi women at home.
Dr. Khawla Al-Kurai, consultant and principle clinical scientist and cancer researcher at King Faisal Specialist Hospital and Research Center (KFSHRC), is a distinguished doctor who has made contributions in the field of medical research. She is on the board of editors of BMC Genomic, a well-known journal in genetics. Dr. Al-Kurai is in charge of a project attempting to identify the genomic drivers in thyroid cancer, which will improve the clinical management of the disease. The international cancer genome consortium ICGC has announced that the new project is ahead of schedule in generating genomic data on more than 25,000 tumors for up to 50 types of cancer that are of clinical and societal importance across the globe. Dr. Al-Kurai has participated in many national and international conferences and has been instrumental in highlighting the new image of Saudi women doctors and scientists in her country and abroad. She has also received a national award from King Abdullah, the Custodian of the Two Holy Mosques, for her academic achievements and scientific contributions.
Professor Samira Islam , the head of the Drug Monitoring Unit at King Fahd Research Center has made significant contributions in drug safety by defining the Saudi profile for drug metabolism. She has held several academic leadership posts in Saudi Arabia as well as international diplomatic posts in the World Health Organization. She has also made significant contributions to the education of women in the Kingdom. UNESCO named Dr. Islam the most distinguished Arab Muslim scientist of the world in the year 2000. She has held academic leadership positions in Saudi Arabia and abroad. Dr. Islam has worked hard to develop the academic infrastructure to support women studying science in the Kingdom's higher educational system.
Dr. Samia Al-Amoudi, obstetrician, gynecologist and assistant professor at King Abdul Aziz University, is a breast cancer advocate and breast cancer survivor. She has received several awards for her courage and hard work for the betterment of society. The Arabian Business Magazine placed her among the top 100 people who had a significant impact on their societies and she was also listed as one of the most important Arab scientists. Dr. Al-Amoudi is well-known for her brave campaign to raise awareness about the prevalence of breast cancer in Saudi Arabia and for her bold initiative to speak about her own experience as a breast cancer survivor in order show support for other women who suffer in silence. Dr. Al-Amoudi recently established the Sheikh Mohammed Hussein Al-Amoudi Scientific Chair for Women's Health Empowerment at King Abdulaziz University in Jeddah to empower women and raise awareness about health rights and health issues in general.
Dr. Maha Al-Muneef, Executive Director of the National Family Safety Program and councilor of the International Society for the Prevention of Child Abuse and Neglect, is a child protectionist and child rights advocate. She is also a consultant on pediatric infectious diseases and has been involved in the national implementation of child protection services.
She is chairwoman of the Suspected Child Abuse and Neglect Center at King Abdul Aziz Medical City, a fellow of the American Academy of Pediatrics, and president-elect of the Arab Professional Network for the Prevention of Violence Against Children. She is also a consultant in the Shoura Council.
Dr. Al-Muneef has dedicated her career to the prevention of child abuse and to raising public awareness about the need to address this social problem and to train doctors to recognize the victims of abuse. She has also called for legal action against child molesters.
Dr. Al-Muneef started the national safety program in 1999 with her colleagues to address the abuse of women and children by husbands and fathers and was supported by the patronage of Princess Adila the daughter of King Abdullah. Dr. Al-Muneef has worked hard to educate women about their legal rights and she has offered legal and social assistance to victims unable to escape from abusive homes. She has also been instrumental in establishing centers to protect victims of abuse. She has campaigned in many parts of the Kingdom to raise awareness and has succeeded in organizing three significant symposiums in Jeddah, Madinah and Abha that were instrumental in enacting the country's first laws criminalizing violence against women and children.
In order to address the biased attitude which is sometimes found within the judiciary, Dr. Al-Muneef has engaged judges, lawyers, police officers and activists to protect the rights of women and children and expose the unjust and un-Islamic criminal acts of abusive husbands and fathers.
These Saudi women who have reached leadership positions and many others are role models for future generations. The success of these distinguished women has undoubtedly boosted the morale of those members of society who were once abused and marginalized. Women doctors, scientists and researchers are expected to contribute toward a socially, politically and economically progressive Saudi Arabia.
— Samar Fatany is a radio broadcaster and writer. She can be reached at samarfatany@hotmail.com
http://www.saudigazette.com.sa/index.cfm?method=home.regcon&contentid=201208181334
-----------
Gaza teen murdered in 'honour killing'
18 JULY 2012
AFP - A 19-year-old girl was murdered overnight in a refugee camp in Gaza City by her brother and father in an apparent "honour killing," a Palestinian rights groups said on Wednesday.
In a statement, the Palestinian Centre for Human Rights (PCHR) said that the body of the girl, identified only by the initials "WMQ," arrived at the city's Shifa hospital at approximately 2:00 am (2300 GMT on Tuesday).
The group said the girl was killed in Beach Camp in western Gaza City.
"Medical sources in the hospital's forensic medicine department said the citizen was killed by strangulation," PCHR said.
"Palestinian police spokesman Major Ayman Batniji told PCHR that police opened an investigation immediately and arrested her father and her brother who both confessed to committing the crime in the context of 'family honour'," it said.
"PCHR strongly condemns this crime and calls for an immediate investigation into the circumstances of the murder of this citizen and for the perpetrators to be brought to justice," the statement added.
So-called honour killings, in which a family member murders a relative who is perceived to have ruined the family's reputation, occur periodically in the Palestinian territories.
The group said a similar killing had taken place in Khan Yunis in southern Gaza earlier this year, adding that it wanted to see tougher measures taken against the perpetrators of such crimes.
Last year, following the murder of a woman in the southern West Bank city of Hebron, Palestinian president Mahmud Abbas pledged to amend a decades-old law under which those citing "honour" as a defence could expect to receive a jail sentence of no more than six months.
But women's rights groups said the amendment, which has not yet been implemented, would do little to change the situation on the ground because a judge could still decide that "honour" was involved and hand down a lenient sentence.
Statistics compiled by campaigners show that 29 women in the West Bank were murdered under such circumstances between 2007 and 2010. In the same period, nine more women took their own lives for fear of family reprisals.
http://www.france24.com/en/20120718-gaza-teen-murdered-honour-killing
-----------
Disabled Muslim woman's marriage should be annulled: UK court
Aug 17 2012
London : A British family court has ruled that the forced marriage of a Bangladeshi Muslim woman with learning difficulties should be annulled as she does not have the ability to consent.
The parents of the woman, who are British citizens, arranged for their daughter to marry a man in Bangladesh although she can barely speak and can do almost nothing for herself.
Her husband, a cousin, obtained a spousal visa and came to Britain where he shared the woman's bed for months until social workers got wind of the situation, the Daily Mail reported.
The judge ruled that, under English law, the woman - referred to in court on as DD - simply has no legal capacity 'at the most basic level' either to marry or have sexual relations of any kind.
Full report at:
http://www.indianexpress.com/news/disabled-muslim-womans-marriage-should-be-annulled-uk-court/989607/
-----------
The status of the average female Pakistani
Aneka Chohan
For a country that has had a female head of state elected twice and claims to be an 'Islamic Republic' at heart, the irony is far too cruel
"A woman is like a tea bag — you can't tell how strong she is until you put her in hot water" — Eleanor Roosevelt.
The treatment of women is based on two simple beliefs in Pakistani society. One, women are subservient to men and that a man's honour lies, and to some extent, depends on, in the actions of the female members in his family.
Regarding the female status, Islam and its prescribed words about women play a major role. Clearly, women are seen as wives and mothers. Whilst their economic provision is handled and taken care of by men, women are taught to get married and bear children. In a way, the conflicting thoughts of women in Islam and the cultural ideologies about women clash and become a paradox. Like Zeba Sathar said in Women's Status and Fertility Change in Pakistan: "A paradox arises in terms of the definition of status, as Muslim scholars may argue that Islam prescribes an elevated status of respect for women (particularly mothers) and ensures their guardianship by male kinsmen; but at the same time women are rarely given the autonomy to make their own choices about whom to marry and when, how many children to have, whether to work."
Full report at:
http://www.dailytimes.com.pk/default.asp?page=
-----------
Keeping record: NADRA registers over 86% women
August 18, 2012
ISLAMABAD: Pakistan has emerged as one of the few countries in the world where over 86% women have been registered through a secure biometric technology introduced by the National Database Registration Authority (NADRA).
Four years ago, less than 50% women were registered, a spokesman for NADRA said on Friday.
The authority aims to achieve 100% women registration across the country, the spokesman said. Pakistan is also among the few countries that have fingerprint records and registration data of 96% of its adult population.
The authority is accelerating efforts to get its adult population, especially women, registered to help them get voting rights, education, health and employment, he said.
http://tribune.com.pk/story/423667/keeping-record-nadra-registers-over-86-women/
-----------
Another small advance for the women of the developing world
Mohammad Badrul Ahsan
August 18, 2012
If history is compared to an onion, one more layer was peeled off earlier this month when Saudi Arabia, Qatar and Brunei sent female athletes to London.
The kingdom did it for the first time, but the sheikhdom and the sultanate supposedly had already crossed that threshold when they sent women to the Islamic Women's Games in Tehran. Overall it was the first time for women from all three countries to participate in the Olympics Games.
It's a small step for the women of these three countries when their sisters around the world have already made giant leaps. They have become astronauts, stateswomen, Playboy centrefolds, "bandit queens", scientists, authors, and day labours, infiltrating every rank that was once dominated by men. While Saudi women are still forbidden to drive cars, their cohorts elsewhere are flying planes and manning rockets.
Full report at:
http://www.nationmultimedia.com/opinion/Another-small-advance-for-the-women-of-the-develop-30188555.html
-----------
URL: https://newageislam.com/islam-women-feminism/study-says-ramadan-fasting-linked/d/8322