New Age Islam News Bureau
7 Sept 2012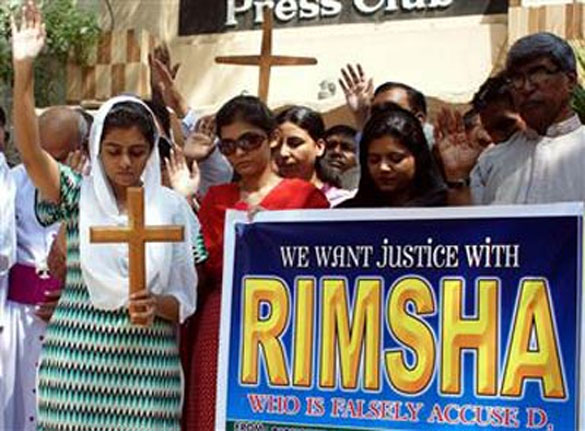 • Veiled Teenager, in France, Faces Jail for Bite
• Saudi Arabia Signals Openness to Women Seeking Work
• Bangladesh: Court Accepts Case against 7-Yr-Old Girl for Theft and Assault
• Iranian Activist Zhila Bani-Yaghoub Packs Her Bags And Heads To Prison
• Brotherhood Extols Female Subservience in Egypt
• Lebanese Woman Martyred As Landmine Explodes
• Iran's Biggest Film Star: 'Exile from Iran Is Like Death'
• Girl's Blasphemy Case in Pakistan May Help Soften Hard Line
• Iranian Women - Saying 'No' To Compulsory Hijabs since 1979
• Violence against Women: A Global Phenomenon
• Maldives: Half-Sister of Slain 'Bobby' Calls for Death Sentence
• Blasphemy Case In Pakistan: IGP Records Girl's Statement
• Despite Arab Spring, Women's Repression Continues
• Russian Version of "Women in Islam" To Be Published
• Same Old Story of Healthcare for Women in Uniform in Afghanistan
• Urdu Author Saadat Hasat Manto's Daughters Preach Peace
Compiled by New Age Islam News Bureau
Photo: Pakistan court grants bail to Christian 'blasphemy' girl
URL: https://newageislam.com/islam-women-feminism/rimsha-granted-bail-hrw-welcomes/d/8594
-------------
Rimsha Granted Bail: HRW Welcomes Court's Decision
September 7, 2012
KARACHI: The Human Rights Watch (HRW) on Friday welcomed a court's decision granting bail to Rimsha Masih, a Christian girl accused of blasphemy.
"Human Rights Watch welcomes the court decision to release Rimsha on bail and urges Pakistan's government to ensure her security and safety upon release," the Human Rights Watch said in a statement.
Masih, whose arrest last month angered religious and secular groups worldwide, may be in danger if she is set free and stays in Pakistan.
"The fact is that this child should not have been behind bars at all. All charges against her should be dropped and Pakistan's criminal justice system should instead concentrate on holding her accuser accountable for inciting violence against the child and members of the local Christian community," the statement said.
Earlier, police had detained a local cleric on suspicion of planting evidence to frame her.
"Human Rights Watch hopes that the blatant abuse that has come to light in this case will lead to a considered re-examination of the law and all stake-holders in Pakistan will actively seek to end frequent abuses perpetrated under cover of blasphemy allegations," the HRW said.
Judge Muhammad Azam Khan today ordered the release of Masih, who was arrested in a poor Islamabad suburb on Aug 16 accused of burning papers containing verses from the holy Quran.
http://dawn.com/2012/09/07/rimsha-granted-bail-hrw-welcomes-courts-decision/
-------------
Veiled Teenager, in France, Faces Jail for Bite
September 07, 2012
A FRENCH prosecutor has sought a six-month suspended sentence for a teenager who sported the banned Islamic veil in public and bit a policewoman in July.
Louise-Marie Suisse, 18, turned up for the hearing in a full-body niqab but with her face uncovered, and wearing gloves.
Ms Suisse was stopped by two police officers near a mosque in the centre of Marseille in late July.
She was wearing a full-face veil and refused to cooperate with them, when asked to produce identity papers. She eventually bit one of them.
At Thursday's hearing Ms Suisse said she was "attacked" by the police, adding that "'they told me, take off this rubbish'".
France has outraged many Muslims with its law against full veils, which came into force in April 2011 and bans covering one's face in public.
Violations are punishable by a fine of up to 150 euros ($184) or mandatory citizenship training.
About 300 women were caught breaking the veil law in the first year it was in force, according to the interior ministry.
When questioned, Ms Suisse said she had left her ID papers in a car and added she bit the policewoman as she had "panicked".
"I could not breathe so, yes, I bit her," she said.
The policewoman's lawyer Laurent Levy is claiming 2000 euros in damages.
A ruling is due on September 20.
http://www.theaustralian.com.au/news/breaking-news/sentence-sought-for-veiled-womans-bite/story-fn3dxix6-1226466916955
-------------
Saudi Arabia Signals Openness to Women Seeking Work
By SARA HAMDAN
2012/09/06
DUBAI — When Glowork.net, a recruitment site for women in Saudi Arabia, started up last year, its founder, Khalid al-Khudairi, was hit with a deluge of threatening e-mail and phone calls warning him to shut down because he was violating cultural norms.
Now the Saudi Ministry of Labor has asked him to help encourage women to find work. The government turned to the start-up because many of those seeking jobs in the kingdom are women.
The government has even announced plans to form a "woman friendly" city in the eastern province of Hofuf next year, aiming to bolster employment opportunities for women without transgressing religious boundaries.
"Saudi women are educated, willing to work and tired of waiting," said Mr. Khudairi, who is 29. "It could have accelerated from the Arab Spring, but women in the region have been speaking out more, demanding equal rights and good positions for years. And now we're seeing real change in Saudi."
As part of an effort to reduce the 2.4 billion Saudi riyals, or $640 million, spent on unemployment benefits last year alone, the ministry gave Glowork access to all its unemployment data, including 1.6 million résumés, 1.2 million of them from women. Glowork will be paid a fee for every candidate who finds a job.
Reaching out to Glowork is one of several changes affecting women in the Saudi workplace.
Adel Fakieh, the Saudi labor minister, appointed in August 2010, has pushed through a "feminization" program that has included replacing the men who work in sales at lingerie stores with women.
That may seem humorous, but it was important for gender equality in a country where religious conservatives deem it inappropriate for women to work outside the home.
Jewelry stores are following suit, and stores that sell abayas, the coverings women are required to wear, will be feminized next year.
The minister initially met with resistance not only from conservatives but also from business owners. They doubted whether they would find enough Saudi women to hire.
Saudis also expect to earn double the monthly salary of 1,500 riyals paid to an experienced expatriate worker, typically a South Asian.
"Introducing women into the Gulf private sector work force will not be easy, and there is a risk of moving too fast, as you cannot simply replace one skilled expat worker with a national woman," said Leila Hoteit, a consultant at Booz & Co. in the United Arab Emirates. "In the longer term, this change is inevitable; attitudes in the region are changing, and many companies are actively defining their vision to help women play a more central role in the region's labor market."
Of Saudi Arabia's population of 28 million, 45 percent are women. About 57 percent of Saudi women have university degrees, according to a recent study by Oxford Strategic Consulting.
Yet women make up only 15 percent of the labor force. Roughly 60 percent of women with Ph.D. degrees are not working, according to a recent study by Booz.
Limited participation by women in the work force is ingrained in Gulf culture despite recent efforts to encourage them to work. Oxford Strategic Consulting says an expectation in the region to put family and childcare first is the main barrier to women seeking work, followed by inappropriate work conditions, poor training and a male-dominated culture.
For those women who want to work, finding a job is still not easy. The process of recruiting by companies taken for granted elsewhere is not well developed in the kingdom.
Some women give up trying. Aia al-Khudairi, the sister of Glowork's founder, gave up after a year of asking her driver to shuttle her from bank to bank, dropping résumés off with security guards. Now 22, Ms. Khudairi is completing a master's degree in Canada.
Amal al-Rashed, 25, was unemployed for two years after graduation from King Saud University in her hometown, Riyadh. It used to be that the only way to get a job in Saudi Arabia — even at international companies — was through a connection. That is how she landed at an events management company that she did not really like.
"Our university had no career guidance; they didn't teach us anything about working, never ever," Ms. Rashed said. "I really struggled to find a job after graduating even though I had good grades, but I kept at it until finally, like most people, a friend eventually got me in the door at her company."
A year into her job, she received a text message about Glowork and decided to upload her résumé and apply for positions online — even though she had no faith in recruiting procedures.
To her surprise, in 10 days, she received a phone call offering an interview. Shortly after, she was hired at Brandbuzz, a marketing agency in Saudi Arabia. She has been working there for a year.
Within six months of its start, Glowork.net, which cost $450,000 in self-financed capital, grew to a network of 2,200 companies that want to hire women.
Glowork charges $700 to employers for each candidate, from initial screening to mentoring, and $300 a month to give companies access to candidates' résumés via Glowork. Members now include multinationals like Microsoft, Pepsi and General Electric as well as smaller local firms.
A major difficulty in employing women in Saudi is that separate offices must be set up for them.
"If they hire women to work, they need another office, with electricity, a dedicated security guard, computers," Mr. Khudairi said. "This is a major cost, especially for small, local companies.
"So we came up with a solution that also gives companies the choice of hiring women to work out of home."
Through cloud computing technology, women at home are given work stations that have systems to allow their employers to monitor closely what they are doing, including their phone calls and every computer click. An employer can monitor someone directly from an iPhone.
Aside from saving on transportation costs, this technology helps make it easier for women in rural areas to work. It also helps those with disabilities or with children. All that is needed is an Internet connection.
Glowork also finds women to work in more conventional settings. Aramex, a global logistics firm, has built the staff of its women's call center in Jeddah up to 51 through Glowork. The building where they work is a separate office for women only. Cameras monitor the hallways.
"It was a challenge for me to find attractive résumés at a time when our business in Saudi was expanding," Ehtesham Hanif, the head of human resources at Aramex in Jeddah, said by telephone. "There are difficulties in Saudi when it comes to hiring women because of the separate environments. I had to answers questions like: Will our manager be male? Will we sit beside male staff?"
Glowork now wants to expand into the rest of the Gulf, starting in Oman and Qatar.
Mr. Khudairi notes that 140,000 Saudi students are now studying abroad on government scholarships and that the kingdom now has a major new women's university — Princess Nora University.
"Why do we educate our women and then expect them to just sit at home?" he asked.
http://www.nytimes.com/2012/09/06/world/middleeast/saudi-arabia-signals-openness-to-women-seeking-work.html?ref=women
-------------
Bangladesh: Court Accepts Case against 7-Yr-Old Girl for Theft and Assault
September 7, 2012
A seven-year-old stood in the dock at a Dhaka court yesterday, accused of committing theft and assaulting another child of her age.
Her mother and two brothers, co-accused in the case, were also in the dock.
The court of Senior Judicial Magistrate Afroza Sheuly took into cognisance the charges against the girl, Sampa, her mother Aniccha Begum and brothers Jasim and Wasim. And it granted them bail.
Lawyers and litigants on the court premises were shocked to see a child accused in a criminal case.
Asked about the case, President of Dhaka Bar Association Borhan Uddin said, "A girl of seven cannot be accused of criminal offence, and she cannot be brought under trial as per provisions of the Penal Code … The charges against a seven-year-old cannot be punishable."
Sampa is a student of class one at Chhoto Tasulla Government Primary School at Nawabganj in Dhaka district. She along with the other accused surrendered to the court yesterday in response to an earlier court order.
According to the prosecution, on August 1 Sampa and eight-year-old Akash, son of Mohammad Aziz, while bathing in a pond picked a quarrel. At one stage, the girl hit Akash in the eye, causing a minor injury. This led to clashes between the two families.
Aziz filed the case with the Chief Judicial Magistrate's Court, Dhaka, on August 29. And the court issued summons asking the four to appear before it on October 7.
Sampa's father Abdur Rahman told this correspondent that his neighbour Aziz filed the case concealing the actual age of his daughter, who is now seven. But the complainant mentioned that she is 12, he added.
Rahman broke down in tears, saying, the case was filed only to harass his family members.
http://www.thedailystar.net/newDesign/news-details.php?nid=248770
-------------
Iranian activist Zhila Bani-Yaghoub packs her bags and heads to prison
Bani-Yaghoub, an award-winning journalist and women's rights activist, has gone to Evin prison to serve a one-year sentence
Saeed Kamali Dehghan
6 September 2012
As foreign diplomats in Tehran were packing their suitcases to return home after a summit of the Non-Aligned Movement at the weekend, Zhila Bani-Yaghoub was packing hers to head to Evin prison.
In Evin's women wing, where she is expected to stay behind bars for one year as punishment for her work as a journalist, Bani-Yaghoub was reunited with some of her close friends and colleagues already in that very notorious prison, activists such as Nasrin Sotoudeh, Bahareh Hedayat and Mahsa Amrabadi.
In 2010, the 42-year-old activist was sentenced to one year in prison on charges of "spreading propaganda against the regime" and "insulting president [Mahmoud Ahmadinejad]" because of the articles she wrote during the campaign period at the time of Iran's 2009 presidential elections.
Bani-Yaghoub, the editor of a women's rights website, Focus on Iranian Women, is additionally banned from media and journalistic work for 30 years, Amnesty International said.
In the aftermath of Iran's post-election unrest, Bani-Yaghoub was arrested along with her husband, Bahman Ahmadi Amouie, who was the editor of the business daily paper Sarmayeh at the time.
Full report at:
http://www.guardian.co.uk/world/iran-blog/2012/sep/06/iran-activist-zhila-bani-yaghoub-evin-prison
--------
Brotherhood Extols Female Subservience in Egypt
By MONA EL-NAGGAR
CAIRO — Women are erratic and emotional, and they make good wives and mothers — but never leaders or rulers. That, at least, is what Osama Abou Salama, a professor of botany at Cairo University and a member of the Muslim Brotherhood, told young men and women during a recent premarital counselling class.
What was striking, though, was the absence of any reaction. None of the 30 people in the class so much as winced.
"A woman," Mr. Abou Salama said, "takes pleasure in being a follower and finds ease in obeying a husband who loves her."
Since the Brotherhood rose to power and one of its former leaders was elected president, much of the uncertainty over its social agenda has centered on its plans for women. Will the Brotherhood try to impose a conservative dress code? Will it try to bar women from certain fields of work? Will its leaders promote segregation at schools?
But in a country where a vast majority of women already cover their hair and voluntarily separate from men in cold environments, those questions are largely academic.
Mr. Abou Salama's class makes that case. "Can you, as a woman, take a decision and handle the consequences of your decision?" he asked.
A number of women shook their heads even before Mr. Abou Salama provided his answer: "No. But men can. And God created us this way because a ship cannot have more than one captain."
Full report at:
http://www.nytimes.com/2012/09/05/world/middleeast/05iht-letter05.html?hp
--------
Lebanese Woman Martyred as Landmine Explodes
September 7, 2012
A landmine left over from the Israeli offensive killed a woman and injured two other people in the southern town of Marwaheen on Tuesday.
(Ahlul Bayt News Agency) - A landmine left over from the Israeli offensive killed a woman and injured two other people in the southern town of Marwaheen on Tuesday.
National News Agency reported that the 35-year-old woman, Nada Ghannam, was martyred and her body was taken to Salah Ghandour Hospital in Bint Jbeil.
A Lebanese army soldier was slightly injured while another woman was critically wounded in the incident, the agency added.
"After discovering the landmine, Ghannam carried it and tried to hand it over to a Lebanese army soldier. It exploded in her hand, killing her immediately, while the soldier and another woman who was in the location were wounded," NNA said.
Security forces immediately arrived on the scene, cordoned off the area and launched a probe into the incident, the agency added.
The United Nations estimates that a million cluster bombs were dropped on Lebanon by the Zionist entity during July war in the year of 2006.
http://abna.ir/data.asp?lang=3&Id=345075
-------------
Iran's Biggest Film Star: 'Exile from Iran Is Like Death'
Fiachra Gibbons
6 September 2012
She was Iran's biggest film star. But when she bared her breast in a French video, she was banished from the country and became a lightning rod for the divisions in Iranian society
In January of this year the parents of the exiled Iranian actor Golshifteh Farahani took a call at their apartment in Tehran from a man who said he was an official of the supreme court of the Islamic Republic. He began shouting at her father, telling him that his daughter would be punished, that her breasts would be cut off and presented to him on a plate.
A few days earlier, Farahani had appeared in a short black-and-white video with 30 other "young hopes" of the French cinema to promote the Césars, the "French Oscars", where she had been nominated for her role in the winsome immigrant comedy Si Tu Meurs, Je Te Tue (If You Die, I'll Kill You). The promo had each actor take off an item of clothing as they stared into the camera to commit their "body and soul" to their art. Farahani chose to bare her right breast, saying: "I will put flesh to your dreams."
Full report at:
http://www.guardian.co.uk/film/2012/sep/06/golshifteh-farahani-exile-iran-like-death?newsfeed=true
-------------
Girl's Blasphemy Case in Pakistan May Help Soften Hard Line
By Saeed Shah
McClatchy Newspapers
Sep. 7, 2012
ISLAMABAD, Pakistan – The heart-wrenching tale of a Christian girl charged with blasphemy could, at last, have forced the beginning of a change of attitudes on an incendiary issue that has led to the assassination of two government officials and widespread tensions between the country's Muslim majority and its tiny Christian minority, officials and analysts now believe.
The public and the court system alike usually presume that alleged blasphemers are guilty and deserving of the harshest punishment, with dozens killed over the years by vigilantes who took the law into their own hands.
But the case of Rimsha Masih, whose family says she's just 11 and mentally impaired, is being portrayed as so extreme and unfair that she has drawn support from the normally conservative media, ordinary people and even some religious clerics.
This week, a prominent hard-line Islamic cleric, Tahir Ashrafi, described her as the "daughter of the nation."
Rimsha, who is likely to have had no schooling and lived in a slum on the outskirts of Islamabad, was accused Aug. 16 of burning pages of the Quran and another text containing religious verses. She was supposedly carrying a plastic bag with the burned material when a neighbour, Malik Amad, spotted her and took the issue to the prayer leader, or imam, of the local mosque, Khalid Jadoon.
Full report at:
http://www.sacbee.com/2012/09/07/4796006/girls-blasphemy-case-may-help.html
-------------
Iranian Women - Saying 'No' to Compulsory Hijabs since 1979
6 September 2012
The Islamic regime began requiring Iranian women to wear the veil (hijab) in public soon after it seized power in Iran in 1979. Three decades later, Iranian police still carry out veil crackdowns every summer to keep a tight grip on the way people dress.
On 10 July, 2012 a Facebook campaign by "Iranian Liberal Students and Graduates" was launched to say 'No' to compulsory Hijabs.
The "Unveil women's right to unveil" page has got more than 26,000 "likes" so far. Hundreds of men and women have shared their own photos, experiences and comments, adding the logo of the page. Some like to wear the veil and others do not. But all agree it should be their right to choose whether to wear it.
On the Facebook page we read:
The state enforcement of veil has deprived women of their fundamental rights. By placing special police forces in every corner, street and alley, the government spared no expense in trying to adapt women to the regime's narrow minded measures and standards and making women feel harassed and objectified. Although Iranian women have always resisted and disobeyed this inhumane law and treatment, those enforcing it have never learned their lesson and each year in the summer we witness a new wave of severe crackdown on women.
"Iranian Liberal Students and graduates" announces its "no to mandatory hijab" campaign in solidarity with Iranian women and to emphasize on freedom of attire. We warmly welcome any group or persons who are willing to collaborate and help in this campaign.
Full report at:
http://globalvoicesonline.org/2012/09/06/iran-unveil-womens-right-to-unveil/
-------------
Violence against women: A global phenomenon
MEERA ALKAABI
7 September 2012
VIOLENCE AGAINST women is a global phenomenon prevalent in all societies, but differs in its form from one society to another, depending on the level of development and the extent of patriarchal control within the family, as this system prevailed in human societies for thousands of years.
According to Dr. Manal Almanshi, the concept of dominance is differentiated in favor of one side against the other. The reason for this is because of biological differences between women and men that created psychological and social gap between the sexes within a family.
This in turn, affects the roles of men and women propagated by customs and social traditions that aim to make one partner more in control (usually the Alpha male) of others in a family, by threats, and corporal punishment. According to several variables, family disputes could sometimes lead to violence.
So the definition of violence against women is that it is a gender-based action that results in or is likely to cause bodily harm, sexual or psychological trauma to a female, including threatening language, forced coercion or arbitrary deprivation of liberty whether in public or personal life.
Full report at:
http://www.arabnews.com/violence-against-women-global-phenomenon
-------------
Maldives: Half-Sister Of Slain 'Bobby' Calls For Death Sentence
By Minivan News | September 6th, 2012
The half-sister of 21 year-old Abdul Muheeth 'Bobby', who was stabbed to death outside the Finance Ministry on February 19, has asked told the court to implement the death penalty, local media has reported.
The state is currently pursuing charges against six individuals for the murder, including three minors.
Bobby's murder provoked an outpouring of public grief. The 'Justice for Bobby' Facebook page has since been 'liked' by nearly 15,000 people while hundreds turned out to hold a ten 10 minute silence in June.
Under Islamic Sharia, if none of a murder victim's heirs agree to accept blood money, the court will hand down the death sentence.
Traditionally in Maldives death penalties are commuted to life imprisonment.
More than 10 people have been sentenced to death in the past decade, of which none have been executed by the authorities tasked with the role.
For the past 60 years, the state has been commuting these death sentences to life imprisonment (25 years).
Due to increasing criminal related deaths in the country, public sentiment for implementing capital punishment appears to have grown stronger this year.
http://minivannews.com/category/news-in-brief
-------------
Blasphemy Case In Pakistan: IGP Records Girl's Statement
September 7, 2012
RAWALPINDI: In a latest development in the ongoing blasphemy saga, involving a minor girl suffering from Down syndrome, a police team led by Inspector General of Police (IGP) Islamabad, Bani Amin visited Central Jail Adiala on Wednesday and recorded a fresh statement of the girl, Dawn has learnt.
The police officers remained with the Christian girl for more than an hour and recorded her statement in connection with the blasphemy case.
The source said the Christian girl who had been languishing in the prison since she was arrested and sent to jail, recorded her fresh statement with the police in which she denied all of the charges levelled against her.
The source said, the girl in her statement told the police that she was at home and boiling tea when she saw a plastic bag hanging in the courtyard of her house.
She said in her statement that she saw a few papers inscribed in the Arabic script — and because she cannot read and write the script, therefore for her the script could have meant Urdu or Persian.
Full report at:
http://dawn.com/2012/09/07/blasphemy-case-igp-records-girls-statement-2/
-------------
Despite Arab Spring, Women's Repression Continues
By Bonnie Erbe
09-07-2012
Predicting history is more than a bit of a crapshoot. But I had it right when I speculated what last year's Arab Spring would bring.
Following Iran's example (I know Iranians are Persians, not Arabs, but they both seem to enjoy installing extremely conservative theocratic governments after revolutions), it was easy to see that every time a secular dictator was toppled, an Islamic theocracy would step in. And that's a recipe for disaster regarding women's rights.
Now my prediction is coming to fruition. Last weekend, Egypt's new Islamist-dominated government lifted a longstanding ban against veiled women newscasters on state-run TV. Here we go, I thought. First it's the hijab or headscarf. Next it will be the chador, the black cloak-like garment that fully covers a woman from head to toe, except for her face. Then these poor Egyptian women will be pushed back into wearing the niqab, a face veil that in some cases leaves only a tiny slit for eyes. That outfit must be tons of fun to wear during Egypt's stultifying summers.
A good friend disagrees with me, saying the Internet and social media represent salvation for female victims of post-Arab Spring repression. There's some hope in what she says, but not enough to convince me.
Full report at:
http://www.koreatimes.co.kr/www/news/opinon/2012/09/137_119386.html
-------------
Russian version of "Women in Islam" to be published
September 7, 2012
The Organization of Culture and Islamic Relations in Russia is publishing Russian translation of book on the position of Muslim women.
(Ahlul Bayt News Agency) - The Organization of Culture and Islamic Relations in Russia is publishing Russian translation of book on the position of Muslim women.
"Status of Women in Islam" is the name of the book by grand Ayatollah Hussein Noori Hamedani, published by Iranian cultural council in Moscow and Ahlul Bayt (AS) Research Center in Dagestan.
Regarding the realistic view of Islam on man and his duties, the view of Islam on status of women is analyzed in this book.
This book also interprets the rights of the women based on their feminine creation.
This Islamic view is a unique one regarding its unique method for protection of the rights of women.
Therefore, grand Ayatollah Hussein Noori Hamedani, Iranian top jurisprudent has had a deep and new approach on the status of women in Islam in order to write this book.
http://abna.ir/data.asp?lang=3&Id=345081
-------------
Same Old Story of Healthcare for Women in Uniform in Afghanistan
By ELSPETH CAMERON RITCHIE
September 6, 2012
The Army's Women's Health Task Force has just issued a paper dealing with the concerns of female soldiers serving in Afghanistan.
As usual, it contains both bad news and good news.
In terms of bad news, the themes are remarkably similar to what we were looking at 15 years ago. More than a decade ago I authored an article for Military Medicine echoing many of the same concerns.
Here's what the new white paper said:
Nearly 275,000 women have deployed in support of Operation Iraqi Freedom, Operation New Dawn, and Operation Enduring Freedom. During our assessment, it was clear that female Service Members are participating, contributing, and excelling at all levels in the Afghanistan Theatre of Operations…Major issues identified by the participants in the Afghanistan Theatre of Operations Assessment were the lack of education on birth control, menstrual cycle control, and feminine hygiene during deployment. Women's health issues are compounded by the findings that many women hesitate to seek medical care when they have a female health concern.
Full report at:
http://nation.time.com/2012/09/06/same-old-story-for-women-in-uniform
-------------
Urdu author Saadat Hasat Manto's daughters preach peace
Vaivasvat Venkat
Sep 6, 2012
SAMRALA: At a time when Indo-Pak relations are rapidly souring over fake SMSs and forced eviction of Hindus, the three daughters of legendary Urdu author Saadat Hasat Manto, whose poignant stories of Partition continue to earn him admirers on both sides of the border, on Wednesday said they have come to India as the mascots of peace.
The daughters - Nighat, Nuzhat and Nusrat - were emotional when they visited their father's birthplace in Paproudi village in Samrala. They had come to India through the Attari checkpost on Tuesday, to participate in the centenary celebrations of Manto in New Delhi.
"Never in this world have we got such a warm welcome. The relations between the two countries should stay like this," remarked Manto's eldest daughter Nighat Patel.
For the second time in a year, there was a carnival in the sleepy Paproudi village, with jubilant men and women welcoming their local hero and maverick Manto's daughters. The villagers had observed the birth centenary of the legendary writer on May 12. The daughters, who live in Pakistan, were keen to join the centenary celebrations in India, but, strict visa regime spoiled their plans.
Full report at:
http://timesofindia.indiatimes.com/india/Urdu-author-Saadat-Hasat-Mantos-
---------
URL: https://newageislam.com/islam-women-feminism/rimsha-granted-bail-hrw-welcomes/d/8594