New Age Islam News Bureau
17 Jul 2012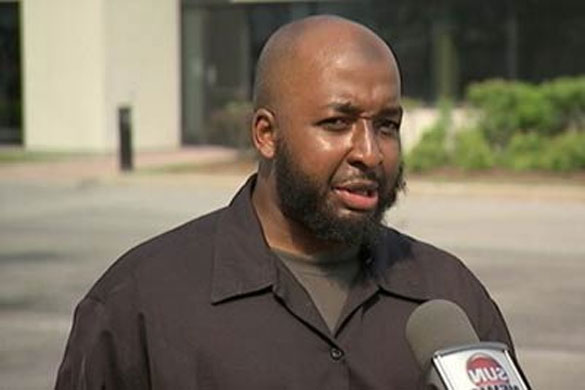 • When I, a Jew, Fell In Love with a Muslim
• Women Dress Gets Toronto Imam in Trouble
• Assad's Wife Dubbed as Princess Diana of West Asia Shops While Syria Burns
• Hijab divides college & students In Karnataka, India
• UAE President's Wife Congratulates Female Science and Technology Graduates
• Girls top in Pakistani school exams
• Girls Islamic Organisation Felicitates Meritorious Muslim Girl Students in Jaipur
• Hurdles to Muslim Women's Rights
• An Islamic School for Girls in Damascus
• Married to Indian a Qadian Man, Pak Woman Not Allowed to Visit for Father's Last Rites
• Woman Kidnaps Child from Ajmer Dargah Premises
• Pakistani Police Arrest Man for Burying Baby Alive
• Microfinance projects help Yemeni women make it
• Muslims women's role is "unparalleled and unique" in movements, Iranian Supreme Leader
Compiled by New Age Islam News Bureau
Photo: Women Dress Gets Toronto Imam in Trouble
URL: https://newageislam.com/islam-women-feminism/pakistani-woman-prisoners-bring-beauty/d/7947
-----------
Pakistani Woman Prisoners Bring Out Beauty From Within!
17 July 2012
ISLAMABAD: The Rawalpindi Arts Council, in collaboration with SPO (Strengthening Participatory Organisation), on Monday organised an exhibition, titled 'Women Art and Craft'. Handicrafts made by women prisoners have been put on display at the exhibition. It is comprised of hand-made jewellery, pottery decorations, dresses, and glasswork.
The main motive to organise the exhibition was to present to the public the handicrafts made by female inmates imprisoned in different jails in Pakistan so that they may be able to earn their livelihood respectfully instead of becoming burden on someone else.
Besides the exhibition, the drama 'Hawa ki Beti' was also presented in the auditorium of the council. Famous actors Ejaz Baig, Iffat Chaudhry and Saleem Babba acted in leading roles. The challenges and difficulties faced by a woman in society were pointed out in the drama.
After the drama, a musical night was also arranged for the participants. Renowned folk singers of the region Nadeem Ali Khan and Akhtar Channan performed on the occasion and received appreciation from the audience.
SPO Programme Officer Nosheen Akbar, talking on the occasion, said that women are 52 percent of society and progress of the country is impossible without their empowerment. She said, "Woman prisoners are also part of our society and it the duty of everyone to make them active members of the society."
Rawalpindi Arts Council Resident Director Waqar Ahmed was of the view that the council is providing representation to the women. "It is a great honour for the council that a platform is also being provided to those women who are imprisoned." A large number of people from different walks of life participated in events.
http://www.dailytimes.com.pk/default.asp?page=2012\07\17\story_17-7-2012_pg11_7
-----------
When I, a Jew, Fell In Love with a Muslim
By Dianna M. Simani
July 16, 2012
My love affair with a Muslim man began at 3 a.m. on a Sunday during Halloween weekend in 2004. We were stressed out law students who sought relief by making out everywhere on campus — behind buildings, in the parking lot, his place, my place. We acted like crazy teenagers. He was my first love.
It was passionate and forbidden, like Romeo and Juliet. Nice Persian Jewish girls do not date Muslim boys. Or do they? At first, he tried to treat me like a fling, but eventually he couldn't resist falling in love with me.
At my law school graduation party in Hollywood, we danced close in a grimy room surrounded by a hundred people, but I felt like no one else was there. In that moment, I looked in his deep brown eyes and saw the life that resided therein.
Later that summer, on a group trip to Las Vegas, I asked him whether he saw a future with me. He responded with a familiar trope, that he didn't want to disappoint his mother by marrying a non-Muslim girl.
We continually disconnected and reconnected, for years (7, to be exact). We tried to resist each other. At times we didn't try very hard. I was addicted to the intoxicating warmth of his touch; to his kindness; to his brown skin; to his intelligence; to his spirit; to the purity of his heart and his neshama.
Last year, during our last reconciliation period, we "dated seriously" for a few months. We even talked about what kind of wedding we would have.
For some reason, the prospect of standing under a chuppah with him, a fervent, practicing Muslim, with a Reform-Rabbi-In-Tow, felt like a fraud. Despite all my big Jewish tent rhetoric, I guess I'm less progressive than I thought.
Under Islamic law, an Imam could marry us in a traditional ceremony, and I told him that I would be okay with that. There was actually something intriguing about the thought of it, and at least we'd be married "legally" within someone's religion.
There was the issue of children. Would the kids go to Hebrew School? Would they have a Quran tutor? Both? Neither? Would they be confused?
Halachically, our kids would be fully entitled to all of the requisite rites of passage, including a Birthright excursion where they could camp out in a tent with a bunch of fellow young Heebs also looking to lose their virginity in Israel.
Would he go to Israel with me? Would he get racially profiled there? Would I get racially profiled there if I took his last name?
He doesn't drink, for Islamic reasons. Would he let me have alcohol in the house? Would he ultimately resent me for drinking? If we had a bris for our son, would he object to a little drop of Manischewitz before the snip? And what about my weekly kiddush, if I wanted one?
Under Islamic law, because of patrilineal descent, the kids would be Muslim, no questions asked. Could I, Miss Jewy Jew, handle that? Would I ever not feel weird wearing a huge Star of David when I was out in public with him? And here's the one I thought of most frequently: Would I be banished from the tribe, irrevocably distanced from our peoplehood forever? Was I a complete traitor? We discussed most of these issues. I usually initiated the discussions. Each discussion ended with more questions, and no answers.
For me, our love begs a larger existential question: in the battle between the universal and the particular, which should win? I think about this question every day. Shema Yisrael: Adonai Eloheynu, Adonai Echad.
One Shabbat morning, I ruffled through his books on Islamic law while he was asleep. If I was going to be with this man, I had to find out where he was coming from. As I read through the books, I felt unsettled. They looked different. The words were different. I thought to myself, "What is this stuff?" Where's the 'Jewish Book of Why'?" But there were some comforting familiarities: the overtly legalistic approach to religious practice, the analytical perspective on faith, tzedakah, the singular nature of G-d. I felt conflicted. If we believe in the same G-d, why can't we just be together? This is America!
Ultimately, he broke it off, and we agreed that it would never work because of our respective attachments to our faiths. Still, sometimes I think about him with tears streaming down my face. I'll always love him, with the kind of deep, familial love which makes me wonder whether we're better off not being together forever.
As a faithful Jew, and a faithful Muslim, there are limits to our love. It sounds fatalistic, but it's the reality of our particular situation.
There is no G-d but G-d. La Ilaha Illa Allah. And sometimes G-d's children remain apart.
http://blogs.forward.com/sisterhood-blog/159366/when-i-fell-in-love-with-a-muslim/#ixzz20s7eqUIm
-----------
Women Dress Gets Toronto Imam in Trouble
16/07/2012
TORONTO - A Muslim imam has ended up in hot water after calling for changing Canadian laws to require women to cover themselves to prevent sexual assaults, amid accusations that his views reflect men's desire for control of women.
"This is not about what women wear," Tarek Fatah, a Muslim writer, told the Toronto Sun on Monday, July 16.
"This is about ... some Muslim men believing that any woman whose head is uncovered is fair game because she is lustful...and doesn't belong to the pious (Islamic) sisterhood."
How Does Modesty Relate to Dress? Modesty: Part and Parcel of Faith
A Muslim preacher has earlier called for legal changes in Canada to require women to cover themselves in order to prevent sexual assault.
"The reason ... these sex attacks are continuously happening is because (of) Canadian laws, which give too much freedom to women" when it comes to how they dress,? Al-Haashim Kamena Atangana, a 33-year-old convert, said in an e-mail to the Toronto Sun.
"You should take your example from the way Muslim women dress," Atangana added in response to recent sexual attacks at York University.
"Why does (sic) Muslim women who wear long dress and covers her head aren't targeted for sex attacks?"
Defending his point, the preacher cited the position of Const. Michael Sanguinetti, a Toronto police officer who ended up in hot water after telling students at a York University safety forum in January that women should dress properly to avoid being victimized.
"If (women) want to prevent being sexually assaulted, they should cover themselves," said Atangana.
The preacher also called on Toronto city to introduce laws that ban women from dressing provocatively to be followed by other Canadian cities.
"The reason ... a woman gets raped is because of the way she (dresses)," he said, suggesting that "Toronto (become) the first city in North America to introduce laws that would make it illegal for women to dress provocatively."
Modesty
Muslim women also criticized the imam's view as reflecting a desire for control.
"There is absolutely no connection between how women dress and being sexually assaulted," Alia Hogben of the Canadian Council of Muslim Women said.
She argued that though other religions from Judaism to Christianity have traditional dress codes of their own, but this never prevented assaults.
According to a 2008 report from the Egyptian Center for Women's Rights, 83% of Egyptian women had experienced some form of sexual harassment or assault at some point.
The survey also found that 70% wore headscarves, which is an obligatory code of dress in Islam.
"These results disprove the belief that sexual harassment is linked to the way women dress," the report states.
"This confirms that the stereotypical ideas of a patriarchal culture that blames women even if they are victims, is opposite to reality."
Hogben opines that the results of the survey showed that some "good, pious" Muslim women are sexually harassed, despite wearing modest and traditional clothing.
If (Atangana) thinks good, pious Muslim women are not sexually assaulted, he's wrong,? she said.?If he thinks this is not happening in India or Egypt ... it is not true.?
http://www.islamonline.com/news/articles/2/Women-Dress-Gets-Toronto-Imam-in-Trouble.html
-----------
Assad's Wife Dubbed as Princess Diana of West Asia Shops While Syria Burns
17 July 2012
SHE has been dubbed the Princess Diana of West Asia, combining beauty and style with tireless charity work.
In a region blighted by dictatorships and conflicts, the First Lady of Syria, Asma al- Assad, was billed as the modern and caring face of the Arab world.
But emails obtained by WikiLeaks show Asma, 36, spent £ 270,000 ( ` 2.3 crore) buying furniture from an exclusive London store for one of her presidential palaces last March – as Syria was descending into a bloody civil war.
British- born Asma sent her order — which included five chandeliers costing £ 8,800 ( ` 7.5 lakh) — to upmarket furniture store DN Designs in the King's Road, Chelsea, West London.
The emails emerged as more than 200 people were believed to have been massacred by government forces in the village of Tremseh last Thursday.
It is estimated that more than 16,000 have been killed in Syria since the uprising began last March, including women and children caught in the crossfire between government troops and rebels.
But as innocent civilians were being killed, the emails show that Asma did not drop plans to refurbish the summer palace, where she and her husband go to escape the scorching desert heat.
Asma — who was once described as a 'rose in the desert' — took personal charge of furnishing the palace in the coastal town of Latakia, 200 miles north of the capital Damascus.
The full scale of the palace, which offers breathtaking views of the Mediterranean, is unknown, but based on the order Asma placed, it has a grand entrance hall on the ground floor with an adjoining reception room.
On the first floor, there is a dining room that can seat at least 10 people, as well as a majlis — a traditional Arab room that is used for entertaining guests — and a salon or drawing room. The mother of three also ordered furniture for two family rooms, a basement hall and a ladies' lobby.
On March 2, her aide Mansour Azzam, who works in the ministry of presidential affairs ( MOPA), sent an email to Asma with a quote for all of the furniture she had ordered.
Among more than 130 items, whose prices are given in US dollars, are 11 ottomans costing over £ 20,000 ( ` 17 lakh) in total.
For the dining room, Asma ordered a round table worth almost £ 10,000 (` 8.6 lakh) and, for the Majlis, she purchased a red- and- green Mamlouk rug for just under £ 11,000 (` 9.4 lakh).
Asma, who grew up in Acton, West London, also bought a 'hanging rod with nine silk lanterns' worth £ 3,000 (` 2.6 lakh) for the basement hall.
The emails show that the First Lady, who married Syrian president Bashar al- Assad in 2000, was kept up to date on how the furniture was being laid out, with her aides taking photographs and emailing them to her.
Last September, as international condemnation of the Syrian regime grew and sanctions were imposed against the country by the US and the EU, Asma was still preoccupied with her furnishings.
In an email sent to Azzam on September 23, she writes: "I forgot to mention, the sofa below should have the same number of back cushions as bases."
Leaked emails show the British- born wife of the Syrian President spent ` 2.3 crore in refurbishing one of their palaces
Mail Today
-----------
Hijab divides college & students In Karnataka, India
By Vanu Dev
17 July 2012
OVER 100 students of Sri Ramakunjeshwara First Grade College in coastal Karnataka have boycotted classes for the past one week.
The reason — the students are protesting a blanket ban imposed by the college management on hijab (headscarf) worn by Muslim girls.
While the students are claiming discrimination against minority youth, the college management has dismissed the allegation as "baseless", saying it is only enforcing discipline among the students.
"We are trying to convince the students to attend classes. The management is of the opinion that wearing hijab affects the teaching learning process. Besides, students of other communities feel uncomfortable. There is no discrimination.
We are implementing a rule that already existed. The parents were aware of it," college Principal Vasanth Rao said.
Apparently, the number of girls wearing hijab has increased over the past few months, prompting the authorities to enforce the ban on headscarves more strictly.
The college authorities said they had specifically informed the parents about the ban on hijab before admitting their wards.
"They did not have any objection to the ban then. They are now protesting against our policy. We have a common code for uniform and that cannot be broken," an administration member said.
Full report at: Mail Today
-----------
UAE President's Wife Congratulates Female Science and Technology Graduates
15 July 2012
Under the patronage of Shaikha Shamsa bint Suhail, wife of the President, His Highness Shaikh Khalifa bin Zayed Al Nahyan, the Institute of Applied Technology (IAT) Al Ain celebrated the passing out of the first batch of 148 female graduates, who studied engineering and computer sciences, technology, energy and other advanced technological specialisations.
Shaikha Shamsa sent warm congratulations to the President, hailing the cohort as a new achievement to the UAE's wise leadership spearheaded by Shaikh Khalifa who, she affirmed, spares no effort to empower UAE woman so as to play her aspired role in the local community hand-by-hand with the man as all are striving to meet aspirations of the leadership for an industrial and economic progress model.
She urged the graduates to pursue their studies within the UAE and abroad in engineering and technology so as to join the nation-building drive in all areas of knowledge-driven economy in consistence with the federal strategic plan 2020 and Economic Vision of Abu Dhabi 2030 in order to prove their merit in serving the homeland and giving back to the nation and the prudent leadership.
http://www.khaleejtimes.com/nation/inside.asp?xfile=/data/government/2012/July/government_July53.xml&section=government
-----------
Girls top in Pakistani school exams
16 July 2012
Students must make it a habit to revise at school home the subjects taught in the class on a daily basis throughout the year to achieve good results in their annual examinations.
This is the advice of the two Pakistani female science students who stood first and second from the UAE in the Secondary School Certificate (SSC) - II examinations 2012 of the Federal Board of Intermediate and Secondary Education Islamabad (FBISEI). Both the toppers wish to become doctors.
"You can't expect good marks by studying just a day or two before the exams," Komal Ejaz, the student of Pakistan Education Academy Dubai who topped with 1002 marks out of 1050, told Khaleej Times.
Nasim Badshah, student of Pakistan Islamia Higher Secondary School, Sharjah, stood second with 1000 out of 1050 marks. "We must finish the lessons daily and not postpone them for another day. This is the key to achieving good result in exams," she said.
Lt Col (Retired) Shafiq Ahmad, Principal, Pakistan Education Academy, said that his students had secured nine top positions out of first ten among Pakistani schools of Dubai affiliated with the federal board.
The third, fourth, fifth and sixth positions among the Pakistani schools have been secured by Maida Ghazanfar (982), Zia Un Nisa (981), Threem Fatima (979) and Arwa Saleem (971) of the Academy.
http://www.khaleejtimes.com/nation/inside.asp?xfile=/data/community/2012/July/community_July17.xml&section=community
-----------
Girls Islamic Organisation Felicitates Meritorious Muslim Girl Students in Jaipur
15 July 2012
Jaipur: The Rajasthan chapter of Girls Islamic Organisation (GIO) honoured meritorious Muslim girl students of Rajasthan under various categories at a function organized on Sunday here at the Auditorium of Rashtriya Ayurveda Sansthan in Jaipur. GIO leaders urged Muslim parents to push their daughters ahead in the field of education.
Scores of girl students who got distinction marks in their exams were felicitated on the occasion in four categories – from matriculation to postgraduation.
Toppers were Ayesha Badr (75.68%) in postgraduate category, Zeenat Akhtar (83.62%) in graduate category, Shez Ali Taqwi (90.60%) in intermediate (science), Samia Muslim (88.60%) in intermediate (commerce), Darakhshan Aslam (89.60%) in intermediate (arts), Saleha Bi (86.17%) in matriculation (Rajasthan Board) and Minhaj Khan and Sara Beg (90.20%) in CBSE.
On the occasion, Sania Saleem, who stood second in all Rajasthan Bhaskar Brain Hunt 2012 and first position among Muslim candidates, was also felicitated. Sania has also been awarded by President Pratibha Patil.
Full report at:
http://twocircles.net/2012jul15/gio_felicitates_meritorious_muslim_girl_students_jaipur.ht
-----------
Hurdles to Muslim Women's Rights
07/12/2012
Ida Lichter, M.D.Author, 'Muslim Women Reformers: Inspiring Voices Against Oppression'
An injured horse last month disqualified equestrian Dalma Malhas from representing Saudi Arabia at the London Olympics. She would have been the first female athlete from the kingdom.
Brunei and Qatar have entered several women for the first time, and although most Muslim countries send female athletes to various events, few boast outstanding women contestants. Why are they lagging so far behind the rest of the world and does the Arab Spring herald any change?
In May, the Muslim Women's Sport Foundation in London honoured a number of athletes, including Halet Ambel, the first Muslim woman Olympic competitor, who represented Turkey in 1936; African American Ibtihaj Muhammad, who will fence for the U.S. this year wearing the hijab; and Sadaf Rahimi, a 17-year-old boxer from Afghanistan. The Kabul stadium where Rahimi trained for the London Olympics was a former Taliban site for women's executions.
Other outstanding sportswomen include Pakistani Naseem Hameed, who won a gold medal in the 100m track event at the South Asian Games in 2010, and Moroccan hurdler Nawal El Moutawakel, who won gold at the 1984 Olympics and later became minister of sports.
Since 1993, the Islamic Federation of Women's Sport has held female-only, multi-sport, Women's Islamic Games every four years, adhering to Islamic dress code and hosted by Iran. In ancient Greece, women also held their own games every four years, as women were excluded from the Olympics.
Full report at:
http://www.huffingtonpost.com/ida-lichter-md/hurdles-to-muslim-womens-rights_b_1664747.html
-----------
An Islamic School for Girls in Damascus
By JULIA MELTZER and LAURA NIX
July 16, 2012
In 1982, when she was just 17 years old, Houda al-Habash opened the doors to her Quran school for women and girls at the Al-Zahra Mosque in Damascus, Syria. Houda is representative of a pioneering generation of women in the Middle East who have begun to study Islam within the mosque like their fathers, uncles and brothers — a trend that is reshaping the region. We made the film because despite the influence of schools like Houda's, stories about them are still rare.
In the film, inside her organized and lively school, Houda teaches her students about women's rights within Islam and encourages them to take their secular education seriously. She and her students are engaged in a debate about women's roles in the modern world, similar to the debates we find in our own culture. In the end, we were more compelled by the similarities than the differences in that debate.
Full report at:
http://www.nytimes.com/2012/07/17/opinion/an-islamic-school-for-girls.html
-----------
Married to Indian a Qadian Man, Pak Woman Not Allowed to Visit for Father's Last Rites
Jul 17 2012
Gurdaspur: Tahira Hazoor married a Qadian man in 2003, yet to be granted Indian citizenship
A Pakistani woman married to an Indian failed to perform the last rites of her father in the neighbouring country as she has travel restrictions while awaiting her Indian citizenship.
The Pakistani woman, Tahira Hazoor, on Monday appealed to the Union government to grant her Indian citizenship immediately to enable her to visit her father's last rites in Faisalabad in Pakistan.
Tahira was the first woman from Pakistan who married an Indian citizen, Maqbool Ahmad, a resident of Qadian town in Gurdaspur district of Punjab in 2003 when the road was opened between India and Pakistan post Parliament attack in 2001.
She today told the media that she hailed from Faislabad and had been residing in Qadian since October 28, 2003 after her marriage.
Tahira said she had applied for Indian citizenship in the office of the Deputy Commissioner Gurdaspur on March 9, 2011.
Full report at:
http://www.indianexpress.com/story-print/975476/
---------
Woman Kidnaps Child from Ajmer Dargah Premises
July 17, 2012
A young unidentified woman allegedly kidnapped a six-month-old boy who was sleeping with his mother in the Ajmer dargah premises, police said on Tuesday.
Safiya had come to offer prayers at the dargah of Sufi Saint Khawaja Moinuddin Chisti and was sleeping with her son Nasir inside the dargah premises last night, they said.
Around 1:30 am, she found Nasir missing and informed her brother and mother, who were accompanying her on the religious trip.
"We examined CCTV camera footage and found that a young woman who was also lying beside them kidnapped the boy when others were fast asleep," police said adding, efforts were on to trace and arrest the woman.
"We also checked CCTV camera footage at the railway station but the accused woman was not seen. All hotels, inns and other places are being searched," a police officer said.
http://www.hindustantimes.com/India-news/Rajasthan/Woman-kidnaps-child-from-Ajmer-dargarh-premises/Article1-890533.asp
--------
Pakistani Police Arrest Man for Burying Baby Alive
July 14, 2012
ISLAMABAD – Pakistani police arrested a man accused of burying his newborn daughter alive because she was physically deformed, officials said Saturday.
The shocking incident illustrates the sometimes extreme prejudices in Pakistan against children, especially girls that are born with any type of physical deformities. They are often seen as shameful for the family, especially in the rural, poorer parts of the country where they are viewed as a drain on the family.
Mohammed Anwar, a police officer in the city of Khanewal in the eastern Punjab province, said the child was born Thursday at a hospital in the nearby town of Kacha Khoh.
After seeing his newborn daughter, the father told relatives that the baby was born dead and organized a funeral service, said Shamshad Khalid, the town's police chief.
The child started crying during the service and the presiding cleric told the father to take the girl to the hospital, Khalid said. Instead, the man, identified by police as Chand Khan, buried her. Residents alerted the authorities after seeing the father taking the baby to the graveyard, after which police raided the man's house and arrested him on a murder charge.
Khan, who has four other children, did not tell his wife about his plans to get rid of the child, the police chief said, adding that the wife was still at the hospital when the baby was buried.
Mohammed Farooq, a doctor at al-Shifa hospital in Kacha Khoh, said he had seen the child after her birth. He said she was healthy and alive but had a fairly large head and "abnormal" features.
Full report at:
http://www.foxnews.com/world/2012/07/14/pakistani-police-arrest-man-for-burying-baby-
-----------
Microfinance projects help Yemeni women make it
16 July 2012
Ashraf Al-Muraqab
Women compose 65 to 75 percent of those borrowing money from microfinance projects funded by the Social Development Fund, a major government supporter of the microfinance sector.
Osama Al-Shami, head of the Micro Industries Unit of the Social Development Fund, said these projects and industries differ from one to another in terms of their activities in governorates nationwide.
"The activities include fishery and animal wealth in addition to agricultural and micro industrial activities in the cities," Al-Shami said.
Many young Yemeni women take advantage of microfinance loans offered by some microfinance corporations in Yemen.
Three years ago, Muna Al-Sabahi opened her own business, which rents out wedding gowns. The income she makes by managing her own business helps to pay her bills.
"After one year, I was able to pay off all the debts that I owed when I embarked on my project," Al-Sabahi said. "It was one million riyals. The shop also helped me gain some knowledge and broaden my thinking ability. It helps me remember my major in décor design."
One shop wasn't enough for Al-Sabahi. So she opened more. She promoted her microfinance project to involve three shops, in which she employed six of her colleagues majoring in décor design.
Full report at:
http://www.yementimes.com/en/1590/business/1159/Microfinance-projects-help-women-make-it.htm
-----------
Muslims women's role is "unparalleled and unique" in movements, Iranian Supreme Leader
15/07/2012
Tehran: Iranian Supreme Leader of the Islamic Revolution, Ayatollah Seyed Ali Khamenei, has praised the Muslim women for playing an "unparalleled and unique" role in great Islamic movements.
By Farhan Iqbal
Tehran: Iranian Supreme Leader of the Islamic Revolution, Ayatollah Seyed Ali Khamenei, has praised the Muslim women for playing an "unparalleled and unique" role in great Islamic movements.
The Iranian Supreme Leader hailed the efforts of Muslim women in Islamic movements and acknowledged that their participation has always played a crucial role in achieving the success for the Muslims.
Ayatollah Khamenei expressed his applause for the Muslim women in the International Conference on Women and Islamic Awakening which marked the presence of over a thousand outstanding Muslim women from 85 countries across the globe.
He stated while addressing the conference, "The conference is a good opportunity for women throughout the world of Islam to become acquainted with each other. The participants should use the conference as a tool to launch an effective and permanent movement to revive the Islamic identity of Muslim women."
Full report at:
http://www.islamonline.com/news/articles/2/Muslims-womens-role-is-unparalleled-and-uniq.html
-----------
URL: https://newageislam.com/islam-women-feminism/pakistani-woman-prisoners-bring-beauty/d/7947