New Age Islam News Bureau
31 Jul 2012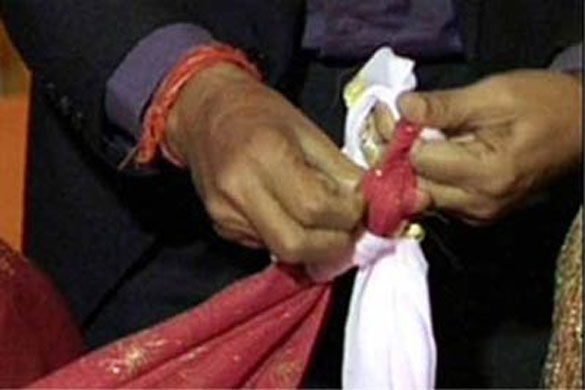 • Grief Gives Way To Anger for Families Who Lost Their Homes, And Their Way of Life
• Life as a female in Saudi Arabia
• Female Saudi judoka WILL fight in a hijab
• Sherry discusses Pakistan-US ties with key American senator
• Namibia Judge Backs Sterilised Women
• Zambian woman gets 30-year RI in narcotics case
• Arafat widow seeks French 'assassination' probe
• Two women from Maoist Ayodhya squad surrender
• Bihar Govt Wakes Up To the Plight of Conjoined Twins
• Where is our Muhammad bin Qasim, asks Fouzia
• Muslim Women Make History at London Olympics
• Christian girls in Pakistan continue to be kidnapped, abducted and forcibly converted to Islam
Compiled by New Age Islam News Bureau
Photo: Madras High Court Helps Muslim Girl to Live With Her Hindu Husband
URL: https://newageislam.com/islam-women-feminism/madras-high-court-helps-muslim/d/8103
----------
Madras High Court Helps Muslim Girl to Live With Her Hindu Husband
Jul 30, 2012
MADURAI: Coming to the aid of a Muslim girl who alleged threats from her family members after she married a Hindu, Madras high court bench here directed them not to interfere in her life as she was a major. Disposing of a petition by 21-year old K Fathima seeking police protection, Justice K Venkataraman said the parents should not interfere and precipitate as the girl was a major.
The girl, an engineering student in Tirunelveli, was in love with her collegemate S Kannan and both got married at the famous Lord Muruga temple in Palani in Dindigul district on June 29 despite strong opposition from her family. She claimed to have received many threatening phone calls from her relatives and also from a fundamentalist organisation for having married a Hindu youth.
The judge had summoned the girl, her husband as well as her parents to know the facts. Fathima told the judge she feared that she might become a victim of honour killing and sought protection. When questioned by the Judge, her parents insisted on taking her back with them but budged as the girl was adamant on living with her husband, who filed an affidavit promising to register the marriage.
The Judge recorded the undertaking as well as the presence of a police official who stood witness to the entire episode and let the girl go with her husband. He also said the police could intervene only if any complaint was lodged by either of the parties making out a cognizable offence and not otherwise.
http://timesofindia.indiatimes.com/india/High-court-helps-Muslim-girl-to-live-with-her-Hindu-husband/articleshow/15281848.cms
----------
Grief Gives Way To Anger for Families Who Lost Their Homes, And Their Way of Life
Ujjwala Nayudu
Jul 31 2012
Visnagar, Mehsana : As the faithful kneeled down for the Zohar namaz on Monday afternoon in this unusually quiet Muslim resettlement of Visnagar, tears rolled down their cheeks when they heard about the acquittal of politicians who had allegedly led the riots in their native Dipda Darwaja village.
These 17 Muslim families, uprooted from their native village, are now living a secluded life in Ayazi Colony, built by the Islamic Relief Committee at outskirts of Visnagar.
All the eleven who died in the massacre — the youngest was a one-and-a-half-years-old boy — were from Yusuf Sheikh's family. A helpless Yusuf now says after the verdict, "Das saal ki mehnat thi jo lagta hai aaj bahut kam pad gayi (It was hard work of 10 years that I feel now was too little to get justice)".
His old neighbour Shabbir Baloch, an auto-driver, points towards the former BJP MLA Prahlad Gosa and says, "He has got acquitted by the court here but we won't leave him." Shaking in uncontrollable anger, Shabbir had to be calmed down by his wife.
Shabbir's daughter Parveen, now a grown-up young beautiful girl, was only 10 years old during the riots. Parveen misses her old mohalla and friends, all Patel girls who went to school with her.
Saidabibi Sindhi, who stays next to Shabbir's house, says, "We had a kuccha roof in Dipda but that gave us more happiness than this new house."
A 60-year-old Aafisabibi Baloch says, "We are living here as we had no other choice. We toiled to begin our business again and educate our children in the last 10 years, but now we see all our hard work has come to nothing. Those we saw burning our houses have been let free."
The longest was the struggle of Baloch family that had lodged a complaint with the police after the riots. Iqbal Baloch and his family shifted away from everyone, including their own community members.
Iqbal's mother Aminabano, visibly upset with the verdict, couldn't stop crying. "I have given my testimony twice to the police and the special investigation team that I saw Prahlad Gosa inciting the mob. It was the same Gosa who came to my house two days before the riots to give invitation for her daughter's marriage. He's the same man who torched my house," she says.
Anwar Hussain Pathan, now 60, says, "The accused used to stare at us to scare us in courts during hearings. I used to feel I should go there and kill those leaders who supported the riots blindly. However, in my prayers, I kept asking God to give me patience. Today, I feel I cheated myself with this belief."
Most of the Muslims in Dipda Darwaza were poor labourers, working in shops and grocery stores owned by Patels.
After 10 since, only three of them own shops while the rest are working as auto-rickshaw drivers and newspaper vendors.
http://www.indianexpress.com/news/grief-gives-way-to-anger-for-families-who-lost-their-homes-and-their-way-of-life/981829/
----------
Female Saudi judoka WILL fight in a hijab
31 July 2012
Wodjan Shaherkani will compete in judo after an agreement is reached on with International Judo Federation on the kind of headscarf she can wear
The 16-year-old +78kg judoka had been told last week by the IFJ that she would not be allowed to compete in Islamic-compliant dress
Decision comes as debate heats up in Saudi Arabia over whether female athletes should have been included in the country's Olympic team
Shaherkani and teammate Sarah Attar - the first women to represent the kingdom at any Olympics - were included after pressure from the IOC
A female Saudi Arabian judoka will be allowed to compete in the Olympics while wearing her hijab, it has emerged.
Wodjan Shaherkani's participation in the London 2012 Games had been in doubt after the International Judo Federation said she needed to remove the head scarf for her match.
But Saudi Olympic Committee (SOC) spokesman Razan Baker announced yesterday that the IJF had relented its stance after negotiations between officials, clearing the way for Shaherkani to fight on Friday.
She and teammate Sarah Attar, the kingdom's first ever female Olympic competitors, have both signed agreements agreeing to compete only in kit that 'sticks to Islamic principles,' Ms Baker told CNN.
The decision comes as the inclusion of female athletes for the first time ever in the Saudi Olympic team has prompted a heated reaction among hardliners in the oil-rich Middle Eastern state.
Some conservative Islamists have denounced Attar and Shaherkani as shameless 'whores', but many other Saudis have praised them as trailblazers for the progress of women's rights.
The decision to allow Shaherkani, 16, to compete dressed in Islamic-compliant clothing threatens now to intensify that quarrel. She had said she would refuse to compete in the +78-kilogram judo category if she was banned from wearing a hijab.
Saudi newspapers reported that she had telephoned her father to say she would withdraw from the Olympics if she was forced to compete uncovered.
The president of the IJF Marius Vizer, said last week that Shaherkani would have to fight without a hijab to comply with 'the principle and spirit of judo'.
The IJF's regulations for the Olympic Games state that no headgear can be worn, and the federation had said there could be a danger to fighters if a hijab is inadvertently used for an otherwise legal strangulation grip.
But Ms Razan said yesterday that, after negotiation between the SOC, the International Olympic Committee and the IFJ, an agreement had now been reached on an acceptable form of headscarf.
'They agreed on a design and she will compete wearing this design,' Ms Baker said, adding that she did not know how this design looked.
Conservative Muslim clerics in Saudi Arabia oppose women's sport, arguing that it is immodest and against their nature.
That view was reflected in Twitter postings, including one under a hashtag that would translate as 'Olympic_Whores'.
'One should not hesitate to describe their participation as shameful and a great sin,' Khaled Al Jabri, whose Twitter profile listed him as a Saudi from Jeddah, wrote in one of thousands of postings on the subject.
'Whores of the Olympics ... They want to run so that they intentionally fall down and reveal [their figures],' said a tweeter using the name mloven2100, another Saudi.
But supporters of the athletes hijacked the hashtag to post messages in their defence.
'I'm proud of Saudi women's participation in the Olympics,' wrote Fahad Al Enzi, a member of a prominent Saudi tribe whose profile listed him as from Riyadh.
A woman who identified herself as Safaa, a Saudi, tweeted: 'Women walking behind the Saudi delegation is historic. Next we'll be carrying the flag and walking side by side, equal.'
Competing in the Olympics is such a huge step for women in Saudi Arabia, they are happy to abide by the strict caveats laid out by their country's leaders.
These include dressing modestly, being accompanied by a male guardian at all times and never mixing with men during the Games, Prince Nawaf bin Faisal told the Al-Jazirah newspaper.
Saudi sportswomen may only take part if they do so 'wearing suitable clothing that complies with sharia' (Islamic law) and 'the athlete's guardian agrees and attends with her', he said.
'There must also be no mixing with men during the Games,' he added.
'The athlete and her guardian must pledge not to break these conditions,' he said.
It comes after months of talks - with Saudi Olympic chiefs at one point insisting no women would be allowed to take part.
IOC president Jacques Rogge described their entry, confirmed by the Saudi Arabian Olympic Committee ahead of the July 9 deadline, as 'very positive news'.
He said: 'The IOC has been working very closely with the Saudi Arabian Olympic Committee and I am pleased to see that our continued dialogue has come to fruition.
'The IOC has been striving to ensure a greater gender balance at the Olympic Games, and today's news can be seen as an encouraging evolution.
'With Saudi Arabian female athletes now joining their fellow female competitors from Qatar and Brunei Darussalam, it means that by London 2012 every National Olympic Committee will have sent women to the Olympic Games.'
Qatar and Brunei, two other countries that have never sent any female athletes to the Olympics, are also including women on their teams for the London Games.
With the Saudis now following suit, it means all national teams competing in the games will include female athletes for the first time in Olympic history.
About 10,500 athletes are expected to compete in London, representing more than 200 national Olympic committees.
Saudi Arabia has been under pressure from the International Olympic Committee and human-rights groups to include women athletes.
The IOC has been in negotiations with the Saudis for months on securing the participation of women.
They said the two Saudi athletes were entered by the Saudi Arabian Olympic Committee by the official deadline of July 9.
Rights groups hailed the decision as a step forward for Saudi women in their quest for basic rights in a country that severely restricts them in public life.
'It's an important precedent that will create space for women to get rights and it will be hard for Saudi hardliners to roll back,' said Minky Worden of the New York-based Human Rights Watch.
In the Saudi city of Jeddah, Mariam Alawi, a housewife in her 20s, said: 'This is fantastic news and it's about time. Maybe now people in Saudi can see that females are capable of taking the reins. The world already knows that women can do great things - maybe now Saudi can know that too.'
Hashim Adnan, a 28-year-old Saudi man who works at an investment firm in Jeddah, said the athletes were likely to face 'heavy criticism' in the country, but that the government should support them.
Saudi King Abdullah has a reputation as a cautious reformer and supporter of women's rights. Last year he announced plans to allow women to vote in municipal council elections and join the consultative Shoura council.
The country's official sports body, the General Presidency of Youth Welfare, only caters to male athletes and women do not take part in sports at state schools. So women athletes have to fund themselves and arrange their own training, mostly abroad.
A Saudi official told Reuters earlier this month Saudi women participating in the Olympics would have to obey the dress code of Islamic law. He did not elaborate, but other conservative Muslim countries have interpreted this to mean a headscarf, long sleeves and long pants.
Saudi Arabia is one of three countries, alongside Brunei and Qatar, never to have sent female athletes to the Olympics but the latter two confirmed earlier this year that their delegations would include women.
Brunei has entered Maziah Mahusin (athletics), while Qatar has entered Nada Arkaji (swimming), Noor Al-Malki (athletics), Aya Magdy (table tennis) and Bahiya Al-Hamad (shooting), who will also be her country's flagbearer at the opening ceremony.
http://www.dailymail.co.uk/news/article-2181500/Female-Saudi-judoka-WILL-fight-hijab--agreement-reached-Olympic-officials-allow-wear-headscarf-competition.html#ixzz22CfPaf00
----------
Life as a female in Saudi Arabia
31 July 2012
In Saudi Arabia when in public women are required to wear a black abaya and head scarf by law.
They are banned from driving their own cars and they are not permitted to run their own businesses.
Women are also not allowed inside main government buildings.
Travel is very difficult for women in Saudra Arabia.
Regardless of their age, they are not allowed to travel abroad without official permission from their guardians, which has to be authorised by the government.
Two years ago lingerie shops were staffed by men which could prove awkward when women had to discuss underwear sizing with the men.
But it's a year of change and women are now allowed to work in malls as sales clerks in lingerie shops thanks to several campaigns both by officials such as the past labour minister Ghazi Algosaibi and activists such as Reem Asaad.
http://www.dailymail.co.uk/news/article-2181500/Female-Saudi-judoka-WILL-fight-hijab--agreement-reached-Olympic-officials-allow-wear-headscarf-competition.html#ixzz22CfUKyxO
----------
Sherry discusses Pakistan-US ties with key American senator
Jul 31 2012
WASHINGTON: Pakistan's Ambassador to the United States Sherry Rehman called on Senator Daniel K Inouye, a Democrat from Hawaii, and discussed Pakistan-US relations with him.
Senator Inouye is the senior most member of the US Senate. He has been a Senator since 1958 and chairs the Senate Appropriations Committee and the Sub-committee for Defence Appropriations.
Ambassador Sherry informed Senator Inouye that Pakistan attached great importance to its relationship with the United States, the Pakistani embassy here said.
The recent opening of the Pakistan ground lines of communication offered an opportunity to move forward on our common agenda of defeating terrorism.
She also appraised the Senator of Pakistan's efforts to improve regional security and its relations with the neighboring countries.
Senator Inouye expressed his commitment and leadership for improving the Pakistan-US bilateral relations.
http://dawn.com/2012/07/31/sherry-discusses-pakistan-us-ties-with-key-american-senator/
----------
Namibia judge backs sterilised women
Jul 31 2012
A judge in Namibia has ruled that three women were sterilised without their informed consent but said there was no evidence this was because they were HIV-positive.
The case was brought by three women who opted to have Caesarean deliveries to reduce the risk of passing Aids to their babies.
Health officials had denied that the women were forcibly sterilised.
The women's lawyers say similar cases have been reported in nearby countries.
Judge Elton Hoff said the women had suffered physical and mental pain.
Damages would be decided at a later date, he said.
The women are demanding compensation of about $122,000 (£78,000) each.
'Tip of the iceberg'
Full report at:
http://www.bbc.co.uk/news/world-africa-19044569
----------
Zambian woman gets 30-year RI in narcotics case
Jul 31 2012
Mumbai : A special NDPS court on Monday sentenced a Zambian national to 30-year rigorous imprisonment (RI) for attempting to smuggle drugs from Mumbai to South Africa. In 2008, Naney Tembo was apprehended by Airport Intelligence Unit officers from the city airport when she was about to board a South Africa-bound flight. The prosecution had said Tembo was travelling with 77 tablets of heroin, weighing 840 gm, stashed in four socks. Tembo had allegedly claimed that she did not know what she was carrying and that she did the 'job' to support her family in Zambia. Tembo was booked under sections of NDPS Act and convicted for attempting to smuggle drugs and contravention in relation to manufactured drugs and preparations. The court also imposed a fine of Rs 2 lakh on her.
http://www.indianexpress.com/news/zambian-woman-gets-30year-ri-in-narcotics-case/981843/
----------
Arafat widow seeks French 'assassination' probe
Jul 31 2012
PARIS: The widow of Yasser Arafat on Tuesday formally asked for a French investigation into his death, bringing a complaint of assassination weeks after raising new suspicions that the former Palestinian leader was poisoned before his 2004 death in a French military hospital.
Earlier this month, Palestinian authorities gave final approval for Arafat's body to be exhumed. In recent tests of Arafat's belongings requested by his widow and the Arab satellite network Al-Jazeera, a Swiss lab detected elevated traces of polonium-210 — a rare and highly lethal substance — but said the findings were inconclusive and that Arafat's bones would have to be tested.
And questions remain about the results of any additional tests after so long.
French doctors have said Arafat died of a massive stroke and had suffered from a blood condition.
A French judge will still have to decide whether to accept the complaint — also brought on behalf of Suha Arafat's daughter — and open an investigation. According to a statement from the family's French lawyer, Pierre-Olivier Sur, Tuesday's request was intended to "establish the truth in honor of their husband and father."
http://dawn.com/2012/07/31/arafat-widow-seeks-french-assassination-probe/
----------
Two women from Maoist Ayodhya squad surrender
Jul 31 2012
Kolkata : Two women members of a Maoist squad from Purulia surrendered before the police on Monday. They have been identified as Sikha Hansda and Champa Hembram, and were brought to the Writers' Buildings to be presented before the media. The duo also surrendered live rounds of ammunition and two double barrel rifles.
Police said both were members of the Ayodhya squad, which was headed by Arnab Dam alias Vikram before he was arrested a few days ago. Both Sikha and Champa are residents of Balrampur and were associated with the Maoist squad since 2008.
A number of cases of murder and kidnapping are pending against them, said police. Sikha was allegedly involved in killings of seven Forward Bloc supporters in Purulia last year. She was also involved in the abduction of a policeman and a civilian.
"They had been in touch with us for the last few days. We had informed them about the surrender package announced by the state government. They surrendered saying that they would join the mainstream," said SP of Purulia C Sudhakaran.
Speaking to the media, Sikha said that before being inducted into the party, Maoist leaders told them that they would fight for the poor. "But after joining the outfit, we saw Maoist leaders extorting money and torturing poor. So we decided to return to the mainstream," she added.
Earlier, dreaded Maoist leaders like Suchitra Mahato, Jagori Baske had surrendered before the police, responding to the state government's call to abjure violence and announcement of a new surrender package.
http://www.indianexpress.com/news/two-women-from-maoist-ayodhya-squad-surrender/981802/
----------
Bihar Govt Wakes Up To the Plight of Conjoined Twins
By Giridhar Jha
Jul 31 2012
ON A DAY the Supreme Court ordered the Bihar government to bring the long- suffering conjoined twins Saba and Farah Shakeel to AIIMS for treatment, the state government has issued a viklangta praman patra (permanent disability certificate) to the sisters.
A health department official visited the one- room house of the ailing sisters at the Samanpura locality in Patna recently to hand over the disability certificates to them.
Tamanna, elder brother of Saba and Farah, said it was because of the Supreme Court that the state government had also woken up to his sisters' predicament. " My sisters have at last been provided the permanent disability certificate by the health department officials after all these years," he said.
" I had tried to get the disability certificate for my sisters many a time in the past but I was always turned away by the staff at the civil surgeon's office in Patna," Tamanna said.
Full report at: Mail Today
----------
Where is our Muhammad bin Qasim, asks Fouzia
Jul 31 2012
Karachi: Aafia Movement here on Monday staged a '10th Ramazan - Mohammad Bin Qassim Day' demo before the Karachi Press Club and demanded immediate release of Dr Aafia Siddiqui.
Dr Fouzia Siddiqui, sister of Aafia, addressed the demo via telephone said Monday is the day when the pleas of a Muslim woman locked in the dungeons of Sindh were answered and the oppressed were liberated. It is the day Quaid-e-Azam said Pakistan actually came into being the day Muhammad Bin Qasim liberated our Muslim sisters from non-Muslim captivity 1,300 years ago.
She said it is shameful to note that from the very soil where General Muhammad Bin Qasim liberated our sisters and declared dignity and honour for all, another general started selling our brothers and sister to a foreign master.
Full report at:
http://www.dailytimes.com.pk/default.asp?page=2012\07\31\story_31-7-2012_pg12_4
----------
Muslim Women Make History at London Olympics
July 30, 2012
By Nadia S. Mohammad
Though it has just begun, the London Olympics already holds a series of historic firsts, especially for Muslims and women around the world. To begin with, the organizers aim to make the London Olympics the first "green games," developed with the goal of environmentally friendly and sustainable construction. Muslim women have held pivotal roles in bringing this goal to fruition. Of note are Zaha Hadid and Saphina Sharif.
Sharif, a civil engineer, was an on-site director ensuring that the clearance of the Park site pre-construction met the 'zero-waste games' goal.
Hadid, the first British Muslim and woman architect to win the prestigious Pritzer—the equivalent of the Nobel Prize in architecture—is the designer of the acclaimed London Aquatics Center for the games—a 'Pringles chip' looking building, by far the most beautiful building in the Park.
Full report at:
http://www.patheos.com/blogs/altmuslim/2012/07/muslim-women-make-history-at-london-olympics/
----------
Christian girls in Pakistan continue to be kidnapped, abducted and forcibly converted to Islam
July 30, 2012
London: July 30, 2012. (CLAAS) In the recent months there have several reports about the ongoing persecution, kidnapping and abduction of the Christian women and girls in Pakistan. According to the news, a daughter of Morris Mash from
Rawalpindi was kidnapped by Mohammad Abid and Tariq Ali. Morris Masih has asked the police to register a case against Abid and Ali and recover his daughter, but they have refused to register the case. In another case, in Faisalabad Christian Waris Mash's wife was kidnapped, he has also reported it to the police, but they failed to give him any information about his wife.
Also in Chunian, Punjab, the sister of a pastor has been kidnapped raped and forcibly converted to Islam. Muzamal Arif, Pastor Aurangzeb's sister, was kidnapped around a month ago by some Muslim men while returning home from college. She was held for days, suffered sexual abuse, threats and violence. In such a state of terror and exhaustion, first she was coerced into converting to Islam, and then marriage. The girl is now a Muslim and married to Muhammad Nadeem.
Full report at:
http://www.pakistanchristianpost.com/headlinenewsd.php?hnewsid=3659
----------
URL: https://newageislam.com/islam-women-feminism/madras-high-court-helps-muslim/d/8103