Age Islam News Bureau
13 Nov 2012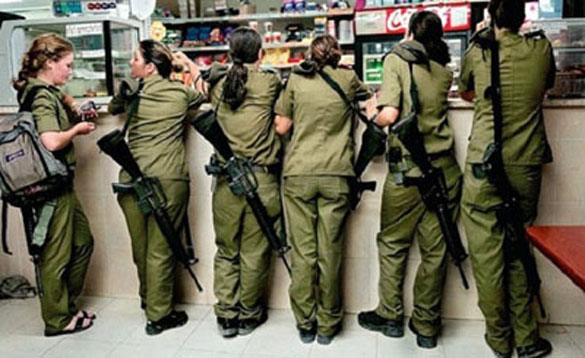 • Libyan Women Activists Welcome Posting Of Youtube Rape Video
• Is Hair Braiding Offensive? Israeli Female Soldier Scolded For Public Act
• Saudi Woman Sues Interior Ministry over Driving Ban
• Pakistan's Woman Parliamentarian's 'Illegal' Marriage Exposed
• Saudi Arabia Struggles To Employ Its Most-Educated Women
• Morocco's 'Liquid Gold' or "Miracle Oil" Enriches Berber Women
• Haji Ali Shrine's Rule on Women Evokes Protest
• The Women's Movement in Turkey Fights Back
• Hamza Shahbaz's 'Wife' Moves Harassment Plea in LHC against Her Claimed Husband
• Ahmadiya Muslim Women Commemorate the Life of Prophet Muhammad
• Women, Muslims Included, Flood Cong with Pleas for Tickets In Gujarat
Compiled by New Age Islam News Bureau
Photo: Is Hair Braiding Offensive
URL: https://newageislam.com/islam-women-feminism/libyan-women-activists-welcome-posting/d/9290
------------
Libyan Women Activists Welcome Posting of YouTube Rape Video
BY KARIMA IDRISSI, 12 NOVEMBER 2012
You might not expect women's groups to welcome the posting of a video depicting a rape on You Tube - but Libyan feminists did just that last week.
The video - quickly taken down - showed the rape of a young female student from Benghazi University. Women's groups and activists in Libya say the crime would have remained hidden had the video not been posted. Now the groups are demanding justice and that the perpetrators are brought to trial. They are also calling for a broader discussion about how rape victims are treated.
Hypocrisy and cowardice
Women are usually treated as if they are to blame, say activists, and they hope the internet video can lead to change. "Instead of demanding trial and punishment for the perpetrators, the victim is all too often accused of being complicit with the rapists. What a hypocritical and cowardly community we live in," says Libyan writer Intisar Bouraoui.
The poet Fatima Mahmod also wrote on the issue: "There is no manliness regarding the rape of women ... there is only a festering distorted masculinity... surviving on a masculine culture seeping its poison into minds and souls. When women were raped by fighters from the militias of Gaddafi and his sons, civil society organisations abroad and international human rights commissions denounced the crimes, but civil society in Libya remained silent."
"And some statements were even issued to cover up, deny and hide the crimes in order to preserve the (reputation) of the males of cities where women were raped!"
Honour killing
Conservatism, religion and honour play a major role in attitudes towards rape. The women's groups point to cases during the Gaddafi regime when some women fled to Tunisia to escape male family members who believed the shame of having a rape victim within their family could only be wiped out by murdering her. Women's groups in Benghazi and Tripoli are now exchanging information on the 'You Tube' rape case, hoping they can challenge these conservative attitudes. As dramatic and horrific as the posting of the video was, they see it as a means of sparking a discussion. The Libyan women point to a recent case in Tunisia in which the rape of a woman by a soldier became a national scandal - they hope that a similar debate and nationwide condemnation can follow the case in Libya.
Punished twice
The posting of the video of the rape has also attracted comments from activists throughout the Arab world. "I watched the video on the Facebook pages; I did not have the courage to publish it. The video depicts a case of rape of a Libyan girl, the photographer tried not to show her face. The face of the rapist is clearly visible, uttering ugly words! I felt humiliation, debasement, and oppression. The act of rape is a privileged masculine action and a shocking crime that even capital punishment is not enough for the perpetrator. The raped woman should not be punished twice by compelling her to marry this villain. This would constitute a premeditated crime," said the well known Moroccan poet and feminist activist Aisha Al Maghribi.
"This is a form of contempt and enslavement for women," she added
This article was originally published by RNW's Arabic service and was re-posted on a number of leading Libyan websites and other leading Arab region sites.
http://allafrica.com/stories/201211130403.html
----------
Is Hair Braiding Offensive? Israeli Female Soldier Scolded For Public Act
13 November 2012
A female IDF recruit was ordered to hand in a written apology, which consisted of a "five page essay" for braiding a fellow soldier's hair. (Courtesy: Rachel Papo)
By AL ARABIYA
Ultra-Orthodox Israeli soldiers were reportedly offended after they witnessed a female comrade braiding a fellow soldier's hair in public, Israeli media reported this week.
The female recruit was ordered to hand in a written apology, which consisted of a "five page essay," her mother was quoted as saying on the Ynet news website on Monday, adding that her daughter had a hard time accepting her punishment.
The soldier's commander handed out the punishment, claiming the act "was in violation of the Israel Defense Forces' (IDF) integration code and offensive to the religious sensitivities of the ultra-Orthodox soldiers serving on the base," the website stated.
"My daughter understands the need to be sensitive to her fellow soldiers, but this is a huge exaggeration. On the one hand female soldiers are encouraged to support each other but on the other hand if her friend is crying she is not allowed to hug her in case someone is offended by it," the female recruit's mother said.
But an official from the IDF spokesperson's unit said that "The IDF's orders do not forbid soldiers from braiding each other's hair. The officer made an error in judgment, which was corrected, while stressing military regulations," the report stated.
The IDF integration code includes separate dormitories for men and women and modest clothing to be worn during fitness exercises, among other stipulations.
http://english.alarabiya.net/articles/2012/11/13/249303.html
---------
Saudi Woman Sues Interior Ministry over Driving Ban
AFP
Riyadh, November 12, 2012, A Saudi women's rights activist said on Monday she has filed a lawsuit against the interior ministry over a decree banning women from obtaining driving licences in the ultra-conservative kingdom.
Nassima al-Sadah is the third woman to file such a lawsuit this year over the rule
which enforces a traditional ban on women driving in the Muslim desert nation.
"I filed the lawsuit against the traffic department of the interior ministry at the Dammam court" in Eastern Province, she said.
Before her, Manal al-Sharif, who became a symbol of a campaign to drive after she was arrested last year for defying the ban, and rights activist Samar Badawi also filed similar lawsuits.
Sadah said she made a point by trying repeatedly to apply for a driving licence at the traffic department in Eastern Province.
Saudi Arabia is the only country in the world that bans women from driving.
In June 2011, women activists launched a Women2Drive campaign on social media networks, with many also braving the ban and posting videos of themselves driving.
The following June, activists cancelled plans to get behind the steering wheel on the first anniversary of their campaign, opting instead to petition King Abdullah to lift the ban.
Their campaign, which spread through Facebook and Twitter, was the largest mass action since November 1990, when 47 Saudi women were arrested and punished after demonstrating in cars.
Women in the kingdom who have the means hire drivers, while others must depend on the goodwill of male relatives.
They are also obliged to be veiled in public, and cannot travel unless accompanied by their husbands or a close male relative.
http://www.hindustantimes.com/world-news/RestOfAsia/Saudi-woman-sues-ministry-over-driving-ban/Article1-958604.aspx
--------
Pakistan's Woman Parliamentarian's 'illegal' Marriage Exposed
Staff Report
LAHORE, November 13, 2012: A woman parliamentarian on Monday landed in hot water when her husband moved the Lahore High Court seeking her disqualification. Gohar Sarfraz Qureshi, in his application, stated that his wife was not an honest person and could not qualify to be a member of the Punjab Assembly.
Gohar further stated in the application that Shamsa Gohar contracted marriage with him on April 9, 2006 and showed her as unmarried in the Nikahnama (marriage certificate). "After some time, I came to know that the woman I married was already married to another man, named Abid Ali," Gohar further stated.
According to Qureshi, Shamsa had married Abid on March 27, 2005. He stated that proof of Shamsa's divorce with Abid Ali was not found in the record of the union council concerned. He stated that Shamsa had concealed facts at the occasion of her marriage with him.
He also alleged that Shamsa received millions of rupees from the exchequer under the head of TA/DA to attend sessions of the Punjab Assembly. He said Shamsa belonged to Sialkot, however, she remained settled in Lahore for the last four years.
He requested to declare his wife disqualified from holding the office of provincial assembly under Articles 62 and 63 of the constitution.
Ministry to explain Hajj redressal measures: Lahore High Court Chief Justice Umar Ata Bandial on Monday directed the Ministry of Religious Affairs to submit a report about the remedial measure it took following complaints by this year's hajjis (pilgrims).
Full Report at:
http://www.dailytimes.com.pk/default.asp?page=2012\11\13\story_13-11-2012_pg13_1
---------
Saudi Arabia Struggles To Employ Its Most-Educated Women
KEVIN SULLIVAN , THE WASHINGTON POST
RIYADH, 13 NOVEMBER 2012
Manar Saud graduated in May from Shenandoah University in Winchester, Virginia, with a master's degree in organizational leadership, paid for by a Saudi government scholarship. She came home to Riyadh eager to put her new skills to work, but after six months of looking for a job, she is still unemployed.
"It's really sad," said Saud, 27, sipping coffee in a Starbucks, a black scarf framing her face, with floral trim on her long black abaya robes. "You come back so well prepared and so eager. Then all of a sudden, there is a brick wall in your face."
Saud is part of a rising generation of young Saudi women caught between a government spending billions to educate and employ them, and a deeply conservative religious society that fiercely resists women in the workplace.
Although Saudi Arabia has vast oil riches, its per capita gross domestic product ranks only 40th in the world, and many here note that the national economy would be stronger if half the brainpower in the country was put to better use.
"Teach me. Invest in me. Let me work. I don't get it," Saud said. "My friends are all in the same situation. What's wrong here?"
Unemployment among Saudi women who want to work is 34 percent — almost five times as great as the 7 percent unemployment rate for men, according to government figures. Those unemployed women are disproportionately college-educated. Of Saudis receiving unemployment benefits, 86 percent are women, and 40 percent of those women have college degrees.
In a country where more than two-thirds of the population is younger than 30, thousands more college-educated women each year try to enter the workforce, and many of them are striking out.
"There are women out there desperate to find jobs," said Samar Fatany, a leading Saudi feminist author.
Fatany and other women interviewed in the capital and in Jiddah, the commercial hub on the Red Sea, said that young women are growing increasingly impatient with restrictions on their careers in a country that does not permit women to drive or vote.
Women have become increasingly aware of — and insistent about — their career possibilities because of King Abdullah's massive spending on college scholarships and efforts to create more jobs for Saudi women, Fatany said.
"Young women are not as isolated as before. They realize that they don't have to blindly follow what their fathers tell them," she said. "There is no turning back. We are in the process of modernizing Saudi Arabia."
Abdullah, under pressure to close the gap between an aging royal family and a young population clamouring for change, has been an advocate of women's education and employment.
Saudi Arabia had historically lagged behind its Persian Gulf neighbours in women's education, but in recent decades, it has sharply reduced female illiteracy, virtually eliminating it among women 15 to 24, according to the World Bank.
In the past 10 years, the number of universities in Saudi Arabia has more than doubled, from 16 to 33, including the world's largest women-only university, Princess Nora Bint Abdul Rahman University in Riyadh, which opened last year. It has 37,000 students and a capacity of 60,000.
Abdullah also created a government-funded scholarship program that has sent thousands of Saudi women — including Saud — to foreign universities since 2005. About 145,000 Saudis, including 40,000 women, are studying on the scholarships this year in more than 30 countries.
The king created the scholarships after meeting in 2005 with then-President George W. Bush at his Texas ranch. Both leaders wanted to improve a relationship damaged by the fact that 15 of the 19 hijackers in the Sept. 11, 2001, attacks were Saudis.
The number of Saudis studying in the United States dropped to about 4,000 after the terrorist attacks. But that number has since skyrocketed, reaching 71,000 this falls, including 17,000 women.
"The vision is that these people will come back and fix our problems," said Fahad al-Fahad, a business consultant in Jiddah who specializes in labour issues. "But you have to find jobs for these educated women. They should be the elite of the society, but they are just sitting at home."
Full Report at:
http://www.independent.co.uk/news/world/middle-east/saudi-arabia-struggles-to-employ-its-mosteducated-women-8312035.html
----------
Morocco's 'liquid gold' or "miracle oil" enriches Berber women
The Moroccan export has caused a sensation in the West
AFP November 13, 2012
TIDZI, Morocco: In a poor but fertile corner of southern Morocco, illiterate Berber women are tapping the surge in global demand for argan oil, a "miracle" product they grind from a special nut that is helping to lift them out of poverty.
Sometimes known as "liquid gold" or "miracle oil" for its rich cosmetic, culinary and medicinal properties, the exclusively Moroccan export has caused a sensation in the West, where it is touted as a unique hair care and anti-ageing skin potion.
The rolling countryside between Essaouira and Agadir, resort towns better known for their Atlantic surf, is covered with argan trees, and distinguished by the bizarre sight of goats perched in their branches munching away on the pulp of the nut.
Another striking feature of the landscape is the profusion of cooperatives that employ Berber women to produce the oil, from the tree to the bottle, and sell it as far afield as Canada and Japan, sharing the profits.
Zahra Knabo, who runs the Ajddigue cooperative, one of the very first, says there are now 137 of them, and hails the "evolution" they have brought to the region's Berber women who suffer from widespread illiteracy, poor health care and stifling social mores.
"In this rural area, women would traditionally herd the animals and gather wood from the forest. They were the first to wake up and the last to go to bed," says Knabo.
"Now most of the women working in the cooperative have money in their pockets. Some have completely financed their houses. They've been able to get electricity, televisions and fridges," she says.
When it opened in 1996, Ajddigue had 16 employees and produced 200 litres (52 gallons) of oil monthly.
But around 60 women now work there, Knabo says, and monthly production has risen to 1,000 litres, with an annual turnover last year of four million dirhams (360,000 euros, $460,000).
Reflecting argan oil's growing popularity in the cosmetics industry, the group's two biggest clients are French and Italian, while the nearby Kaouki cooperative says its main customer, a British firm, started buying the oil in 2009.
Full Report at:
http://www.thenational.ae/news/world/africa/moroccos-liquid-gold-enriches-berber-women
-----------
Haji Ali Shrine's Rule On Women Evokes Protest
MUMBAI Mumbai's iconic and religious shrine Haji Ali Dargah has barred women from entering the sanctum sanctorum housing the tomb of the 15th century Sufi saint, a decision that has sparked condemnation.
The management of the Sufi shrine in Maharashtra, which is visited by tens of thousands of devotees every year, however, said on Tuesday women are allowed within the dargah's large and open premises.
"Women are not allowed inside the sanctum sanctorum of the Dargah (tomb)," said Rizwan Merchant, trustee of the Haji Ali Dargah Trust. "If Islamic scholars have issued a fatwa, in accordance with the Islamic law of Sharia, and have demanded that women not be allowed in dargahs, we have only made a correction," said Merchant, defending the decision.
Merchant claimed there are no restrictions as such for women devotees. "They can read their prayers, do namaz and offer shawls and flowers. All that we are requesting to our sisters is not to enter inside the dargah," he said.
"The Sharia law claims that no woman can visit a cemetery or a grave," said Suhail Khandwani, the trustee of the Haji Ali dargah and managing trustee of Mahim's Makhdoom Shah Baba's dargah. "We allow women in dargah sharif but not at the astana (sanctum sanctorum where a saint is buried)" Khandwani said. The tomb is in essence the grave of Pir Haji Ali Shah Bukhari.
Full Report at:
http://www.omantribune.com/index.php?page=news&id=131057&heading=India
----------
The Women's Movement In Turkey Fights Back
November 12, 2012
Feminism, as a modern social movement, is not a new political phenomenon for in Turkey writes Ecehan Balta. At the end of the Ottoman Empire in the 19th century women began organising themselves as feminists and published dozens of newspapers and journals, organised demonstrations like their sisters did in 19th century Europe for their political and social rights. They fought to increase women's access to education and paid work, to abolish polygamy, and the peçe, an Islamic veil. The first women's association in Turkey, The Ottoman Welfare Organisation of Women was founded in 1908 and became partially involved in the Young Turks Movement which was a driving force in the founding of the Turkish Republic. The women's revolution accomplished by the young Turkish Republic was in fact the result of these 50 years of activism by Ottoman women.
The right to vote, which Ottoman and feminists in Turkey had demanded for decades, was finally granted in 1934 by the Republican People's Party CHP under the leadership of Mustafa Kemal Atatürk. But, at the same time "the feminist movement" gradually became integrated into the state, which thus inhibited its practice outside state approved structures. So called "state feminism" established itself as a part of the Kemalist modernisation efforts to copy western societies. From this time onward women in Turkey were portrayed as emancipated and liberated. The discourse of emancipation was used to close down the Turkish Women's' Union in 1955, which was the only women's organisation of the period.
Full Report at:
http://socialistresistance.org/4221/the-womens-movement-in-turkey-fights-back
---------
Hamza Shahbaz's 'Wife' Moves Harassment Plea in LHC against Her Claimed Husband
Staff Report
LAHORE: Ayesha Ahad Malik, daughter of former member Punjab Assembly Ahad Malik, on Monday moved a petition before the Lahore High Court seeking protection from harassment from her claimed husband MNA Hamza Shahbaz Sharif.
The petitioner stated that she had married Hamza Shahbaz, who soleminised a second marriage without her consent. She alleged that after she approached the court against Hamza's second marriage, he was harassing and threatening her with dire consequences.
She stated that she had approached the session court, which issued directions to provide her protection, but even then the provincial government had not provided her security. She requested to take notice of not obeying the court order and direct the provincial government to provide her security.
http://www.dailytimes.com.pk/default.asp?page=2012\11\13\story_13-11-2012_pg13_3
----------
Ahmadiya Muslim Women Commemorate the Life of Prophet Muhammad
BY: SHAHINA BASHIR
NOVEMBER 12, 2012
On Sunday, November 11, the Women's Auxiliary of the Ahmadiyya Muslim Community held their annual program, Seeratun Nabi at the Community's Headquarters, Baitur Rahman Mosque in Silver Spring, Maryland. It is an event which commemorates the life of the Prophet Muhammad. The program was attended by about hundred and fifty members of the auxiliary and 15 guests from the Jewish and Christian faiths.
In the guise of freedom of speech, Prophet Muhammad and his followers have been at the forefront of attacks by many. The most recent of such attacks were seen in the form of the film "Innocence of Muslims" which generated violent protests across the Muslim world from Morocco to Indonesia. With the ongoing attacks on the person of the Prophet of Islam, the Ahmadi Muslim women took it upon themselves to talk about the real Prophet Muhammad and not the one who has been ridiculed.
View slideshow: Seeratun Nabi Day
The event included three speeches- "Non-Muslim Scholarship on Prophet Muhammad" by Zuna Ahmad of Columbia, "Misconceptions about Prophet Muhammad" by Sadia Naseem, a student at University of Maryland, and "True Love for Prophet Muhammad" by Ruqaiya Asad of Frederick. The speeches were complimented by poems and salutations on the Prophet Muhammad. The speakers went into depths about why the Muslims show indignation when the Prophet Muhammad is ridiculed. They reiterated that the Ahmadiyya Muslim Community categorically condemns any kind of violence or terrorism but they also do not condone meaningless defamation of their religious founder or any other prophets.
http://www.examiner.com/article/muslim-women-commemorate-the-life-of-prophet-muhammad
----------
Women, Muslims Included, Flood Cong with Pleas for Tickets in Gujarat
Syed Khalique Ahmed
Ahmedabad, Tue Nov 13 2012: The state Congress is flooded with applications from women party workers from all the districts, barring Dangs and Porbandar, seeking nomination for December Assembly elections.
As many as 160 women have sent their applications with their biodata, Gujarat Pradesh Mahila Congress president Sonal Patel said, adding she herself was not seeking a ticket.
The highest number of women aspirants are from Ahmedabad rural district (30), followed by Bhavnagar and Sabarkantha (14 each), Vadodara city and Surat rural district (10 each).
According to Patel, among those seeking nominations are 20 tribals, 30 dalits, 30 OBCs and five Muslim women.
Prominent among them are former minister Chandrikaben Chudasma, who lost by 2,631 votes, Bharati Patel, who lost by 2,267 votes, and Jyotiben Desai who lost by 13,220 votes in the 2007 Assembly polls.
Muslim women seeking tickets include Shehnaz Babi from Mangrol, Dr Mumtaz Serasiya from Wankaner, Naznin Bastawala from Jamalpur, Fatima Channiwala from Surat East and Jumna Isha from Bhuj. Babi lost by more than 30,987 votes in 2007 Assembly polls from Junagadh.
Stating that she had already submitted the list with the background of aspirants to the state and national party leadership, Patel said she had insisted for fielding at least 26 women in the upcoming Assembly polls.
"But it is for the party leadership to decide because winnability will be the most important factor since this is going to be a very crucial election," said Patel. In 2007, she said, the party had fielded seven candidates and only one of them, Chandrikaben Bariya, had won. Bariya was elected from Limkheda.
http://www.indianexpress.com/news/women-flood-cong-with-pleas-for-tickets-in-gujarat/1030571/
---------
URL: https://newageislam.com/islam-women-feminism/libyan-women-activists-welcome-posting/d/9290