New Age Islam News Bureau
29 Jul 2012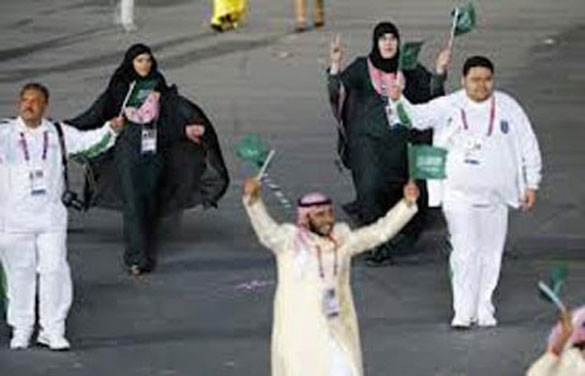 • Is Medicated Prevention of Menstruation Ok To Observe Ramadan Fast
• Turkish Talk Show Host Creates Polygamy Stir
• Saudi Arabia Threatens To Withdraw From Olympics over Headscarf
• Muslim States Urged To Use Diplomatic Pressure to Stop Abuses against Women
• English Law Is Fair To Women, Not 'Unfair' To Muslims
• Gunmen Kill Five Iraqi Women of One Family
• 'Immoral Police' Strike Again In Mangalore
• Women Karate Programme Takes Break To Honour Ramadhan
• Hijab Day Hopes To Dispel Muslim Misconceptions
• Saudis Hail Women in Olympics Parade Despite Men First
• Deadly Virus of Violence against Women
• Female Voters in Pakistan Remain Scarce As Women Mps Look Away
• The Great Muslim Cover Up
Compiled by New Age Islam News Bureau
Photo: Saudi Arabia threatened to withdraw from Olympics
URL: https://newageislam.com/islam-women-feminism/is-medicated-prevention-menstruation-ok/d/8087
--------
Is Medicated Prevention of Menstruation Ok To Observe Ramadan Fast
Fatwa section of the Department of Islamic Affairs and Charitable Activities in Dubai answers all your key Ramadan queries
By Mohammed Al Sadafy/Majorie van Leijen
July 29, 2012
Can a woman take medication to prevent menstruation so that she is able to fast all the days of Ramadan?
The Fatwa section of the Department of Islamic Affairs and Charitable Activities in Dubai says nothing is wrong if a woman uses medication to prevent menstruation, unless it is harmful to her health.
This method is permissible with a view to be able to fast with Muslims in general to avoid the hardship of fasting alone.
What is the correct way of fasting for pregnant women?
Upon consultation of the Islamic Affairs Authority, which issues fatwa's to UAE residents, on the correct behaviour of a pregnant woman during Ramadan, it said: "With regard to the pregnant woman it is permissible for her not to fast if she fears harm might affect her and/or her baby."
However, when there is no harm or fear of harm of the pregnant woman and/or her foetus it is better to fast, because of the blessing of Ramadan and the performance of the ritual at this time, it added.
The correct behaviour of a pregnant woman during Ramadan falls in line with that of all people who do not feel well, as pregnancy is considered a form of not feeling well and Allah has lifted the burden for those who do not feel well.
The same accounts for the woman who is breastfeeding.
As for the proper action as a result of breaking the fast there are different interpretations related to different scenarios.
All schools of Islam agree that when the woman breaks the fast because she fears harm will inflict on her, she is considered a person unwell. This means that she is required to make up for the days that she has missed before the next Ramadan.
A lady who is pregnant asked the Authority for advice on how to correctly make up for her missed fasting days.
The Authority answered: "You have to make up and re-fast the days of the previous Ramadan, but in case you are not able to re-fast these missed days before the next Ramadan there is nothing wrong, 'inshallah'.
"Meanwhile, if you need to break the fast during Ramadan because of another pregnancy or because you are breastfeeding, there is also nothing wrong and you can re-fast some other time, even during the years to come."
How do fast-food outlets survive in Ramadan?
Even though business falls by more than half during Ramadan, some restaurants, especially ones in the highly competitive field of fast-food, spend thousands of dirhams in permits to keep their delivery counters and order-lines open during the day - just so others cannot steal their loyal clients.
"There is not too much of a benefit here," explains Lana Ibrahim, marketing officer of Burger King in the UAE. "But we do it for our customers."
Burger King keeps open the outlets at airports, the outlets that have a drive-through and the delivery service restaurants in all places but Abu Dhabi and Al Ain.
"I think there are a total of 36 to 38 outlets in the UAE that are staying open this year," tells Lana. "Mostly these are restaurants with delivery services. We have many non-Muslims who would still like to make orders, so we cannot close our hotline."
To keep open a food outlet during Ramadan in Dubai a permit is required. This permits costs around Dh6,000 per restaurant. Keep in mind the drop in customers, and one might wonder if it is worth opening at all.
"During Ramadan we basically work to pay back the money spend on this permit," tells Regino P. Santiago, assistant-operational manager of Subway.
"There is not really a way we can compensate for the decrease in profit. But we have a lot of non-Muslim customers, who would still like to eat from Subway during Ramadan. So we stay open every year."
Lana says that even though the profit is less, there is a slight increase in delivery orders, as people have fewer options on the street.
According to Toufiq Othman, who has been working in the UAE food industry for years, it is a matter of customising your restaurant to both the local law and the local culture.
"We need to respect the Islamic traditions of this country. But I would not support to close down all restaurants because there are people who do not fast and they need to be able to get food. So a solution where restaurants are open, but only for take-away and delivery orders is a good one. Nobody will eat in public, but people can still get their food," he says adding that most restaurants act accordingly.
Although take-away and delivery orders are not part of the mall food court, some outlets have turned their food court restaurant into a take-away place during Ramadan daytime.
"We have about 300 customers a day during Ramadan. Normally we count 600-700, or 1,200 in the weekends," says a floor-manager of Burger King Dubai Mall.
What if you break the fast early by mistake?
What must one do if one breaks his Ramadan fast after hearing the 'azan' on the radio, only to find out later that the call to prayer was given 15 minutes ahead of the right time?
According to the fatwa section of the Dubai Department of Islamic Affairs and Charitable Activities, if anyone breaks the Ramadan fast by mistake, as in this case, he should fast again on another day to make up for the lost day.
In the fatwa section's view, no one should break his fast unless he is sure that the call for Maghreb prayer has been given.
Can a diabetic in the UAE fast?
People with Type II diabetes should consult their doctor about fasting
For people with certain health risks, extra caution is therefore needed and they should carefully consider fasting during Ramadan.
According to the Fatwa Department of Islamic Affairs and Charitable Activities in Dubai, a person suffering from a disease and finding it difficult to fast, is permitted not to fast.
When this person recovers from the disease he must re-fast the missed days when he was not well, that is, the days on which he broke the fast.
If the disease is chronic, it is allowed for this person not to fast at all and this does not require a medical report because that person is the only one who determines his ability to fast.
An estimated 19 per cent of the UAE's population suffers from diabetes, making it the largest health-risk group.
People suffering from Type II diabetes are especially at risk of health complications during the month of fasting, say health experts.
Where, when should a traveller break fast?
In one travels from Dubai to Abu Dhabi when fasting, and one breaks the fast after hearing the Azan of Maghreb on Dubai Radio.
However, it is not yet time to break the fast in Abu Dhabi.
Does such a person have to fast again on another day to make it up?
The Fatwa Department of Islamic Affairs and Charitable Activities in Dubai says the fasting traveller has to break his fast according to the timing of the place where the sun sets, and not according to the timing of the place where the fast began.
Therefore, in this case, the fast will have to be undertaken on another alterative day.
The fast should have been broken as per the timings of Abu Dhabi, which is four minutes later than Dubai.
Praying at home
If one keeps the fast, but prays at home without a serious reason not to go the mosque, is the fast acceptable or not?
The Department of Islamic Affairs and Charitable Activities says that the prayer with the congregation (Jamaha) at the mosque is a necessity.
For the Muslim who is fasting and praying at home his fast will be accepted, but he must pray at the mosque as well.
The department said the prayer in congregation (Jamaha) or praying alone will not effect on the acceptance of fasting, but one should be sure to attend the prayer in Jamaha during Ramadan and other months as well.
Using asthma sprays during fasting
An asthma patient has asked whether the Shariah permits use of medical sprays during fasting in Ramadan.
According to the fatwa section of the Department of Islamic Affairs and Charitable Activities, if the asthma patient uses a medical spray during fasting, it may go from the nasal cavity to the throat which will make fasting invalid and make re-fasting for this day necessary.
If this happens, he has to continue to refrain from eating, drinking and smoking for the rest of the day to show respect for the holy month and people who are fasting.
If an asthma patient is cured of the ailment, he should re-fast the missed days. If he has not been completely cured, he should re-fast on days when he is not suffering from asthma.
If he is a life-long asthma patient, it is no sin if he could not re-fast the missing days because his mistake was not deliberate. But it will be a sin if he did not re-fast despite being able to later.
http://www.emirates247.com/hala-ramadan/hala-ramadan-is-medicated-prevention-of-menstruation-ok-2012-07-29-1.468126
-------
Turkish Talk Show Host Creates Polygamy Stir
By Dorian Jones
ISTANBUL, July 29, 2012, In Turkey, a well-known women's talk show host has provoked ire among some Turks by offering a friend as a second wife to her husband. The overture thrust polygamy into the national spotlight.
"You have no shame! You are defending adultery," a woman shouted at Sibel Uresin, an Islamic media personality, during a televised discussion program.
"I get lots of calls people asking me if their husbands can get another wife, what if their husband wants to marry again or if I would be the second wife of a man," Uresin said, defending her controversial stance on polygamy. "I brought this to my husband. I said I have this single friend and I told my husband I am just curious, if you want to marry her I give you my consent, do you want this?"
According to Uresin, her husband declined.
But the controversy has opened up a much wider debate over polygamy. Under the Koran, a man is permitted to take up to four wives. However, since the foundation of the secular republic in 1923, polygamy has been illegal in Turkey.
Still, women's rights advocate Pinar Ilkkaracan, who has carried out research on polygamy, says it remains a common practice with Imams performing polygamous marriages.
"In our research in the south and southeast of Turkey we found that about 11 percent are polygamous marriages," Ilkkaracan explained. "But it's definitely a problem in the west. You find polygamous marriages in the big cities of Ankara, Istanbul and Izmir. It's a huge problem for women because the second, third or fourth wives in a polygamous marriage, they don't have any rights in a marriage. That means women have absolutely no right to an inheritance. In the case of a divorce, absolutely no rights – even to child custody, let alone any payments from the husband and so on."
Full Report at:
http://muslimvillage.com/2012/07/29/25834/turkish-talk-show-host-creates-polygamy-stir/
-------
Saudi Arabia Threatens To Withdraw From Olympics Over Headscarf
JULY 28, 2012
"Saudi Arabia have threatened to withdraw from the London 2012 Olympic Games unless female judo athlete Wujdan Shahrkhani is allowed to wear her headscarf in competition.
The International Olympic Committee has organised an urgent meeting with Saudi Arabia national Olympic committee officials, the international judo federation, and London Olympic organisers to try and avert the Saudi withdrawal.
"Yes we have heard that the Saudis are not happy and we will have an urgent meeting, certainly in the next two days," an IOC spokesperson told Telegraph Sport.
The issue is particularly sensitive as the IOC president Jacques Rogge had spent many months attempting to ensure Saudi Arabian women were participating in the London Games, despite initial reticence by the Saudi royal family.
Saudi Arabia had been the only country which appeared not to be sending any female athletes to the Games.
But just weeks ago, the IOC announced that two female athletes would represent Saudi Arabia at the Games: Shahrkhani in judo and Sarah Attar in track and field.
At the time the Saudis said the women could compete only if they were allowed to wear appropriate Muslim clothing.
However, those plans were thrown into chaos on Thursday night when International judo Federation president Marius Vizer said Shahrkhani could not fight with a headscarf.
He said that the decision was a result of safety concerns and also "according to the principles and spirit of judo."
Judo spokesman Nicolas Messner said the hijab could be dangerous because the sport involved strangleholds and chokeholds.
However, judo federations within Asia have allowed Muslim women to wear hijabs."
http://current.com/community/93855993_saudi-arabia-threatens-to-withdraw-from-olympics-over-headscarf.htm
--------
Muslim States Urged To Use Diplomatic Pressure To Stop Abuses Against Women
By: APP |
ISLAMABAD, July 29, 2012, Islamabad Bar Association (IBA) passed on Saturday a resolution unanimously to condemn Myanmar Muslims' massacre here at Islamabad District Court (IDC).
In the meeting, the legal fraternity condemned the brutalities of Myanmar government against Muslim community and appealed the Muslim countries including Pakistan to build up diplomatic pressure on Myanmar to stop its atrocities on Muslim population and protect their fundamental human rights on immediate basis. President Islamabad District Court Bar Association (IDCBA) Syed Javed Akbar Shah Mashhadi chaired the meeting and informed that 700,000 Muslims were living in Myanmar and on monthly basis, Myanmar government murdered 20,000 innocent Muslims without any logical reasons.
He stated that on this heinous crime, UN as well as national and international media had become a silent spectator. There were no one who could raise its voice against brutal murderers of Myanmar muslim people. Speaking on the occasion, IDCBA General Secretary Chaudhry Muhammad Ayyub Arbab Gujjar apprised the lawyers community that in recent riots of Myanmar 30,000 Muslims had been slaughtered, 10,000 had been missing, 5,000 muslim women had been raped and moreover, 17 Muslim towns had been set on fire.
He said in dismay that this was a shameful act for all human being on the globe and the International Bar Association had to take a serious notice of it and above all provide its helping hands to ease tension between Muslims and Buddhists of Myanmar. In the end, the lawyers also decided to raise funds for financial support of victimised Muslims lying at the borders of Myanmar and Bangladesh because they were in dire need of it.
http://www.nation.com.pk/pakistan-news-newspaper-daily-english-online/islamabad/29-Jul-2012/muslim-states-urged-to-use-diplomatic-pressure-to-stop-abuses
--------
English Law Is Fair To Women, Not 'Unfair' To Muslims
By Alasdair Palmer
28 Jul 2012
This country recognises the equal rights of husband and wife in a divorce, so will not recognise a prenup agreement that is unfair to the woman
Like many men who divorce, Dr Zaid Al-Saffar thinks the amount that the courts have ruled he must pay to his ex-wife is outrageous. But he has a further complaint. He thinks that "family law in this country is biased against Muslim people".
He and his wife formalised their marriage according to Islamic law, and he expected their relationship to be governed by those rules. They even made a "prenuptial agreement" which specified that, in return for his paying her a sum of money when they married, she would give up her rights to a share of their home. Dr Al-Saffar was furious when England's courts ruled that the agreement didn't count, and he had to pay his wife half the value of the house they had shared.
After all, English law allows Beth Din courts to settle disputes between Orthodox Jews according to Jewish law. Why wouldn't the English courts let Islamic law decide what Dr Al-Saffar should pay his wife? It was just another example of anti-Muslim prejudice: other religions are allowed to regulate marriages by their own rules – but Muslims are not.
Does Dr Al-Saffar make a fair point? The short answer is no. In 2010, the Supreme Court recognised the validity of pre-nuptial agreements that vary the division for marital property from the 50-50 split that the English law says should be the basis of every divorce. But they did so with important caveats: if there was evidence that one party had been pressurised into signing an agreement that disadvantaged them, or if the courts just thought the agreement was unfair, then a "pre-nup" would not be valid, and the settlement would revert to an equal division.
Dr Ziba Mir-Hosseini, an expert on Islamic family law, points out that Muslim law on marriage is "fundamentally patriarchal". "It suits the interests of men rather than women," she says. Central to Islamic marriage law is the wife's duty of submission to her husband, which he purchases by agreeing to provide for her for the duration of the marriage. He can divorce her if she refuses to submit to his will.
Full Report at:
http://www.telegraph.co.uk/relationships/divorce/9434099/English-law-is-fair-to-women-not-unfair-to-Muslims.html
----------
Gunmen Kill Five Iraqi Women Of One Family
Local Editor
29-07-2012
Gunmen shot dead a woman, her three daughters and her daughter-in-law in the Iraqi city of Samarra on Saturday evening, security and medical officials said.
The women were killed at a house in Al-Shuhada area of Samarra, north of Baghdad, after iftar, the meal in which Muslims end their daily fast during the holy month of Ramadan, a police lieutenant colonel said.
The source said the gunmen were targeting the older woman's husband, Hamid Majid, who is the director of a school in Samarra, but that he was not there at the time.
A medical source at Samarra hospital said it had received the bodies of five women who had been shot dead.
The latest violence comes after Iraq suffered a spike in unrest in June, when at least 282 people were killed, according to an AFP tally based on figures supplied by officials and medics.
Violence in Iraq has declined sharply from its peak in 2006 and 2007, but attacks remain common.
http://www5.almanar.com.lb/english/adetails.php?eid=63031&frid=23&seccatid=24&cid=23&fromval=1
-------
'Immoral Police' Strike Again In Mangalore
Mangalore, July 29, 2012, The port city's ugly side came to the fore once again with several young people, manhandled and assaulted by about 50 workers of Hindu Jagran Vedike on Saturday at a so-called 'rave party', in a suburban resort, mirroring a similar assault by Sri Rama Sene on young women coming out of a pub, four years ago.
Sources said about 50 members of the Vedike, an RSS outfit, raided the resort situated at Padil at around 7 pm, and assaulted four women and two men at a birthday party.
A young woman was slapped when she tried to question the members of the outfit.
Others who pleaded 'Please leave us, we did not do anything', were dragged and forced to show their faces to the camera.
Jagran leader Subhash admitted his outfit was involved in the raid. DYFI state vice president and DK president Muneer Katipalla demanded members of saffron outfits be arrested under Goonda Act.
Moral cops party poopers
As moral policing returned to Mangalore with guests at an alleged rave party being assaulted by members of the Hindu Jagarana Vedike, Mangalore city mayor Gulzar Banu condemned the manhandling of the girls during the raid by the outfit.
"I am saddened by this incident in which girls were manhandled. Such moral policing can only bring a bad name to Mangalore city. The activists should have brought the party to the notice of the authorities instead of taking t hings into their own hands," she said.
While about 50 workers of the Hindu Jagarana Vedike barged into the party at around 7pm and allegedly manhandled and assaulted the guests, the police had to resort to a lathicharge to control the mob outside.
While one of the girls chased and attacked tried to stand up to the members of the outfit, she was slapped and another had her face thrust into the camera when she tried to escape, according to sources.
One of the boys tried to explain that he was celebrating his birthday, but he too was slapped, sources said. Later the four boys and two girls attending the party were handed over to the police who rushed to the spot.
While acknowledging the raid, Jagarana Vedike leader, Subhash, denied the outfit had assaulted any of the guests at the party.
"Similar parties have been held at this resort for several days and although the local people have complained about them to the local authorities, nothing was done. Today our workers went to the resort and brought the party being held there to the notice of the police. But we did not assault anybody," he claimed.
A resident of Padil confirmed that similar parties had been held at the resort recently.
"Today people near the resort noticed that boys and girls in their early twenties were misbehaving at a party there. The news spread and some people went inside to take them to task. We don't want such illegal activities and parties in our village," he said.
Meanwhile, condemning the incident, DYFI state vice president and DK president, Muneer Katipalla demanded the arrest of the members of the saffron outfit under the Goonda Act.
"This is proof that incidents of moral policing still exist in the region. Instead of controlling such moral policing, the authorities and the police are only supporting them," he charged.
http://www.deccanchronicle.com/channels/nation/south/%E2%80%98immoral-police%E2%80%99-strike-again-mangalore-643
-------
Women Karate Programme Takes Break To Honour Ramadhan
BY STAR REPORTER
28 JULY 2012
Karate instructor Kaizer Karimbhai has suspended training programme for women karateka due to the ongoing fasting month of Ramadhan. The programme is aimed at equipping women with self-defence skills in martial arts. "We've suspended the programme to allow Muslim faithful to observe the month of Ramadhan," said Karimbhai.
Karimbhai has over years been running martial arts classes every Saturday (8.30am to 9.30am) with the view to equip women, who are the weaker gender, with self-defense skills. The programme started as a self-defense training program to ward off muggers and attackers but has since become a forum for developing basic skills in karate, judo and aikido. Young women involved in the programme confess the training has helped them reduce weight, improve blood circulation, develop instinct and remove tension. The fortunate martial art exponents are trained by Karimbhai who is senior black belt karateka and black belt holder Lucy Karobia.
http://www.the-star.co.ke/sports/sports/87120--women-karate-programme-takes-break-to-honour-ramadhan
-------
Hijab Day Hopes To Dispel Muslim Misconceptions
July 28, 2012
MINNEAPOLIS (WCCO) - Faith was a big discussion point throughout downtown Minneapolis on Saturday. About 50 volunteers joined a young women's Muslim group to walk up and down Nicollet Mall in honor of Hijab Day.
Hijabs are the traditional head covering worn by Muslim women.
Organizer Fatuma Mohamed said there are many misconceptions about the Muslim religion and traditions, which she hopes to dispel.
"Why bother? Because we live here. We're not going anywhere. This is our home essentially, so why not know your neighbors, as they say?" she said.
The women's group said the people they talked with in downtown Minneapolis were very welcoming to the idea, and seemed excited to learn about the Muslim community.
http://minnesota.cbslocal.com/2012/07/28/hijab-day-hopes-to-dispel-muslim-misconceptions/
--------
Saudis Hail Women In Olympics Parade Despite Men First
July 28, 2012
Riyadh: Saudi commentators on Saturday hailed the first ever participation of women from the ultra-conservative kingdom in the Olympics, but criticised placing female athletes behind the men in the opening ceremony.
"The kingdom is shining with its sons and daughters in London," wrote columnist Jamal Khashoggi on his Twitter page.
"Finally, the Saudi team has men and women," wrote female journalist Haifa al-Zahrani on her page.
Saudi Arabia, which applies a strict version of Islamic sharia law and imposes constraints on women, agreed to send women athletes to the Olympics on condition that they respect a strict dress code.
During Friday night's opening ceremony at the Olympic stadium in London, the two women, judoka Wojdan Shaherkani and US-raised 800m runner Sarah Attar, walked behind their male colleagues in the Saudi team.
"Saudi women came behind, while other delegations had women in the front, with some even carrying the flag," lamented rights activist Manal al-Sharif.
Mr Sharif has become a symbol of Saudi women's struggle to be allowed to drive after being arrested last year for getting behind the wheel.
"Saudi Arabia will remain in the back seat as long as its women are in the back seat," she wrote.
Not everyone in Saudi Arabia greeted the move as a step forward.
People who opposed female participation in the Games started a Twitter hashtag saying "Stop women participation in the Olympics," while others went even further with the hashtag "The prostitutes of the Olympics."
Saturday's Saudi newspapers did not report the landmark participation of women in the Olympics amid poor coverage of the opening ceremony, possibly due to the time difference with Britain.
Princess Bassma bint Saud bin Abdul Aziz cheered the Saudi team, but also wondered: "I don't understand how men walked in before women!"
Some Tweeters posted a picture of Attar wearing the traditional black abaya cloak and brandishing a Saudi flag during the parade.
The country's most senior sports official, Prince Nawaf bin Faisal, had said that women would be allowed to compete so long as they were "wearing suitable clothing that complies with sharia."
He also added other stipulations, including that "the athlete's guardian agrees and attends with her," and that "there must also be no mixing with men during the Games."
However, men and women share the judo training venue, the warm-up area in the competition arena and also fight side-by-side on the various mat areas.
On Thursday, the International Judo Federation banned Shaherkani from wearing the Islamic hijab headscarf during her bouts, triggering a complaint from the Saudi delegation.
http://www.ndtv.com/article/world/saudis-hail-women-in-olympics-parade-despite-men-first-248651
--------
Deadly Virus Of Violence Against Women
July 29, 2012
THERE is no denying the fact that despite policy interventions by the Government in different spheres of life and change in the societal behaviour due to increasing awareness, deadly virus of violence against women is still there and needs to be eliminated through more focused and concerted actions. One of the surest ways to check violence against women is their legal, economic and social empowerment and in this backdrop the announcement of President Asif Ali Zardari to appoint women judges in the judiciary for their protection from all kinds of exploitation and violence is the step in the right direction.
Violence against women is not a Pakistan-specific issue as some NGOs are trying to portray because women are prone to varying degrees of violence and discrimination in almost all societies but the problem prevails in somewhat crude form in our country especially in rural and tribal areas. Steps taken during the last few years like increase in number of reserved seats for women in legislatures, their effective presence at gross-roots decision-making ie local bodies institutions, equal educational and employment opportunities and their economic empowerment through programmes like Benazir Income Support Programme as well as legislation against domestic violence have had salutary impact on the overall environment but women are still facing widespread discrimination in a male-dominated society. It is a pity that despite presence of a sizeable number of women law-makers in National Assembly and Senate and Provincial Assemblies we still have highly discriminatory instruments like Muslim Family Law that affords tool to men to mentally torture their wives even after separation as per Shariah. Marriage at an early age is another factor, which predisposes women to violence by intimate partner. Early marriages are a very common practice in the Southeast Asian countries particularly in Pakistan as the girls are considered a social, economical and religious liability on the families, which need to be disposed off as soon as possible. Similarly, women whose dowries are perceived inadequate, by their husband and in-laws, suffer considerably more harassment in the husband's home than do women whose dowries are more substantial. In tribal and rural cultures, the role of woman has been submission, to serve as a commodity and to sacrifice herself for the sake of values determined by man. Marriages for political and tribal peace are common and women are not allowed to marry outside the family for fear of losing ancestral lands. These are just a few examples of what is happening in our society and call for concrete measures to improve the situation.
http://pakobserver.net/detailnews.asp?id=167076
--------
Female Voters In Pakistan Remain Scarce As Women Mps Look Away
By Sumera Khan
ISLAMABAD: July 29, 2012, With the general elections around the corner, a report shows that an estimated 10 million women in Pakistan remain unregistered in the draft electoral rolls.
According to a report provided by the Election Commission of Pakistan, despite constituting 52% of the country's population, the number of female registered voters was far less than men.
The total number of male registered voters is 47.7 million, whereas the number of women registered voters is 36.5 million in the newly-compiled computerised electoral rolls, which will be made public by the end of this month.
This gender schism is consistent in all four provinces and regions, including the federal capital, where the literacy rate is considered to be relatively higher.
While this remains a serious concern, women parliamentarians are notably indifferent towards to the discriminatory figure.
"It was observed during the consultative rounds when the Election Commission did call upon the stakeholders, including civil society members, political parties, UN agencies, media representatives, law enforcement agencies and legal experts, to discuss a revised version of an electoral reforms package before forwarding it to the law ministry, an extremely low participation was apparent among women legislatures in parliament," an official of the Election Commission told The Express Tribune.
The official added that even after the statistics were revealed, no woman parliamentarian took up the issue in parliament or any other forum except for a few seminars.
The women parliamentary caucus, headed by National Assembly Speaker Dr Fehmida Mirza, remains silent over the issue and never sent recommendations on this particular matter.
Anusha Rehman of the Pakistan Muslim League-Nawaz was of the view that, "We need to have credible and authentic data from the relevant department, which clearly indicates the population of the two genders above the age of 18. Till we have credible data, we may not be in a position to raise questions."
She also questioned whether women are really more in number than men in Pakistan or if it was just a fallacy.
Special advisor to the Prime Minister Shahnaz Wazir Ali
refused to accept that women parliamentarians failed to show interest in this regard, and said that, rather, women MPs have rendered a great deal of time and dedication to highlight the issue.
However, a Pakistan Peoples Party MNA said on the condition on anonymity that a majority of women parliamentarians made no personal efforts to get the women in their constituencies registered.
http://tribune.com.pk/story/414498/electoral-rolls-female-voters-remain-scarce-as-women-mps-look-away/
------
The Great Muslim Cover Up
By Daniel Greenfield
July 29th, 2012
Over in Toronto, a Muslim cleric with the unwieldy name of Al-Hashim Kamena Atangana had a great idea. Al-Hashim's idea was for Toronto to pass laws forcing women to wear Burkas. "Cover up or get raped", was the implied message. Toronto only has an estimated 5.5 percent Muslim population so the Toronto Taliban probably won't be getting their way until they have higher double digit numbers, but they can wait.
Meanwhile in Egypt where the population is 90 percent Muslim and the other 10 percent are running for their lives, a new TV channel represents a brave new frontier in Islamic feminism. Maria TV features women giving lifestyle and makeup tips while wearing the Niqab, which covers their faces and leaves only their eyes exposed. According to some Saudi clerics who think that women are only allowed to leave one eye exposed, this makes them either a bold feminist experiment or shameless strumpets.
In a country where Tahrir Square has become synonymous with sexual assault; the Al-Hashim paradigm is taking hold. There are photos of female students at Cairo University from the 60′s and 70′s that showed them dressing like women did in the 60′s and 70′s. But by the time Obama showed up to praise Cairo University as a great representative of Islamic civilization, the cover-up had begun. The question is where will the cover-up end and what will the Cairo University class of 2020 look like? They probably won't have faces, but will they even have eyes?
You can attend a university with your head covered, even with your face covered, but it gets harder to attend class when your eyes are covered. If the trend means anything in a decade Muslim feminism will mean fighting for the right to keep one eye open in a religion that wants everyone to keep their eyes shut.
The liberal West has reacted to the Islamic cover-up with its own cover-up. The Western liberal will run through the gamut of his own civilization's sins before reluctantly admitting that some parts of the Muslim world may not be an ideal place to be a woman, but he immediately reaches for a rolled up copy of the New York Times and uses Tom Friedman's latest report from an airport's luxury lounge in Dubai or Kuala Lumpur as proof that the reforms are coming.
Indeed if you read anything from Tom Friedman, who is expert at writing books about how the world is becoming a global village because it's so ridiculously easy for him to fly anywhere on his frequent flyer miles, that is all he can talk about. Saudi Arabia is constantly being reformed. Why in 1962 it abolished slavery and recently the Saudi king has agreed to let women vote in municipal elections in 2015. This is naturally a big deal in an absolute monarchy that has been ruled by the same family for longer than it had oil companies.
There is no question that King Abdullah is a great feminist. If you doubt that just ask any one of his 13 wives. It may be true that women in Saudi Arabia are not allowed to drive or leave the country without permission from their husband and have their lives controlled by a male guardian; but so long as Tom Friedman has a comfortable seat and an alcohol-free drink whenever he flies to Saudi Arabia, the reports of reforms will keep on coming about this cheerful outpost in our global village.
Full Report at:
http://www.jewishpress.com/blogs/sultan-knish/the-great-muslim-cover-up/2012/07/29/0/
-------
URL: https://newageislam.com/islam-women-feminism/is-medicated-prevention-menstruation-ok/d/8087