New Age Islam News Bureau
26 Jul 2012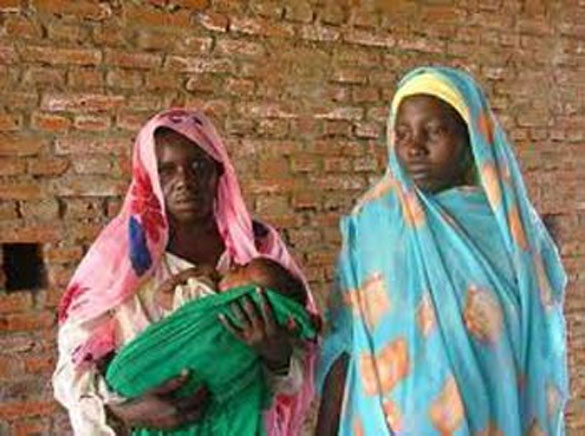 • Afghan Women Imprisoned For 'Moral Crimes'
• As NATO Pullout Looms, Afghan Women Face Uncertain Future
• Egypt All-Veiled TV Aims to Cover Women's Needs
• You Can't Use Sharia Law in Divorce Deal
• Grim Statistics of Unsafe Abortions in Kenya
• Women's Rights and the Dilemma of Arab Spring
• Saudi women walk very different paths to become Muslim country's 1st female Olympians
• How Women Have Already Triumphed at the 2012 Olympics
• Muslim Marriage Registrar: Lone Woman at Male Altar
• Morocco female runner suspended from London Olympics over doping
• Girls outshine boys in Rawalpindi Matric exams
• After singing for 50 years, Pashto singer Zareen Jan is dead
Compiled by New Age Islam News Bureau
Photo: In Sudan, Women Being Stoned For Adultery
URL: https://www.newageislam.com/islam-women-and-feminism/by-new-age-islam-news-bureau/in-sudan-women-being-stoned-for-adultery/d/8060
-----------
In Sudan, women being stoned for adultery
Bikya Masr Staff | 25 July 2012
CAIRO: Women's rights groups in Sudan have confirmed to Bikyamasr.com that women in the country who are accused of adultery are being stoned to death in what they described as "horrific" and "appalling."
According to the SIHA Network, a leading Sudanese women's rights organization, on July 10, a judge sentenced Laila Ibrahim Issa Jamool, 23, to death by stoning for being convicted of adultery.
"Mrs. Jamool, is now being detained, shackled at the ankles with her six-month old baby at her side. The child is understood to be in poor health and Mrs. Jamool is in need of psycho-social support for her distress," SIHA said in a statement.
While uncommon in the country, it is the second such case this year. In April this year, Intisar Sharif Abdullah confessed to adultery after being beaten by her own brother and was sentenced to death by stoning.
In both cases the women did not have a lawyer present in dealing with the charges and were nursing children of breast feeding age.
Article 36(3) of Sudan's 2005 interim Constitution of Sudan states: "No death penalty shall be executed upon pregnant or lactating women, save after two years of lactation."
Abdullah was eventually released after an appeal with the retrial court finding a "lack of evidence" against her.
Responding to Jamool's sentence SIHA issued a statement demanding her immediate and unconditional release and the end to the criminalization of women for adultery in Sudan.
The group has demanded the Ministry of Justice and other relevant institutions investigate and overturn the court ruling.
SIHA's statement outlined that the case was "problematic" under both Sudanese and international law, calling on the "human rights community, The African Union, The Arab League, and United Nations and to oppose this practice and leverage its influence to prevent this act of brutality."
Ironically, Jamool's case has sparked even more outrage among Sudanese women themselves, with many arguing that the woman should not have been charged with adultery, but granted a divorce from her estranged husband.
Although she and her husband have technically been married since 2008, Jamool has not lived with him for over three years after citing domestic violence against her.
They have been in divorce proceedings for the past year, SIHA said.
SIHA Director Hala Alkarib argued that her organization "condemns all forms of corporal punishment", especially those involving the criminalization of personal behavior.
"The victimization of women as the result of complex socio-economic and cultural relationships must be stopped and Sudan must urgently adopt measure and laws that protect and respect the dignity and the human rights of Sudanese women".
"The criminalization of Sudanese women within the current legal framework subjects women to systematic and severe forms of violence and ultimately undermines their humanity and that of the society at large."
http://www.bikyamasr.com/73689/in-sudan-women-being-stoned-for-adultery/
-----------
Afghan Women Imprisoned For 'Moral Crimes'
July 25, 2012
Editor's Note: This is a guest post from the Afghan Women's Justice Project, written by Karen Day.
Last year, Care2 partnered with Afghan Women's Justice Project to change history!
When we created the Care2 petition, none of us imagined our joint efforts would inspire an overwhelming response that made an unprecedented impact on women's rights in the Islamic country.
It began when I wrote an article for Marie Claire magazine about the thousands of women and children imprisoned in Afghanistan for "moral crimes." According to ancient Sharia Law, it only requires the accusation of two men to convict a woman of a crime and send her prison — or death. Her children are also sent to prison with her.
As a humanitarian journalist, I reported meeting girls as young as 11, convicted and sent to jail by male tribal members for baffling crimes like leaving home without a father's or husband's permission, running away from an abusive spouse or refusing to marry your rapist. The accused goes to prison without trial and with her children — or they may all face death.
To date, more than 103,000 people have signed the petition asking President Obama and President Karzai to end the cultural practice of incarcerating women and children without due process. Over 2000 readers made donations by purchasing NOT GUILTY t-shirts, raising $30,000 for Afghan non-profits that supply in-prison literacy teachers, medical services, kindergarten supplies and milk for the children.
Last march, AWJP presented their petition and a documentary film on the subject, IN-JUSTICE to the White House Office of Women's and Girl's Affairs. The film, directed by Clementine Malpas, exposes the tragic story of a twenty-year-old rape victim, Gulnaz, holding her new-born baby daughter and sentenced to jail for refusing to marry her rapist. (Go to www.awjp.org to view the film trailer and learn more.)
In December, news media finally followed Marie Claire's lead and began focusing on Gulnaz's case. Moral outrage grew to a global outpouring. One courageous attorney from the US, Kimberly Motley, stepped up and offered to represent the prisoner pro-bono. Motley's expertise in International Rule of Law, coupled with public and political pressure, helped push for a review of Gulnaz's conviction by President Karzai. The hundred-thousand-plus signatures on the AWJP petition were also presented to the President. In a historic moment, the Afghan President defied thousands of years of cultural tradition by granting Gulnaz and her child an unconditional pardon.
Today, the twenty-one-year-old mother and daughter are free and living in an Afghan safe house. Gulnaz hopes to become a seamstress. AWJP continues to support NGO's , like Child Light Foundation, an American organization that provides travelling nurse-midwives and literacy teachers for the inmates, as well as purchasing baby-formula, powdered milk and school supplies. Progress also continues on a new computer lab inside the VOICE of WOMEN Herat Women's Shelter. Upon release, many former prisoners are shunned by family and community, with no choice but street-begging without the shelter's assistance.
Undoubtedly, public awareness has been heightened in the past year. Lawyers and human rights advocates continue to fight for justice. But the current viral and murderous video of the Taliban shooting a woman accused of adultery at point blank range illuminates the ghastly truth — after a decade of military intervention in Afghanistan, a trillion dollars and countless lives lost — Afghan women still lack the most basic human rights.
I can't forget the story of one eighteen-year-old who recently arrived at a remote prison and immediately gave birth to a baby boy. The girl's mother was there too. Both had run away after the father had raped and impregnated his daughter. The son then killed the father — and was in turn, sentenced to death. The baby boy died three days later, in prison. It's an ongoing tragedy, played out in villages of rural Afghanistan every day. So what can YOU do?
First, realize that by comparison to the above atrocities, Gulnaz's victory may appear a small step forward. Still, it's the first step in establishing due process for all female prisoners. Readers like you made the difference!
Secondly, sign the AWJP Care2 petition. Pass it forward to friends. Our current goal is to accumulate 250,000 signatures to present to the White House Office of Women's and Girl's Affairs in September. Your participation changed history — and we can and will make a difference!
Third, the purchase of $25.00 NOT GUILTY t-shirt buys a week of milk for a kindergarten class. $100.00 pays a month's salary for an in-prison literacy teacher or midwife.
As Motley wrote recently to me in e-mail, "Now, more than ever, Gulnaz needs support." So do all the imprisoned Afghan women and children waiting for their day in court.
You can help support Gulnaz and other women and children in Afghan prisons convicted of moral crimes For more information, visit the Afghan Women's Justice Project website.
http://www.care2.com/causes/media-finally-starting-to-pay-attention-to-afghan-women-imprisoned-for-moral-crimes.html#ixzz21idadeN4
-----------
As Nato pullout looms, Afghan women face uncertain future
Zainab Aqdas
26 July 2012
A few kilometres north of Kabul, a 22-year-old woman collapsed to the ground. The man with an AK-47 gun continued to shoot as the crowd in the background chanted, "Long live the Mujahideen."
The Chicago Summit Declaration on Afghanistan issued by the Heads of State, Government of Afghanistan and Nations contributing to the Nato-led International Security Assistance Force (Isaf) is clear on the 'importance of full participation of all Afghan women in the reconstruction, political, peace and reconciliation processes in Afghanistan.' More recently, the Tokyo Declaration ratified on July 8, emphasised that 'the equality of men and women, enshrined in the Afghan Constitution, will be key to achieving a more pluralistic society in Afghanistan.'
However, there was no mention of targeted commitments or projects to tackle violence against women and ensure progress, in either of the conferences. Nor was a specific budget allotted for this purpose. With such a plan in place, the future of Afghan women seems more uncertain than ever.
According to Shama, a female student at the University of Kabul, Afghan women face hardships throughout their lives. "A woman is trapped. As a child, when she is just 13or 14 she is given off in a forced marriage, mostly in exchange for money. Her husband beats her but she can't run away or seek a divorce as it will then turn her into an outcast in the society and her children will be taken away from her. So instead, she burns herself or commits suicide," she says. The average life expectancy for a woman in Afghanistan lingers at a meager 44 years – one of the lowest in the world.
The nature of this latest video casts many doubts on the future of Afghanistan. While there is no denying that more Afghan girls are attending schools than before, the female mortality rate has gone down to a record low and more women are employed today than they were in 2001; these progressions have been extremely measured. The work of non-governmental organisations (NGOs) and international organisations has been pivotal in the last decade, however, these bodies are presently working under 'war conditions' and with the foreign troops leaving in 2014, it remains to be seen whether the progress of Afghan women would continue to be a top priority.
"This is deep-seated issue and cannot be erased in a matter of years. Before the Taliban rule, half of the working population of Afghanistan comprised women. We were encouraged to go to school and pursue higher studies. In 1996, suddenly I could no longer go to college without a male family member. Women who were doctors and teachers were forced by circumstances to be beggars and even prostitutes. Although the restrictions were lifted in 2001, the damage was done in those five years. Since then, in remote areas where the traditional patriarchal system is the norm, life for most women has barely improved at all, " Shama explains.
The Afghan social structure has been vehemently dominated by religious extremism and tribal nepotism. After a decade of reform, the ideology remains strong. A major step was taken by the Afghan government in support of women's equality by enacting the Law on the Elimination of Violence against Women (EVAW) in 2009. The EVAW law defines 22 different forms of violence against women and punishments for persons found guilty of committing such acts. Judicial officials in many parts of the country have begun to apply the law but its use represents a very small percentage of how the government addresses cases of violence against women.
According to official data, EVAW is most widely implemented in the cities of Herat and Kabul and least in Kunar and Logar. A possible reason for low reporting of violence against women in these border zone cities may be the influence of the Taliban with their oppressive ideology towards women. The reach of the central government in these regions is limited which restricts the availability of civic services such as schools, hospitals, courts, and police forces, compared to the rest of the country. Support programs for victims of domestic violence are lesser in number than in other cities as both local and international non-governmental organisations find it more difficult and dangerous to work in these areas.
"Women in Afghanistan are very humble and religious. In the beginning when I came here, there were no women to be seen in bazaars or on the street. Now they are getting trained to take up positions in the Afghan National Police (ANP). Foreign organisations have also employed more women as victims tend to open up to them better. But even now no comparison can be created between them and women in the west," explains a British soldier deployed in Herat, indicating that there is a long way to go for Afghan women to enjoy the same freedom as women elsewhere in the world.
In March 2012, the Ulema Council's declaration regarding women, and Karzai's reverberation of the same declaration, led many to believe that that Afghanistan is once again moving towards the same era of Talibanisation. Part 1C, Section F of the declaration stated that women 'should avoid mingling with stranger men in various social situations, such as education, shopping, the office and other affairs of life.' Part D goes on to say: 'Men are fundamental and women are secondary; also, lineage is derived from the man.' The declaration, in addition, condemns violence against a women 'without a Shariah-compliant reason' – not addressing the likelihood of domestic violence in response to a Shariah-compliant reason.
President Karzai publicly endorsed the declaration by the Council terming it as "reiterating Islamic principles and values." Many believe that President Karzai's desire to end the Taliban insurgency through peace talks would cost women to compromise their hard-won rights of 2001.There exists a rising fear that if the Taliban are allowed to rejoin the Afghan government and society without accountability for their actions in the last decade, the country would once again see the public stonings, hangings and beheadings that marked their time in power previously.
"If Afghanistan sees a new era with warlords in the governmental system, we can't do anything for women rights as these warlords are the biggest violators and oppressors," says Shama. Her words draw attention to the fact that although women have a higher stake in the outcome of peace negotiations with the Taliban and the development of government policy, their visibility in the process hardly reflects this.
Almost three decades of violence has given rise to a generation of widows and orphans. Dues to low life expectancy and early marriages, the two million widows in Afghanistan are mostly in their 20s or 30s. With 94 per cent of all widows being illiterate and shunned by society; they lead isolated and poverty stricken lives. A major obstacle in their rehabilitation is the conservative Afghan society allowing no males or foreign female social workers to support these widows. It remains to be seen how members of the lowest strata in the Afghan community will fare once the presence of non-governmental organisations and workers declines in the future.
The NATO Senior Civilian Representative, Dominic Medley, claims that Afghan women have made great progress on the socioeconomic and political front since 2001. "There is a government and constitution committed to women's rights; one quarter of MPs are women, and there are women in the armed forces. As long as the government continues to give assurances on this as a priority, women's rights will never be forgotten and certainly as long as the international community is involved, women's rights will not be sidelined," she says.
Her statement is further validated by the fact that under the 2004 constitution, women have de jure rights equal to those of Afghan men. Women constituted approximately 40 per cent of the voters in the 2004 and 2005 elections, and now occupy 68 of the 249 seats in the lower house of the National Assembly. Girls make up one-third of the six million children enrolled in schools.
"We must not and will not surrender the gains made by women in Afghanistan. The relationship with Afghanistan is one of mutual accountability – the protection and advancement of women's rights factors into that relationship. It would be hard to convince taxpayers in our own countries to continue supporting Afghanistan if the rights that are enshrined in the constitution are not protected and advanced," reassures Dominic.
To ensure that the progress continues when foreign involvement and funding ends, initiatives need to be in harmony with Afghan values and frameworks that have local roots and wide acceptability in the society. The year 2014 marks the transfer of authority to the Afghan National Security Forces. More importantly, it calls for a transfer of the same commitment, resolution and institution, for the cause of women's rights, to the people of Afghanistan.
The author is an intern at Dawn.com.
http://dawn.com/2012/07/25/as-nato-pullout-looms-afghan-women-face-uncertain-future/
-----------
Egypt all-veiled TV aims to cover women's needs
26 JULY 2012
A satellite channel run and hosted by fully-veiled presenters aims to break down the barriers for women in niqab who until the revolution that brought Islamists to power were shunned by Egypt's lucrative television industry.
In the studios of Maria TV in Cairo, which were launched on the first day of Ramadan last week, two presenters dressed in stark black, their faces covered but for narrow eye slits and their hands gloved, discuss the editorial content for the day.
The channel named after one of the Prophet Mohammed's wives is run by women and will only feature niqab-clad presenters, in a first for Egyptian television more known for its sexy female soap opera stars.
"The main goal of the channel is to show society that there are women in niqab who are active, who can have a role in society and be successful and be doctors, engineers or successful media personalities," said Abeer Shaheer, the head presenter of the channel.
Until the revolution that toppled president Hosni Mubarak last year and brought a Muslim Brotherhood president to power, women donning Islamic headscarves and particularly full face veils had been firmly kept out of the media.
"We have been oppressed for decades. We are not allowed in certain places, we are treated differently at universities and in government institutions just because we chose to exercise our freedom and add a bit of religion by wearing something we believe conforms with Islam," she told AFP.
Most Muslim women in Egypt wear the higab, which covers the hair, but the niqab, which covers the entire face, is becoming more popular on the streets of Cairo.
But if the face is something that should not be seen, then why not stick to radio?
"That's what some people have said," Shaheer said. "They complain they can't see the face ... or the body language."
"So we say 'when you watch something, it's the content that matters, not what the presenter looks like'," she says in a deep, assertive voice.
Supporters of the niqab say wearing it brings women closer to God but the majority of mainstream Muslim scholars -- who agree a woman must cover her hair -- say the niqab is unnecessary.
Shaheer's colleague, Iman Fahmy, a commerce graduate, is one such advocate of the niqab.
She says the channel could help people become closer to God and "follow the true path."
"The aim of the channel is to get Muslim women and girls to be virtuous, so that they can become virtuous mothers and bring up a virtuous generation that will be efficient in society," said the soft-spoken 28-year old whose black veil is edged with delicate embroidery.
"Human communication is through the eyes," she tells detractors of the channel.
"It doesn't matter what a woman looks like behind the niqab... the important thing is a spirit that can communicate the meanings and feelings."
The channel has heightened fears among some who see it as a further extension of Islamists' reach since the revolution.
The Muslim Brotherhood, from which the new president Mohamed Morsi has emerged, and other Salafi groups won a crushing victory in parliamentary elections.
Others believe the channel is an example of the freedom of speech that the revolution sought to bring about.
"For years, on official Egyptian media, women who wore a headscarf were taken away from the camera and given off-camera work. This channel says women who wear the niqab do exist in Egypt," said Mozn Hassan, executive director of Nazra, a women's studies centre.
"It's important for people to have the freedom to create such channels and say what they want," said Hassan, who does not wear a headscarf or niqab.
Maria TV insists it is not a religious channel, but a women's interest one. "We are a cultural channel. We have children's programmes, sewing programmes, shows on relationships, comedy, politics," said Shaheer.
"We have everything a woman needs."
http://www.france24.com/en/20120726-egypt-all-veiled-tv-aims-cover-womens-needs
-----------
You Can't Use Sharia Law in Divorce Deal
By STEVE DOUGHTY
25 July 2012
Dr Zaid Al-Saffar told he must follow 'the rule in this country'
Ordered to pay £60,000 to his former wife, academic Hanan Al-Saffar
He felt the payments were illegitimate according to Islamic culture
Claims: 'Family law in this country is biased against Muslim people'
A Muslim hospital consultant was told yesterday that he must pay his ex-wife maintenance even though under Islamic rules he believes he owes her nothing.
A judge told Dr Zaid Al-Saffar that he must follow 'the rule in this country' and share his money.
The Appeal Court decision means Dr Al-Saffar must pay £60,000 to his former wife, academic Hanan Al-Saffar.
The ruling sounded a warning to Muslim couples who believe their marriages are ordered according to Sharia law and agree to be bound by Islamic courts.
Lord Justice Ward told Dr Al-Saffar: 'The rule in this country is that you share and the starting point is equal division.
'You came out of the marriage without having made your wife any substantial capital payment.'
He added: 'Life is sometimes hard; do not be consumed with bitterness.'
But Dr Al-Saffar said after the case: 'By playing the system and pretending to be a victim she got everything, which I think is totally unfair.
Full report at:
http://www.dailymail.co.uk/news/article-2179041/You-use-sharia-law-divorce-deal-Muslim-
-----------
Grim Statistics of Unsafe Abortions in Kenya
BY CATHERINE KARONGO, 25 JULY 2012
Nairobi — Young girls in Kenya continue to procure unsafe abortions with 16 percent of them involving women below 20 years of age, according to the Reproductive Health and Rights Alliance.
A member of the alliance, Joseph Karanja who is an Associate Professor of Obstetrics and Gynaecology at the University of Nairobi said on Wednesday that women between the ages of 20 and 34 accounted for another 73 percent of abortions in Kenya.
He attributed this to the lack of sexuality and abstinence education to adolescents.
"Low access to contraceptives and contraceptive choices (among the older age group) is leading to many unplanned pregnancies that are resulting in unsafe abortions," he noted.
In Suba district alone, he said, 80 percent of all unsafe abortions involve girls below the age of 20.
According to the World Health Organisation, unsafe abortion is a procedure for terminating an unwanted pregnancy either by persons lacking the necessary skills or in an environment lacking the minimal medical standards or both.
Professor Karanja also said studies had shown that young girls in Kenya were more afraid of carrying a pregnancy to term than contracting sexually transmitted infections like HIV/AIDS.
"When we talk to some of these girls they say with pregnancy, most people disown you including parents and it is seen as shameful but with HIV you get all the support, counselling and even sometimes get advocacy jobs. So they see that with HIV your life goes on but with pregnancy everything stops, including schooling," he explained.
Statistics indicate that in Kenya 300,000 abortions occur annually and 20,000 of these women end up being hospitalised.
Full report at:
http://allafrica.com/stories/201207260009.html
-----------
Women's Rights and the Dilemma of Arab Spring
Ahmed Shaath for Salem-News.com
Jul-25-2012
Many reform movements with liberal platforms are spreading their message of a secular society...
(SALEM) - One can't help but notice how vocal many groups have become in the Middle East lately. It is hard not to notice that the Arab Spring has given many groups the courage to come out in public and demand with strength what they believe is right for them. From far left to extreme right, movements are becoming more vocal, less tolerant and less obedient to current laws. Anyone in the centre will tell you that society will definitely be torn apart from all this pulling and pushing right and left. After all, these societies are still newcomers to the democratic process and will need to evolve their goals, constitutions and mentalities to support these freedoms without abuse.
Morocco, for instance, has been the center of such recent liberal movements along with Tunisia, Jordan and Egypt. There is a persistent danger of these views being portrayed as mainstream while in reality they are most probably still a fractional minority. How could they possibly be a majority when the Islamic movements opposing them have swept to power in Morocco, Egypt, and Tunisia and the Islamist strongholds are the hotbeds of unrest in conservative Syria and Yemen?
Many reform movements with liberal platforms are spreading their message of a secular society where religion is confined between the person and his god only and all citizens have equal rights regardless of sex, race or religion.
Full report at:
http://www.salem-news.com/articles/july252012/morocco-rights-as.php
-----------
Saudi women walk very different paths to become Muslim country's 1st female Olympians
26 July 2012
LONDON — The two women who will become the first female athletes to compete for Saudi Arabia at the Olympics have walked very different paths that will meet at the London Games.
One is a distance runner raised in California who has spent little time in Saudi Arabia but hopes to become a "big inspiration" for women in the kingdom, which severely restricts women in public life and effectively bans them from sports.
The other practices judo, but she has hardly ever left Saudi Arabia and has never competed.
While Sarah Attar was running cross-country for her high school in the United States, Wojdan Ali Seraj Abdulrahim Shahrkhani was watching judo on television and listening to her brothers talk about it.
Then one day she told her father, a judo coach and an international referee in the sport, that she wanted to train.
"She said, 'I want to be like you, I want to become very good,'" the father, Ali Seraj Abdulrahim Shahrkhani, told The Associated Press in an interview. "I said, OK, you want to train? I will coach you at home."
Full report at:
http://www.washingtonpost.com/sports/saudi-women-walk-very-different-paths-to-become-
-----------
How Women Have Already Triumphed at the 2012 Olympics
JUL 25 2012
Women have been fighting to compete since 1896, and now their moment has finally arrived.
This is the summer of the female Olympian. For the first time, every nation competing will have a woman on its team. In an important milestone, the United States is sending more women than men to compete in London. Even the conservative Islamic state of Saudi Arabia is allowing women to participate. Let's appreciate that it's taken women more than a century of struggle to reach this point.
During the first modern Olympics in 1896, women were completely barred from competition. Nevertheless, a Greek woman named Stamata Revithi decided to unofficially run the marathon anyway, finishing in five and a half hours. (Revithi was truly at the vanguard of women's running--women did not compete in Olympic marathons until 1984).
In 1900, Charlotte Cooper of Britain, a tennis player, became the first woman to win an Olympic medal. Still, for years, women's participation in the Olympic Games was hotly debated. In 1912, Pierre Coubertin, a founding father of the Olympics, opposed plans to expand women's participation to greater numbers of sports, decrying their involvement as "impractical, uninteresting, unaesthetic, and incorrect." Luckily he was overruled; around the world, celebrated female Olympic athletes have upended conventional wisdom about women's abilities and inspired millions.
Full report at:
http://www.theatlantic.com/international/archive/2012/07/how-women-have-already-triumphed-at-the-2012-olympics/260301/
-----------
Muslim Marriage Registrar: Lone Woman at Male Altar
ZEESHAN JAWED
26 July 2012
A 35-year-old mother of two has become Calcutta's first woman Muslim marriage registrar, her achievement made doubly sweet by the acknowledgement that she was better qualified for the post than all the male candidates.
Safia Banu, a graduate in Bengali, had faced opposition from what she calls the "male lobby" when she applied for a vacancy in Narkeldanga in 2009. But she was determined not to give up without a fight.
"I told them: you can disqualify me if I don't fulfil the requirements but don't make my gender an excuse to discriminate against me," Safia, whose husband Abdul Hai Paik is also a Muslim marriage registrar, told Metro.
The resident of Deedar Bux Lane, off Rafi Ahmed Kidwai Road, made the cut through a regular appointment process in which she was treated on a par with the other candidates, all of them male.
"I found her the most deserving candidate and referred her to the judicial department for approval," said Sudhakar Sahu, a former district registrar of South 24-Parganas.
Safia doesn't see herself as a trailblazer; she just wants people to accept that women like her can do a job just as well as men, if not better.
Full report at:
http://www.telegraphindia.com/1120726/jsp/calcutta/story_15773500.jsp#.UBELjGHrqTk
-----------
Morocco female runner suspended from London Olympics over doping
Bikya Masr Staff | 25 July 2012
CAIRO: A Moroccan runner has been suspended from the upcoming London Olympics after testing positive for doping.
The IAAF suspended Mariem Alaoui Selsouli after she reportedly tested positive for the diuretic furosemide during the Paris Diamond League meeting on July 6.
The Moroccan woman had been an Olympic medal favorite after earning a 3 minutes 56.15 seconds in the 1,500 meters, some four seconds below her personal best, at the Paris competition.
"Selsouli has waived her right to the B (backup sample) analysis, and as a result has now been provisionally suspended from all competition in athletics," the IAAF said in a statement.
She "still has the right to request a hearing which needs to be held by the Moroccan Athletic Federation within the next three months. Until such time, the IAAF will make no further comment on this case," the governing body said.
The 28-year-old runner faces a lifetime ban if the second doping offense of her career is proven. Selsouli finished serving a two-year ban last August for using EPO before the 2009 world championships.
http://www.bikyamasr.com/73702/morocco-female-runner-suspended-from-london-olympics-over-doping/
-----------
Girls outshine boys in Rawalpindi matric exams
26 July 2012
RAWALPINDI: Girls outshined boys in the matriculation examination, securing the top three positions, as the Board of Intermediate and Secondary Education (BISE) Rawalpindi on Wednesday announced the result of Secondary School Certificate Annual Examination 2012.
As many as 111,581 candidates appeared in the exams, out of which 68,925 were declared successful with the passing percentage standing at 62 percent.
Seven boys could find place in the top 10 positions in both the science and general groups.
The candidates can check their result on the board's website: www.biserwp.edu.pk.
Wajiha Khan, daughter of Muhammad Fahim Khan, got the overall first position with 1,022 marks. Izza Azam, daughter of Muhammad Azam, got second position with 1,016 marks. Both the girls belong to Asif Public Girls Higher Secondary School, Alnoor Colony, Rawalpindi.
Hafiza Hira Amjad, daughter of Amjad Ali, a student of Saint Paul's Higher Secondary School for Girls, 43-E Haidery Chowk, Satellite Town, Rawalpindi, got third position with 1,014 marks.
Full report at:
http://www.dailytimes.com.pk/default.asp?page=2012\07\26\story_26-7-2012_pg11_10
-----------
After singing for 50 years, Pashto singer Zareen Jan is dead
26 July 2012
PESHAWAR, July 25: Acclaimed Pashto singer Bacha Zareen Jan died after protracted illness here on Wednesday. She was 70.
Born in 1942, at Par Hoti area of Mardan, she became famous after performing on radio, TV and stage. Also recipient of Tamgha-i-Imtiaz, the ghazal maestro was widely known by Pakhtuns everywhere in the world.
She sang some memorable numbers during her illustrious career. In early 1970s, she had become a household name in the province and Federally Administered Areas due to her melodious voice. Music enthusiasts liked her simple style.
Zareen Jan started singing songs for radio at the age of seven. She sang Pashto, Hindko, Punjabi, Seraiki, Urdu and Persian songs. She was fondly called Bibi Gul by her fans. Her elder sister trained her in the art of singing while famed musicians of the time played significant role in her grooming.
Full report at:
http://dawn.com/2012/07/26/pashto-singer-zareen-jan-is-dead-2/
-----------
URL: https://www.newageislam.com/islam-women-and-feminism/by-new-age-islam-news-bureau/in-sudan-women-being-stoned-for-adultery/d/8060