New Age Islam News Bureau
19 Jul 2012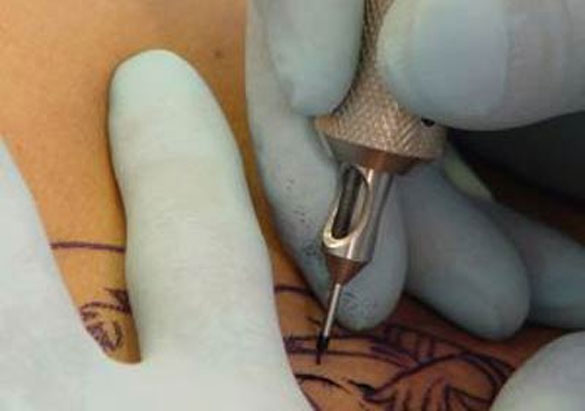 • Saudi Jails Man to One Year in Prison and 200 Lashes for Making Tattoos on Women
• Kashmiri Acid Victim Girl Let Down by Law
• Pakistan Shoves the Quran Down Women's Throats
• Domestic Violence Major Cause Behind Divorces in UAE
• Iranian Actresses Facing Travel Ban for Flouting Islamic Dress Codes
• Governor Urged To Intervene In 50 Muslim Students "Hijab" Controversy
• Religion could boost women's cause
• The feminism behind gender bias
• Fasting Muslim Athletes Face Olympic Hurdle of Ramadan
Compiled by New Age Islam News Bureau
Photo: Saudi Jails Man to One Year in Prison and 200 Lashes for Making Tattoos on Women
URL: https://newageislam.com/islam-women-feminism/in-saudi-arabia,-women-divorce/d/7969
-------------
In Saudi Arabia, Women Can Divorce Husbands Who Smoke
Bikya Masr Staff | 19 July 2012
DUBAI: A Saudi Arabia court has ruled that women can divorce their husbands who continue smoking and cause unnecessary suffering to their wives.
The judge ruled that if women have justifiable health issues as a result of their husband smoking, divorce can be sought.
Appeals Judge Ebrahim Khodairi said comments published in the Arabic-language Saudi newspaper al-Watan that the "legal rules applied in these cases could reach the stage of divorce."
"If a woman married a man and then found out that he is a smoker, and she mentioned in her case that she had, as a result of his smoking, a health issue in the chest and severe allergy, after stating that she didn't want in the first place to marry a smoker because she considered it a fault in the man, their marriage should be ended because of the harm smoking causes and the inability of the couple to continue their life together," Khodairi explained.
But he warned women that they would not be eligible for divorce if they knew their husband was a smoker before inking their marriage contract.
The judge said that if the woman is, for example, married for a number of years to a smoking husband, she has no basis for divorce. The ruling has sparked anger on social networks, Gulf News reported, with many women wondering how they can force their husbands to quit smoking.
"How can I convince my husband to quit smoking?" asked a Saudi woman.
"I have a smoking brother and I can't stand him," noted another man in a sarcastic tone.
"If this is the case, all women will be divorced," wrote a second man, in reference to the high percentage of smokers in Saudi Arabia.
Many women view the ruling as a double-edged sword. While it gives women the ability to divorce, if a woman attempts to get her husband to stop smoking and he does not, there is no recourse for them under the law, leaving them to suffer health consequences as a result.
Saudi government statistics report there are some 6 million smokers in the country.
http://www.bikyamasr.com/73202/in-saudi-women-can-divorce-husbands-who-smoke-sometimes/
-------------
Saudi Jails Man to One Year in Prison and 200 Lashes for Making Tattoos on Women
July 19, 2012
A Lebanese man nicknamed the "tattoo king" has been sentenced to one year in prison and 200 lashes in the conservative Muslim kingdom, a Saudi newspaper reported.
"Investigations revealed the Lebanese had been practicing this job for nine years on a business visa," said Al-Madina.
"At first, he used to receive women in a rented apartment (in the western city of Jeddah) but later he began going to women's homes to draw tattoos on their bodies" to avoid being caught by Saudi religious police, said the daily.
He was finally nabbed by members of the Commission for the Promotion of Virtue and Prevention of Vice (A Hai'a-religious police) in an undercover operation.
"They seized with him a bag in which he carried creams for weight loss, breast firming and for skin whitening," Al-Madina said. They also found on his mobile phone pictures of tattooed women.
The unnamed man claimed the products and tools were for use in his hairdressing shop in Lebanon, but investigators from the Investigation and Prosecution Bureau in Jeddah later found text messages from female customers on his mobile phone, as well as images of women with tattoos and business cards.
Prosecutors said they would appeal for a stronger punishment against the man, who is also accused of having met privately with women in the Gulf state where mixing of the sexes is prohibited, said Al-Madina.
He was caught when the Hai'a enlisted the help of an undercover policeman to pose as the driver of a potential client. The hairdresser was then arrested as he entered the supposed home of the new 'customer'.
Tattoos are not in keeping with Islamic tradition but not officially banned in Saudi Arabia.
http://www.channelstv.com/home/2012/07/18/saudi-jails-man-for-making-tattoos-on-women/
-------------
Kashmiri Acid Victim Girl Let Down by Law
Naseer Ganai
July 19, 2012
SHE waited for justice for seven years but it was all in vain. Gul Naaz came to know earlier this week that a court has exonerated the men accused of throwing acid on her and leaving her disfigured for life.
Her fault: She had dared to open a beauty parlour in Kishtwar district of Jammu.
"Two men who threw acid on me were arrested. They were kept in the police station for a night and released the next day. The case went to the session's court. I was called once to record my statement.
I was told that I'll be called again, but it never happened," Naaz, 34, said.
"The police informed me on Tuesday that the case has been closed and the accused exonerated by the court," she said, adding that she plans to file an appeal against the decision.
In 2006, Naaz, who has three children, opened a beauty parlour in Kishtwar to earn her livelihood as her husband had suffered serious injuries in a traffic accident.
She said two men — Sajjad Ahmad and Liyqat Ali — told her to close down the beauty parlour or she would have to face serious consequences.
" I just laughed at Sajjad, who was also the imam of a local mosque. I thought they were joking.
But one day they executed the threat," Naaz said.
The attack damaged one eye completely.
" Whatever money I had, I spent that on my treatment. All these years I have gone through hell for nothing and those who did it are roaming freely," she said.
Kulbir Singh, additional SP of Kishtwar, said the police filed a chargesheet against the accused some months later. " We don't know what happened in the court," he said.
According to the police, there seemed to be some personal rivalry between the woman and the men, which led to the attack.
' All these years I have gone through hell for nothing and those who attacked me are roaming freely'
Mail Today
-------------
Pakistan Shoves the Quran Down Women's Throats
07/18/2012
Around May this year, the Pakistani media addressed the issue of forced conversions of Hindu girls to Islam. Pakistani human rights activist Marvi Sirmed highlighted the plight of a 19 year old girl, Rinkle Kumari. Comments in the Express Tribune suggest that several people are more concerned about attacking or defending Islam than they are about the welfare of a poor Hindu girl.
This emphasis on ideology over human suffering has been incisively noted by Yann Martel. In his book Life of Pi, Martel indicates that several people who get enraged by slights against God remain unmoved by the plight of widows, lepers, and children living in squalor. It is precisely this misplaced priority of authoritarian legalists that has been questioned by people exploring an expansive theology.
Progressive Muslims would refer to the covenant of the Prophet wherein he specifically admonished Muslim men from preventing Christian women from attending church after marriage. In keeping with the Prophet's warning against violating the rights of People of the Book, usually Christians and Jews, progressive Muslims would emphasize that many Indian Muslim clerics considered Hindus as part of that group.
The 13th century Persian poet Saadi broke all barriers by stating that all of humanity was but one body and that if one limb hurt, the other parts would also ache. The 18th century Punjabi Sufi poet Bulleh Shah specifically stated that both Hindus and Muslims are treated alike in God's court. Tunisian intellectual, the nonagenarian Mohamed Talbi only repeated this perpetual message when he stated that not just Muslims but all of humanity are his people.
On the other hand, literalism and ignorance has enveloped segments of the Pakistani masses and allows them to persecute vulnerable minorities. Aasiya Bibi, a poor Christian woman accused of blasphemy, continues to remain in prison where she finds relative safety from a bloodthirsty mob. If Christians are not safe despite the Prophet's admonition, the case of progressive Muslims on equating Hindus with People of the Book would only fall on deaf ears.
Marvi Sirmed, who has experienced death, threats herself, highlighted how even the Chief Justice of Pakistan disposed of the petition on the forced conversions of Hindus, declaring that there was no need for special legislation for the protection of minority rights. California Congressman Brad Sherman has urged the Pakistani president to ensure the safe return of Kumari to her parents. Will the principle of protecting vulnerable minorities be lost if people frame Sherman's action as western interference?
It is a pity that people are more suspicious about the motives of human rights activists as western agents than they about the fact that the families of these Hindu girls have been unable to meet their own daughters. It is unfortunate that rather than questioning why Hindu students are being forced to take Islamic studies, a prominent religious scholar threatened to take serious steps against the "malicious activity" of Hindus.
Without much question, many have bought the news item that indicated that the conversion of Hindu women was not forced. They seem to have conveniently sidelined the oft discussed issue of intimidation by police, clerics and feudal lords in a country like Pakistan. All that matters for such people is the vindication of Islam as if their faith were a cult to be protected. However, Saadi harrowingly stated that people who had no sympathy for others were not worthy of being called human.
Naturally, people can afford to pass value judgments as it is not the lives of their own daughters and sisters that are at stake here. The situation is pressing especially for the parents of missing Hindu girls. The 13th century Sufi poet Rumi expressed that love alone came to rescue and cut arguments short. As such, would people still engage in meaningless internet drivel if their own daughters were taken away from them never to be seen again?
The Pakistan Hindu Post has an online petition requesting the support of Hilary Clinton in urging Pakistan to prevent further discrimination and victimization of the Hindu community in general, and the forced conversion to Islam of young Hindu girls in particular. However, in the absence of vested interest, will this petition be sufficient to prompt the powers that be to rescue helpless girls?
The Prophet is reported to have stated that keeping good relations with people was better than praying, fasting or charity. Pakistani Muslims in the diasporas can wield much influence through their connections and networks. In the hallowed name of the Prophet, they must help rescue these Hindu girls not because it is politically expedient to do so, but simply based on the recognition that these girls are their own daughters and sisters.
http://www.huffingtonpost.ca/junaid-jahangir/pakistan_b_1681301.html
-------------
Domestic Violence Major Cause Behind Divorces in UAE
19 July 2012
Domestic violence was behind 1,427 divorce lawsuits in three emirates with 114 filed in Abu Dhabi, 669 in Ras Al Khaimah and 644 in Sharjah last year, Fatima Jassim Al Hayas, Director of Women and Children Shelter in Ras Al Khaimah disclosed.
Addressing a workshop on the institutional framework for supporting victims of domestic violence held on Wednesday under the auspices of Mariam Khalfan Al Roumi, Minister of social Affairs, she attributed the low number of cases in Abu Dhabi to the spread of institutions which assume social awareness like Family Development Organisation and social support centres.
Fatima, who is also acting Director of Women and Children Shelter in Sharjah, said that the foremost causes of break up between married couples were desertion, excessive nervousness, insult, physical abuse, skepticism, age disparity, jealousy and weak religious faith.
"Causes that lead to domestic violence make the family adopt alien customs," she said, adding that economic collapse, social pressure, unmatched marriage, alcohol consumption as well as the difference between old and new generations result in creating conflict between partners and eventually lead to domestic violence.
The workshop participants suggested a slew of recommendations with a call for speeding up issuance of laws related to child protection and publishing the names , photographs or personal details of victimised kids in media. They also called for laying down clear provisions in the law making domestic violence a punishable offence within the social framework.
http://www.khaleejtimes.com/nation/inside.asp?xfile=/data/community/2012/July/community_July19.xml&section=community
-------------
Iranian Actresses Facing Travel Ban for Flouting Islamic Dress Codes
By KERRY MCDERMOTT
18 July 2012
Actresses in Iran who fail to observe strict Islamic dress codes when appearing at foreign events could be banned from travelling abroad, the country's attorney general has said.
The comments from Gholam Hossein Mohseni-Ejei appeared to be a warning to Iranian starlets that violating religious rules by leaving their heads uncovered or exposing too much flesh could threaten their movie careers.
Mr Mohseni-Ejei did not mention specific actresses, but he made the remarks in response to questions from journalists that appeared to refer to Leila Hatami, star of the Oscar-winning film A Separation.
According to the Telegraph, when journalists asked him why police were 'confronting' actresses who appeared at awards ceremonies or premieres while wearing the hijab, the traditional Muslim headscarf, Mr Mohseni-Ejei said: 'Regarding this issue, a few people are banned from leaving the country.
'These people have been invited abroad to take part in a ceremony and under the pretext of receiving an award. Then they have been ensnared in certain people's traps.
'Those people, after taking pictures of their baits, forced them to undertake activities and based on the photographs, they have blackmailed their victims and taken them to a place where they shouldn't,' he said.
'Of course, some of these people, after returning to Iran, are banned from leaving the country.'
Full report at:
http://www.dailymail.co.uk/news/article-2175428/Travel-ban-imposed-Iranian-actresses-
-------------
Governor Urged To Intervene In 50 Muslim Students "Hijab" Controversy
July 19, 2012
The principal had reportedly said that "hijab" represented a religion and the rules of the college prohibited the display of religious symbols as it made the students of other communities uncomfortable.
The Karnataka Komu Souharda Vedike (KKSV) has urged Governor H.R. Bhardwaj to direct the Governing Council of the Sri Ramakunjeshwara First Grade College at Ramakunja in Dakshina Kannada to stop implementing its unconstitutional dress code imposed on Muslim women students.
Addressing a dharna organised by the vedike in front of the taluk office here on Wednesday, KKSV district unit president G. Rajashekhar said the principal of the college Vasanth Rao had objected to 50 Muslim women students wearing the "hijab" and did not allow them to attend classes.
Full report at:
http://www.thehindu.com/news/cities/Mangalore/article3657003.ece
-------------
Religion could boost women's cause
By Eva Sajoo
July 19, 2012
Enlisting support of religious figures may be reformers' best weapon in breaking down gender barriers
After more than a decade in Afghanistan, Canada has declined to extend its military mission past 2014. But at the Tokyo Conference on July 8, we did make a different pledge: a financial commitment to the future of Afghanistan — its women and girls.
The list of needs in that country is very long, and among all the areas in need of support, it can be hard to choose. But by focusing on women and girls, Ottawa has made a canny decision. The impact of educating girls has vast ripple effects on children, families, communities, and eventually, countries. It is among the most effective mechanisms of change — and this understanding is reflected in the international development community with Plan International's "Because I am a Girl" campaign, and the 2010 creation of UN Women.
The potency of educated women is also why women and girls are the target of reactionaries, as well as reformers. Although Afghanistan officially recognizes women's rights by signing documents like the Convention on the Elimination of all forms of Discrimination and violence Against Women (CEDAW), in practice these rights often remain fictional.
Full report at:
http://www.vancouversun.com/life/Tactical+change+necessary+retain+video+game+industry
-------------
The Feminism behind Gender Bias
July 19, 2012
Regardless of whether you believe in the word 'feminism' or not, it is important to understand the context of it. Feminism has been associated with highly negative connotations such as 'a career-obsessed woman', an 'un-Islamic' woman and the woman who loathes men.
Gender is a socially constructed dogma that is deeply rooted in most cultures and societies around the world; it has the power of shaping our identities from cradle to grave.
Sady Doyle noted in her article "Don't worry, be unhappy" that,
"The basic point of the movement has always been that women and men are more similar than they are different, and that it is unjustified to assign limited roles in terms of family systems, social power and status based on something as biased as gender, rather than talent or intelligence or work ethic".
In reality, it is as simple as telling a baby boy that 'boys don't play with dolls' or telling a man, 'don't cry like women'; this makes it clear that it is not that girls know by birth that dolls are for girls – it is how they are conditioned to believe.
Likewise, when men want to cry in their times of loss and despair, they are forced to control their tears through aggression, because from birth they have been told that crying is a girl's prerogative.
Full report at:
http://blogs.tribune.com.pk/story/12474/the-feminism-behind-gender-bias/
-------------
Fasting Muslim Athletes Face Olympic Hurdle of Ramadan
18 JULY 2012
Avoiding food and water for around 16 hours a day would not normally be in the training manual for any successful athlete. But hundreds of competitors at London 2012 are getting set to bid for gold while doing just that.
Up to 3,000 Muslim sportsmen and women may have to make the challenging sacrifice because this year's summer Olympic Games coincide with the festival of Ramadan.
Ramadan requires Muslims to observe a month of fasting from sunrise to sunset, meaning no food or even water can pass their lips while the sun is up.
Although exceptions are made for young children, pregnant women and the sick, athletes competing in the 36 sports at London 2012 will for the most part not be exempt.
One of those competitors will be Algerian runner Mohamed-Khaled Belabbas, who will compete in the 3000m steeplechase event.
"I will not be disadvantaged"
For Belabbas, a practicing Muslim, respecting his religion is more important than sport. "I will fast like I always have. It will not be a novelty for me," he said. The athlete believes he will not be disadvantaged because of Ramadan, but will simply feel more exhausted once he crosses the finish line.
Full report at:
http://sfluxe.com/2012/07/18/olympic-games-2012-fasting-muslim-athletes-face-olympic-
-------------
URL: https://newageislam.com/islam-women-feminism/in-saudi-arabia,-women-divorce/d/7969