New Age Islam News Bureau
3 Nov 2015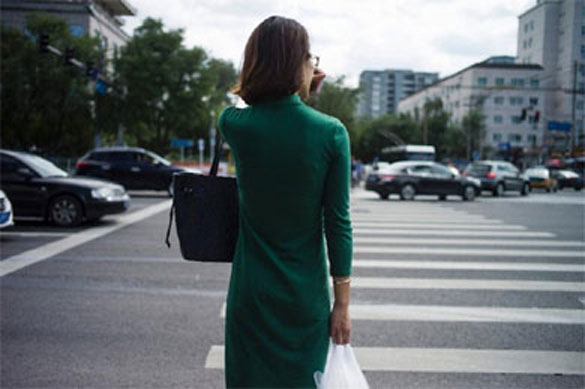 From self-help books to mass matchmaking events, there is now a mini industry dedicated to help the "shengnu", or leftover women, in China (AFP Photo/Fred Dufour)
----------
• Saudi HRDF Adopts Strategies to Boost Job Chances of Women, Fresh Grads
• Chinese Girl Reaches Pakistan in Search for Beloved
• SR35, 000 Bank Balance 'A Must' To Hire One Maid
• UK: Bake-Offs, Hijabs, and Attacks against Muslim Women
• Malaysian Education Ministry to Investigate Video of Students Hugging, Kissing
Compiled By New Age Islam News Bureau
URL: https://newageislam.com/islam-women-feminism/graphic-video-shows-afghan-woman/d/105146
------------
Graphic video shows Afghan woman stoned to death for eloping
3 November 2015
A young Afghan woman who was married against her will has been stoned to death by extremists after she was caught eloping with another man, local officials told AFP Tuesday.
Graphic video of the stoning shows the woman, named as Rokhsahana and aged between 19 and 21, in a hole in the ground as men almost casually hurl stones at her with sickening thuds.
Rokhsahana can be heard repeating the shahada, or Muslim profession of faith, her voice growing increasingly high-pitched in the nearly 30-second clip run in Afghan media. Local authorities confirmed the footage.
The killing took place about a week ago in Ghalmeen, an area some 40 kilometres (25 miles) from the Ghor provincial capital of Firozkoh, governor Seema Joyenda said.
Rokhsahana had been "stoned to death by Taliban, local religious leaders and irresponsible armed warlords," Joyenda told AFP.
Joyenda, one of Afghanistan's only two female governors, said that according to authorities' information Rokhsahana's family had "married her to someone against her will and she was eloping with a man her age".
She condemned the stoning, calling on Kabul to take action to "clean the area".
"This is the first incident in this area but will not be the last. Women in general have problems all over the country, but especially in Ghor... The man with whom she was eloping has not been stoned."
Ghor police chief Mustafa Mohseni told AFP that the incident happened in a Taliban-controlled area, confirming that it was the first such incident "this year".
http://english.alarabiya.net/en/News/middle-east/2015/11/03/Graphic-video-shows-Afghan-woman-stoned-to-death-for-eloping.html
------------
Saudi HRDF Adopts Strategies to Boost Job Chances of Women, Fresh Grads
Nov 3, 2015
Fatima Muhammad
Saudi Gazette
JEDDAH — The Human Resource Development Fund (HRDF) will soon implement new strategies to increase employment opportunities for fresh Saudi university graduates and women job seekers.
Mansour Al-Mansour, deputy manager of the fund, told a press conference here that a "distance employment program" would be introduced this year to hire people living in remote regions of the country, especially women.
He said the program would help job seekers to save transportation costs.
The press conference was held to announce the seventh human resources forum, which will take place in Jeddah at the end of November.
Al-Mansour said the fund would have a working team to ensure the implementation of the forum's recommendations. The team will review recommendations that require further discussions, he added.
Samir Husain, head of the human resources committee at the Jeddah Chamber of Commerce and Industry (JCCI), said this year the forum would focus on improving the work environment to be able to better serve the new generation of job seekers. The forum will have experts who will talk about the best job market practices both locally and internationally, he added.
About 400,000 fresh graduates are expected to enter the Saudi job market this year.
Asked about the employment of graduates who were on the scholarship programs, Al-Mansour said scholarship students would be dealt with them the same way graduates from local universities were dealt with.
"All graduates will be enrolled in job training programs, which will give them the required skills and experience," Al-Mansour said.
He said the fund was able to find jobs for 720,000 people so far.
Speaking about the turnover rate among Saudi employees, he said some of them remain in the jobs only for the first three months. "Then they leave because either they find a government job or a better job in the private sector."
He, however, noted that 75 percent of Saudis remain in their jobs for longer periods.
http://saudigazette.com.sa/saudi-arabia/hrdf-adopts-strategies-to-boost-job-chances-of-women-fresh-grads/
------------
Chinese girl reaches Pakistan in search for beloved
November 03, 2015
MUZAFFARGARH
A Chinese girl has reached Pakistan in search of her beloved.
Muhammad Amin, a resident of Muzaffargarh, while doing MBBS in China, had established relationship with his Chinese classmate. While returning Pakistan, Amin had promised her to contact her to marry her soon. When Amin did not contact her, the Chinese girl reached Muzaffargarh in search of him. When the police contacted Amin's family, they claimed that he has not been in contact with them for the last month while his cellphone was going switched off.
Later, the police handed over the girl to Chinese embassy.
http://nation.com.pk/national/03-Nov-2015/chinese-girl-reaches-pakistan-in-search-for-beloved
------------
SR35, 000 Bank Balance 'A Must' To Hire One Maid
3 November 2015
JEDDAH: The Ministry of Labor has reiterated that employers seeking to hire domestic workers must meet several criteria to qualify, including cash in the bank and no unpaid traffic fines.
These are some of the stipulations that the ministry has highlighted after complaints from employers that their online applications for visas were rejected, a local publication reported recently.
The ministry said the poor financial status of applicants was one of the main reasons for rejecting applications. The other reasons include missing or unclear documents, seeking too many visas, not paying the SR2,000 application fee, and not providing bank statements as proof of income and savings.
The ministry said that to hire one maid a prospective employer must earn at least SR5,000 a month, and have at least a bank balance of SR35,000 over the six months before the application was submitted.
For a second visa, the employer must earn at least SR18,000 and have SR120,000 in the bank.
For the fourth visa, the minimum salary must be at SR30,000 and a bank balance of SR250,000. There is no salary requirement stipulated for a fifth visa, but the applicant must have SR500,000 in the bank.
The ministry said that the number of active visas of an applicant is taken into account whenever new applications are made. It said that non-Saudi families can recruit domestic workers by verifying their salaries, whether they are married or single, and over 25 years of age.
http://www.arabnews.com/saudi-arabia/news/829841
------------
UK: Bake-offs, hijabs, and attacks against Muslim women
03 Nov 2015
London, United Kingdom - Twenty-three-year-old Mariah Idrissi had no idea she would almost overnight become the face of hijab-wearing women in the UK.
She didn't expect that a brief appearance in an advertisement for clothing retailer H&M encouraging people to recycle clothes would spur the police to ask her to speak at an event about Islamophobia.
And Idrissi certainly didn't expect her fleeting appearance in the ad would be called "part of a slow but unstoppable adaptation of this country to Islam" - as it was in a column by Daily Mail writer Peter Hitchens.
Idrissi, who owns a London salon with her cousin, said the start of her modelling career has taught her that the hijab, the headscarf worn by some Muslim women, is seen as anything but "normal" in the UK.
"I didn't expect this to happen in a million years - I thought it was a quick ad, two seconds. I didn't think anyone would notice me," she told Al Jazeera.
Idrissi said she has received both positive and negative reactions from both Muslims and non-Muslims - but regardless, she is determined to continue in the fashion industry.
"I see comments [from Muslim women] saying 'she's asking for all this attention and wearing hijab - it doesn't make sense', and other [non-Muslim] people saying they won't shop at H&M any more," she said.
"It makes it obvious that there is … definitely a problem where people don't see the hijab as normal. So I want to make the fashion world really diverse and that will, hopefully, help every other area in life as well."
Idrissi's first tentative step into the spotlight came at about the same time another hijab-wearing woman, Nadiya Hussain, won the Great British Bake Off - a hugely popular televised baking competition in the UK.
Hussain's win, while largely met with support and delight from the show's viewers, was also heralded as a victory for "political correctness", with cries that if any other competitor had made a chocolate mosque, as Hussain had once done during the show, then the outcome would have been different.
Idrissi and Hussain hit the headlines at about the same time, causing British news outlets to celebrate the "normalisation" of women wearing the headscarf.
But despite this apparent acceptance of Islamic sartorial choices, women in the UK who wear the hijab or other forms of veiling are still the most frequent victims of Islamophobic attacks.
In September, the Metropolitan Police released statistics showing what it deemed anti-Islam assaults had risen 70 percent in the past year, from 478 to 816. Of the victims about 60 percent were female, according to TellMAMA, an NGO that monitors Islamophobia in the UK.
About the same time these figures were released, footage was posted online of a Muslim teenage girl being knocked unconscious by an attacker on a London street.
In June, a mother was attacked by a gang of women as she picked her children up from school, reportedly for "wearing a headscarf". The woman told the Evening Standard newspaper the three women "pulled my headscarf off and started punching and kicking me". TellMAMA released a report last month that included interviews with victims of Islamophobia. The report did not include interviewees' last names.
"When I became identifiably Muslim, I got nasty looks, threats and abuse, and that's an everyday experience especially because I am a white British Muslim," Sara said.
"When I suffer abuse in public, people walk off or stare… I was on my way to the shops and people shouted at me, 'Why don't we chop your head off?'… Anti-Muslim hate is normal," she said.
But it is not just verbal and physical attacks that women who wear the hijab in the UK face. Many, while never having been abused outright, say they are judged in their personal and professional lives for what they choose to wear.
Asma Khan, a doctoral candidate at the Centre for the Study of Islam in the UK at Cardiff University, told Al Jazeera she detected a difference in the way she was treated, depending on whether or not she was wearing a hijab.
"I don't wear the hijab day-to-day. In all honesty, this is probably partly because of the way in which this might be perceived by others," Khan said.
"I do, however, wear the hijab on occasion and I am struck by the difference in the way I feel that I am received in public. My everyday world becomes a much more strange and hostile place. I feel a lot more conscious in familiar surroundings, and feel that I am treated with a certain coldness and have to work harder to appear 'normal'."
Khan added her own findings indicate that second-generation British Muslim women may struggle to find work. "There appears to be a distinct 'Muslim penalty' with regard to employment and economic inactivity."
Having grown up in Britain in the 1980s, Khan said she became used to periodic backlashes against Muslims following certain world events.
Today there is a "constant Islamophobic hum" in the public sphere, partly caused by daily reporting on armed groups such as the Islamic State of Iraq and the Levant (ISIL) and Boko Haram.
The idea that certain headline-making events can lead to spikes in Islamophobia is supported by TellMAMA's report, "We fear for our lives: offline and online experiences of anti-Muslim hostility", published this October.
"Following the terrorist attacks in Paris and Tunisia in 2015, and in Woolwich, southeast London where British Army soldier Drummer Lee Rigby was murdered in 2013, we have seen a sharp rise in anti-Muslim attacks," the report stated.
"These incidents have occurred offline where mosques have been targeted, Muslim women have had their hijab [headscarf] or niqab [face veil] pulled off, Muslim men have been attacked, and racist graffiti has been scrawled against Muslim graves and properties.
"Moreover, there has been a spike in online anti-Muslim attacks where Muslims have been targeted by campaigns of cyber-bullying, cyber-harassment, cyber-incitement and threats of offline violence."
Despite mounting evidence that Islamophobia is becoming more common in the UK, Idrissi remains positive and confident she can use her new and unexpected fame to make a difference.
"I want to use modelling to get to a point where I can break down prejudices about hijab," said Idrissi.
"There are women who might be more highly qualified for a position, but because she wears a hijab people think she won't be qualified or capable… At the end of the day, this is a scarf on my head. It doesn't affect my brain."
http://www.aljazeera.com/indepth/features/2015/11/uk-bake-offs-hijabs-attacks-muslim-women-151101075729549.html
------------
Malaysian Education Ministry to Investigate Video of Students Hugging, Kissing
November 3, 2015
JOHOR BAHRU, Nov 3 — The Education Ministry will investigate the background of a video showing a boy and a girl, both in secondary school uniform, which went viral on the social site since yesterday.
Its deputy minister P. Kamalanathan said he was disappointed with the students' antics although he had not seen the 15-second video.
"I heard about it from a source and I feel I must view it soon to facilitate the investigation," he told reporters after visiting Sekolah Menengah Kebangsaan (SMK) Pasir Gudang 3, here, today to look at the running of the SPM examination.
Kamalanathan said, to date, the ministry was not yet able to identify the location of the video recording and hoped those with information could come forward to assist the ministry.
"We can only determine the kind of action to be taken against the two students after that," said the Hulu Selangor Member of Parliament.
On another development, Kamalanathan said he was satisfied with the process of the SPM examination nationwide, as careful preparations had been made and so far, no complaints had been received concerning the question papers. — Bernama
http://www.themalaymailonline.com/malaysia/article/education-ministry-to-investigate-video-of-students-hugging-kissing
------------
URL: https://newageislam.com/islam-women-feminism/graphic-video-shows-afghan-woman/d/105146