New Age Islam News Bureau
12 Aug 2012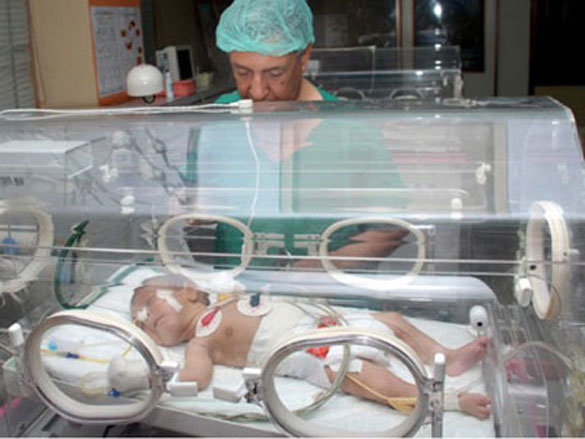 • Muslim Woman of Kozhikode, India, No More behind the Veil
• Pakistan's Goodwill Ambassador Urges Society, Media to Support Efforts to Eradicate Polio
• Lessons Learned From Saudi Women Participation in Olympics
• Women Warriors Urged To Keep Up the Fight
Compiled by New Age Islam News Bureau
Photo: Foetus Removed from Two-Month-Old Baby's Abdomen in Pakistan
URL: https://newageislam.com/islam-women-feminism/foetus-removed-two-month-old/d/8248
----------
Foetus Removed From Two-Month-Old Baby's Abdomen In Pakistan
By: Asma Ghani
ISLAMABAD, August 12, 2012, Doctors at Pakistan Institute of Medical Sciences (Pims) removed a foetus from a two-month old baby girl after a successful three-hour long operation on Saturday.
The three-and-a-half month old foetus was girl's twin brother or sister. Dr Zaheer Abbassi who headed the team of doctors that operated the patient, said it was a twin pregnancy in which one baby was normal but the other could not grow. 'The case is rare and it's also called 'foetus in fetu' in medical terminology. "In a similar case I had removed twin foetus from a baby five years ago," he added.
According to details, the patient Amna, daughter of Lakhmir Khan hailing from Rawlakot, Azad Jammu and Kashmir (AJK), was born with enlarged tummy and had loose motions and vomiting which was conservatively treated in AJK by the local doctors but none of them could diagnose the disease so she was referred to the Children's Hospital, PIMS.
Amna is a fourth child of the couple of cousin marriage having previous siblings normal. The mother of the patient, Aasma, is 29 years old and having a history of thyroid surgery and had previous six spontaneous abortions due to unknown reasons. Father of the patient himself is a physiotherapist doctor.
Amna had undergone ultrasonography, X-rays, and blood tests at PIMS revealing it as a case of abdominal tumour.
A team of paediatric surgeons including Prof Zaheer Abassi, Dr Khurrum Arif, Dr Pervaiz, Dr Amra and anaesthetists Dr Rehmat Ali and Dr Suresh operated on the patient that took three hours to complete.
The tumour was plastered to intestines, spleen and kidney. All the organs of the child were saved successfully during the operation and the tumour turned out to be 'another baby of two months' gestational age having head, hairs, trunk, all four limbs and amniotic feeding sac but this baby was dead as it was in stunted age growth.
Dr Waseem Khawaja, spokesperson of PIMS, informed that the patient has been shifted to ICU where her condition was stated to be stable. Parents have been counselled in detail and they are extremely happy and obliged to the doctors of Paediatric Surgery Department and Children's Hospital, PIMS, as the operation was successfully done within three days of the admission in the ward.
http://www.nation.com.pk/pakistan-news-newspaper-daily-english-online/national/12-Aug-2012/foetus-removed-from-two-month-old-baby-s-abdomen
-------
Muslim Woman Of Kozhikode, India, No More Behind The Veil
By Jose Kurian | Saranya Thaloor
Kozhikode August 10, 2012, The winds of change have been sweeping away extreme conservatism and religious dogma from the traditional Muslim belts of Malabar.
This has ensured the liberation of the Muslim woman from age-old traditions and customs that prevented her from contributing her best to the community and to society in general.
This freedom has helped Muslim women excel in state and national-level entrance tests and they are taking progressive strides into elite professional institutions.
Thousands of Muslim girls are now moving beyond conservative barriers to take on the challenges of a changing world.
This year, at the All India Institute of Medical Sciences, Delhi, where 80,000 candidates vied for 72 MBBS seats, the state bagged 27, out of which 12 were for Muslim girls from Malabar.
Going by the data of Government Homeopathy College and Medical Coll-ege, Kozhikode, Muslim students have been dominating in the last few years, of which 70 to 80 per cent are girls.
The opening of self financing educational Institutions (SFEIs) was another major event that revolutionized the higher education aspirations of girls from the Muslim community.
From SFEIs owned by Muslim groups, every year on an average, about 20,000 professionals (majority being girls) join the educated class of the state.
From the 45 SFEIs run by Muslim trusts, about 18,000 engineering professionals, 600 doctors from six medical colleges and 650 dentists from 13 dental colleges pass out each year. A majority of students are from the Muslim community of which about 80 per cent are girls.
Muslim Educational Society president P.A.Fazal Gafoor told DC that when the society started the MES College, Mambad in 1967, there were only two girl students.
"Now, in our 26 arts and science colleges, majority are girls and in medical and dental colleges, girls constitute 72 per cent and 82 per cent respectively."
"In the management seats too we give preference to girls. Earlier, it was tough to find a bridegroom for an educated Muslim girl, but now things have changed", he noted.
Panakkad Syed Munavarali Shihab Thangal, younger son of former IUML supremo Panakkad Muhammedali Shihab Thangal, who heads many educational institutions said that educational backwardness had created an inferiority complex within members of the community.
"So we streamlined several measures and started countless institutions. It was the girls who grabbed the opportunity more than the boys. Once sidelined, they are now proving their mettle in education, thus asserting their dignity", he added.
Families support gennext
In the last five years, Muslim girls have been dominating health education in the government sector of the Malabar region.
The data available from the government medical college clearly states that a majority of students there are Muslims with girls forming the major chunk.
In 2011, out of the total 250 seats allotted for first year MBBS, 115 students were Muslims, of which 70-80 per cent were girls.
Earlier in 2010, more than 120 of the total 250 students were bagged by Muslims and girls constituted 60-70 per cent of the allotment.
At the government Homoeopathy Medical College here in 2011, of the total 50 seats, 26 went to Muslim girls and just two for boys C.T. Anila Kumari, principal of the Government Homoeopathic College said that a majority of students in the institution were Muslim girls.
"Their academic abilities are far more advanced in this era of information and they want to free themselves from the label of 'submissive minorities' ", she added.
"The new generation of Muslim girls are getting a clear orientation from their families to opt for the best professional courses and careers", said Anila Kumari.
Medical college principal Dr C.Raveendran said that Muslim girls considered service to society as their priority and it was this passion that had egged them on to excel.
"Education has made the family atmosphere more flexible and parents are more advanced in their outlook", said Shamsah Jamal, final year student in the homeo college.
"We have shaken off the age old shackles imposed by male domination", she added.
They fought odds to gain respect
For Muslim women who made a mark for themselves in various walks of life in an era nowhere near the present, every step was fraught with struggle.
Noted gynaecologist Dr Khadeeja Mumthas of the medical college here, told Deccan Chronicle that the scenario was changing.
The community across the state too was changing. This could be due to the ubiquitous mushrooming of higher educational institutions and the importance given to educating Muslim women, she said.
"Earlier, educating a Muslim girl was akin to committing a crime. And to ensure that she got her space and respect in mainstream society, each woman had to struggle a lot", she added.
"At each stage, I was warned of action by elders in the community when I started off as a forest official," said A.Shajna, the first Muslim woman forest officer of India.
"Though my immediate family supported me, all others opposed my job as they knew I would have to interact with men.
Moreover, certain religious tenets like keeping my head and hair covered would not be possible as long as I was in service", she said. "But gradually, the protests gave way to respect," she added. But it took many years of struggle.
Noted Muslim activist B.Suhra told DC that her struggle in the nineties against triple thalaq, had met with stiff opposition from religious quarters and leaders.
Triple thalaq, or uttering "thalaq, thalaq, thalaq" amounted to divorcing a woman and provided men the right to have up to four wives.
"But see now things have changed a lot. Muslim organizations also realized the truth and joined us in our mission", she said. "I hope educated women will liberate the next generation from the stranglehold of male-dominated and ultra conservative Muslim society," she added.
http://www.deccanchronicle.com/channels/cities/kozhikode/no-more-behind-veil-070
----------
Pakistan's Goodwill Ambassador Urges Society, Media To Support Efforts To Eradicate Polio
by Abdul Ahad
ISLAMABAD: 12 August 2012, Pakistan's Goodwill ambassador Aseefa Bhutto Zardari urged all sections of society and media to support efforts to eradicate polio from Pakistan.
In an interview to PTV, she said she was ready to go for door to door to convince mothers who are reluctant to give anti-polio vaccine to their children.
"I will explain to them that Benazir Bhutto was not only a great leader but a great mother who let her children be given anti- polio drops."
She urged media to portray the success stories of the polio campaign and highlight case like Karachi which is now polio free.
Aseefa said as an ambassador she has an important role of coordination with the international community and hold meetings to remove obstacles in the way of making Pakistan polio free.
She said she was also in touch with media to try and spread the word to make the anti-polio campaign a success.
Aseefa said she was grateful to President Asif Ali Zardari, Prime Minister Raja Pervez Ashraf, former Prime Minister Syed Yusuf Raza Gilani and health officials for their support in the drive against polio.
President of Pakistan held a lot of meetings with health officials and soon there will be positive results, she added.
"We pinpoint areas where the government officials have to help us in tackling the disease," she added.
The Goodwill Ambassador said it is a fact that Pakistan has reduced the number of polio cases although cases of polio are still being reported.
She said Pakistan will be polio free with the right level of commitment to the programme of immunization.
Full Report at:
http://www.brecorder.com/pakistan/general-news/73275-aseefa-urges-society-media-to-support-efforts-to-eradicate-polio-.html
--------
Lessons Learned From Saudi Women Participation In Olympics
MENAFN - Arab News - 11/08/2012, Every country adopts a particular ideology to guide its political, social and economic policies as well as relationships between citizens, which ultimately serves as a guide to the direction of the entire country. Without an ideology, a country has no direction.
Ideology varies from one country to another. There is capitalism, communism, nationalism or Islamic ideology. Saudi Arabia has chosen Islam as its collective ideology that makes the basis of its domestic and international policies. The participation of Wojdan Ali Seraj Shaherkani and Sarah Attar in the London Olympics as the first Saudi female athletes to take part in this international event is newsworthy. International media, especially Western outlets covered their participation in the event. Reports and analyses in the international press and television channels put Saudi Arabia's society under scrutiny with respect to Saudis' understanding of Islam and their practices.
Full Report at:
http://www.menafn.com/menafn/1093545368/Lessons-learned-from-Wojdan-and-Sarahs-participation-Olympics
---------
Women Warriors Urged To Keep Up The Fight
By Belinda Goldsmith
12 Aug 2012
LONDON (Reuters) - As women athletes leave the London Olympics basking in unprecedented praise and attention, former female Olympians have some advice for the women of 2012 - keep up the fight.
FOOTBALL
The London Olympics have been hailed as the Women's Games, with female athletes competing in all 204 national teams and in all 26 sports for the first time as women boxers made their debut.
The participation of the first women athletes from the Islamic nations of Saudi Arabia, Brunei and Qatar was seen as a milestone in the battle for sex equality globally and another step towards the Olympic committee goal of 50-50 participation.
Women outnumbered men on three of the five largest teams, the United States, China, and Russia, bumping the number of women up to 44 percent of athletes from 42 percent at Beijing.
At Barcelona 20 years ago, 25 percent of the athletes were female and 34 teams had no women.
U.S. and Chinese women bagged more medals than male team mates while women in the host British team won headlines galore for snaring about half of Team GB's gold haul, with Briton Nicola Adams becoming the first female Olympics boxing champion.
Former top female Olympians said the success of women at the 2012 Games should be used as a springboard to put sportswomen on an equal footing with men in non-Olympics years when they struggle for funding and for media coverage.
"Women have dominated at these Olympics and they should take this opportunity to keep promoting themselves and their sports," said Nadia Comaneci, the Romanian gymnast who won five gold medals at the 1976 Montreal and 1980 Moscow Games and now runs a gym academy in the United States.
"There's a different mentality towards women in sport now but there is still a competition between men and women. That will never stop."
Full Report at:
http://football.uk.reuters.com/football/news/2012/08/12/3CDB3D5A-E460-11E1-A4B9-03458033923B.php
----------
URL: https://newageislam.com/islam-women-feminism/foetus-removed-two-month-old/d/8248