New Age Islam News Bureau
18 Sept 2012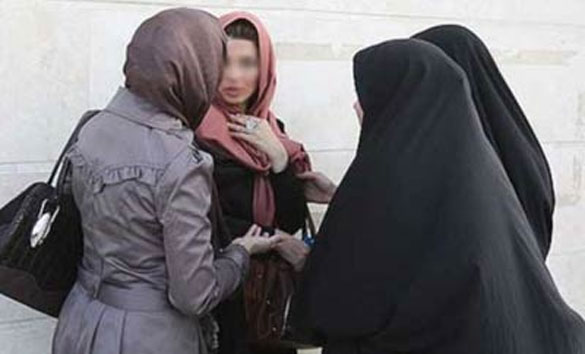 • Iranian Cleric Beaten Up By 'Badly Veiled' Woman
• Thai Women Rescued From Sex Trafficking Ring in Bahrain
• Roman Catholic Run School Relents On Use of Veils by Muslim Female Students
• 3-Year-Old Becomes Victim of Parents' Quarrel
• An Ethiopian Maid Accused of Killing Her Newborn Charged With Murder
• Threatened: Gang Rape Victim Fears For Her Life
• UAE Couples Want Ban on Ethiopia Maids Ended
• Saudi Mourns Death of Mother of Prince Khalid Bin Abdullah Bin Abdul-Aziz
• Blasphemy Case: Submit Charge-Sheet in Rimsha Case, Police Told
• Abu Dhabi Hospital Announces Establishment of Breast Imaging Centre
• Kuwait State Minister Hails Decision to Appoint Women as Judges
• The Veil, the Quran, and the Muslim Women's Movement
Compiled by New Age Islam News Bureau
Photo: Iranian Cleric Beaten Up By 'Badly Veiled' Woman
URL: https://newageislam.com/islam-women-feminism/female-bomber-kills-12-kabul/d/8708
--------
Female Bomber Kills 12 in Kabul to Avenge Film
By Sardar Ahmad | September 18, 2012
A female suicide bomber killed 12 people in Kabul on Tuesday in the deadliest single attack claimed to avenge a US film that has sparked a week of deadly protests across the Muslim world.
The attack brings to more than 30 the number of people now killed in a violent backlash over a YouTube trailer for the film, "Innocence of Muslims", believed to have been produced by a small group of extremist Christians.
Security officials said nine foreigners were among those killed on a major highway leading to Kabul airport and close to a wedding hall when the bomber blew her station wagon up alongside a minivan carrying foreign workers.
An AFP photographer saw at least six bodies lying among the wreckage of a gutted minivan, and another vehicle destroyed by flames still burning in the middle of the highway, with debris flung all around.
Hezb-i-Islami, the second largest insurgent group after the Taliban who have been fighting US-led troops and the government for 10 years, claimed the attack.
"The bombing was carried out by a woman named Fatima. The bombing was in retaliation for the insult to our Prophet," spokesman Zubair Sidiqi told AFP in a telephone from an undisclosed location.
It is extremely rare for the faction to claim a suicide attack in Afghanistan. It is also rare for women to carry out suicide attacks.
Taliban fighters last week stormed a British-run airfield, killing two US Marines and destroying six US fighter jets also to avenge the film.
A week of furious protests outside US embassies and other American symbols in at least 20 countries have killed 19 other people, including the American ambassador to Libya and three other US diplomats in the North African country.
In Lebanon, the head of Shiite Muslim movement Hezbollah, which is blacklisted in the United States as a terrorist organisation, made a rare public appearance to warn of "very dangerous" repercussions if the film is released in its entirety.
Tens of thousands of demonstrators poured into the streets of southern Beirut to denounce the film at the request of Nasrallah, who has called for a week of protests over the film, describing it as the "worst attack ever on Islam".
"The US must understand that releasing the entire film will have dangerous, very dangerous, repercussions around the world," he told the rally.
The filmmaker Nakoula Basseley Nakoula, a 55-year-old Egyptian Copt and fraudster who was sentenced to 21 months in prison in the US in June 2010, has not been seen since Saturday when he was questioned by his US parole officer.
The risks now facing those involved in the production of the film, which depicts the Prophet Mohammed as a thuggish womaniser, were underlined when a Salafist cleric in Egypt called Monday for the deaths of all those involved in its making.
Before dawn on Monday, officers from the Los Angeles County sheriff's department escorted four members of Nakoula's family to join him in hiding.
"I issue a fatwa and call on the Muslim youth in America and Europe to do this duty, which is to kill the director, the producer and the actors and everyone who helped and promoted the film," said the Egyptian cleric, Ahmad Fouad Ashoush.
In Pakistan, two protesters died after demonstrating against the film in the northwest, close to the Afghan border, and outside the US consulate in Karachi.
The US embassy in the capital Islamabad closed on Monday because of the risk of demonstrations and diplomats have been banned from all but essential travel.
Pakistan has also blocked access to YouTube, following the video-sharing website's failure to take down the anti-Islam film.
Similar measures have been taken in Afghanistan. Google, which owns YouTube, has also barred access to the film in Egypt, India, Indonesia, Libya and Malaysia.
http://www.thejakartaglobe.com/afp/female-bomber-kills-12-in-kabul-to-avenge-film/545100
--------
Iranian Cleric Beaten Up By 'Badly Veiled' Woman
September 18, 2012
"I politely [told] her to cover herself up," said Hojatoleslam Ali Beheshti, an Iranian cleric in the city of Shamirzad in Semnan Province, describing a recent encounter with a woman he believed was improperly veiled.
"She responded to me by saying: 'You [should] close your eyes.'"
The cleric, who spoke to the semi-official Mehr news agency, said he repeated his warning to the "bad hijab" woman, which is a way of describing women who do not fully observe the Islamic dress code that became compulsory following the 1979 revolution.
"Not only didn't she cover herself up, but she also insulted me. I asked her not to insult me anymore, but she started shouting and threatening me," Beheshti said. "She pushed me and I fell to the ground on my back. From that point on, I don't know what happened. I was just feeling the kicks of the woman who was beating me up and insulting me."
He said he was hospitalized for three days following the attack.
I'm not a supporter of violence, but as a woman who grew up in Iran and was harassed many times for appearing in public in a way that was deemed un-Islamic, I understand the frustration that woman in Semnan must have felt and why she lashed out at the cleric.
(Here are my thoughts on the hijab in Iran.)
For the past 30 years, Iranian women have been harassed, detained, fined, and threatened by the morality police, security forces, and zealots over their appearance. Women have fought back in different ways, including by pushing the boundaries of acceptable dress and criticizing the rules, which apply only to women.
Officially, the hijab is promoted as "protection" for women against evil in society. For many women, however, the hijab feels like a burden, an insult, a limitation of their freedom and an attempt to keep them under control.
Young girls often cite the mandatory hijab as one of the main reasons they want to leave Iran and move to another country. Women being mistreated by the police because of their hijabs have become a common scene on the streets of the Iranian capital and other cities, especially during the hot summer months when the hijab crackdown intensifies.
There have also been cases of women clashing with the morality police, including a number of cases that have been documented by citizen journalists and posted on YouTube.
The situation has led to conflicts between women and religious zealots such as Beheshti, who believe that the Islamic principle of "commanding right and forbidding wrong" makes it their duty to lecture women about their appearance and choice of dress.
Mehr reports that attacks against clerics similar to the one involving Beheshti are not rare. The news agency issued the names of three other clerics, including a representative of Iran's Supreme Leader Ayatollah Ali Khamenei, who have been attacked.
"...Hojatoleslam Seyed Mahmud Mostafavi Montazeri in [a street] in Tehran; Hojatoleslam Farzad Farouzesh, the Friday Prayer leader of Tehran Medical Science University, on the capital's Shariati Street; a cleric in the Tehranpars region; and Kheirandish, the supreme leader's representative to Shiraz's Agriculture University, and...they all have been beaten up for performing their religious duty of [commanding right and forbidding wrong] and in some cases sustained irreparable damages."
Beheshti says he didn't file a complaint against the woman who attacked him, despite going through "the worst days of his life."
According to Mehr, the case is being reviewed by the judiciary. The region's prosecutor told the news agency that the case is being investigated but wouldn't give any details. The prosecutor has referred to the case as an incident of a "public beating."
Of course, when the same type of incident is reversed -- a "badly veiled" women beaten in public by police -- it's simply a necessary enforcement of the dress code.
http://www.rferl.org/content/iran-badly-veiled-woman-beating-cleric/24711685.html
--------
Thai women rescued from sex trafficking ring in Bahrain
Suwadi Silva and Sharifa Ghanem | 18 September 2012
BANGKOK and DUBAI: A Thai woman was arrested upon arrival at Phuket International Airport this week on charges of sex trafficking, Thailand's National Operation Center on Prevention and Suppression of Human Trafficking announced.
The women she had brought to Bahrain have reportedly been rescued.
Dutdao Yarana, 27, was arrested on charges of sending Thai girls to Bahrain where they would work as sex workers in the Gulf region.
Police told Bikyamasr.com in a statement that they have charged her "with human trafficking by the combination of three or more people for other people's sexual gratification and the combination of engaging to provide, lure or draw other people into prostitution."
The case had been ongoing, police officials said, adding that they had received numerous reports of women being conned into heading to Bahrain to work in spas, but were in fact being taken to work as sex workers in the country.
"We are watching this closely and working with the Thai government to understand and investigate these charges from our side in Bahrain," a Bahrain foreign ministry official told Bikyamasr.com on Tuesday. "We will take all necessary precautions to ensure the safety of women coming to work in Bahrain."
Thai police and the ministry in Bahrain confirmed that police had discovered dozens of Thai women in the capital, Manama, who had been forced to work as sex workers. The victims have been found and are being given treatment.
They are to return to Thailand, the government said.
It comes on the heels of increased worries that Thai women are being forced into sex slavery across the world. A recent report from Bikyamasr.com highlighted the rise of the global sex trade, which one Thai woman in Norway said saw her forced to be a sex worker in the Northern European country.
http://www.bikyamasr.com/77799/thai-women-rescued-from-sex-trafficking-ring-in-bahrain/
--------
Roman Catholic Run School Relents On Use of Veils by Muslim Female Students
By Julie S. Alipala
September 18th, 2012
ZAMBOANGA CITY, Philippines—Pilar College, which is run by an order of Roman Catholic nuns, has agreed to allow Muslim female students to wear veils to school, after reaping widespread criticism for banning the wearing of veils on campus in July.
But Sister Ma. Fe Gerodias, Southern Mindanao representative of the Religious of the Virgin Mary who spoke on behalf of the Pilar College administration, said Muslim women students may wear the "hijab"— a veil that covers the hair and neck but not the face—to school starting in June 2013. The ban on the "niqab," which covers the whole face will stay, however, she added.
Anne Piccio, dean of school's College of Business Administration, told the Inquirer that allowing Muslim women students to wear the hijab was "not an easy or overnight decision."
She said it was a product of a series of consultations with all stakeholders that, Gerodias said, "took us a month."
Gerodias said the school administration was grateful to the National Commission on Muslim Filipinos, headed by Commissioner Mehol Sadain, for facilitating the dialogues.
Pilar College found itself in the middle of a controversy when it barred Muslim women students wearing Hijabs and Niqabs from entering the school. It cited security as main reason for the ban, which Muslim parents said was against religious freedom.
Upon reaching puberty, Muslim women are required by Islamic law to wear veils that conceal their hair, nape and ears.
Lawyer Yasser Apion of the NCMF said the hijab "is not about fashion." "It's obligatory, and girls reaching puberty have to wear hijab," he said.
Piccio, whose husband is a Muslim, said that while the school's administration has decided to allow the wearing of Hijabs, "not all the parents and students, and even the staff, were amenable."
But "we need to meet halfway and the way how to meet halfway is to educate everyone until we reach full acceptance," she said.
Gerodias said the school's administration will continue to conduct dialogues with various groups as they "need time to process attitudes, mindsets, sentiments, biases, and prejudices."
Among the steps it will be undertaking before June 2013 comes around is to establish linkages with Muslim institutions to deepen the understanding of local Muslim culture and traditions, particularly in the areas of commonality and partnership opportunities with the Christian community; the inclusion of comparative religious studies in the school's religious studies courses; the conduct of Marian (Sitti Maryam) dialogues and spirituality forums; regular updates on Christian-Muslim relations; and encouraging interfaith and intrafaith dialogues among Muslims and Christians.
She said the NCMF has committed to assist Pilar College in implementing the programs.
Piccio said the college's administrator, Sister Nina Balbas, also "started studying Islam to make her fully understand everything."
http://newsinfo.inquirer.net/272844/school-relents-on-use-of-veils-by-muslim-female-students
--------
3-Year-Old Becomes Victim of Parents' Quarrel
Ahmed Shaaban / 18 September 2012
The RAK Misdemeanour Court has seen a tragic case in which a three-year-old girl fell victim to a dispute between her father and mother who insisted on divorce.
The case unfolded when the father failed to settle a family dispute with his wife amicably, and handed over his little girl to the RAK Police to give to his wife before leaving the country.
As per court records, the mother used to beat up her daughter harshly. One day, the husband interfered to save the girl. The husband and wife then started fighting, following which the wife lodged a complaint with the RAK Police against her husband, claiming that he bit and swore at her.
Full report at:
http://www.khaleejtimes.com/nation/inside.asp?xfile=/data/courtroundup/2012/September
--------
An Ethiopian Maid Accused of Killing Her Newborn Charged With Murder
(Marie Namour) / 18 September 2012
An Ethiopian maid, who allegedly asphyxiated her newborn by locking her in a bag, was charged with murder in the Court of First Instance on Monday.
According to court records, she had become pregnant following an illicit relation with a Pakistani man. She killed the baby by locking her up for several hours inside the bag one day after the child's birth. She and the Pakistani have been charged with illicit consensual sex in the Court of Misdemeanours.
During the Public Prosecution investigation, the maid admitted that she got pregnant from an illicit relation with the man. She gave birth by herself on April 26 and said the baby was born dead. She felt scared and the following morning, she cut her umbilical cord with a kitchen knife. She then wrapped the baby with a piece of cloth and a towel and put her in a bag for several hours.
Full report at:
http://www.khaleejtimes.com/nation/inside.asp?xfile=/data/courtroundup/2012/September
--------
Threatened: Gang Rape Victim Fears For Her Life
By Umer Nangiana
September 18, 2012
ISLAMABAD: A woman who was allegedly gang raped by three men last Tuesday is now on the receiving end of life threats from associates of the accused.
The suspects, all of whom are in police custody, include an officer from the Federal Investigation Agency's (FIA) Karachi office, a mill owner from Lahore, and a woman accused of luring the victim with a fake job offer.
While 20-year-old Bisma* wants to see them punished by the courts, she fears that the threats to her and her family will derail the process.
"A woman claiming to be sister of Bano* [the woman accused of offering Bisma a non-existent job] came to our house with some armed men and asked me to withdraw the case or face the consequences," said Bisma, a resident of Lahore, while speaking to Express News from an undisclosed location in Islamabad.
Full report at:
http://tribune.com.pk/story/438240/threatened-gang-rape-victim-fears-for-her-life/
--------
UAE Couples Want Ban on Ethiopia Maids Ended
Sharifa Ghanem | 18 September 2012
DUBAI: Abdullah and Monica, a couple based in Dubai, have lost their help after Ethiopia banned sending women to the Gulf region earlier this summer after a range of abuses and sexual violence against the workers continued to be reported.
For this couple, they said that a few "bad apples should not exclude the honourable from hiring Ethiopian women to work. They have been amazing to us and we want to hire another woman," said Monica, a British national married to Abdullah, a Emirati citizen.
"We need the help to take care of our children while we are at work and we have only hired women from Ethiopia," she said.
But that has changed after Addis Ababa barred women from travelling to the Gulf region as a result of increased abuses by their employers sparked fears that women could not be protected.
Full report at:
http://www.bikyamasr.com/77795/uae-couples-want-ban-on-ethiopia-maids-ended-as-abuses-mount/
--------
Saudi mourns death of mother of Prince Khalid bin Abdullah bin Abdulaziz
18 September 2012
The Saudi Royal Court has mourned the death of the mother of Prince Khalid bin Abdullah bin Abdulaziz.
Saudi Press Agency (SPA), reported that funeral prayer of the deceased will be offered today at Grand Mosque (Al-Haram Al-Sharif) in Makkah after Asr prayer (afternoon prayer).
http://www.khaleejtimes.com/nation/inside.asp?xfile=/data/nationgeneral/2012/September/nationgeneral_September263.xml&section=nationgeneral
--------
Blasphemy case: Submit charge-sheet in Rimsha case, police told
By Obaid Abbasi
September 18, 2012
ISLAMABAD: The court of the additional sessions judge in Islamabad on Monday gave a final warning to the investigation officer (IO) in the blasphemy case involving Rimsha Masih and directed the superintendent of police (SP) to submit a charge-sheet on September 21.
Civil Judge Muhammad Amir Aziz was irked over the inordinate delay in the presentation of the charge-sheet by IO Munir Jaffri. The court directed the SP to submit it at its next date of hearing.
During the hearing, Jaffri again requested the court to give more time. He claimed that a joint investigation team was constituted and headed by the Senior Superintendent of Police (SSP). However, Rao Abdur Rahim, the counsel for Rimsha's neighbour Hammad Malik, who filed the original complaint against her, requested the court to cancel Rimsha's bail. "If a prime minister appears before the apex court when he is summoned, why did a girl accused of committing blasphemy not appear?" he questioned.
Full report at:
http://tribune.com.pk/story/438358/blasphemy-case-submit-charge-sheet-in-rimsha-case-police-told/
--------
Abu Dhabi Hospital Announces Establishment of Breast Imaging Centre
18 September 2012
Mafraq Hospital, owned and operated by the Abu Dhabi Health Services Company PJSC (SEHA), today announced the establishment of a groundbreaking multimodality Breast Imaging Centre of Excellence.
The centre is expected to be fully operational in the near future and will offer breast cancer patients access to a multidisciplinary team of physicians to ensure a comprehensive and specialised treatment plan.
Offering a range of treatments and screening procedures, including mammography, ultrasound, MRI, and minimally invasive breast core biopsies, the centre will address the burden of breast cancer – the second leading cause of death in females in Abu Dhabi – across the UAE.
Full report at:
http://www.khaleejtimes.com/kt-article-display-
--------
Kuwait State Minister Hails Decision to Appoint Women As Judges
September 18th, 2012
KUWAIT CITY, Sept 17: State Minister for Planning and Development and State Minister for National Assembly Dr Rola Dashti has welcomed the government decision to appoint women as judges.
She appealed to everyone not to incite religious feud or fan flames of fire at a time when doors of hope are initiated for people to enjoy prosperity in a democratic country based on the foundations of social justice and equality.
She said the decision of the Higher Judiciary Council to accept women in the Public Prosecution (for graduates of Faculties of Law and Sharia) "is in the framework of reinforcing the principle of social justice and putting emphasis on the principles of the Constitution in a country that embraces democracy and seeks to compete with developed nations through the talent."
Full report at:
http://www.arabtimesonline.com/NewsDetails/tabid/96/smid/414/ArticleID/188001/reftab/
--------
The Veil, the Quran, and the Muslim Women's Movement
By the Monitor's Editorial Board / December 11, 2009
Muslim women who want equal rights are turning to Islam's primary authority – the Quran. It's a smart strategy.
In Islam, a woman who chooses not to wear a head scarf in public has a strong defence: the Quran. Nowhere does Islam's primary text mandate that she cover her head.
A Muslim woman, then, should have the freedom to cover her hair – or not. But that is not the case in a country like Saudi Arabia. The Quran also supports a woman's right to own and inherit property, to be educated, and to choose her husband – but not all societies in the Muslim universe of 1.5 billion people recognize these rights.
The disconnect lies in the interpretation of Islam, done for centuries by men. In the interest of achieving gender equality, Muslim women activists and scholars are challenging the male interpretation. Wisely, they are using the Quran to do it.
Full report at:
http://www.csmonitor.com/Commentary/the-monitors-view/2009/1213/The-veil-the-Koran-and-the-Muslim-women-s-movement
--------
URL: https://newageislam.com/islam-women-feminism/female-bomber-kills-12-kabul/d/8708