• A Giant Leap for Women, but Hurdles Remain
• Woman Arrested For Killing Husband
• Many Egyptian Women Fear for Future under Morsi Government
• Life Tough for Pak's Future Women Judges
• Nawaz Sharif's Daughter 'Proud' Of His Decision to Suspend Husband
• Retired Muslim Woman Professor U of L Reveals the Feminist Side of the Quran
• Two Women in Karachi Shot Dead
• Top Saudi Shia Cleric's Wife passes away
Compiled by New Age Islam News Bureau
Photo: A Muslim Teen Appointed Youngest Village Head in Gujarat
URL: https://newageislam.com/islam-women-feminism/a-muslim-teen-appointed-youngest/d/8091
-----------
A Muslim Teen Appointed Youngest Village Head in Gujarat
Afsana is working towards better education facilities for girls
By Nilima Pathak
July 30, 2012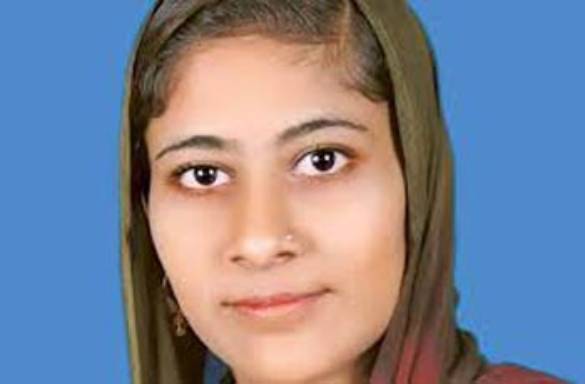 New Delhi: At 18, Afsana Badi, a Muslim girl from Kankot village in Gujarat, has become the youngest Sarpanch (village head) in the country. The village is 12km away from the erstwhile princely state of Wankaner, in Rajkot district.
A first-time voter, Afsana studied until class 10, after which she had to drop out of school as there were no facilities for further education in or around her village. Not one to lose heart, she broke stereotypes and, unlike girls of her age who opted to get married, shaped her dreams and made herself comfortable amidst men and women more experienced than her.
Her win did not come as a surprise to her former classmates, who knew Afsana was made of sterner stuff and would someday do them proud. She is now working towards better education facilities for girls and because she has authority in her hands, many of her batchmates go to Afsana to get their documents signed. When not on official duties, Afsana loves to cook and help her mother in other domestic work. The young and vivacious sarpanch often also heads to her farm on her father's motorbike to supervise work.
She speaks to Gulf News in an exclusive interview.
GULF NEWS: What led you to contest the elections for the village head?
AFSANA BADI: Honestly, the decision to contest the election was not mine. My father felt that instead of sitting at home I should be doing something constructive with my life. Though initially I was not very enthusiastic, on winning the election I realised the responsibility entrusted upon me was immense. Of course, it also feels good to know that I am perhaps the youngest village head in the country.
Was it not difficult for people to accept a young girl as the village head?
I do not think such things matter in villages these days as long as the person proves herself and does her duties with sincerity. People may be conservative, but development is always foremost in everyone's mind. And they do not hesitate to approach me with their problems.
Don't you think you should have studied further rather than hurrying up and taking the responsibilities of the villagers?
I left studying after Class 9 and have been at home for the last 3-4 years. Our village had a school only till Class 7 and to study further I had to travel five kilometres away from my village. Even today Kankot does not have a high school. I am not treating all this as a disadvantage and am trying to improve the education system in the village.
What work have you undertaken to improve education facilities for the girls of your village?
It was a pleasant surprise when my alma mater invited and honoured me after I won the election. And the first thing I did was to get approval for additional classrooms for the school and pledged to build a high school in my village. The foundation stone of the high school was laid recently.
Do you intend to study further?
My brother Gulam, who is my mentor and guide, often advises me to study further. But I would find it embarrassing to sit in a class with girls much junior to me and made him see my point of view. Now he supports me and I have set my priorities. My aim is to create awareness among the villagers and make them self-dependent. I also want to educate young girls and women about their rights and responsibilities. Though it is too early to say anything, I am very hopeful of getting support from the womenfolk and am trying to develop a good rapport with them.
What other major works you intend carrying out in the interest of the villagers?
The main issue in our village, which falls under one of the most backward districts of Gujarat, includes increasing the height of the road that passes through the village, as the area becomes inaccessible in monsoon due to river water. My focus is also on the provision of safe drinking water. Apart from working towards these, I want the villagers not to sit back, but take up the responsibilities and realise that we can develop rural areas to prevent the youth of the village from migrating to urban areas.
Generally, what particular issues do people approach you with?
The villagers are dependent on agriculture for a livelihood and they wait for the monsoons. As a sarpanch my duty is to see that life is made easier for them. We are discussing rainwater-harvesting facilities. We can build reservoirs to conserve rainwater to prevent it from flowing out of the village.
How supportive are your parents towards your ambitions?
I get total support from them and they understand the problems of the village well. Earlier, my mother was the sarpanch of Kankot followed by my father. Prior to them, my great granduncle served the villagers for 15 years. Working in the interests of the villagers has been a tradition followed in the family. In fact, my father accompanies me to the village panchayat meetings. He has trained me to write letters to MPs and MLAs for different grants. He has also taught me to understand people's situation when they visit us at odd hours for our signatures on documents or with their other sundry problems.
Exposed to politics from childhood, do you have ambitions to become an MLA or an MP in the near future?
I want to take things in my stride and not become over-ambitious. Presently, we are struggling and working towards fulfilling the needs of people at the village level. And thinking of the state level would mean aiming for too much too soon.
http://gulfnews.com/news/world/teen-appointed-youngest-village-head-in-gujarat-1.1054764
-----------
A Giant Leap for Women, but Hurdles Remain
By JERÉ LONGMAN
LONDON — During Friday's opening ceremony, Jacques Rogge, the president of the International Olympic Committee, drew loud and sustained applause when he said: "For the first time in Olympic history, all the participating teams will have female athletes. This is a major boost for gender equality."
It is true that women have come light-years from the first modern Games, held in Athens in 1896, when their presence was welcomed only as spectators. Women, too, have made significant gains even since the Atlanta Games in 1996, when 26 nations did not send female athletes.
Yet the fight for true equality is far from being won. For the first time, Saudi Arabia sent two female athletes to compete in London, along with at least one sports official. But the three women who participated in the opening ceremony walked behind the men, not among them.
For some Westerners, this has been viewed a reminder of the subordinate place of women in the conservative Islamic monarchy, where sport is forbidden for girls in schools and women are effectively not allowed to drive cars.
The moment was undoubtedly scripted, but it would have been unrealistic to expect anything else in a society where men and women are generally separated, said Christoph Wilcke, a Saudi expert for Human Rights Watch, which has forcefully pushed for inclusion of the country's women in the Olympics.
"If they were walking together and holding hands, that would not have been cool for the domestic audience," Wilcke said.
The participation of Saudi women remains complicated, even as the Games are under way. On Friday, Wodjan Ali Seraj Abdulrahim Shahrkhani is scheduled to compete in judo. She is required by Saudi officials to wear a hijab, or head scarf. But the international judo federation said last week that Shahrkhani could not compete with a head covering for safety reasons and to preserve the "principle and spirit of judo."
On Sunday, a Saudi newspaper, quoting Shahrkhani's father, said she would withdraw from Friday's competition if she could not wear a hijab. Olympic officials said Sunday that they were trying to resolve the situation. Soccer once banned hijabs, too, but approved them last month. Granted, judo is a different sport; the use of hands is critical. Safety should be paramount. But surely a remedy can be found. Otherwise, it will be hugely embarrassing to the I.O.C. and to the Saudis.
"The judo situation seems to be a debacle," Wilcke said. "Participation of Saudi women has been one of the I.O.C.'s major issues. It seems strange the I.O.C. wouldn't have contemplated clothing. That would be one of the first things on the checklist."
Perhaps Shahrkhani could compete without a head scarf if the event were not televised, but that seems unlikely, Wilcke said. He suggested a head covering like the one in soccer could be used. Failure to resolve the matter, he said, would result "in hurt feelings on both sides, for the Saudis who tried and feel betrayed, and the I.O.C., which tried to find the right balance line."
The other Saudi athlete competing, beginning Aug. 8, is an 800-meter runner named Sarah Attar. She grew up and lives and trains in Southern California, where she attends Pepperdine. Her family asked the university to remove photographs of Attar from her online biography. And the only photographs and video issued of Attar by the I.O.C. showed her hair, arms and legs fully covered. She has also declined interviews, further seeming to confirm that hers is but a token presence in London.
Yet, small steps can be important ones. Qatar also entered its first female athletes in the Summer Games. One of them, a shooter named Bahiya al-Hamad, carried her country's flag in the opening ceremony. Beforehand, she said on Twitter that she was "truly proud and humbled."
About 45 percent of the 10,500 athletes competing are women. Restrictions are falling away, stereotypes are being turned on their head. NurSuryani Mohamed Taibi, a shooter from Malaysia, became one of the few Olympic athletes to compete while pregnant when she participated Saturday in the 10-meter air rifle event.
"I felt her kicking," NurSuryani, who is scheduled to give birth to a daughter next month, told reporters. "But I said to her, 'O.K., be calm; Mummy is going to shoot now.' "
Ten or 15 years ago, it would have been unheard-of, and possibly career threatening, for any member of the United States women's soccer team to publicly announce that she was a lesbian. But midfielder Megan Rapinoe did so just before the Games, and the response has been widely supportive.
"As athletes, we live our lives in the public eye and have a platform to be positive role models," Rapinoe wrote in a blog on espnW. "I'd like to help create more tolerance and acceptance across the board. That means more people talking about it, more people coming out and, at the end of the day, making less of a massive deal about being gay."
Not that discrimination, or slights, have exactly ended. Japan's women's soccer team is the World Cup champion. But its players were forced to fly coach, while the men's team rode in business class, on a 13-hour flight to Paris from Tokyo before the Games.
On Wednesday in the women's Olympic soccer tournament in Glasgow, organizers infuriated the North Koreans by placing South Korean flags next to their faces and names on the scoreboard.
Yet female soccer players have also gained praise for performing without the diving, theatrical writhing and complaining inherent in the men's game. A British reader named Geoff Cooling wrote to The Daily Mail on Sunday that he had watched an entire match devoid of excessive preening and whining.
"Was I dreaming?" he wrote.
http://www.nytimes.com/2012/07/30/sports/olympics/despite-gains-for-female-athletes-
-----------
Woman Arrested For Killing Husband
July 30, 2012
KOT GHULAM MUHAMMAD:
The police have arrested a woman, Naheed, and her cousin, on charges of killing her husband Nizamuddin Mayo, a religious teacher at a mosque in Rathban Mayo village.
Nizamuddin had married Naheed, a resident of Mirpurkhas, two years ago. However, a year into the marriage, the relationship hit the rocks and Naheed began asking for a divorce. Nizamuddin lived in a rented space over the mosque where he used to teach the Holy Quran to children.
He left the house after sehri on July 26 and returned three hours later to find his wife's cousin and his sister there. He went straight to bed and asked his wife to wake him up later.
As Nizamuddin slept, Naheed and Abdul Latif tied a rope around his neck and asphyxiated him. Abdul Latif's sister, who was standing aghast in the kitchen, witnessed the entire episode. The police arrested the murderers in Kotri. A case has been registered against the suspects.
http://tribune.com.pk/story/414737/caught-woman-arrested-for-killing-husband-2/
---------
Many Egyptian Women Fear for Future under Morsi Government
Jul 30, 2012
Egyptian women fear that the revolution would be aborted before achieving its three main principles: bread, freedom and social justice.
They are consumed with fears after they found out that Egypt's newly drafted constitution, which was the outcome of the country's uprising against oppression, marginalized them intentionally.
Today, fear almost ravages these women, who look twice in the mirror before heading to work for fear of being harshly criticized by an extremist or a woman wearing a hijab, since the new Egypt has become far more conservative and strict.
As soon as it was officially announced that Mohamed Morsi, the candidate from the Freedom and Justice Party (FJP), which is the political arm of the Muslim Brotherhood, won the presidential election, several women reported that they were harassed by bearded men and veiled women calling on them to wear the hijab.
Although there is no evidence to corroborate such claims, Morsi's supporters, who generally belong to Islamist movements, mainly the Muslim Brotherhood and Salafists, have undoubtedly gained more confidence and power after their number increased. Since women often choose to be the "weakest link," it is normal to see them easily fall prey to the conflicts between Islamist movements and liberal parties. Egyptian women can be effortlessly subjected to the authority of those who can impose their control over them and they are also the easiest means to spread terror, fear and, of course, to convey the message. In other terms, if a woman is attacked or threatened, she will certainly report the incident to her friends and family, including mothers, female cousins and neighbors, so that they take the necessary precautions.
Full report at:
http://www.al-monitor.com/pulse/culture/2012/07/the-egyptian-woman-after-the-rev.html
-----------
Life tough for Pak's future women judges: Daily
July 30, 2012
Islamabad: A Pakistani daily welcomed the government's decision to appoint women to the Judiciary, but cautioned that "future women Justices are going to find life on the bench no easier than they do in every other aspect of their lives".
An editorial in the News International Monday said that President Asif Ali Zardari has declared that the government has decided to appoint women to the judiciary, "a move that can only be supported at the same time as noting that it is a move long overdue".
The daily said: "Discrimination against women, be it in terms of their education, job or promotion opportunities, rights of inheritance or reproductive health care is one of the greatest impediments to our overall development."
It rued that the country has "Parliamentarians who are happy to stand up and proclaim that the burying alive of women on the grounds of 'honour' is culturally acceptable and others who have fought tooth and nail to block laws that would have protected women were they ever enforced".
Full report at:
http://zeenews.india.com/news/south-asia/life-tough-for-pak-s-future-women-judges-daily_790565.html
-----------
Nawaz Sharif's Daughter 'Proud' Of His Decision to Suspend Husband
July 30, 2012
Islamabad: Pakistan Muslim League-Nawaz (PML-N) chief Nawaz Sharif's daughter, Maryam Nawaz, has defended her father's decision to suspend her husband, PML-N leader Captain (retired) Mohammad Safdar from the party on allegations of forming his own group in the party.
Maryam tweeted on micro-blogging site Twitter that she was glad her father preferred justice and equality over family relations, reports The Express Tribune.
She said this negated the notion that PML-N is a family party, adding that no one is above the law and the party stands for the rule of law, justice and fairness.
"I am glad that my father preferred justice & equity over familial relations. This is an unexampled step which negated the notion that PMLN is a family party or patronises favouritism. No one is above law. Justice & fairness must prevail. PMLN stands for rule of law" Maryam tweeted.
Full report at:
http://zeenews.india.com/news/south-asia/sharif-s-daughter-proud-of-his-decision-to-suspend-husband_790572.html
-----------
Retired Muslim Woman Professor U of L Reveals the Feminist Side of the Quran
Jul 29, 2012
During Riffat Hassan's 33 years as a professor of religious studies at the University of Louisville, she often surprised the Muslim students as much as the non-Muslims.
That's because she taught that the Quran, the holy text of Islam, is "Magna Carta" of human rights— and absolute women's equality.
Unlike the Judeo-Christian accounts of creation, the Quran describes male and female as created in the same way and time. So, she surmises, "If man and woman have been created equal by Allah, who is the ultimate arbiter of value, then they cannot become unequal, essentially, at a subsequent time."
Though she retired as a professor in 2009, Hassan is still teaching that message, most recently by training clerics, social and political activists, teachers and others in South Asia.
"Islam, though it has been used as a religion of oppression, can be a means of liberation if you educate people properly," Hassan said in a recent interview from her Hurstbourne home. Full report at:
http://www.courier-journal.com/article/20120729/NEWS01/307290049/Retired-U-L-
-----------
Two Women in Karachi Shot Dead
July 30, 2012
Karachi: Two women were killed, while the same number of men suffered bullet wounds in different incidents across the city on Sunday.
Unidentified criminals barged into the residence of 35-year-old Haseena in the Rozi Goth of Khuda Ki Basti. The armed men held the woman, her husband and brother-in-law at gunpoint and ordered them to hand over their valuables. However, the residents of the house resisted and the bandits opened fire, injuring all three of them. The robbers collected the loot and fled from the scene of the crime.
Locals rushed into the house after hearing the gunshots and saw the victims lying in a pool of blood.
Full report at:
http://www.thenews.com.pk/Todays-News-4-123488-Two-women-shot-dead
-----------
Top Saudi Shia Cleric's Wife passes away
July 30, 2012
According to received reports the wife of the top Saudi Shia cleric Sheikh al Nemer, Muna Jabir al-Shariyavi, has died in an American hospital in New York city.
(Ahlul Bayt News Agency) - According to received reports the wife of the top Saudi Shia cleric Sheikh al Nemer, Muna Jabir al-Shariyavi, has died in an American hospital in New York city.
http://abna.ir/data.asp?lang=3&Id=332704
-----------
URL: https://newageislam.com/islam-women-feminism/a-muslim-teen-appointed-youngest/d/8091