New Age Islam News Bureau
11 Sept 2012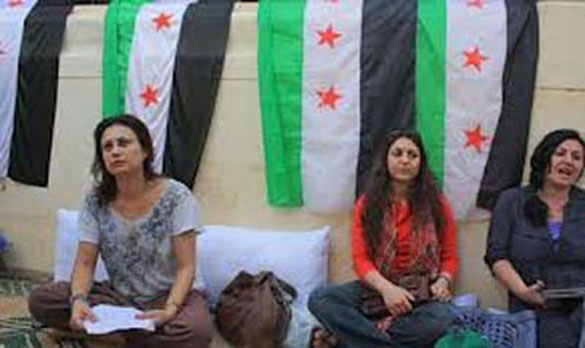 • Rape, Murder of Niece: Rapist Says Actions Were Motivated By a Fictional Character
• Pakistan: 'To Stop Child Marriages, State Needs to Step In'
• Iran Jails 2 Women Journalists Raising The No. To 5
• Syrian Women Hunger Strikers Demand 'Action, Not Speeches' From Egypt's Morsi
• Pakistan's Generation Y Battles to Shape Country's Future
• 14-Year-Old Rimsha Moved To Undisclosed Place
• Rimsha case: Senate chides police for haste in blasphemy FIR
• Activists Protest for the Inclusion of Women's Rights in the Egyptian Constitution
• Writer tried to stop Vogue profile of Syria's first lady
• Female Jockeys Offered Driving Incentive in Final Leg in Abu Dhabi
• 42% of Unemployed Women in KSA Support the Idea of Working in the Retail Sector
• Nigerian Takes Woman Advocate to Court Accusing Of Hate Speech
• Qatar Businesswomen Forum to discuss key issues on women
• Bangladesh: Women's Leadership Forum Opens at Asian University for Women
• Indonesia ban women's pair after Olympic scandal
• Gambia: Women in Politics Initiative Launched
• South Africa: Women Called To Play Their Part in Strengthening Democracy
• Fiza Mohammad Died Of Poisoning: Post-Mortem Report
• Natalie du Toit captures Women's 200m IM gold – 2012 Paralympic Games
Compiled by New Age Islam News Bureau
Photo: Syrian Women on Hunger Strike
URL: https://newageislam.com/islam-women-feminism/2-year-jail-rs-one/d/8631
-----------
2 Year Jail and Rs One Lac Suggested As Least Punishment in Pakistan for Child Marriage
September 11, 2012
ISLAMABAD: A consultation workshop on child marriage on Monday suggested a two-year jail term and Rs 100,000 fine as the minimum punishment for the parents/guardians who indulge in child marriages.
The event was jointly organised by Action Aid, Plan International and Bedari at a local hotel. The purpose was to develop and endorse a five-year campaign to bring about changes at policy and programme-level on child (girl) marriages.
Through this consultation, all partners and stakeholders were provided with a platform for sharing of existing knowledge and current programmes on the issue. The consultation was attended by prominent figures from within the civil society, religious scholars, legal experts, and media persons.
Uzma Tahir of the Action Aid gave an overview of the issue of child marriages and its implications. Samina Sardar of the Plan International shared the project being executed by Plan International aimed at ending child marriages.
Saleem Malik of the Bedari was of the view that "we should not look towards the so-called scholars for guidance but should make human rights a standard". He said that every religion aims at protecting people's basic human rights. "Child marriages bring a lot of misery to the children, especially the small girls. It is a curse and should be avoided at all costs," Malik said.
Imtiaz Ahmad of SPARC and Qadeer Baig of the Rutger's WPF shared their experiences and practices with the audience. Baig said that Rutger's WPF had got a law drafted for Sindh and would soon share it with civil society for their comments and feedback.
The session ended with a video of a play 'Yeh Shadi Nahi Ho Sakti' by Bedari Theatre Group. The participants were also briefed that customs and traditions such as vani, swara, vulvar and watta satta play significant role in girls' early marriages. Girls are seen as a burden on the family, and are married off at an early age. In some cases grooms are required to pay money to father of girl. Dispute settlement is another important reason; girls are given to solve disputes.
Literacy rate in Pakistan is very low so people do not have awareness about the affects of child marriages. The birth registration system is also ineffective and non-responsive and it gives room for manipulation regarding the exact age of the girl. Marriage registration process is weak. So marriage registrar and the union council officials do not perform their duties. Most of the people are not aware about the Child Marriage Act and they think that girls should be married off as early as possible.
The participants recommended that existing law (Child Marriages Restraint Act 1929) should be reviewed to make it responsive to the current needs. Especially the punishment for early marriages must be increased. The minimum punishment should be two years and Rs 100,000 fine. Punishment should be made applicable to all the parties involved in child marriages, including parents of bride and groom. The discrimination between boys and girls should be abolished and legal age for marriage should be 18 years for both groom and bride.
The second session consisted of group work. The participants were divided into three groups to discuss ways and means to end girl child marriages. The three groups were given different topics, including a campaign designing for right holders, empowerment of families to avoid child marriages and empowerment of girls. It was decided that the recommendations would be compiled and shared through email for feedback. Furthermore, there was a consensus on forming a loose alliance, but not a new formal network.
http://www.dailytimes.com.pk/default.asp?page=2012\09\11\story_11-9-2012_pg11_2
-----------
Rape, Murder of Niece: Rapist Says Actions Were Motivated By a Fictional Character
By Muhammad Sadaqat
September 11, 2012
MANSEHRA: A teenage boy has confessed of his crime of raping and murdering his niece. Adil Khan, 17, testified before a judicial magistrate on Monday that his actions were motivated by a character from a story in a digest.
Khan said that he was reading a fictional story from an Urdu digest wherein a character used to kill his girl victims after raping them, adding that when his minor niece came to his room, he was "overwhelmed with inhuman instincts".
"She implored and cried for help but I assaulted her; when her condition deteriorated and she did not stop crying I strangled her, which made her silent forever," Khan told the judge, his eyes welling. "I am ashamed and seek forgiveness from my family and the God Almighty," he added.
Earlier on Saturday, Khan had confessed to assaulting and killing his minor niece, Tehreem*, when she came to wake him up in a room of this father's under-construction house in Chirach Behali village.
He then dumped her body in a sewer near the house. When the family initially asked him about Tehreem's whereabouts, he expressed ignorance and joined the family in her search. But when the family members found Tehreem's slippers outside Khan's room, they interrogated him and he confessed.
http://tribune.com.pk/story/434459/rape-murder-of-niece-rapist-says-actions-were-motivated-by-a-fictional-character/
-----------
Pakistan: 'To Stop Child Marriages, State Needs To Step In'
By Mavra Bari
September 11, 2012
ISLAMABAD: Marriage at an early age is a harsh reality for many young women, with dire repercussions for them, their children and the community. Still, according to UNICEF, child marriages accounted for 32 per cent of all marriages in the country from 1987 to 2005.
During a consultative meeting that was held to discuss the sensitive topic on Monday, it was shared that not much is expected to change in the next decade if the government does not take the issue seriously. Around 100 million girls are expected to enter into child marriage in the next decade, it was said.
Participants got together to map out the social, medical and legal work being done to decrease the prevalence of child marriages.
Qindeel Shujaat, legal adviser on human rights, said that while there are laws to prevent child marriages, the Child Marriages Restraint Act 1929 hasn't been modified in 82 years. "The punishment for violating the law is a fine of Rs1,000, or one month imprisonment. If a marriage involving children takes place, the adults are punished, but the marriage is not dissolved," she said. However, according to Shujaat, the law's implementation is non-existentant.
Participants recommended that the minimum punishment be increased to two years and the fine to at least Rs100,000 to deter offenders. Penalties should be applicable on parents of both the bride and groom. Also, the minimum age for marriage for both boys and girls should be 18 years. While a 16 year-old girl is eligible for marriage, she cannot vote, drive or open a bank account. The groom is required by law to be 18 or above.
In addition to the legal framework and social implications, health consequences of child marriages were also highlighted. Girls are at a higher risk of birth-related morbidities such as fistula, post-partum haemorrhage, sepsis and hypertensive disorder. The underage mother and child's psychological health is also adversely affected as the transition to motherhood is abrupt and premature.
"Young girls lose control over their bodies and lives. Patriarchy determines the girls' fate and they are imprisoned in an adult life while still children," said Uzma Tahir, policy manager Actionaid. She also stated that it was imperative to change the societal mind set that considers women the personal property of their male family members. "The difficulty in bringing about reforms is doubled as laws are not conducive to change," Tahir said.
Rutger's WPF Country Director Qadeer Baig said, "We want to engage the media to raise awareness on early marriages and pregnancy and influence policy makers and government officials to bring about legislative change in the minimum age of marriage."
The event was jointly arranged by Actionaid, Bedari and Plan International.
http://tribune.com.pk/story/434512/underage-victims-to-stop-child-marriages-state-needs-to-step-in/
-----------
Iran Jails 2 Women Journalists Raising The No. To 5
September 11, 2012
Two Iranian journalists, Shiva Nazar Ahari and Jila Bani Yaghoob, have been arrested in order to serve previously imposed jail sentences. Their detention brings to five the number of women journalists in jail in Iran.
Ahari, 27, a human rights activist and editor of the Azad Zan (Freed Women) website, is serving a four-year sentence for plotting against national security and transmitting anti-government propaganda. She was also sentenced to 74 lashes.
Yaghoob, who has been a journalist since 1994, wrote for many reformist newspapers (now closed) about Lebanon, Afghanistan and Iraq. Her "We are journalists" blog was awarded a press freedom prize in the 2010, and the year before she won the International Women's Media Foundation's courage-in-journalism award.
She was arrested in June 2009 along with her husband, fellow journalist Bahaman Ahamadi Amoee. Yaghoob was released on bail two months later, but her husband was given a five-year jail sentence for articles critical of the Ahmadinejad administration.
In October 2010, she received a one-year jail sentence and was banned from working as a journalist for 30 years.
Yaghoob and Amoee are not the only journalist couple to be in an Iranian prison at the same time. Mahssa Amrabadi has been serving a two-year jail sentence since May while her husband Masoud Bastani, who worked for the daily Farhikhteghan, is serving a six-year sentence.
Bastani was given temporary permission to leave prison yesterday to receive medical treatment. He has requested permission to visit his wife in her prison.
Yaghoob and Amrabadi, are being held in Evin prison while their husbands are serving their sentences in Rajaishahr prison, regarded as one of Iran's harshest jails because of its many reported cases of torture, rape and murder.
http://www.guardian.co.uk/media/greenslade/2012/sep/11/press-freedom-iran?newsfeed=true
-----------
Syrian Women Hunger Strikers Demand 'Action, Not Speeches' From Egypt's Morsi
Zeinab El Gundy, Monday 10 Sep 2012
Demonstrators hunger-striking outside Arab League implore Egypt's authorities to improve conditions of Syrian refugees in Egypt; visiting UN envoy Brahimi asks the four women to stop protest
Four Syrian women have reached the seventh day of a hunger strike in front of the Arab League headquarters in Cairo, in a bid to highlight the suffering of civilians caught up in Syria's 18- month old uprising.
Despite being largely ignored by Arab League officials, early Monday the United Nations and Arab League special envoy to Syria Lakhdar Brahimi stopped to speak to the strikers as he entered the building to attend a meeting with the league's Secretary-General Nabil El-Arabi.
Lina Al-Tibi, one of the hunger strikers, reported via her Twitter account that Brahimi told the women they should stop their strike and invited them to lunch, while El-Arabi informed them that the league cannot impose a no-fly zone as "the decision-making countries are against it."
The four hunger strikers are actress Louisa Abdel-Karim, poet Al-Tibi and activists Rola Al-Khash and Salma Al-Gazayerly. They started the protest last Tuesday under the slogan of "save the children of Syria."
The women were inspired by a group of Syrian activists, mostly artists, who held similar protests in Paris and Amman. Their main demand is that the Egyptian government stops Iranian and Chinese military ships using the Suez Canal to transport weapons to Al-Assad's troops.
Full report at:
http://english.ahram.org.eg/NewsContent/1/64/52333/Egypt/Politics-/Syrian-hunger-strikers-demand-action,-not-speeches.aspx
-----------
Pakistan's Generation Y Battles to Shape Country's Future
By Amna Nawaz
September 10, 2012
ISLAMABAD, Pakistan -- Khalida Brohi's new life began when another girl's life ended.
Born and raised in Pakistan's remote, conservative province of Balochistan, Brohi was 16 years old when the community's traditions collided with her own personal beliefs.
"I found out about a girl who was murdered in the name of honour," she recalls. "I knew her and why she was killed. She wanted to marry someone she liked and she was killed just for that. When I found out about this girl, I knew that was the turning point in my life."
While still a teenager, Brohi founded Sughar Women's Program, a non-profit organization with the mission of educating women about their basic rights. In many conservative communities across Pakistan, a woman's world extends only so far as the walls of her home. Their social interactions are restricted to family members and opportunities are defined by husbands, fathers and elder brothers.
But training and micro-loans provided by Brohi's group have resulted in CDs, books and embroidered handbags the women produce being sold across the country as well as at a flagship Sughar store in Karachi.
Now 23, Brohi is somewhat of a veteran in her field, and she's not alone.
http://worldnews.nbcnews.com/_news/2012/09/10/13682714-new-radicals-pakistans-generation-y-battles-to-shape-countrys-future?lite
-----------
14-Year-Old Rimsha Moved To Undisclosed Place
September 11, 2012
A young, mentally-challenged Christian girl accused of blasphemy has been moved from the police headquarters in the Pakistani capital to an undisclosed location for security reasons, days after she was granted bail in the controversial case that has sparked international
concern.
14-year-old Rimsha Masih, who was granted bail by a court in Islamabad on Friday, was moved from the Police Lines Headquarters to an undisclosed location within the country last night, sources said on Tuesday.
She and her family had been kept at the police headquarters after she was released from the high-security Adiala Jail in Rawalpindi on Saturday.
Tight security arrangements were made for transporting Rimsha to another city from the women's barracks at the police headquarters.
There was speculation last night that Rimsha and her family would be flown out of Pakistan but Christian leader Paul Bhatti, Adviser to the Prime Minister on National Harmony, said the girl and her family had not left the country.
Bhatti told the media that Rimsha and her family had been moved to a "safe place selected by the authorities."
Full report at:
http://www.hindustantimes.com/News-Feed/pakistan/Pakistan-Christian-girl-moved-to-undisclosed-place/Article1-927971.aspx
-----------
Rimsha case: Senate chides police for haste in blasphemy FIR
By Sumera Khan
September 11, 2012
ISLAMABAD: A day after Rimsha Masih was released on bail and flown to a safe location under heavy protection, the Senate standing committee on human rights took Islamabad police to task for demonstrating haste and ignoring due process in registering a blasphemy case against the accused.
Questioning the performance of the capital police, the committee grilled Inspector General of Police Bin Yamin for failing to stand up to pressure from the local community.
Describing the required legal process for registering a blasphemy case, Senator Raza Rabbani said that "in blasphemy cases it is binding on the police that an officer not lower than the rank of superintendent police should lodge the FIR only after the approval of a sessions court judge."
Full report at:
http://tribune.com.pk/story/434731/rimsha-case-senate-chides-police-for-haste-in-blasphemy-fir/
-----------
Activists Protest for the Inclusion of Women's Rights in the Egyptian Constitution
10 Sep 2012
Protest by coalition National Front for Egyptian Women will take place in Cairo on Monday evening
The National Front for Egyptian Women called for a protest on Monday at 7pm CMT in Talaat Harb Street, Downtown Cairo, to demand that previously-gained rights for women are secured, and to ensure the inclusion of women's rights in the new constitution.
The National Front for Egyptian Women is a coalition that includes representatives from the Tagamu Party, the Socialist Youth Union, the Wafd Party, the Nasserist Party, Dostor Party, Al-Adl Party, the Popular Socialist Coalition, Ghad El-Thawra party, as well as several rights groups and some public figures.
Women's rights activists have conducted several recent protests, including some highlighting the issue of sexual harassment and sexual assaults on female protesters in Tahrir Square.
http://english.ahram.org.eg/NewsContent/1/64/52471/Egypt/Politics-/Activists-protest-for-the-inclusion-of-womens-righ.aspx
-----------
Writer tried to stop Vogue profile of Syria's first lady
4 Aug 2012
The author of an article on Syrian First Lady Asma Al-Assad for a power edition of Vogue says claims she suggested they hold the article, but the magazine 'didn't think the Arab Spring was going anywhere'
The writer of a controversial Vogue profile of Syria's First Lady Asma Al-Assad says she urged the influential fashion magazine not to run the piece as the Arab Spring took hold.
Writing in this week's Newsweek magazine, Joan Juliet Buck said she submitted her upbeat 3,200-word story on 14 January, 2011, the day Tunisia's leader Zine Al-Abidine Ben Ali fled his country in the face of an uprising.
"'The Arab Spring is spreading,' I told Vogue on 21 January," Buck recalled. "'You might want to hold the piece' [but] they didn't think the Arab Spring was going anywhere and the piece was needed for the March 'Power Issue'."
When Egyptian leader Hosni Mubarak was overthrown on February 11, 2011, and protests flared in Libya, Buck -- editor of French Vogue in the 1990s -- asked to meet Vogue's managing editor "to discuss how to handle the Assad piece."
"A meeting was held without me. I was asked not to speak to the press," she said, and the article appeared on Vogue's website on 25 February headlined "A Rose in the Desert."
Full report at:
http://english.ahram.org.eg/NewsContent/7/47/49478/Life--Style/Style/Writer-tried-to-stop-Vogue-profile-of-Syrias-first.aspx
-----------
Female Jockeys Offered Driving Incentive in Final Leg in Abu Dhabi
Amith Passela
Sep 8, 2012
ABU DHABI // The final race of the inaugural Sheikha Fatima bint Mubarak Ladies World Championship will be the highlight of the opening day of the capital's racing season.
The championship is the first international Purebred Arabian series specifically catering for women jockeys, with nine races having already taken place around the world throughout the year - from Oman to the United States.
The winners of the nine races so far will be joined by Shathra Al Hajjaj, the Emirati amateur jockey, and professionals Michelle Payne of Australia and Joy Scott of the United States, in a 12-horse race on November 11 at the Abu Dhabi Equestrian Club.
Organisers are giving a Mercedes to the winner while a second car will go to one of the 108 jockeys who took part in the series, via a random draw.
Veronika Aske, the winner of the race at Newbury, England, in May is looking forward to the final.
Full report at:
http://www.thenational.ae/sport/horse-racing/female-jockeys-offered-driving-incentive-in-final-leg
-----------
42% of Unemployed Women in KSA Support the Idea of Working in the Retail Sector
September 11, 2012
Riyadh, 11 Sep 2012: A recent study conducted by ALWANE, a recently established regional coalition of experienced and emerging leaders from 17 countries across the Middle East and North Africa shed the spotlight on Saudi women working in the retail industry. The study done in partnership with women empowerment hub GLOWORK, Harvey Nichols Riyadh and KPMG highlighted the public's overall perception of the retail industry. This came in light of the recent law regulation allowing women to work in the retail sector in the kingdom.
The survey sampled 100 Saudi women between the ages of 18 to 36 years old who were chosen on SRS (Simple Random Sampling) basis. Results demonstrated that 42% accept the idea of women working in the retail sector, while 58% dismissed the idea completely.
31% of respondents from across the Kingdom highlighted lack of awareness of what the retail sector actually is as a main concern in working in the retail sector. Respondents noted that there are not any success stories in the region, let alone the country, to understand the type of career path they would be undertaking. Respondents added that the perception of the retail industry must change. 25% said family pressure and acceptance is what holds them back from working in the retail industry and only a mere 5% mentioned that transportation was an issue in accepting a retail job.
Full report at:
http://www.zawya.com/story/42_of_unemployed_women_in_KSA_support_the_idea_of_
-----------
Nigerian Takes Woman Advocate to Court Accusing Of Hate Speech
September 10 2012 a
By Anelisa Kubheka
Durban - A Nigerian man wants an advocate disciplined for allegedly saying to him that foreigners married South African women only to get permanent residency.
Lucy Okeke, who was briefly married to a KwaZulu-Natal woman, has lodged a formal complaint against the advocate, Nomusa Khuzwayo, in the Durban Equality Court, accusing her of hate speech and unfair discrimination.
Okeke told the court on Friday that he had met Khuzwayo through the University of KwaZulu-Natal's Law Clinic, when he needed help with visitation rights for his child from the marriage, which had been dissolved by then.
He said it was during a consultation with Khuzwayo in February that the comments were allegedly made.
Full report at:
http://www.iol.co.za/news/africa/nigerian-takes-advocate-to-court-
-----------
Qatar Businesswomen Forum to discuss key issues on women
September 11, 2012
The Qatar International Businesswomen Forum (QIBF) will hold its third annual event on October 15 and 16 at the St Regis Doha.
Last year's event, under the patronage of HH Sheikha Moza bint Nasser, attracted nearly 800 delegates from the GCC region, Europe and the Americas.
This year's event will have more delegates from a larger number of countries.
The Forum, which has gained recognition as one of the most successful events in the region focusing on issues of Arab women in business and economic life generally, will again be organised by the Qatari Businesswomen Association (QBWA) in collaboration with Interactive Business Network.
The organisers said the third QIBF will be influenced by, and take account of, the upheavals taking place in the Arab world, as well as developments in the global economy.
The Forum will thus look at the broader implications of the move towards democratisation in the region for women's causes, particularly in terms of broader political participation, equality in job opportunities and other matters, as well as the impact of economic conditions arising from the Arab Spring situation and the new crises in the international economy on prospects for the Arab economies generally, and prospects for Arab businesswomen in particular.
Full report at:
http://www.gulf-times.com/site/topics/article.asp?cu_no
-----------
Bangladesh: Women's Leadership Forum Opens at Asian University for Women
September 11, 2012
Visiting US diplomat for women's issues Melanne S Verveer inaugurated a 10-day Grassroots Women's Political Leadership Forum at the Asian University for Women (AUW) in Chittagong yesterday.
The forum is bringing together 71 elected women representatives of different local government bodies from six SAARC countries. They will interact with each other, share and exchange their views and receive training in different areas so that they could play stronger leadership roles in politics.
Speaking at the inaugural ceremony, Verveer said women were entering politics in greater numbers around the world. "In India, a lot of women have been elected from Panchayet to top level, but those gains have been uneven and often those successes are unrecognised," she said.
Full report at:
http://www.thedailystar.net/newDesign/news-details.php?nid=249266
-----------
Indonesia ban women's pair after Olympic scandal
September 6, 2012
JAKARTA: The Indonesian Badminton Association have banned their women's doubles pair from competitions for four months after they were disqualified for throwing a match in the Olympics.
Greysia Polii and her partner Meiliana Jauhari are "ineligible for national and international competition for four months until Dec 3", association secretary-general Yacob Rusdianto said yesterday.
The Badminton World Federation (BWF) disqualified the pair at the beginning of August after they tried to lose matches in the first round group phase in an attempt to manipulate the knockout draw.
Full report at:
http://thestar.com.my/sports/story.asp?file=/2012/9/6/sports/11975070&sec=sports
-----------
Gambia: Women in Politics Initiative Launched
BY FATOUMATA CEESAY & LAMA S JALLOW
10 SEPTEMBER 2012
An initiative that seeks to promote women's participation in politics, entitled 'Women in Politics' was Wednesday launched by The Association of Non-Governmental Organisations (TANGO), in collaboration with the United States Embassy at the TANGO head office along the Bertil Harding Highway.
Funded by the US Embassy under the Democracy and Human Rights Fund, which will last for a period of 12 months, the initiative is aimed at promoting the active participation and representation of women in representative institutions and decision-making processes.
Speaking at the launching ceremony, Ousman Yarbo, the executive director of TANGO, expressed delight at the initiative, stating that the project is one of those important projects that institutions need to invest into. He said the issue of women not participating in politics is serious in terms of gender quality, as there are reasons that prevent women from participating in politics. He added that his organisation is calling on all women, be it young or old to come out and show their hidden talents. "As a politician you have to take it as a challenge. People will talk about you because you should be seen as a role model. Questions will come your way, but most of the women don't like to be screened," he remarked. Yarbo emphasised that the aim of the project is for women to be open and become active in politics, while expressing gratitude to their partners and the people for working tirelessly with them.
Full report at:
http://allafrica.com/stories/201209100821.html
-----------
South Africa: Women Called To Play Their Part in Strengthening Democracy
10 SEPTEMBER 2012
Even though a critical mass of women have ascended to leadership positions in scarce skills sectors such as the judiciary, there are lingering challenges that still need to be addressed, says Public Protector Adv. Thuli Madonsela.
She was addressing a dinner of the Higher Education Resource Services South Africa (HERS-SA) Academy in Cape Town on Sunday night. The event was attended by women academics and leaders from the higher education sector.
In her speech, the Public Protector said having women in leadership positions was a human rights issue, specifically, a matter of the right to equality, which is entrenched in section 9 of the Constitution.
Full report at:
http://allafrica.com/stories/201209100993.html
-----------
Fiza Mohammad Died Of Poisoning: Post-Mortem Report
Sep 10 2012
Mohali : Fiza mohammad aka Anuradha Bali's post-mortem report, submitted today to the Special Investigation Team of the Mohali Police, suggested she had died of poisoning.
The 3-member Medical Board, which handed over the report to the SIT, had opined that Fiza had died due to poisoning by aluminium phosphide in the presence of ethyl alcohol.
The SIT officials did not comment on the report citing technical reasons.
SIT chief S P Swarndeep Singh was not available for comments. A senior official, on condition of anonymity, said they were not in a position to comment as they were seeking some clarifications.
The post-mortem report, prepared by doctors P S Bhatti, Neera Verma and Sukhwinder Kaur, said "the cause of death in our opinion, is poisoning due to aluminium phosphide in the presence of ethyl alcohol."
The highly decomposed body of 39-year-old Fiza, the estranged second wife of former Haryana Deputy Chief Minister Chander Mohan, was found at her Mohali residence a month ago.
The police had not found any suicide note from Fiza's house.
Fiza had shot into limelight four years ago following her controversial marriage to Chander Mohan, son of former Haryana Chief Minister Bhajan Lal.
http://www.indianexpress.com/news/fiza-mohammad-died-of-poisoning-postmortem-report/1000652/
-------
Natalie du Toit captures Women's 200m IM gold – 2012 Paralympic Games
10 SEPTEMBER 2012
Natalie du Toit of South Africa captured gold medal of the Women's 200m Individual Medley (IM) in SM9 category on day eight of the swimming events at the 2012 London Paralympic Games in Aquatics Centre on Thursday, September 6.
The South African swimmer served notice of her talent in the 200m discipline and sprinted her way towards the finishing blockade for the title.
With her impeccable pace, she faced no trouble in securing the title of the event as she overpowered her competitors in a comfortable manner. She continued her unrelenting efforts and transpired on the finishing blockade for gold medal with a timing of 2 minutes and 34.22 seconds.
Her gold winning effort remained nearly two seconds faster from her following swimmer, Stephanie Millward of Great Britain, who tapped the wall with a timing of 2 minutes and 36.21 seconds for silver medal.
The second position holder was followed by Louise Watkin of Great Britain, who stayed 1.58 seconds slower from her teammate and tapped the wall with an effort of 2 minutes and 37.79 seconds for bronze medal.
Full report at:
http://blogs.bettor.com/Natalie-du-Toit-captures-Womens-200m-IM-gold-2012-Paralympic-Games-a186339
-----------
URL: https://newageislam.com/islam-women-feminism/2-year-jail-rs-one/d/8631