New Age Islam News Bureau
8 Sept 2012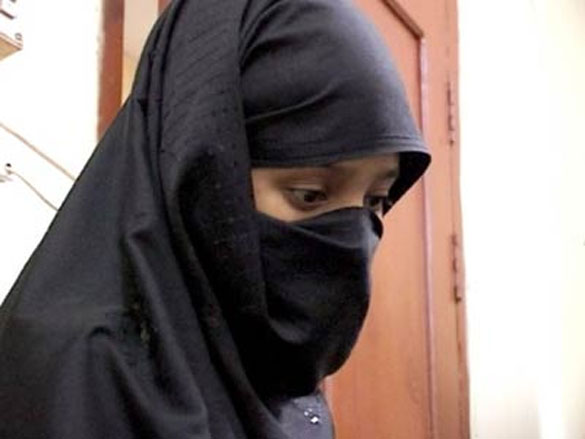 • Jirga's Verdict: Another Teenage Girl May Forcibly Be Married to an Old Man
• Two Teenage Girls among 18 Held in Tawau, Malaysia
• Saudis Report Some Domestic Workers Prey On Elderly Employers
• Malaysia: Police Widen the Net in Sex Trafficking Investigation
• Malaysia Man Who Beat up Pregnant Wife Says He's Sorry, Accuses Infidelity
• 'Pak Christian Blasphemy Girl Did Not Leave Her Home on Day of Incident'
• Gender Mixing Sparks Controversy at Saudi All-Women University
• Freed Pakistani Christian Girl 'Will Need Armoured Vehicle to Protect Her'
• Codified Shariah Laws on Women's Rights
• Iranian Female Athletes Find Their Way
• Militants Attack Girls School in Swabi
• Family of Girls Who Survived Alps Killings Arrive In France
Compiled by New Age Islam News Bureau
Photo: Sadia Teenage Girl May Forcibly Be Married to an Old Man
URL: https://newageislam.com/islam-women-feminism/i-saved-honour-mother-shoots/d/8606
------------
'I Saved My Honour': Mother Shoots and Decapitates Rapist
By GRAHAM SMITH
6 September 2012
Nevin Yildirim, 26, is now awaiting trial after murdering rapist in her home in south-west Turkey last week
Mother-of-two is five months pregnant with, she claims, her rapist's child and is demanding abortion
This is the pregnant rape victim who shot and decapitated her attacker then left his severed head in the square of her local village.
Nevin Yildirim, 26, is now awaiting trial after murdering the man in her home in Yalvac, south-west Turkey last week.
The mother-of-two is five months pregnant with, she claims, her rapist's child.
She is demanding authorities let her have an abortion even though she is four weeks beyond Turkey's ten-week termination limit.
Yildirim said the man, Nurettin Gider, began assaulting her a few days after her husband left home in January to work a seasonal job in another town.
She claims he threatened her with a gun and said he would kill her children, aged two and six, if she did not keep silent, reports CNN.com.
The rapes continued over the next eight months until August 28, when Yildirim decided she had had enough.
On that day she shot Gider after he had climbed up the back wall of her house and then shot him again when he reached for his gun.
She said: 'I chased him. He fell on the ground. He started swearing at me.
'I shot his sexual organ this time. He became quiet. I knew he was dead. I then cut his head off.'
In total, Yildirim shot him ten times, including several times in his groin region. He was also reportedly stabbed in the abdomen after he was shot.
She then carried his head, which was dripping blood, by the hair to the village square at Yalvac, onlookers said.
Speaking to shocked men sitting outside a coffee house, she said: 'Don't talk behind my back, don't play with my honour. Here is the head of the man who played with my honour.'
Video footage of Gider's head on the ground was captured by local broadcaster DHA, who arrived at the scene before police.
It is thought the rapist was blackmailing Yildirim. She said he had taken nude photos of her while pregnant after sneaking into her bedroom at night. He threatened to send them to her parents unless she continued sleeping with him, she said.
'He kept saying that he would tell everyone about the rape,' Yildirim reportedly said during her testimony.
'My daughter will start school this year. Everyone would have insulted my children. Now no one can.
'I saved my honour. They will now call children the kids of the woman who saved her honour.'
According to a source quoted by CNN, Yildirim said: 'I thought of reporting him to military police and to the district attorney, but this was going to mark me as a scorned woman.
'Since I was going to get a bad reputation I decided to clean my honour and acted on killing him. I thought of suicide a lot but couldn't do it.'
Womens' groups in Turkey have praised Yildirim as a heroine.
Yildirim has even said she is prepared to die as long as she is allowed to have the abortion.
Father-of-two Gider, 35, was married to an aunt of Yildirim's husband.
http://www.dailymail.co.uk/news/article-2199244/I-saved-honour-Mother-shot-decapitated-rapist-pregnant-dumped-head-village-square.html#ixzz25rh7Gl9U
------------
Jirga's Verdict: Another Teenage Girl May Forcibly Be Married to an Old Man
By Fazal Khaliq
September 8, 2012
SWAT: A 13-year-old girl will be married off to an old man to atone for her brother's mistake, a jirga decided here on Friday. Her brother was charged with having an extra-marital relationship with a woman.
"They want me to get married to pay for my brother's fault, but I don't want to marry that man. I'd rather commit suicide than get married in this way," she told The Express Tribune before bursting into tears.
Swara is a custom in the Pashtun belt where girls are forcibly married to men of rival families to settle feuds.
Sadia is not the only one upset about the jirga's decision. Her second brother, Faheem*, said, "Our neighbours accused my elder brother of having illicit relations with a woman. He confessed and married her in court. But now her influential family and the jirga are bent on getting my sister married, which isn't fair."
He has sought the government's assistance in the matter.
A representative of the jirga said that the family can either agree to the marriage or pay a compensation of Rs253,000 to the aggrieved family. Otherwise they will imprison all of them.
Attaullah Jan, a local lawyer, said marrying a girl against her will is illegal, according to the family laws of Pakistan. He called upon human rights' organisations to intervene if the government fails to do anything.
District Coordination Officer Swat Kamran Rehman said that he had directed the district police officer and the district officer revenue to initiate an inquiry into the case. He added that action will be taken against the culprits if they are found guilty.
*Names have been changed to protect identities
http://tribune.com.pk/story/433150/jirgas-verdict-another-teenage-girl-may-fall-victim-to-swara/
------------
Two Teenage Girls among 18 Held in Tawau, Malaysia
September 07, 2012
Tawau: Two teenage girls and a transvestite were among 18 people detained by the authorities led by Tawau Municipal Council in a five-hour integrated anti-vice operation, here, Thursday.
Among the places raided were several night joints and rest houses where they managed to haul up six for alcohol consumption as another six for khalwat in the same operation.
All those detained comprising 10 men and eight women were aged between 17 and 55 years.
In a rest house raid, officers were almost duped into believing two women were staying in the room, but further checks found their partners were hiding under the bed.
However, upon further investigations, one of the khalwat (close proximity) offenders was released because she was not a Muslim, but her partner was detained.
Meanwhile, during the raid on a night spot scores of people, especially those without documents and underage, scrambled to escape from the authorities.
Customs officials, meanwhile, confiscated alcoholic beverages for which the duties have not been paid.
Tawau Municipal Council enforcement officer, Azinun Sanarul, said several warnings had been given to the premise owners but they failed to heed to the warnings.
"Some of the premises are still open beyond the stipulated operating hours and they are also dirty," he added.
He said the authorities would continue to conduct similar operations in the future together with the Department of Islamic Affairs (Jheains) and the Customs and Immigration departments.
http://www.dailyexpress.com.my/news.cfm?NewsID=82505
------------
Saudis Report Some Domestic Workers Prey On Elderly Employers
ARJUWAN LAKKDAWALA
8 September 2012
JEDDAH: Older Saudi women living alone or with young children are sometimes targeted by expatriate domestic workers seeking employment but instead use the home to carry out illegal activities. Incidents involving prostitution or elder abuse have been reported, providing a cautionary tale to older Saudis needing domestic help, but instead become victims.
Eman M. A. says she got the shock of her life when she discovered that her maid was secretly operating a brothel in the maid's quarters with the help of her driver.
"She (the maid) was so hard working around the house. I was so happy with her, I thought I had the best maid in the world," Eman told Arab News, who did not want her full name revealed.
Eman M.A, who is a divorced mother of two lives alone with her daughter and 11-year-old son in her bungalow, along with her maid and driver who lives in the servant's quarters
"I was so kind to my maid that even when I would go shopping I would get something for her," Eman said
"Since I work, I go to bed early, and that night as usual me and my kids went to sleep. Then around 2 a.m I received a call from one of my neighbours. She told me 'there are men going in and out of your house.' "
Eman said she was stunned and frightened.
"I went quietly down stairs and saw that the driver was letting these men into my home. I shouted and told them to get out or I'll call the police. They ran away and I confronted the driver about what was he doing."
Eman alleges that she discovered that the driver had become the maid's manager, and the maid was working as a prostitute to make extra money. This was happening almost every night in her home, she said.
"I terminated their contracts and had them sent back to their countries immediately."
The maid and the driver are not from the same countries.
According to Al Arabiya, there are about 2 million maids in Saudi Arabia. Quoting a survey conducted by Saudi magazine Sayidaty, Al Arabiya reported that about 3 million maids throughout the Arab world are abused by their employers and live in "deplorable conditions."
Lax regulations and laws in Arab countries have led to the abuse, according to Al Arabiya.
While housemaid abuse has been well-documented, a less known aspect of the employer-maid relationship are maids. Some maids live and work in Saudi Arabia illegally and find employment at lower salaries than legal domestic workers. Without a sponsorship, and therefore without legal controls, some domestic workers, although rare, seize the opportunity to exploit their employer, according to some Saudi sponsors interviewed by Arab News. In another case of a sponsor allegedly being mistreated by her maid is 71-year-old Umm Naser.
"I live alone, my children are all grownup and married, and they don't even live in the same city as me.
"They got me this maid to look after me. At first she was very good, but then when she saw that I am most of the days completely alone she took advantage and started to not work properly," said Umm Naser.
Umm Naser said her maid started demanding a salary of SR 2,500 even though they she had agreed to work for SR 1500, then Umm Naser said the maid didn't like the bedroom set she had in her room and demanded a new one.
"When my children or friends visit she is on her best behaviour. So that when I complain to my children they don't believe me, and think I am being fussy."
"She is supposed to cook for me, as I am very old and my legs have pain. I cannot move much. But she doesn't cook anymore. My neighbour brings food for me every day."
Umm Abdullah, who has had problems with maids in the past, says that when people hire a maid or driver they should treat them with kindness, but also be watchful of how they behave.
"Maids and drivers are people who we rely on, and they live closely with us and our family and have easy access to go in and out of our homes. That's why if they are corrupt or do illegal things they can cause a lot of trouble," said Umm Abdullah.
http://www.arabnews.com/saudis-report-some-domestic-workers-prey-elderly
------------
Malaysia: Police Widen the Net in Sex Trafficking Investigation
Tunggadewa Mattangkilang | September 07, 2012
Police in East Kalimantan's Nunukan district investigating a human trafficking case plan to question witnesses from Malaysia, the district police chief said on Thursday.
The case involves the trafficking of eight female minors from Java to Malaysia, where they were forced to work in the sex industry. An Indonesian suspect, Herman, has been arrested. His wife, Lasmiati, has also been named a suspect but is still on the run.
"We will bring members of Herman's network to Nunukan and will coordinate with Malaysian authorities on this case, as Herman's partner, Musa bin Haris, has been sentenced to five years in jail for human trafficking," Nunukan district police chief Adj. Comr. Ardian Rahayudi said.
Full report at:
http://www.thejakartaglobe.com/news/police-widen-the-net-in-sex-trafficking-investigation/542803
------------
Malaysia man who beat up pregnant wife says he's sorry, accuses infidelity
Alisha Hassan | 7 September 2012
KUALA LUMPUR: The husband of a 19-year-old Malaysian woman who was beaten up while pregnant, and the incident was caught on CCTV, has come forward to detail his story and to apologize for the violent outburst.
Calven Chik, 26, who was seen on CCTV beating up his pregnant wife, has said in an interview with a local publication that he is sorry.
In the interview with Malaysian Digest, he gave intimate details of his relationship with his wife, even accusing her of infidelity and adding that the violence was not the first incident in their relationship.
He said that he had hit her several times before, adding that he does not expect "anyone to understand it."
The video of her husband beating her was caught on CCTV in the shop and she released it online.
Full report at:
http://www.bikyamasr.com/76987/malaysia-man-who-beat-up-pregnant-wife-says-hes-sorry-accuses-infidelity/
------------
'Pak Christian Blasphemy Girl Did Not Leave Her Home on Day of Incident'
September 08, 2012
Islamabad: Pakistan Interior Minister Rehman Malik has said Rimsha Masih, the minor Christian girl accused of blasphemy, had not left her home on the day of the incident.
While presenting the progress report in the Masih case to the Senate, Malik also said that the district magistrate, Islamabad, is carrying out the inquiry into the case.
He further said the Ulema of Islamabad Council are also a part of the inquiry as observers, the Daily Times reports.
Malik verified the arrest of local cleric Khalid Jadoon on charges of tampering with the evidence to make the case "stronger" against Rimsha.
He also said that as per the medical board, 'Rimsha's age is 14 years, but her mental age is around seven to eight years'.
"The police had taken Rimsha into protective custody and had transferred her to a safer place after she was accused on August 16," Malik added.
http://zeenews.india.com/news/south-asia/pak-christian-blasphemy-girl-did-not-leave-her-ho_798468.html
---------
Gender mixing sparks controversy at Saudi all-women university
07 September 2012
The dean of the nursing college at Saudi Arabia's first women-only university resigned in protest to men teaching female students at her school, a local news website reported Wednesday.
Citing an unnamed administrative source, Barq News website said that Wafa al-Megrin, dean of the college of nursing at Princess Nora University (PNU), has resigned to protest the gender-mixing which she said contradicts the nature of the all-women university as well as the teachings of Sharia and social customs in the country.
"Please adhere to hijab. Mixing zone," read a sign at the entrance of the college, according to a picture published by the website.
While the administration of PNU remained silent, the news sparked wide reactions on social media websites.
Conservative writer Abdullah al-Dawood started the hashtag "Thank you Wafa al-Mugrin" on Twitter, where many users expressed their appreciation for al-Megrin for standing up to defend their social values, even if that meant leaving her senior job.
"This is the real Saudi woman who has been ignored by the media," a preacher named Khaled al-Saqbay tweeted, hinting to the lack of coverage of al-Mugrin's resignation in Saudi newspapers.
Rokaya al-Mohareb, an associate professor at PNU and a well-known female preacher, said she is sure that the women running the university will not allow any compromise in applying the strict gender segregation rules.
Full report at:
http://english.alarabiya.net/articles/2012/09/07/236695.html
------------
Freed Pakistani Christian girl 'will need armoured vehicle to protect her'
Jon Boone
7 September 2012
Rimsha Masih, 14, has been granted bail after being jailed over allegations of blasphemy last month
A lawyer representing a Pakistani Christian girl accused of desecrating the Qur'an who was granted bail on Friday said he will not push for her to be released from jail until her security can be guaranteed.
He claimed that Rimsha Masih, the 14-year-old accused by a neighbour of committing an act of blasphemy last month, will require an armoured vehicle and a substantial number of bodyguards to protect her.
"The prime concern of the defence team is her safety and her life," said Raja Ikram, one of the lead defence lawyers in a case that has put Pakistan's controversial blasphemy laws under intense scrutiny.
Full report at:
http://www.guardian.co.uk/world/2012/sep/07/freed-pakistan-christian-girl?newsfeed=true
------------
Codified Shariah Laws on Women's Rights
By SAMAR FATANY
08 September 2012
The injustice of denying divorce to women who are suffering under the hands of cruel and vindictive husbands was the subject of discussion on the MBC channel last week. Popular talk show host Daoud Alshiryan hosted Dr. Suhaila Zain Alabideen, who is a distinguished member of the national society for human rights NSHR, a prominent judge, a lawyer and a divorced woman who was a victim of a greedy father and an elderly man. The divorced woman was married at 14 and suffered her husband's cruelty, miserliness and foul behaviour for years because the judge refused to grant her divorce until she paid the dowry money spent by her father.
Dr. Suhaila emphasized that judges have to understand the concept of "Khula" or redemption that was applied in the case of the victim of a cruel husband. According to Shariah laws, redemption or Khul3 is only applied in cases of divorce, whereby the wife agrees to pay an amount of money to a non-abusive husband to buy her freedom. She explained that abused women living in miserable conditions have the right to ask for a divorce. Judges have to be reminded not to apply Khul3 unjustifiably. It is time to put an end to the distorted application of Khul3 that allows the husband to take advantage of his wife's vulnerability and demand compensation for her release.
Full report at:
http://english.alarabiya.net/views/2012/09/08/236746.html
------------
Iranian Female Athletes Find Their Way
09/07/2012
At this summer's London paralympics, Iran's Zahra Nemati won an archery gold, becoming the first Iranian woman to win a gold medal at any Olympic Games. In an interview with the Tehran Times, Nemati said that the lack of facilities did not (and does not) prevent Iranian female athletes from succeeding in sports.
In many respects, her statement is a half-truth. Since 1979, Iranian sportswomen have faced many obstacles in order to participate in international competitions -- especially since both government and international organizations have designed and implemented policies that stand in their way. As an immediate example, recall what happened to Iran's national football team, one of the best squads in the Middle East. In 2011, FIFA disqualified the female soccer team from entering Olympic competition. FIFA pointed to the to the hijab uniform the athletes were obliged to wear, deeming them a breach of the association's dress code and promoting of religious symbols in international competition. Female footballers had no choice in this matter: not only did their government impose the headscarf, but FIFA also prevented them from participating because of this headscarf.
Full report at:
http://www.huffingtonpost.com/leila-mouri/iranian-female-athletes-f_b_1861033.html
------------
Militants attack girls school in Swabi
8 September 2012
SWABI: Another public sector educational institution was blown up by suspected militants here on Friday, police said.
The incident took place in the jurisdiction of Kalu Khan police station.
The target was the government girls' primary school Shewa, located in a congested area. About 200 students are enrolled in the institution.
Two improvised devices had been planted in the veranda of the school which went off one after the other during night.
Two classrooms of the school building developed cracks and were rendered useless. The watchman of the institution survived the attack.
He immediately informed the police and the mobile vehicle of the Kalu Khan police station reached there immediately. Police cordoned off the area and searched the institution for any unexploded material.
Students stayed at home on Friday. When contacted, an official said that the students might be shifted to a nearby public sector school.
An FIR has been registered against unidentified militants.
It is worth mentioning here that the number of destroyed schools reached 22 with the latest incident.
http://dawn.com/2012/09/08/militants-attack-girls-school-in-swabi/
------------
Family of girls who survived Alps killings arrive in France
8 September 2012
Relatives of the two young girls who survived the killing of a British family in the Alps have arrived in France and were due to meet the youngest girl Zeena, prosecutors said on Saturday.
'Members of the family arrived in France last night, a man and a woman, accompanied by a British social worker,' prosecutor Eric Maillaud told AFP.
He said he did not know which of the couple was directly related to the children and it was not clear when exactly they would be able to see four-year-old Zeena.
'I don't know when they will be able to see the little girl. We have to be sure it can be done without problems,' he said.
He said meetings would be 'systematically' carried out in the presence of French investigators.
Full report at:
http://www.khaleejtimes.com/kt-article-display-
------------
URL: https://newageislam.com/islam-women-feminism/i-saved-honour-mother-shoots/d/8606