By Anne Barrowclough
June 14, 2014
ON a hot summer's day earlier this year, a beautiful young Pakistani girl named Amina stood in the living room of her western Sydney home, listening in horror as her father explained how he planned to ­murder her.
"I am going to kill you now, right here!" he shouted at the 16-year-old. "And no one will say anything about what I do to you. I am too powerful in the community." Amina's parents had promised her to a man 13 years her senior and she had made the mistake of refusing to marry him. Her arguments would not sway her father and even when her husband-to-be beat her in front of him, her dad remained ­resolute, telling her: "He is already your ­husband in front of God."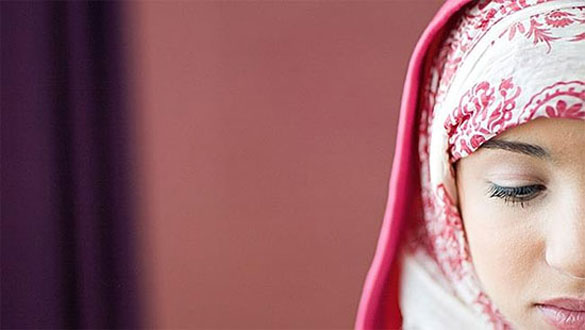 Girls as young as 12 are being forced into marriage in Australia or sent overseas to wed Picture: Getty Source: Supplied
--------
"She adored her father but he believed that by refusing to marry this man, she was ­damaging the honour of the family," says Eman ­Sharobeem, manager of the Immigrant Women's Health Service in Fairfield, Sydney. "I have no doubt that he would have killed her if I hadn't intervened." Amina might have been raised in Australia, adopting the attitude and dress of her teenage friends, but to her father she was "just a good sale item, a stunningly beautiful girl who would bring a good dowry".
The child's father eventually agreed to spare his daughter's life — not out of any sense of mercy, Sharobeem says, but because he realised it would be difficult to kill the girl and get away with it. So he packed Amina off to Pakistan, where she has been held in his family's home for the past two months. "She texted me the other day," says Sharobeem. "She said, 'They won't kill me because they know you know. But they will keep me here until I agree to marry that man." Her last text said: "I might give in."
For years, child marriage in this country has been hidden under layers of culture and tradition in tight-knit communities — a fringe issue that's been difficult to gauge and hard to investigate. Then came news of a 12-year-old girl who was "married" in January to a 26-year-old Lebanese university student in an Islamic ­ceremony at the girl's home in NSW's Hunter ­Valley, and the layers of secrecy began to peel away. On best estimates, the number of girls in Australia being forced into marriage here or overseas is in the hundreds every year. Girls as young as 12 or 13 are disappearing from schoolyards, packed off to the countries of their parents' birth to wed men they have never met, while others are taken from their homes in southern Asia and the Middle East and brought into Australia to marry.
The National Children's and Youth Law Centre has identified 250 cases of under-age marriage over the past 24 months, while ­Sharobeem, who was herself married to a cousin at the age of 14, says there are at least 60 child wives living in south-western Sydney alone. In Melbourne, Melba Marginson, executive director of the Victorian Immigrant and Refugee Women's Coalition (VIRWC), says her women's friendship network sees 150 women a week, most of whom come from communities where arranged marriages are practiced. "But what we are seeing is only the tip of the iceberg," she says.
Those within the communities say the problem is greater than even these campaigners believe it to be. Alia Sultana, a Pakistani ­Hazara woman who works with Afghan ­Hazaras in Melbourne, told me: "I would say nearly every Afghan Hazara family in ­Melbourne is involved in this practice." ­Sultana, who fled the Taliban two years ago with her family, added: "I only know about these girls because I am also a ­Hazara, and the other women tell me about them. They are kept prisoners, locked in their husbands' homes and only allowed out if their mothers-in-law go with them, so they can never seek help."
I am in a shopping mall in Dandenong, Melbourne, a vibrant area with a mix of migrant communities. With me is Badria, a pretty young Afghan woman who has lived in Australia almost all her life. One evening when she was just 15 years old, Badria was cooking with her mother in their Dandenong home when her father came in and hugged her. "Congratulations," he told her. "You are engaged!" The man to whom she was promised was a friend of her 28-year-old brother, who had promised to help his mate leave Afghanistan and move to Australia. "My brother used me to get his friend an Australian visa," says Badria. "But I didn't know that at the time. I was so young I didn't know what was happening to me. All I knew was that I didn't want to get married yet.
"I wanted to make something of my life," she says. "But in our culture you obey your father. I would not have thought of saying no to the marriage. On the day of the wedding, standing there marrying this guy, I felt helpless, trapped and scared. But I remember thinking, 'If I say anything against this, I will shame the family's name.' " Badria, who regarded herself as Australian, had hoped to finish school before she was married but she'd known her chances were slim: her mother was 14 and still playing with dolls on her wedding day. With two older sisters, Badria had expected to have more time to enjoy her teen years. "I knew my brother wanted his friend to marry one of us sisters; I had heard my parents discussing it," she says. "But I was third in the [marriage] queue so I thought it would be one of the older girls."
So why was she chosen? "That's what I asked my mother. Why me? And my mother said because I was still so young and naive. She said, 'You are a good girl, you are very quiet and ­sabore [patient]'. In our community, men like to marry very young girls because they can induct the girl into their lifestyle. Because she's so young, she will soon forget her childhood and she will never question her husband. She is taken into her husband's family and is told, 'This is where your real life starts.'"
Later, I ask Sharobeem why children are so desirable as wives. She says her own husband had told her: "I take you as young clay so I can shape you the way I want. But really," she adds, "it is the young flesh that they want."
Badria's marriage was brutishly violent. While her father persuaded his son-in-law to let Badria continue her education, she missed many days at school because of black eyes and bleeding lips. "I used to tell the teachers I had to stay home because I had a fever. They never thought I was married because I was so young, but I'm sure my friends knew. It was probably happening to them, too, but none of us talked about it. There is so much happening in our community that no one talks about. There are girls like me in every school in Dandenong. There are a lot of stories like mine, but it is a hidden thing."
When Badria was four months pregnant, her husband beat her so badly — kicking her in the stomach with his metal-tipped work boots — that she lay in a corner, unable to move for a day and a night. The baby was born with severe heart problems and Badria is convinced it was the beating that did that damage. Soon after, she sought safety in a refuge with her baby. The little girl died, aged just eight months.
Badria shows me a picture of the infant, with her huge dark eyes and long curly hair, and sobs as she talks about her loss. She says the only thing that saved her from suicide was her parents' decision to take her back to live with them. Badria insists they knew nothing about her ­husband's violence until these last sad months. "So many times my father has kissed my hands and said, 'I'm so sorry, my daughter, for putting you through this.' But my brother never apologised. He didn't think any of it was his fault. He only ever said: 'I found you a husband.' "
Badria's decision to leave her marriage makes her an exception in a community where the sense of duty is so strong that most girls would not refuse their parents' wishes, and where the fear of fathers and husbands is so great that they will not flee even the most violent of ­marriages. The fear is very real; Amina is not the only girl whom Sharobeem has saved from a potential honour killing.
Recently, she was contacted by a mother whose 17-year-old daughter had shamed the family by having a boyfriend. The mother had heard her husband and son discussing whether to kill the girl or marry her off overseas. "This mother said, 'I'm afraid she will run away and they will definitely kill her if she does.'" When Sharobeem went to visit the family, the girl's father told her: "It would be better for everyone if she dies." His son said, vehemently, "If it was up to me I would kill her right now. Either we throw her away [marry her off overseas to ­whoever would take her] or we kill her."
This young man, who had been educated in Australia and knows Australian laws and values, explained: "She has shamed me and my family. I will be the joke of my peers — they will be laughing at me for the rest of my life. She has not only shamed me, she has shamed my future. No one will come near us now."
The concept of honour underlines all areas of life in these strongly patriarchal communities. "It is important to protect their creed, their family, their honour and that's why honour ­killings occur," says Sarita Kulkarni, from the VIRWC. Panditji Abhay Awasthi, chairman of the Hindu Foundation of Australia, told me: "I am sure there are honour killings happening in Melbourne and in Sydney." Awasthi, who counsels hundreds of young Melbourne women trapped in violent marriages, says he has become suspicious of a number of deaths and apparent suicides in the community.
"Honour killings happen in India and people have brought this culture here to Australia," he says. "It is also going on in the Pakistan Punjab community. Last year I was told that families were taking their daughters back to Pakistan, and no one ever heard from them again. We are sure they've been killed, but it's very hard to prove this is happening. Even those who are being tortured by their families don't talk because that will only put them at further risk."
Sharobeen says: "I have already saved two girls and failed to save one woman from murder. The violent enforcement against women in some of these communities is well known, and it is accepted. People don't believe it is wrong."
The woman Sharobeem was unable to save was a Coptic Christian who went to her mother for help after suffering daily beatings from her husband. But the girl's mother brushed her concerns aside, telling her: "So what? Your father beats me." The woman left her husband, but was persuaded to return to him by the ­family priest. Days later, the husband took her to a motel, drugged her, had sex with her and then murdered her.
This is the atmosphere in which young girls are growing up, only a few kilometres from the sophisticated centres of our major cities. "We are not in the suburbs of Kabul or Baghdad, but in Sydney," says Sharobeem, but to all intents and purposes many of her clients could be ­living back in the cities of their parents' birth.
The practice of underage marriage crosses cultural and religious lines. It is prevalent in western and sub-Saharan Africa, and in South Asia; for example, it's estimated more than half of the girls in Bangladesh, Mali, Mozambique and Niger are married before the age of 18. One in nine girls will be under the age of 15.
Many of the women and girls Sharobeem deals with speak little or no English and the suppression of women is so inculcated that in many cases they themselves see nothing wrong with it. "I've heard men telling new arrivals, 'It is our duty to keep the women away from the bad influences here and not let them learn English'," says Sharobeem. "And both men and women believe they must treat their children harshly and marry them off early to keep them safe in a society where everything is loose."
Many of those I spoke to, in Indian, Afghan, Iraqi and Pakistani communities, stressed the difference between "arranged" marriages, where the girls' consent was sought before an engagement could take place, and "forced" marriage. Many, including teenage girls, spoke eloquently of the advantage of arranged marriages over the Western version. One Hazara girl told me: "My friend's ­sister is 15 and has just become engaged. But there is nothing wrong with that. She has given her consent and she probably won't actually be married for a few years."
However, others point out there is a fine line between the two. "There is a lot of manipulation," says Manjula O'Connor, director of the Australasian Centre for Human Rights and Health. "Mothers tell their children that they will kill themselves unless the child agrees to the marriage. Some arranged marriages are done well but in others, the young people have no choice. They are effectively forced into the marriage."
In February last year parliament passed the Slavery Act, which introduced the new offence of forced marriage; by its very nature child ­marriage was always ­illegal. Yet it would be wrong to suggest that even under-age marriages are planned with malevolence. Most parents genuinely want the best for their children and marry them to men whom they believe will be good husbands. Sharobeem's father married her to an older cousin because he thought the cousin would keep her safe; Badria's parents, too, believed that she would be cared for by her brother's friend. Others marry off their girls to save them from what they see as the much worse fate of having a relationship outside of marriage, in the mistaken belief that as soon as a girl menstruates she is ready for sex.
Both Sharobeem and Marginson told me of being berated by men and women who accused them of encouraging children into sin by their campaigns against child brides. Instead, these ­people argued, once a girl was menstruating, she had to be married off quickly to protect her and her family's honour. "One day when I was on the radio, a man rang to say: 'You want our girls to have sex without getting married, and that makes you a sinner'," says Sharobeem. "I had to tell him, 'Having your period doesn't mean you're ready to have children'."
In the Hunter Valley case involving the 12-year-old girl, court documents allege the father (an Australian man described as a Muslim convert) told police his main concern was that his ­daughter might commit "a sin against God" by having sex outside marriage. He allegedly ­consented to the marriage — even providing her with sexual advice — because she was beginning to "become excited around boys" and he didn't want her to live "a sinful life".
The father, and the girl's "husband" — who has been charged with 25 counts of sexual intercourse with a child — are due to appear in court again on June 18. The imam who conducted the ceremony was fined $500 and is awaiting deportation.
Some families marry their girls off for mercenary reasons; they're "sold" to men who will pay a large dowry for a young bride with an Australian visa. Hundreds of girls are brought into the country at the age of 17 under the Prospective Spouse Visa program, whose rules insist that a marriage must take place within nine months.
In a case reported in 2011, a Year 10 Lebanese girl brought to Australia was told by her family she would be "slaughtered and killed" if she didn't marry her husband-to-be, although he was a violent drunk who already had another wife and three children.
Some brave girls stand up for themselves: in 2011, a 16-year-old Sydney girl applied successfully to be put on the Airport Watch List to prevent her parents from taking her to Lebanon to be married. A 13-year-old who told teachers at her Melbourne school that she was to be ­married was also put on the Watch List.
But girls who go against their parents' wishes not only face rejection by their family but by their communities, who collude to keep them suppressed and silent. When I asked why girls did not leave violent, ­abusive husbands, I was told repeatedly, "The community will throw her away."
Leyla, an Iraqi woman who at the age of 12 was taken off the street where she was playing, dusted down and taken into her engagement ceremony, is still with her brutal husband despite years of cruelty. Days after her wedding, furious that his child bride was refusing to have sex with him, and frustrated at his family's demands to see blood on their sheets to prove her virginity, Leyla's ­husband took a knife and slashed her vagina to provide his family with the all-important blood token. She was just 13 when she bore the first of her five sons.
Today, her face and body are disfigured: her broken jaw makes her face lopsided, and a dislocated shoulder hangs lower than the other. She is scarred inside and out by her husband's brutality and her own self-harm. She weeps throughout our interview, and swears to me that she will leave her husband once her youngest son is married. But if she does, the community will turn on her. "I will never be able to marry again. It is impossible," she whispers.
O'Connor describes the societal ­pressure on young girls as "the super-eye of the culture". She explains: "You are not allowed to move too far out of it. If you do, or if you disobey their rules, not only are you excluded from your own society but so are your parents and family. No one will want to marry your sisters, and your brothers will be laughed at. The pressure on the girls is so enormous that they tend to behave themselves and don't leave the family tradition."
The power of the communities is so strong that Sharobeem, ­Marginson and the professionals who refer cases to them have to keep much of their work clandestine. When I ask Sharobeem to put me in touch with a doctor who has sent a number of child brides to her centre, she shakes her head. "He would never work in the ­community again," she says. When I argue that his name would not be printed, she shakes her head again. "But the community will know."
What makes it even harder is that so many women still accept it. There's a saying they use for the wedding night: "Kill the cat to slaughter the cat." Says Sharobeem: "The cat is the young bride and the saying means she must have her self-esteem slaughtered from day one so she will never raise her voice or have her say."
Sarah, an 18-year-old Pakistani, tells me: "Girls know the first five years of marriage are a struggle. They are under so much pressure to make their marriage work that they don't even think that what is happening to them is wrong. They think [violence] is just what happens."
All those fighting for the rights of migrant women believe education is the key: not just a Western education, but teaching them that they don't have to endure violent marriages. "These women feel very isolated," says Nga Hosking, community development officer of the VIRWC. "They don't realise they have the right to come out and ask for help. If they try to knock on one door and that shuts on them, they will not try again. It's our job to teach them that they will get help if they knock."
But it's never an easy task. One woman told O'Connor: "Learning about my rights has made it harder for me because I still can't leave. It was easier when I thought this was just what happened — I could stick my head in the sand and put up with it."
"It is critical that the whole community is educated," says Jennifer Burn of Anti-Slavery Australia. "The Koran does not support forced marriage and the Grand Mufti of Australia says that consent is vital. But there are over 60 different traditions within the Muslim community, with different interpretations of the religious scriptures. We need the religious leaders to take the message into the communities, because they will listen to their leaders rather than us."
There have been advances; some imams have begun to preach against underage marriage and teachers are now more aware of the issue. In the Hindu community, Pandit ji Awasthi and his colleagues try to convince women that it is not wrong to leave violent marriages. Thanks to programs run by organisations such as the VIRWC and the Immigrant Women's Health Service, young girls are learning that they don't have to agree to be married before they are ready and their parents are also being taught that the practice is cruel.
But there is still a very steep path to climb. One afternoon I find myself in Dandenong drinking tea and eating traditional Hazara cakes with the women of the Sultana family as they explain to me why the young girls brought from Afghanistan and married to men far older than themselves won't seek help. Alia Sultana makes the most devastating point.
"These girls are just happy that they don't have to get up at 5am to clean the house and work in the fields anymore," she says. "In Australia they have a bed to sleep in; they have a dishwasher and a vacuum cleaner. They don't mind if their husband is violent and they will never try to get help because they are just happy to be out of Afghanistan."
Source: http://www.theaustralian.com.au/news/features/it-is-the-young-flesh-they-want/story-e6frg8h6-1226949239039
URL: https://www.newageislam.com/islam,-women-and-feminism/anne-barrowclough/'it-is-the-young-flesh-they-want'/d/87622