By Amrit Dhillon
11 May 2017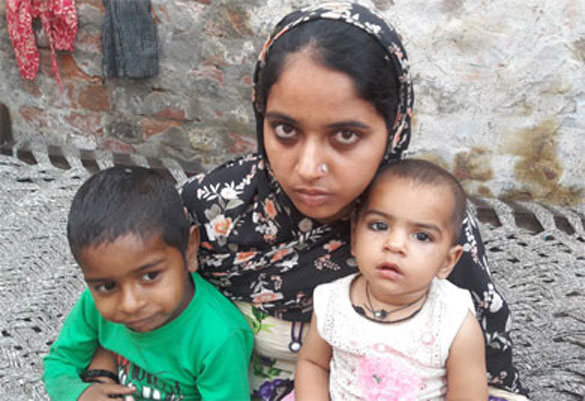 Amreen Begum: 'If a man can divorce his wife that way, why can't a woman?' Photograph: Amrit Dhillon
----
As dusk was falling, Amreen Begum's husband bundled her into his auto-rickshaw together with their two young children. He dumped them beside some wheat fields outside Meerut, a city 70km north-east of India's capital, New Delhi.
"He didn't even bother going the extra 2km up to my parents' home," says Begum.
She knew it was only a matter of time before her husband called or texted her to utter the words "Talaq, Talaq, Talaq", the instant and unilateral divorce available only to Muslim men.
Rather than wait for her life to be left in tatters, Begum, 25, did the unthinkable. Last week, after reporting her husband for domestic violence, she stood outside Meerut police station in Uttar Pradesh state and shouted the phrase herself, along with his name.
Begum is believed to be the first woman in India to have used the triple Talaq to divorce her husband. In the process, she has opened a new front in the campaign to end the practice, which is allowed in India under Islamic law.
"I have divorced him. If a man can divorce his wife that way, why can't a woman? Don't I have the same right? Am I less human than he is?" she says.
Over the past few years, Muslim women have been agitating against the triple Talaq, the Sharia law that allows men to divorce their wives – frequently leaving them destitute – with a simple statement.
Often the woman is not even present when her husband utters the words; emails, texts and Facebook are, increasingly, the preferred mediums. The practice is banned in many Muslim countries but continues in India, home to the world's second-largest Muslim population.
There are no official numbers on how many Indian women have been divorced by triple Talaq. But a survey of Muslim women (pdf) published in 2015 by Bhartiya Muslim Mahila Andolan, a women's rights group, found more than three-quarters of interviewees had been divorced in this way. Many don't receive support from their husbands afterwards.
Activists say the practice is inhumane and are demanding its abolition. On Thursday 11 May, a debate on triple Talaq will begin at India's Supreme Court to determine its constitutional validity. From aggrieved women to Muslim religious organisations that say they will not tolerate any interference with Sharia law, the court will seek a variety of perspectives.
Begum now lives with her children at her parents' home in Narhada village outside Meerut. She took her stand after five years in an abusive marriage.
'I was so scared … I was tortured': Indian women lift the lid on married life
With Begum's sister Farheen having suffered a similar fate, the siblings' elderly parents now have their daughters and grandchildren living with them, stretching meagre resources.
"Muslim women won't take it anymore,'' Begum says. "It has to stop. I am now penniless. My father runs a tiny shop in the village and he has to support us all now. How can the law allow this?"
Bhartiya Muslim Mahila Andolan has launched a campaign to end triple Talaq. Noor Jehan, the organisation's co-convenor, says she supports Begum's action as a show of defiance and hopes it will illustrate the fury of Muslim women over triple Talaq.
"It's inevitable this would happen. How much can a woman take? All over India women are coming out to tell their stories and say it's enough," she says.
Triple Talaq has become highly politicised. The ruling Hindu nationalist Bhartiya Janata party supports a ban. However, the party's critics allege it is stirring up sympathy for Muslim women to denigrate the community.
Indian liberals, who are anxious not to appear to be targeting the Muslim community, have been ambivalent. This bewilders Jehan. "What did the Congress party and secular or leftwing parties ever do for Muslim women? They never supported our rights. We started this on our own," she says.
Since making the triple Talaq and reporting her husband, Begum says she has received support from local people. "My neighbours have said I did the right thing, that a woman can't be discarded in a split second. So far, they are behind me.
"I don't care what the clerics or Muslim men say. I want the supreme court to free Muslim women for ever from the fear of triple Talaq."
Source: theguardian.com/global-development/2017/may/11/turning-tables-india-instant-divorce-law
URL: https://www.newageislam.com/islam-women-feminism/if-man-it-i-/d/111103