By Alia Chughtai
December 12, 2014
I have worked in the news business for almost a decade now, and frequently seen bomb blast footage of human bodies ripped apart beyond recognition; the blurring of the faces of little girls and boys, who have been victims of rape, the ugly realities of humanity.
On days like yesterday, though, I am reminded of the reason why I have stuck to working in this industry.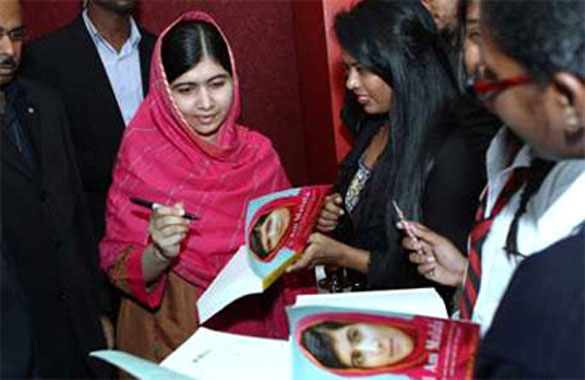 Listening to Malala Yousafzai, in her skilfully mastered tone, had me in tears of joy. My heart, having long carried the guilt of choosing to be a career woman, finally felt liberated.
I just stared at the screen and kept saying to myself, 'this girl is 17'.
She is just 17 years of age. I could write and rewrite that in many different ways, and it wouldn't be one bit easier to digest. 17-year-olds are meant to bury themselves in fancy magazines all day, pouring over methods of nail polish application and facials and brands of purses and whatnot.
When I was 17, I knew that adapting to the well-trodden road was not what I wanted. I did not want the life my mother had, where she had always aspired for more but was married off at the age of 19 because that's 'how it ought to be'.
How it ought not to be:
My mother was fortunate enough to have been arranged to wed a man who wanted her to pursue studying, but at home. That, however, soon got entangled with pregnancies and child rearing, eventually receding into the background for good.
Twenty-five odd years later, every day, my young impressionable mind saw a woman who would often look back and wonder how things would have been had she ventured into a career in conjunction with her spousal and motherly duties.
We often heard stories about how she and her sisters would sneak novels and books of Urdu poetry into their room and pour over them long past bedtime, after making sure their father was asleep. Also, of how once, when she started writing short stories – 'Afsanay', as she called them – her brother found her diary and forced her father to tear it up because it was bringing shame to the family because:
How was it possible for her to write love stories? She must be getting first hand experience to be able to write about it.
The aspect of imagination was never a factor worth considering.
She never wrote again. She did photograph with her Yashica by 20mm film, but that too stopped when she got married. Somehow, everything pertaining to her ambition had a full stop next to it.
The girl who wasn't silenced:
Malala Yousafzai, the well mannered 17-year-old (who makes a point of mentioning her fights with her brothers at every public speech I have ever heard of hers) is accused of being a CIA agent; a Western stooge; a Jewish conspiracy. Lots don't even believe she was shot by the Taliban – to them, it's a drama.
I say, forgive them; these minds who are struck down by a young teenage girl are so pathetically finite; we could never wrap our heads around them.
I've even heard that Malala is a white man's burden, that's why Barack Obama and the first family met her at the White House; when really; she is just a young girl who started blogging about her desire for education and spoke out against oppression. She is the girl who was attacked, and yes, with her connections perhaps, she was lucky enough to have the army medical corp. patch her up and fly her in to Manchester for further care.
I understand your frustration, O finite one – there are so many girls and boys killed across Pakistan, why is Malala so special? I can't answer that, nor can the American-Jewish-White-Burden folks. But she survived, and she gracefully thanked each person who helped her along the way.
And then, she started a fund to help girls across conflicted countries to receive education. That's not enough to mark her presence on the world's most prestigious stage? Perhaps not.
But it doesn't matter that she hasn't physically built the schools.
Nor does the fact that that she hasn't stood in classrooms like Humaira Bachal and educated the coming generations.
Nor that she hasn't set up the Garage School like Shabina Mustafa where limitless children from underprivileged home study for free.
Nor that you may not know who Noor Inayat Khan is. And that the one green unifying Pakistan Studies textbook between our Matriculation and O' Level students has no mention of this woman.
Nor was she like Shaiza Khan, who laid the foundations for the Pakistan Women's cricket team, which is led by the formidable Sana Mir.
And it may also not matter that people like Parveen Rehman, who quietly got on with their convictions were gunned down for the very belief they had in providing a better world for the utmost needy.
The difference is, Malala was meant to be silenced. Like Parveen.
But she wasn't muted. She spoke again, she wrote again, and then she took everything she had said as a young child, and took it upon herself to make her voice heard.
The world after Malala:
Today, hearing Malala's acceptance speech has been the happiest day for me as a Pakistani woman. It allows me to visualise the promise of a future, where education is not viewed as an option, but a compulsion.
I see in Malala the promise of a future that is free of conformity. I will never be of the opinion that a woman who chooses to be a stay-at-home mother is any less than a woman who chose something different, but it ought to be a choice.
This world ought to be a world where life is easier for women who want both; a world where promotions at work shouldn't be dependent on how and when you get pregnant; where management positions are not held back due to having a family to tend to after working hours; a world where serving tea isn't expected but requested, with love.
I feel immensely proud that a 17-year-old, from Mingora could stand and represent each one of us, who want to work and change the world in our own chosen fields.
From my mother's generation to Malala's, we have come a long way.
That is something to celebrate.
Source: http://www.dawn.com/news/1150191/malala-the-17-year-old-girl-inside-all-pakistani-women
URL: https://newageislam.com/islam-women-feminism/malala-17-year-old-girl/d/100446