By Alefia T. Hussain
May 11, 2014
Late last month, the Sindh assembly passed a landmark law that increases the marriageable age of girls from 16 to 18, seemingly in reaction to the recent Council of Islamic Ideology (CII) ruling that laws setting the minimum age of marriage are un-Islamic.
"It is clearly done in defiance to the CII recommendations… The law is a political statement and a very important one. The Sindh assembly sent out the message that parliament trounces quasi-religious attempts to define legal codes," says women's rights activist Aafiya Zia.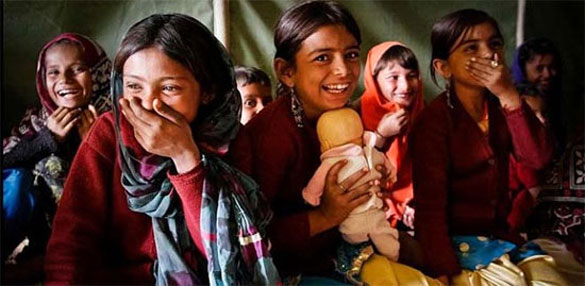 Courtesy: Flickr
-------
Moved by the Pakistan People's Party legislators, Sharmila Farooqi and Dr Sikander Mandhro, and tabled by Women Development Minister Rubina Qaimkhani, the Sindh Child Marriage Restraint Act 2013 criminalises underage marriages. Under the law, any groom who weds a girl under age 18, and parents of such a groom or those facilitating such a marriage will be punished with maximum three years, minimum two years, rigorous imprisonment, and a fine.
It further grants power to issue injunctions prohibiting marriage in contravention of this act.
The offence is cognizable, non-bailable, and non-compoundable. Anyone can file a complaint against child marriage in a court of judicial magistrate. The court will decide the case in no more than 90 days.
The rules of business are in the process of being finalised.
The new Sindh Child Marriages Restraint Act 2013 replaces the colonial law dating back to 1929. The rest of the country is still bound by the same 85-year-old law where girls can legally marry at 16 and men at 18, and violators of the law are awarded three-month maximum imprisonment and Rs1, 000 fine.
This legislation by the Sindh assembly is a huge victory. Because now hopefully many girls, who call Sindh their home, will not be forced to marry men 30 or so years their senior; they will be able to pursue reading and writing in school; they will become teachers and lawyers and doctors, and have big dreams about life. They will not be slaves of old husbands' whims.
Also, countless others will renounce repeated pregnancies and obstructed labour due to the undeveloped narrow hips. Many will not bleed to death in childbirth. And by marrying after 18, they will overcome obstacles for self-realisation. Their lives will not be frozen in time.
The new Sindh Child Marriages Restraint Act 2013 replaces the colonial law dating back to 1929. The offence is cognizable, non-bailable, and non-compoundable.
From domestic violence and marital rape to maternal health issues, the problems associated with child marriage are well-documented. Yet, it is a problem. In fact, part of the problem is that early marriage is not seen as a problem. When a girl turns from a child to a woman in body, as soon as she starts menstruating, the family elders want to fix her in marriage. Her honour and virginity is seen as a problem by her parents and relatives.
It is to change this mindset that laws such as the Child Marriages Restraint Act 2013 passed by the Sindh assembly are important. Because, as Aafiya Zia points out, laws are more than rules on paper; they effect change. "The process by which they are framed, advocated, opposed and passed is a very political one. It reveals a lot about society and attitudes. Laws bring attention to the injustices and send the message by the state — on who and how it will protect when citizens are in conflict in society," she says.
Latest figures from the Pakistan Demographic Health Survey 2012-2013 show that 35.2 per cent of currently married women between 25 and 49 years of age were married before they were 18, and 1.6 per in the age bracket of 15 and 19 were 15 at the time of marriage. Although these figures are horrifying, still they are an improvement over the years, as the number of early age marriages below 15 is declining, experts claim.
It is for this reason that Khawar Mumtaz, Chairperson National Commission for the Status of Women, says, "abiding by the 18-year minimum age is a definite possibility".
But, she stresses that this issue must not be taken in isolation but in combination with girls' education. "If girls complete secondary education and other opportunities become available, the age of marriage will further move upwards, as is the experience of other developing countries. Eighteen is also the age of political and legal maturity in Pakistan," she says, continuing that she sees this particular law as giving impetus to a trend that is already occurring.
In a traditional setup like Pakistan, marriage is in many ways a by-product, where women are commodities to be given away in appeasement, particularly in those cultures where it is not contracted by free will. Cases of Vani in Punjab, sang Chati in Sindh, Swara in NWFP, and ljai or Khasaniye Soor in Balochistan are common knowledge. So, if nothing else, Zia says, this law will at least attempt to compete with what is norm or normal by giving an alternative code of conduct — one that says, "the state or province of Sindh doesn't accept this 'culture' on behalf of women citizens".
Women's rights experts involved in fieldwork report countless stories of girls who have dreams to study and become career women, but are prematurely forced to become wives and mothers and obedient daughters-in-law. These girls, sometimes from the most conservative settings, argue that if the state extends them protection they would have much to gain, perhaps a protective shield against their local patriarchies.
For instance in the six communities in districts Jamshoro and Khairpur, where Ayesha Khan, a researcher from Karachi at the Collective for Social Science Research, observed that adolescent girls had a very high awareness rate about the importance of CNICs for purposes of voting, accessing BISP, Watan cards, and other benefits of being a citizen — and were equally keen to avoid early marriages and childbearing.
Pakistan has now become notorious for passing progressive laws and making forward-looking policies but lagging behind in implementation. Take, the honour killing, sexual harassment and domestic violence laws passed to prevent violence against women. Despite the passing of such women-friendly laws, these crimes remain unabated mostly due to sloppy enforcement — and hardly get any woman or child justice in the country.
"Greater awareness among people and also those responsible for implementing is needed; greater monitoring and accountability systems are required," says Mumtaz.
Ayesha Khan fears corruption in the judicial system, to stop the magistrates from taking cognizance or trying any offense of child marriage will be one possible loophole in proper implementation of the law. However, "involving the courts at this level, and bypassing the police (as in the case of lodging a complaint of Zina now) is an important way to protect against unlawful accusations," she says.
She further explains that making the offense non-compoundable is also useful, as justice has to be had from the courts and families cannot be pressured into hushing up the case of child marriage, thereby possibly going ahead with it in secret.
This law has to be enforced in conjunction with the Muslim Family Ordinances 1961, which require the registration of marriages at the union council level. Unfortunately this registration practice has not been properly enforced. "If these two laws are implemented together it will be an effective mechanism to protect against child marriage," Khan adds.
To correct the country's record of poor law enforcement, much bigger solutions are needed. After, of course, alleviation of poverty and easy access to schools and colleges, a stringent birth registration system and a CNIC requirement to finalise the Nikaahnama are a couple of suggestions among more that may guarantee a victory for this law passed by the Sindh assembly.
Nevertheless, this law and its implementation cannot be seen in isolation. The extent of effective implementation of other women protective legislations — such as Child Marriages Restraint Act, 1929, Dissolution of Muslim Marriage Act, 1939, Muslim Family Laws Ordinance, 1961, Offence of Zina (Enforcement of Hudood) Ordinance, 1979 and Women Protection Act, 2006 — will impact this law and vice versa.
The purpose of this law is to give young girls a practical, temporary alternative course, "where their families don't keep repeating the cyclical trend of marrying them off for lack of alternative," says Aafiya Zia.
One hopes the ripple effects of the child marriage law are felt in other provinces too, that too, very soon.
Meanwhile, the enforcers of this law have a long way to go.
Source: http://tns.thenews.com.pk/huge-victory-sindh-assembly-increases-marriageable-age/#.U3JaM4FdU4V
URL: https://www.newageislam.com/islam,-women-and-feminism/alefia-t-hussain/sindh-child-marriages-restraint-act-2013--a-huge-victory/d/76992