By Abbas Nasir
January 15, 2013
When in October 2012, a lone gunman shot a teenage girl in the head, he would not have known in his wildest imagination that the life he was meant to snuff out would come back to haunt, in perpetuity, him and those who had sent him on his mission. The point they wanted to make by killing her had backfired. She had defied them a second time. She defied death too.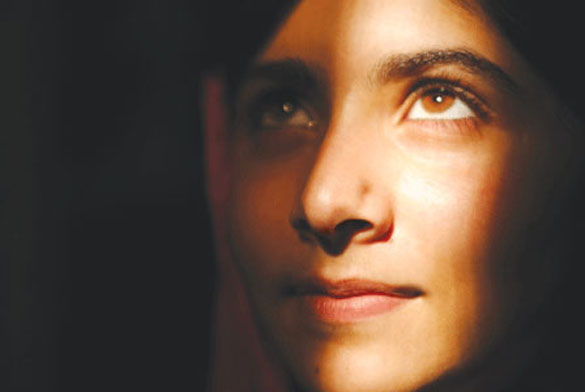 They should have known better. In a country where so many believe so much to be wrong, but never have the courage or the motivation or simply the desire to speak up, Malala Yousafzai had written a glorious chapter with her steely will and grit in the early part of 2009. Who wouldn't recall those days when Mullah (Radio) Fazlullah and his band of murderous marauders were allowed to establish sway over the Swat Valley and adjoining areas and enforce their brand of obscurantist Islam and spread darkness in a land where education had traditionally been cherished. In addition to a reign of terror where public beheadings and hangings in the main chowk in Mingora became the order of the day, Mullah Radio's armed men also started to restrict the freedom of movement of women. They were ordered not to step out of the house without a mehram (male chaperone). All men were advised, under the threat of a bullet to the head, to grow beards. Salons were shut down as they were deemed to be plying an un-Islamic trade. Women suspected of being ladies of the night were kidnapped and executed. Swat residents say the environment was of such fear that nobody felt comfortable confiding even in close friends.
It was against this backdrop that the Taliban decreed female education un-Islamic. They must have thought their brutality was so overwhelming that nobody would dare defy them. They were mostly right, save for a 12-year-old girl who had other ideas. The passion that burned within her for an education for herself and other girls in her area surfaced in the form of a blog on BBCUrdu.com where she wrote under a nom de plume, Gul Makai. Her pieces offered a poignant window to life in Swat. Surrounded by the unchallenged Taliban, who had overrun all established authority and were well-funded, benefitting from a levy on the multi-billion-rupee logging industry in the area, Malala's defiance must rank alongside some of history's bravest acts. Her own words, her eloquence, are perhaps the most befitting tribute to her. No wonder she became an international celebrity, and a symbol of defiance to the Taliban and a role model for school-going girls in the country. She must have represented such a sty in the eye of the Taliban that, more than three years after she first became known, they tried to kill her.
Reproduced here from the BBC website, are some of her 'diary entries' from that period. She wrote on January 3, 2009: "I had a terrible dream yesterday with military helicopters and the Taliban. I have had such dreams since the launch of the military operation in Swat. I was afraid [of] going to school because the Taliban had issued an edict banning all girls from attending schools. Only 11 students attended the class out of 27. The number decreased because of the Taliban's edict. On my way home from school I heard a man saying 'I will kill you'. I hastened my pace … to my utter relief he was talking on his mobile and must have been threatening someone else over the phone."
A day later, on January 4: "Today is a holiday and I woke up late, around 10 am. I heard my father talking about another three bodies lying at Green Chowk (crossing). I felt bad [upon] hearing this news. Before the launch of the military operation we all used to go to Marghazar, Fiza Ghat and Kanju for picnics on Sundays. But now the situation is such that we have not been out on picnic for over a year and a half. We also used to go for a walk after dinner but now we are back home before sunset. Today I did some household chores, my homework and played with my brother. But my heart was beating fast — as I have to go to school tomorrow."
A small incident such as Malala's shooting will bring no change where hundreds of Afghan and Pakistanis, especially women and children, are killed every day by US-led bombardments, drone attacks and terrorism of Islamic fundamentalists. There is, and will be, no turning point because the CIA created these fundamentalists through the ISI [Inter-Services Intelligence] during the Cold War in Afghanistan and is still empowering them. It is known to all that the Pakistan Army rules the country, and any efforts made against extremism are futile as the Army still supports the fundamentalists, such as the criminals in the Afghan government, the Taliban (both Afghan and Pakistani), Hezb-e-Islami Gulbuddin and Haqqani networks.
— Malalai Joya
Activist and former member of the National Assembly of Afghanistan
And my final selection is from January 5: "I was getting ready for school and about to wear my uniform when I remembered that our principal had told us not to wear uniforms and come to school wearing normal clothes instead. So I decided to wear my favourite pink dress. Other girls in school were also wearing colourful dresses and the school presented a homely look. My friend came to me and said, "For God's sake, answer me honestly, is our school going to be attacked by the Taliban?" During the morning assembly we were told not to wear colourful clothes as the Taliban would object to it. I came back from school and had tuition sessions after lunch. In the evening, I switched on the TV and heard that [the] curfew had been lifted from Shakardra after 15 days. I was happy to hear that because our English teacher lived in the area and she might be coming to school now."
Such single-minded pursuit of your goal when the penalty could be your life or the life of your near and dear ones is a manifestation of unimaginable courage. Yes, courage may have become a cliché to describe lesser feats but Malala embodies it. She and her family had to leave Swat ahead of the military operation a bit later in 2009 but once the military had broken the stranglehold of Mullah Fazlullah and his faction of the Tehrik-e-Taliban (TTP), she promptly returned. It is also a tribute to her parents that they have supported her through thick and thin when more well off parents in much more secure environments would have backed down in the face of relentless pressure by the TTP. This isn't a surprise, for her father is an educationist who is known for his efforts for girls' education. Whatever the longer-term state of education in the country, and particularly of female education, Malala's contribution to the cause would surely rank as one of the most edifying in Pakistan's history.
And what a sacrifice it is. The 15-year-old still battles on, in a specialist medical facility in Birmingham, to return to a degree of normality. The gunshot to her head may have fortuitously spared her life but it didn't leave her entirely unscathed. What else would explain the loss of one of the teenager's main assets, her disarming smile? Hopefully, she'll regain it. She must.
As Pakistan faces an existentialist threat, the lack of consensus in society on the fundamentals is alarming, to say the least. There were those who condemned the attack on the Swat girl unequivocally. Then there were those who saw her as a victim but said the attack was part of a grand 'foreign' conspiracy to manipulate public opinion in Pakistan. And then there were those who even rubbished the fact that she'd been shot in the head. The level of bile directed against the innocent girl, her father and her family was staggering, given what had happened. Some on social media became medical experts, questioning how the girl could be alive, having been shot in the head; others said they couldn't see any evidence of a bullet injury —having merely watched her being shifted to hospital on TV.
Pakistan and the US share deep relations with the fundamentalists such as the Gulbuddin and Haqqani networks, therefore, I do not expect any action will be taken against these criminals. The US occupation and Pakistan's meddling in Afghanistan is for their own geographic, political and economic interests. They installed their most criminal fundamentalist lackeys and warlords in power in order to increase their influence.
— Malalai Joya
Activist and former member of the National Assembly of Afghanistan
So, where are we now? Has the teenager's heroic battle for the cause of education made a big difference to attitudes in Pakistan? It almost appears as if political parties are relieved that she was airlifted abroad and they don't have to deal with her every day. President Asif Ali Zardari may have visited her in the UK but has the education allocation been upped at home, what to talk of the women's education budget? Also, there have been reports in the media that at least one other girl from Malala's school, who was also injured alongside her, is relocating with her family — so overwhelming is the sense of insecurity in Swat, despite heavy military presence. All this as we wait for a political consensus to crush militancy and terror in the country. Some predicate a consensus on holding of elections and others on the US drones disappearing from our horizons.
Both these goals may be perfectly valid in their own right but the connection between these and the need to clamp down on merchants of terror and their toxic ideology remains tenuous at best. Therefore, Malala Yousafzai, the Karachi teenager Mehzar Zehra (shot dead by sectarian militants on November 30, 2012 as she was on her way to school) and countless others like them across the country, whose aspiration is far simpler and rudimentary – to educate themselves in an environment free of discrimination, fear, intimidation and intolerance – are still being let down. When Malala was attacked, the initial outrage appeared so potent, it triggered hopes for change. A couple of months down the line, the international community continues to fête her, while for all practical purposes, most of Pakistan seems to have moved on.
However, each publicised event to honour her will be a reminder how she, a teenaged girl, stood up to the Taliban when many others simply chose to capitulate. This will be her real legacy. As will be the determined faces of the innumerable schoolgirls she inspired and that one saw on TV after the attack, pledging to carry on with their education no matter what the challenges. There cannot be a worthier personality of the year. Given her courageous, inspirational life in pursuit of her cause; her calm and composed response to the forces of darkness and the fact that she had the choice to go elsewhere and continue to educate herself but chose to make a statement in the midst of a volatile environment for the sake of other girls, leaves her miles in front of any other contender. May she regain her smile, and smile forever. She represents the most beautiful repartee, and a potent symbol of opposition, to the toxic ideology that the Taliban embody.
Source: http://herald.dawn.com/2013/01/15/the-daughter-of-the-nation.html
URL: https://www.newageislam.com/islam,-women-and-feminism/abbas-nasir/daughter-of-the-nation,-malala-yousafzai-fought-taliban-decree-making-female-education-un-islamic/d/10074