A two day national seminar on Sufism titled 'Sufism in Contemporary world: An inclusive framework' was held by the K R Narayanan Centre for Dalit and Minorities Studies in collaboration with New Age Islam Foundation at Jamia Millia Islami, New Delhi on March 13 and 14.
The introductory presentation on the theme of the seminar was made by Dr Mehr Fatima Hussain, the convenor of the seminar.
In the first session of the seminar, renowned historian and Professor of History, Aligarh Muslim University, Prof Iqtedar Hussain Siddiqi delivered a thought provoking speech on the relevance of Sufism with special reference to the life and teachings of Khwaja Moinuddin Chishti, Khwaja Nizamuddin Aulia and Baba Farid Ganj Shakar. He further said that Sufism came to India from Iran where Khorasan was the centre of Sufism and Khwaja Moinuddin Chishti was one of the Sufis of Iran. He observed that spirituality was deep rooted in India's soil and that's why Sufism grew here in a natural atmosphere.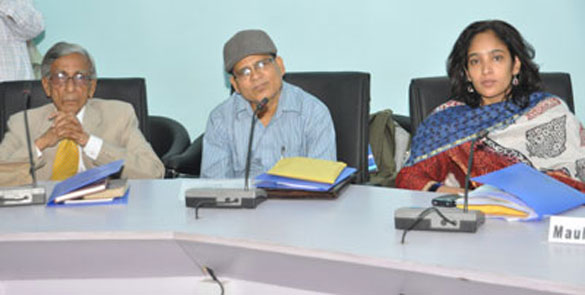 (From Left) Iqtedar Hussain Siddiqui, Achyut Nath Jha, Managing Editor, Observer Dawn and Dr Meher Fatima Hussain
------
The Sajjada Nashin of Dargah of Ajmer Sharif and the professor of History in Aligarh Muslim University, Prof Liyaqat Hussain Moini said that the Quran had references to Sufi thought and practice. The word Taqwa (piety) mentioned in the Quran was used in a broader sense which included Sufism. He also said that the Quran also stressed on good manners and social behaviour which is the basic trait of Sufism.
Syed Shahid Mehdi, said that the Indian multicultural ethos gave boost to Sufism and all the schools of Sufism flourished in India.
The post lunch session was chaired by Prof Iqtedar Hussain Siddiqui. Dr Samina Hasan Siddiquee read her paper on Wilayat and Riyasat (state and wilayat) and said that the Sufis did not have an agenda for the Islamisation of the people. They lived in a non-Muslim region and so they had to make certain adjustments to reach out to local masses.
Prof. Nashir Naqvi who also heads the Baba Farid Centre for Sufi Studies in Punjab presented his paper titled 'Sufism: Shariat, Tariqat and Haqiqat' in Urdu. He pointed out that the strength that is derived from self-control is called Sufism or mysticism. It is also synonymous with good behaviour. He also observed that the word 'muqarrab' in the Quran means sufis who are the friends of God and added that Sufism was first recongnised and defended by Imam Ghazali.
Asstt. Prof. Department of History, Delhi University, Prof. Geeta Arya read her paper on Pre-Colonial Awadhi Literary discourse: Embodiment of composite culture and shed light on Sufism from historical perspective.
Maksood Alam Khan read his paper on warrior Sufis and stressed on the fact that it was the western biased historians who had coined the term warrior Sufis and opined that the term was a misnomer because Sufis did not indulge in violent ideologies. They were messengers of peace. Therefore, the Sufis whom the western historians have described as 'warriors' actually served in the royal army in the initial years of their lives and later had abandoned the life of warriors and become Sufis. He also cited the example of some Sufis who would terrify people and unleash snakes and scorpions to terrorise them and said that these were lies fabricated by biased historians to present the Sufis in a bad light. In the end he concluded that sufis have always believed in peaceful coexistence and multicultural approach which was all-inclusive.
The post-tea session on the first day was chaired by Dr Kailash Kumar Mishra, an anthropologist and an expert on tribal and folk culture. In this session, Dr Malik Rajkumar's paper discussed Sufism with special reference to Baba Farid quoting couplets from his poetry; Dr Waseem Begum's paper was on the teachings of Khwaja Nizamuddin's teachings. Dr Aleem Ashraf Khan's paper dealt with Sufism of Hadhrat Nizamuddin with special reference to Fawaid-al Fawad. He said that Khwaja Nizamuddin Auliya's Khanqah was not only an abode of the Sufis but had also become a centre for social service. He would perform the bismillah ceremony or suggesting names of new born babies and other family rituals of the Muslims who would come to him for the purpose. Dr Mishra presented his paper on Hajo, a place of pilgrimage in Assam which is also called Poa Makkah (A quarter of Makkah).
The first session of the second day was chaired by Prof S. M. Azizuddin Hussain. In this session Prof Kuljit Shellie read her paper on the topic 'The image of women in Punjabi Sufi Poetry'. She read out couplets of Bulle Shah whose poetry largely deals with the feelings and emotions of women. Prof Shellie observed that Bulle Shah's women were rather rebellious in their approach. Asked if there were women Sufis also in Punjab, she said that there was a woman Sufi called Peero who was a disciple of Sant Gulab Das but much was not known about her.
Prof. S. Bilquis Fatma Hussain read her paper on 'Tasawwuf ki mushtarka tahzeeb' (the common legacy of Sufism) and discussed the topic in the light of all the four divine books in the context of Indian culture. Dr Akhlaque Khan discussed the sufi poetry of Khursrau and his reverence for Hadhrat Nizamuddin. After the discussion it was debated whether Amir Khusro could be considered a Sufi or a mere Sufi poet.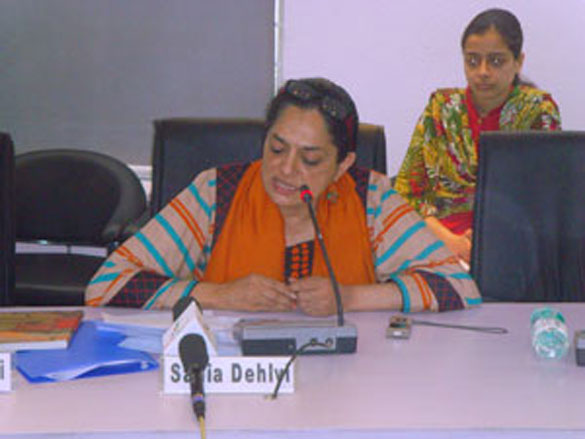 Sadia Dehlvi, writer and Sufi activist
--------
Sadia Dehlvi, a writer and Sufi activist read her paper on Sufism in Delhi. She said that she was proud to be a part of Delhi which was the centre of all the Sufi orders and most importantly the Dargah of Hadhrat Nizamuddin was located here. She appreciated the inclusive approach of the Sufis in an age when the ordinary and the downtrodden people did not get love and respect from the upper caste and the ruling elite. The Sufis and particularly Hadhrat Nizamuddin's personality had become a rallying point for all the people irrespective of caste, creed or religion. She also said that it was a wonderful aspect of the Sufis that all the Sufis, belonging to all the religions had formed a framework which connected the people from all religions and castes.
For example, if someone wants to read Baba Farid's poetry, he has to read Guru Granth Saheb because many couplets composed by him has been included by Guru Nanak in his Granth. In the same way, Kabir finds mention in Guru Granth sahib. However, she said that she was bothered by the recent trend of dissociating Sufism from Islam among the radical and puritan groups among the Muslims. She said that Sufism was the essence of Islam; the classical Islam which engages not alienates people. She also expressed her concern on Sufism being turned into a fashion statement by a section of Sufi activists and it has turned into a profession instead of a spiritual practice.
She also lamented the fact that the new generation does not know much about their sufi heritage and legacy. They are not aware of the fact that great Sufis like Hadhrat Nizamuddin Aulia, Nasiruddin Chiragh Dehli, and other saints lived in Delhi. She also said that few people knew that because of its Sufi heritage, Delhi is also called Bais Khwaja Ki chaukhat (the abode of 22 saints).She also said that there has been a pattern of neglect of Muslim places of religious importance. Tombs are desecrated more often and sometimes less known tombs disappear overnight and new shops come up in their place. She also opined that this trend intensified by the Partition when there was a common hatred against Muslims and Muslims did not have the courage against the desecration, destruction and disappearance of such tombs and graves. However, Gandhi and Nehru played a very positive role in reviving and reinstating some of the tombs and traditions of Delhi. Mahatma Gandhi restored and renovated a famous Mazar and even apologized at the Mazar on behalf of Hindus while Nehru revived the Phool Walon Ki Sair as it was a legacy of the composite culture of India.
Sadia Dehlvi also raised the issue of Allah Hafiz vs Khuda Hafiz and said that Muslims should not have a rigid approach towards the name of God. Nowadays many Muslims insist on saying Allah Hafiz instead of Khuda Hafiz whereas the entire Persian poetry uses the word Khuda for God. She said that in future some people will also say that we should say 'saum' instead of 'roza'. The most important thing was to treat humanity with love and compassion rather than having an exclusive approach towards people.
Dr Md Aleem read his paper on Khusrau's Sufi poetry while Dr Aslam Islahi read his article on Kashful Mehjoob and its social relevance.
The post lunch session on the second day was chaired by Dr M. Mujtaba Khan, Director, Academic staff college, Jamia Millia Islamia. In his introductory speech he expressed his concern over the ever growing influence of Salafi-Wahhabi extremist ideas which in his view were responsible for the violent and intolerant approach of the Muslims towards other religions and sects. He said that this Salafi Wahhabi narrative was doing severe harm to Islam and presenting it in a bad light.
Dr Manindra Thakur read his paper on Tantra and Sufism. But Mujtaba Khan rejected the idea of the commonality between Sufism and Commonality. He said that Sufism could not be equated with tantricism because of radical differences in their practices and rituals.
Dr Rashid Anwar Rashid read his paper on Sufi literature and its relevance in modern life.
The last and post-tea session was chaired by Dr Maula Baksh. In this session, Dr Abdul Wahid Nazar read his beautiful Urdu essay on Contemporary relevance of Sufi Teachings. He quoted a Hadith from Mishkwat Shareef which talked about Shariat, Haqiqat and Tariqat, the terms used in Sufism. In this way, he found the origin of Sufism in the life of the prophet.
The final paper of the session was read out by a research scholar, Priyanka Chanana. Her paper was on two women Sufis of Delhi, Hadhrat Fatima Bibi and Hadhrat Zulekha Bibi whose Mazars were situated in Delhi. The essay was appreciated by all.
On the whole, all the participants and audience were unanimous on the fact that Sufism was mainstream Islam and all the efforts to dissociate with Islam should be countered peacefully and ideologically as Sufism promotes multicultural ethos which is the essence of Indian soil. Sufism teaches love, compassion, tolerance and brotherhood that are the need of the modern day multicultural and complex world.
Dr Fatima in her closing speech said that we should collectively work towards spreading the message of compassion and tolerance through the teachings of the Sufis and reclaim our lost heritage and values. We should acknowledge the broadmindedness and tolerance of the dominant Hindu community who accepted Sufism and assimilated all the good elements of different religions and cultures to form the composite culture called India.
She thanked the team of New Age Islam Foundation, especially Mr. Sultan Shahin for extending their support to make the seminar a success.
URL:
https://newageislam.com/islam-spiritualism/sufism-mainstream-islam-islamic-scholars/d/10777