By Haytham Mouzahem
April 21, 2014
There are few sources on Sufism and Sunni Sufi orders in Lebanon. Were it not for some news reports on Sufi ceremonies and video clips on YouTube depicting remembrance sessions and spiritual dances, one would almost think that Sufi orders are completely absent in Lebanon. This comes in light of the media, political and military dominance of fundamentalist Salafist currents on the religious scene in Lebanon.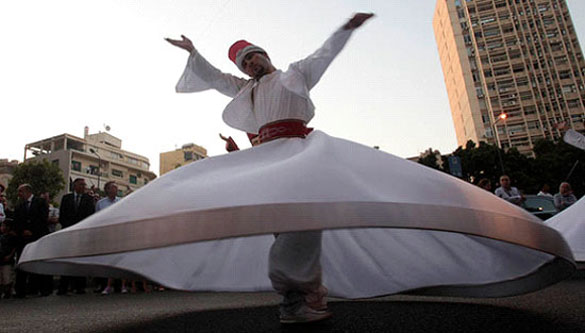 A Darwish Sufi dancer performs to celebrate the beginning of Ramadan during the Ajyalouna Festival in Beirut, July 30, 2011. (photo by REUTERS/Jamal Saidi)
---------
Al-Monitor spoke with Sheikh Ahmed Darwish al-Kurdi, a religious judge who follows one of the Sufi orders in Lebanon. He said that the majority of the Sunni Islamic community in Lebanon loves and supports Sufism. That many of Lebanon's muftis are supporters of Sufism is proof, he said.
A prominent Islamic source, speaking to Al-Monitor on condition of anonymity, said that Grand Mufti of Lebanon Mohammed Rashid Qabbani, Mufti of Akkar Sheikh Osama al-Rifaai, Director-General of the Islamic Waqf Sheikh Hisham Khalifa and other prominent muftis and Islamic scholars support Sufism in Lebanon.
Kurdi noted that Sufi orders are widespread in Beirut, northern Lebanon, Sidon and the Bekaa Valley, and their number of followers is estimated in the tens of thousands.
However, Radwan al-Sayyed, a researcher specializing in Islamic ideology, said that the number of Sufis in Lebanon is estimated at 12,000. He told Al-Monitor that these followers of Sufism are distributed among five main orders — the Quadiriya, Chadelya, Rifaai, Mawliya and Naqshbandi orders.
Sayyed said there are three old orders in Lebanon: the Chadelya, Quadiriya and Rifaai orders. These are predominantly found in the Bekaa Valley and the north, and their influence has diminished to some extent in Beirut and Sidon as a result of the spread of the Naqshbandi order.
He noted that followers of Sufism are mostly concentrated in cities, such as Tripoli, Akkar, Sidon and Majdal Anjar, more than in rural areas.
However, Kurdi said that there has been a significant increase in followers of Sufi orders in the countryside of Akkar, and he noted a rise in the Naqshbandi and Mawliya orders in general in Lebanon.
Meanwhile, Mahmoud Haidar, a researcher at the Delta Centre for In-depth Research in Beirut, told Al-Monitor that Sufism is widespread in the north, particularly in Tripoli, as well as in Beirut and Sidon.
Sayyed attributes the decline in Sufism in Lebanon to the predominance of modernism in the country on the one hand, and to the prevailing instability on the other. Sufi orders require political, social and security stability, which provides its followers an appropriate atmosphere to practice the rituals of these orders. The political unrest Lebanon has seen over the past four decades has pushed the youth to pay attention to politics and engage in political parties and fighting. The religious youth affiliate with political Islam and Salafist parties, not with Sufi orders.
Sayyed said that, in general, Sufism is passed down among families, and most Sufi followers are businessmen. Yet, according to him, while these orders are still present in Lebanon, they are not flourishing and they are dominated by secretive traditions more than they can be considered prosperous and thriving, despite the rise of Sufism in the Arab world. He said that Sufism in Lebanon does not have the same role that Sufi movements played in some Islamic countries in preserving religious identity in the face of secularism and communism, as happened in Turkey and the Islamic republics of the former Soviet Union.
Sayyed continued that the "Ahbash," who are followers of the late Ethiopian Sheikh Abdullah al-Harari al-Habashi and founded the Association of Islamic Charitable Projects in Lebanon, follow a Sufi order. According to him, they had previously revived some of the remembrance sessions, but they stopped in recent years because of deteriorating security and the political withdrawal of the Ahbash.
Regarding the rituals practiced by followers of these orders, Kurdi said that they regularly carry out remembrance sessions. He said followers of the Naqshbandi and Mawliya orders, which he tends to follow, do not engage in paranormal practices such as inserting swords into bodies. Rather, such practices are carried out by followers of the Rifaai order, in cases where they want to prove their (supernatural) abilities when some deny them.
Kurdi explained that Sufism is a process of developing and "taming" the soul through prayer, remembrance and other forms of worship, and refraining from sins and things that corrupt one's morals such as envy, hypocrisy, gossip, etc.
Regarding Sufism's position on politics, Kurdi said that Islam is both a religion and a form of state, and thus taking interest in public affairs is part of the religion. He noted that Sufis take a position on the general situation based on the idea of promoting virtue and preventing vice, despite the commonly held belief that they do not interfere in politics. However, he said they do not compete for power or seek it.
Regarding Sufis' position on other sects and religions, Kurdi said that Sufism is based on love and tolerance, and thus followers of Sufism do not have hostile attitudes toward those of a different sect or religion. However, he stressed that they reject extremism in religion.
Haidar said that all of the Sufi orders in Lebanon have stayed away from politics, with the exception of the Association of Islamic Charitable Projects (the Ahbash). The latter were involved in politics because of the circumstances of the group's founding, and due to the changes that have affected the Sunni authorities in Lebanon in past decades.
The Ahbash, who number in the thousands, are followers of the Naqshbandi order and are distributed throughout all Lebanese regions.
There is a Mawliya Khanqah (Sufi retreat) in Tripoli on the banks of the Abu Ali River, which dates back 400 years. It was established during the reign of the Ottomans and is attributed to followers of the Persian mystic Jalal al-Din al-Rumi, commonly known as "Maulana Rumi." The followers of this order carry the family name "al-Mawlawi," derived from Maulana, and the majority of them today live in the city of Tripoli. This order is best known for their spiritual "whirling dervish" dances and the distinct clothing they wear during these dance sessions, which are held during the month of Ramadan and on other occasions.
Followers of the Mawliya order meet in Tripoli every Wednesday evening in the Karimia School, where they study religious science and Sufism. They also carry out remembrance sessions, read from the Quran, sing, and dance and organize "Nuba," a ritual where participants sway and read chants to the beat of drums, while lighting torches.
However, this cultural and religious phenomenon, represented by celebrations involving Sufi songs and spiritual dances, is threatened in Lebanon due to a decline in the number of dervishes who participate in these celebrations and perform the Mawliya dances. They also suffer from a lack of moral and material support, at a time when the Sunni capital in Lebanon, Tripoli, is dominated by political Islam currents and the scholarly and jihadist Salafists on the one hand, and the civil, liberal Future Movement on the other.
As for the Quadiriya order, founded by Sheikh Abdul Qadir al-Jilani, its most prominent followers are from the Zoubi family in Akkar. They have an association called the Al-Zoubi Qadiriya Hashemite Association in Lebanon. They claim to be descendants of the family of the Prophet Muhammad, like many other Sufis, in particular those of the Rifaai order.
The Rifaai order is headed by the so-called "Sheikh of Sufi Sheikhs in Lebanon," Sheikh Jamil Halim al-Husseini.
There is no doubt that the association of Sufism followers with the house of the Prophet brings them closer to the Shiites, and distances them from extremist Salafist ideology. The latter considers Shiites to be apostates, or "Rawafid" (defectors) in the best of cases.
As for Sufism and mysticism among the Shiites of Lebanon, it differs from the Sunni Sufi orders, given that it focuses on individual behaviour and private meditation, not collective rituals.
Haytham Mouzahem is a Lebanese analyst specializing in Middle Eastern and Islamic affairs.
Source: http://www.al-monitor.com/pulse/originals/2014/04/lebanon-sufi-orders-threat-rise-salafism.html#ixzz2zXodiexx
URL: https://newageislam.com/islam-politics/lebanon's-sufi-orders-threatened-rise/d/76678