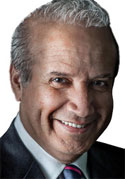 By Abdulrahman al-Rashed
15 April 2014
We did not take into account foreign accusations that human enslavement was taking place among us until we heard stories about the use of labourers and maids without granting them their rights. Two years ago, there was a strange story about an Indian shepherd who arrived at a police station in a town in the north of Saudi Arabia saying he had been detained in a stockyard in the middle of the desert for 18 years.
All we know so far is that the poor shepherd arrived in Saudi Arabia on a contract with the stockyard's owner who only paid the former around $300 of his wages, prevented him from travelling to see his family and did not even allow him to call them. The Indian worker could not escape because the stockyard was in the middle of the an-Nafud desert and he was afraid he would get lost and die if he tried to escape.
This story which shocked people somehow ended. We know that the stockyard's owner paid the Indian worker the rest of his wages, which only amounted to around $50,000. But was the Indian man compensated for being held for almost 20 years and for being forced into slavery? Was the wrongdoer punished? We don't know, but since we haven't read anything on the topic, the issue is worth following up on.
Criminalizing Such Hideous Acts
I asked lawyer Abdulrahman al-Lahham if there is something in the system that criminalizes such hideous acts in the Saudi kingdom. He said that legislation "fighting human trafficking crimes" was issued and that it applies to this case. The legislation was approved by the cabinet six years ago and it punishes the wrongdoer by sentencing him to jail for 15 years or by fining him one million riyals, or both. The logical question now is: was the Indian labourer's case forgotten the minute he travelled to his family? In this case, the governmental apparatuses which are tasked with implementing the law, but which haven't, are not only the perpetrators and must be punished.
The reason I brought up an issue that is two years old and that people have forgotten about is that such crimes are still being committed as a result of a lack of awareness and leniency in implementing punishments. The system on fighting human trafficking may apply to those who don't pay their workers and their maids.
The law does not protect ignorant people or people with excuses, whatever the excuses are. Riyadh police once forced a Saudi diplomat to return to the country to pay his domestic worker her wages which he said he had forgotten to pay. It's expected that such crimes will occur and are ongoing, especially since there are more than 10 million foreign workers in Saudi Arabia, and one cannot count on people's morals and humanitarian sense to stop slavery. The story of the wife who sympathized with the domestic help against the former's husband and accompanied her to the police station to file a complaint because he hadn't paid her in two years does not happen often.
It's the National Society for Human Rights' responsibility to urge workers to report acts exploitation and to protect them, and it's also the responsibility of social institutions and of those responsible for the society.
Abdulrahman al-Rashed is the General Manager of Al Arabiya News Channel. A veteran and internationally acclaimed journalist, he is a former editor-in-chief of the London-based leading Arab daily Asharq al-Awsat, where he still regularly writes a political column. He has also served as the editor of Asharq al-Awsat's sister publication, al-Majalla. Throughout his career, Rashed has interviewed several world leaders, with his articles garnering worldwide recognition, and he has successfully led Al Arabiya to the highly regarded, thriving and influential position it is in today.
Source: http://english.alarabiya.net/en/views/news/middle-east/2014/04/15/Labor-enslavement-and-the-application-of-law-in-Saudi-Arabia.html
URL: http://www.newageislam.com/islam-and-human-rights/abdulrahman-al-rashed/labour-enslavement-and-the-application-of-law-in-saudi-arabia/d/66579