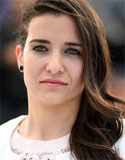 By Waad al Kateab
Feb. 7, 2020
When the forces of President Bashar al-Assad of Syria destroyed and took control of my city of Aleppo, its residents, including my family, were forced to flee to the north-western Idlib province. The pattern repeated after every military assault by the Syrian regime on cities and towns outside its control. Idlib became the sanctuary for about four million people.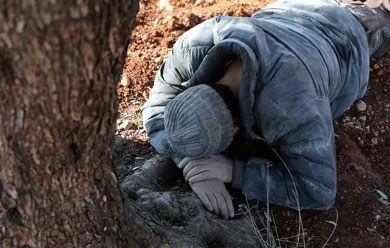 Relentless aerial bombardment by the Assad regime and its Russian allies and a devastating ground offensive has displaced more than half a million people from Idlib since December, according to the United Nations Office for the Coordination of Humanitarian Affairs.
In the past few weeks, the attacks on the people trapped in Idlib have severely intensified. The White Helmets, the civil defence group, documented more than 6,600 attacks that killed 208 civilians in January.
I am a Syrian filmmaker travelling in the United States for work. I watch the news from Syria on my phone. An image appears repeatedly: a straight road stretching to the horizon, packed with cars and trucks filled with families fleeing from the city of Ma'arat al-Nu'man in southern Idlib. Ma'arat al-Nu'man is the latest place to be turned into a ghost town by Russian and regime bombs, pushing about 110,000 people from there.
Most of these families are fleeing for the second, third or fourth time. Like mine, their original homes were in places you might recognize from news headlines: Aleppo, Douma, Ghouta, Homs. Each of these places was the site of a massacre by the forces of the Assad regime and its Iranian and Russian allies. The survivors had sought refuge in Idlib. Now they are on the move again. The United Nations Children's Fund reported that more than 6,500 children were forced to flee Idlib every day last week.
On a train from Washington to New York, I stared at pictures of mothers fleeing Idlib in cattle trucks. I read about the Turkish border being sealed shut, the Russian and regime forces attacking Idlib relentlessly.
The images of the exodus from Idlib return me to being in one of those cars over three years ago, when I was forced to flee my home in Aleppo. My body remembers the cold and pain of that journey. The feeling of holding my daughter, Sama, on my lap and trying to keep her warm. I held a tin of beans and would feed her one at a time. And I tuned the car radio, desperate for any news of the evacuations as we left my beloved Aleppo for the last time.
I scroll through endless updates from Idlib: a 15-second video clip of the Ariha hospital struck by a Russian jet; the son of a White Helmet rescue worker begging to see the body of his dead father; another sobbing White Helmet volunteer who found his own son under the rubble.
In the past week I have met officials from the House of Representatives and the Senate. In each meeting, I have just minutes to explain what is happening in Idlib. I tell them everything, and it feels like nothing. I don't believe it will change anything. The Syrian people have been abandoned. Some politicians and U.N. officials tell me they hope for an end to the violence. Others tell me they can do nothing.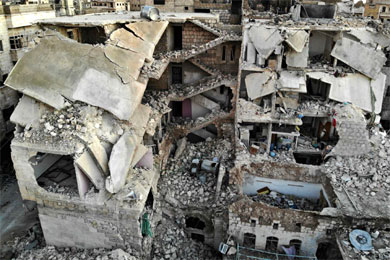 A residential building destroyed in an airstrike by Syrian President Bashar al-Assad's Russian allies in the city of Ma'arat al-Nu'man in Idlib, Syria.Credit...Omar Haj Kadour/Agence France-Presse — Getty Images
-----
We Are Left To Face Death Alone.
Over the past nine years, we Syrians have been killed in every way possible: by barrel bombs, shelling, guns, chemical weapons, torture, starvation.
But I believe the hardest way to be killed is in silence, so I keep telling our stories. It is my duty, my responsibility as a woman who survived. This is the fate of those who have escaped: to endlessly retell our own stories and tell the stories of others still in Syria.
When I was living through the siege of Aleppo, I thought I would be killed with my daughter. I became obsessed with the idea that if I couldn't save myself, at least I would save the story of what happened. I filmed everything so that one day people would bear witness to all the crimes that happened in my home city and all those children wouldn't have died in silence. I survived and I made a film.
In the years that come, I hope more Syrian women make films to tell the stories that need to be told, for every family has faced its own odyssey. I hope they make films about what the world did in this war: the meetings thousands of miles away from Syria where it was decided we would be left to die. The story of how Russia tested its new military weapons on our homes, schools and hospitals.
I also hope they will tell the story of our great return. For all I have left is hope that our stories matter — and that those slogans of freedom and democracy we wrote on the walls of Aleppo may one day come true.
On Tuesday, a Russian airstrike destroyed a hospital in Sarmin, a city in Idlib. I know the terror of being in a hospital when an airstrike hits; I can still smell blood and smoke, I still hear the sounds of the shells falling, I can still feel the ground shaking. I think of the doctors who will be scrambling to do what they can to save lives.
I scroll through Facebook, where local journalists post pictures of the aftermath. They have not given up on showing the world what is happening in Idlib. I wonder how many of the politicians I met this week can say they have also not given up?
Waad al Kateab is a co-director of "For Sama," a film about the war in Syria.
Original Headline: 'We Are Left to Face Death Alone'
Source: The New York Times
URL: https://www.newageislam.com/islam-and-the-west/waad-al-kateab/world-has-abandoned-the-syrian-people-and-left-to-face-death-alone/d/121009