By Saif Shahin, New Age Islam
Sep 14 2012
To be sure, many of these violent protests are sparked by intentional incitement from Islamophobes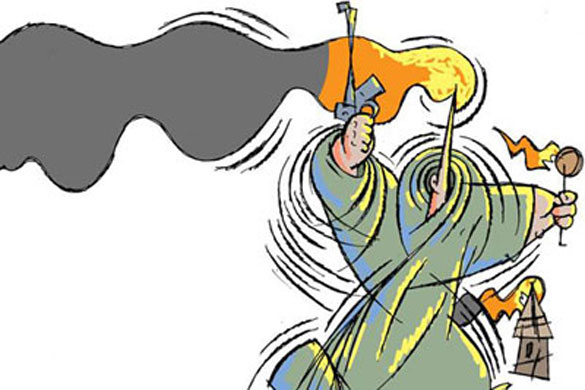 Jayachandran/Mint
An Egyptian-born conman living in the US produces a crude online clip depicting Muslims as bloodthirsty savages. How do Muslims, who don't think they are or should be portrayed as bloodthirsty savages, react to this provocation? By behaving exactly as bloodthirsty savages: rioting in the streets, raiding embassies and killing innocent people who had little to do with the movie.
For all its cinematic inadequacies, the 14-minute movie trailer satirically titled Innocence of Muslims has proved itself admirably as a self-fulfilling prophecy. It starts with scenes of Muslims attacking and killing Coptic Christians, Egypt's largest religious minority, before abruptly stepping back 1,400 years in time to the days of Prophet Muhammad.
The Prophet, according to the film, was a man who ordered his followers to murder non-Muslims, take women as concubines and do with children as they pleased. The kitsch continues to pour scorn on the Prophet and the Muslim holy book Quran-calling it a mish-mash of Torah and the New Testament- before ending with scenes of Muhammad swinging a bloodstained sword and demanding the murder of every "infidel."
The movie-reportedly made by a Los Angeles-based Copt, Nakoula Basseley Nakoula, who has been in and out of prisons since the 1990s,-has been on YouTube for weeks. But in the last few days, apparently in a bid to show that it is all a big lie, Muslims have absurdly decided to behave much in line with how the movie represents them.
In Yemen, they stormed the US embassy, smashed windows and burnt the American flag. Protests outside the US embassy in Egypt left more than 200 people injured. More violent demonstrations have taken place in Iran, Iraq, Morocco, Sudan and Bangladesh. And in the Libyan city of Benghazi, a rocket attack killed four American embassy staff, including ambassador Chris Stevens.
Oxymoronic though it is, there is a distinct sense of déjà vu about the Muslim world erupting in protest against real or imagined insults-often violently and with serious social and political consequences. Beginning with the backlash against Salman Rushdie's The Satanic Verses in 1989 and running through the demonstrations over Danish newspaper Jyllands-Posten's publication of Muhammad cartoons in 2005, there have been innumerable instances of Muslims falling head over heels to fit into the caricatures made by their worst critics. It seems almost as if they are perpetually on the lookout for opportunities to be provoked, and once they find them, they spill out into the streets and show themselves to be deserving of the slurs that are callously tossed upon them.
India, too, continues to corner its share of rowdy demonstrations by Muslims. Early this year, the anti-Rushdie protests flared again ahead of the writer's proposed visit to attend a literary festival?(never mind the fact that he has been coming to his homeland fairly regularly for many years). Just last month, Muslims in Mumbai held rallies to denounce the targeting of so-called Bangladeshi Muslims in the northeast, which transmogrified into disorderly scenes of violence against journalists and the police.
To be sure, many of these violent protests are sparked by intentional incitement from Islamophobes. The Jyllands-Posten cartoons, for instance, failed to stir controversy on their own; it was only after some reporters started calling up extremist Muslim clerics and asking for their opinions about the cartoons that it exploded into a global crisis. Similarly, Innocence of Muslims went unnoticed for weeks until 6 September, when an anti-Islamic activist in the US, Morris Sadek, started sending links of the clip to journalists around the world.
Nonetheless, what Muslims do following such incitement is their own responsibility. And behaving in ways that reinforce the stereotypes and misrepresentations doesn't help.
A far saner response to the movie clip would have been to request YouTube to remove it. The matter would have ended there. But that did not happen, and the actions of violent protesters and terrorists who killed the US embassy staff will speak louder than the distressingly dubbed clip.
Muslims repeatedly claim that the responsibility of Islamist terrorism and fundamentalism lies on the shoulders of a few people on the community's fringes. But they will find fewer takers for this claim when they themselves punish innocents such as US embassy workers for the actions of the Islamophobic fringe in Western society.
Saif Shahin is a doctoral research scholar in political communication at the University of Texas, Austin, US, and a former news editor at Mint, New Delhi.
URL: https://newageislam.com/islam-west/distinct-sense-déjà-vu/d/8673
New Age Islam, Islam Online, Islamic Website, African Muslim News, Arab World News, South Asia News, Indian Muslim News, World Muslim News, Women in Islam, Islamic Feminism, Arab Women, Women In Arab, Islamophobia in America, Muslim Women in West, Islam Women and Feminism