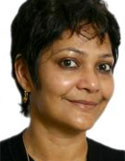 By Patralekha Chatterjee
Mar 21, 2019
Size does not matter. A small country can outshine big ones by moral clarity and strategic vision in the leadership stakes, as New Zealand Prime Minister Jacinda Ardern has shown.
Ms Ardern's exemplary words and actions after a terrorist shot dead 50 Muslims in two mosques in Christchurch unequivocally signals that New Zealand, a country of about five million people, is pluralistic, and that it will ferociously push back against the ideological infrastructure which nourishes majoritarian visions. Ms Ardern could have chosen to express shock, horror and stop at condemning the terror attack. But she went way beyond. Her first response, even before all the details were known, leaped out to millions across the world. She said: "They have chosen to make this their home. They are us."
By this simple statement, Ms Ardern had bridged the "us and them" divide that stalks natives and those of immigrant stock, and minority populations everywhere. What she said was to affirm a simple but much-needed message — the terrorist who had come from Australia killed Muslims who were not "they" but "us" New Zealanders.
Ms Ardern has been covering her head while meeting families of the victims — a mark of cultural sensitivity. She has also shown her astuteness by declaring that she would never take the name of the terrorist, thereby denying him, and people like him, the notoriety they seek. She asks people to remember the victims by name instead. This is not just symbolism. The conscious de-personalisation of the terrorist shows an astute way to deal with extremism and terrorism. Concretely, Ms Ardern has followed up with plans to overhaul New Zealand's gun laws.
If Jacinda Ardern's words and deeds were mealy-mouthed platitudes, they would not have resonated with so many people across the world. They resonate, including with this writer, and many others in India, because they are the powerful signals we are looking for in an increasingly polarised society where the "us and them" divide is leading to rising stigmatisation and violence.
It is as important to neutralise and counter the ideological infrastructure that pushes people to become terrorists as to catch the terrorists and their allies. At a time when anti-minority rhetoric threatens to rip apart social cohesion in democracies across the world, Ms Ardern matters, because she is explicitly telling people who are visibly or culturally different from the "majority" that they are part of the same family, not outsiders. This is intended to make them feel secure when they are at their most fragile. Crucially, Ms Ardern did not resort to what-aboutery in the hour of crisis.
This should make us in India introspect deeply. Our multi-cultural fabric is being ripped apart by an ideology that is gaining traction and that privileges the sentiments of the most bigoted members of the majority community. One of the most worrying trends on the social media, which is playing an increasingly important role in shaping public opinion in this country, is the tendency to conflate two very different things — radical Islamic terrorist groups and ordinary Muslims. It is dangerous what-aboutery to start talking about Islamic terrorist groups each time Muslims are targeted by terrorists simply because they are Muslims, though they have nothing to do with terrorism. The Christchurch attack was an act of terror by a white supremacist who unapologetically hates Muslims and every other minority group.
In India, we have seen hatred towards Muslims being fuelled and sustained by words and deeds. Take the most recent example of the attacks on Kashmiri students and shopkeepers in different parts of the country when an Islamist terrorist linked to Jaish-e-Mohammed attacked a CRPF bus in Pulwama, killing over 40 Jawans.
What would have helped is an immediate, unambiguous signal, which went beyond just expressing grief, anguish or condemnation. Like an immediate, unequivocal statement from the Prime Minister that while terrorists and their minders will be dealt with severely, ordinary Kashmiris were "us" and attacks on them of any kind is an attack on us. He needed to make it very clear at once that the ideological infrastructure that equates every Kashmiri and every Muslim with all that is bad will not be tolerated.
These statements were made, but they were weak, and they came late. Nor was this identification with victims of terror demonstrably shown each time an ordinary Muslim was lynched, whether in the name of protecting the cow or anything else. Instead, what we have seen are immediate and provocative statements by other lawmakers. Take just one example: Bharatiya Janata Party MP Vinay Katiyar was quoted in the media as saying, while replying to questions on mob lynching: "When such incidents happen, people from the other community should also think about it. They shouldn't touch cows when they know Hindus get aggressive over it. They shouldn't kill cows." This emboldens extremist peddlers of hate and leads to hate crimes.
Here is some data. "The Observer Research Foundation in March 2018 released a study based on a statistical mapping of hate speech and counter-speech on the social media pages active in India. The study, a first of its kind, revealed that religion and 'religio-cultural' practices related to food and dress, were the most explicit basis for hate as expressed in Indian social media: they accounted for a rise from 19 to 30 per cent of the incidents over the one-year timeframe of the study," points out Maya Mirchandani in a August 2018 paper titled "Digital hatred, real violence: Majoritarian radicalisation and social media in India". She wrote: "The data was gathered from public pages in two separate month-long time periods spread over 12 months starting from July 2016. Most of the comments incited bodily harm or violence against people belonging to India's Muslim community who comprise about 180 million of the country's 1.2-billion-strong population... Subjects that evoked hate speech ranged from opposition to inter-faith marriage between Hindus and Muslims, positions on universal human rights, and the contentious issues of cow protection and beef consumption."
There is a moral as well as a business case for social cohesion. No country or society can realise its potential if specific groups of people are made to feel they don't belong and made to cower in fear of physical and psychological attacks. Jacinda Ardern understands this. India's political leaders, from the top to the bottom, could learn a lot from her.
Source: asianage.com/opinion/oped/210319/why-india-world-should-learn-from-nzs-ardern.html
URL: http://newageislam.com/islam-and-the-west/patralekha-chatterjee/india-and-world-should-learn-from-jacinda-ardern--muslims,-killed-by-the-terrorist,-were-not--they--but--us--new-zealanders/d/118092