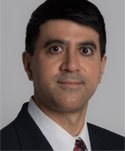 By Adeel Hassan
Sept. 17, 2019
On a muggy Sunday morning in June, I joined a few dozen people at the Adam Clayton Powell Jr. statue in the heart of Harlem. We were there to take a walk through history.
But much of that history has been erased and, as our tour guide pointed out, there were few plaques highlighting Muslim milestones in a neighbourhood that has helped shape America.
The guide, Katherine Merriman, a doctoral candidate in Islamic Studies at the University of North Carolina at Chapel Hill, started highlighting the area's past for her friends, and then for friends of those friends.
Interest kept growing and, five years ago, she opened the Muslim History Tour NYC to the public. You can find her walking backward and pointing to Muslim-related sites past and present on about a half-dozen Sundays of the year. (Demand for the free tour far outstrips supply; it took me three tries to have my R.S.V.P. accepted.)
Ms. Merriman told us about the first Muslims in New York, who arrived as slaves in the 1600s. "Muslim history is New York City history," she said.
Most of us were stumped when she asked how many mosques were in the city today. I don't recall anyone coming within the ballpark of 300, the correct answer.
But most of the earliest mosques are gone, and much of the history erased, so Ms. Merriman frequently turned to a wide-screen iPad to show us what had once been.
Early on, she used the iPad to show us the site of an African-American-owned bookstore where Malcolm X studied that is now a state office building. We could only imagine what the bookstore was like while she delivered an oral history.
The tour takes nearly three hours and incorporates music, food, culture, sports and politics, in addition to religion. It's a panoramic view, and one that keeps expanding.
Ms. Merriman added a tour of Lower Manhattan to include the earliest Muslims, discussing African enslavement in Dutch New Amsterdam, as well as Little Syria and an Ottoman mosque.
Across the East River, others are also working to fill in our historical gaps of knowledge. Oral historians associated with the Brooklyn Historical Society have recorded interviews with dozens of Muslims. Their aim was to preserve the conversations to fill what the institution admits was a cultural hole in its archives. My colleague Julia Jacobs wrote about them this week in The Times, and her article is below.
To paraphrase Ms. Merriman: It's our job to keep these stories alive.
At the Brooklyn Historical Society, there's an ornate library with cherry-wood columns and stained-glass windows that holds much of the institution's archival collections.
It has more than 33,000 books, 50,000 photographs and 1,200 oral history interviews. The organization has been amassing historical materials about Brooklyn since 1863.
Yet there is "next to nothing" about Muslims in these expansive archives, the institutions president told me recently.
Nsenga Knight, an artist who was raised Muslim in the East Flatbush neighbourhood, discovered that for herself. Knight visited their image archives to see what she could find about the majority African-American and Afro-Caribbean mosques around where she grew up, but she found no evidence of their existence.
Zaheer Ali, an oral historian hired by the historical society four years ago, sought to change that. He and other interviewers spent more than 100 hours interviewing Muslims who live in or grew up in Brooklyn. They told personal stories and political ones, filling a vacuum of institutional knowledge with their words.
The interviews are being kept in digital archives, and people can access them in that ornate library in Brooklyn Heights or through an online portal. The oral histories also served as the foundation for a new sound-and-art exhibition by the Brooklyn artist Kameelah Janan Rasheed, who sought to highlight narratives about Islamic history and identity that aren't typically part of the "homogeneous" story about Muslims that some people like to imagine.
Deborah Schwartz, the historical society's president, said that Muslim life in Brooklyn is not the only cultural gap in the institution's archives. The people who started the institution were mostly British and Dutch, she said, and the early archives reflect that.
"There's been a lot of correction," she said in an interview, "Not enough. We've got a long way to go."
In an interview with a curator for the historical society, Ali voiced why a lack of archival representation can be harmful.
"In particular, the paucity of primary sources and firsthand accounts often leads to a recycling of the same narratives that limit and obscure the complex, nuanced lives of all those whose experiences have been marginalized, diminished, or outright silenced," he said.
"This project," he went on, "through its oral history component, speaks into that silence."
Original Headline: Chronicling New York's Muslim History
Source: The New York Times
URL: http://www.newageislam.com/islam-and-the-west/adeel-hassan/muslim-history-is-new-york-city-history/d/119780